Whenever you plan a home project, it's important to have the best people to do it. You'll want the best deck builder in Omaha to take care of you needs, and luckily, you're in the right place.  
There are many things to consider when searching for the best local deck contractor in Omaha.
Skill and experience are just two crucial aspects that will make your decking project turn just as you envisioned.
The customer service, expertise, process, and employees play a big part in how your project will unfold. If you want a memorable experience and a professionally installed deck, choosing the best deck contractor in your area is essential.
In this blog post, we'll discuss 11 simple ways to find the best deck builder in Omaha! Keep reading and bring nature to your backyard with the perfect deck, done by professionals!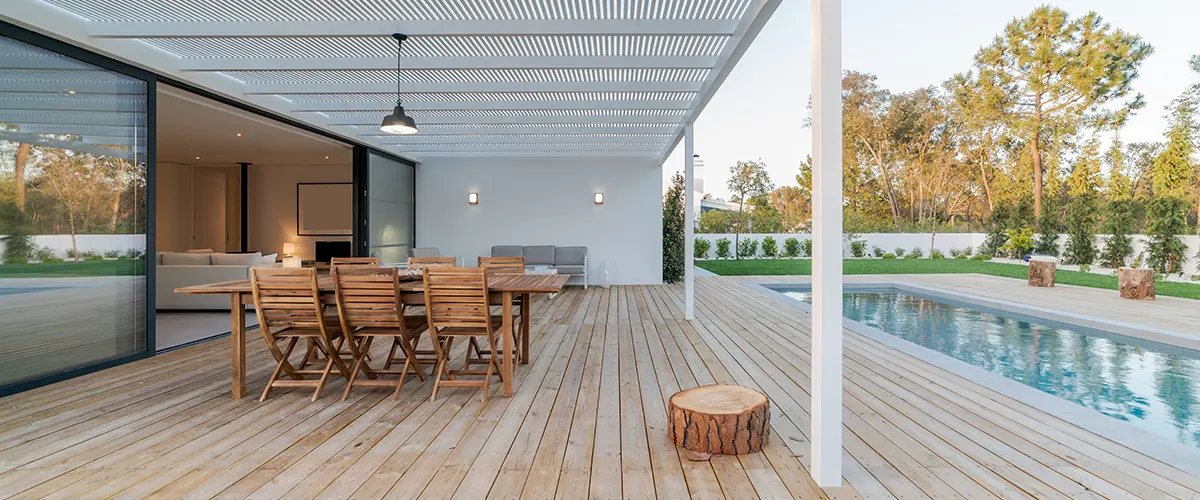 1. Ask People You Know For Recommendations
One of the best ways to find a good deck builder is by asking people you know for recommendations.
Friends, family, or even neighbors will be able to give you an honest opinion about the builders they have used in the past.
References are always a valuable thing to have when choosing someone to do a job for you. It's a fast way to discover stories about the contractor and how he operates. These recommendations become insightful when you learn if they do follow-ups or if the builder keeps in touch and checks on his project.
2. Search The Best Deck Builder Online
The internet has made finding just about anything a breeze, including finding deck builders near you.
Many online directories list reputable contractors in your area. Some of these directories even have customer reviews to help you understand what others have experienced with the contractor.
Check out the contractor's website and see photos of their previous work. Their end-product will give you a clear idea of the quality of their work.
Check if they are active on social media and if they engage with their customers.
You'll know you're making the right choice when the company you're looking at engages with the people that follow them. If they keep in touch and interact with homeowners, it's clear that they care and want to exceed your expectations in everything they do.
3. Look for Awards and Positive Reviews
Another great way to determine if a deck builder is right for you is by looking at their awards and positive reviews. Most will post their awards on their website or social media accounts. If they have won awards, that's a clear indication that you'll receive a top-notch product. Read reviews from past clients and discover how the deck builder works. Any review from other services that he provides will also help. Popular cities have a lot of companies that do decks, so you'll find a perfect fit.
Here at DeckBros, we offer some of the best end products in Omaha, NE. You'll receive a complete service, along with the best option in town when it comes to decks.
As with any business arrangement, it's best to meet in person and get a feel for the contractor and how he operates. You can determine if this is someone you'll be able to work with by meeting in person and talking.
Some people can't stand face-to-face interaction, but for most, this is important. If you can meet in person, it will ensure both of you can be clear about expectations and communication.
5. Create A Scope Of Work And Pricing
Create a scope of work with your contractor. When the contractor drafts up the terms, he'll include the cost of supplies needed, the work to be done, and everything you need to know about your deck.
This document ensures that everyone involved knows what is expected of them, how much it will cost, and when to expect payment. This aspect is essential for both parties before any contract is signed.
When hiring someone to build a wood deck for your home, it's important to know what they can do.
Since you are in charge of your home, you decide how you'll want your new deck built. For that, you must check out their previous work. This way, you'll see how their end product looks and if they are up to your particular challenge.
If you don't have a plan in place for your decking project, you can find inspiration in magazines or on the internet. If you find an outdoor living space that you like, ask the contractor if they've done similar projects in the past.
7. Consider The Process Of Building Your Deck
Building a deck is like a mechanism with a lot of moving pieces.
Everything needs to be working properly, and cooperation between the company's crew will ensure the final product is a masterpiece. This is why it's so important to choose someone you trust and know.
A straightforward and stress-free process makes your experience memorable and unique.
Here at DeckBros, we are always available to discuss your project from start to finish. Our experts provide valuable insights throughout the construction and make the contracting experience effortless.
8. Get Multiple Quotes From Different Deck Builders
It's essential to get multiple quotes for your deck project because it ensures you're getting the best price possible. You can also use this as an opportunity to compare the quality of work from each contractor.
When you're requesting quotes, be sure to ask for an estimate of the total cost. Ensure it includes the cost of materials, labor, and any other associated costs. Be sure to get a breakdown of each cost to make an informed decision.
9. Don't Be Afraid To Negotiate
Depending on the company you choose, they may be willing to negotiate with you on pricing. If you have a set budget, be sure to let the contractor know about it.
It's not uncommon for contractors to work with customers by offering a tier system for their services. Some even provide a free estimate!
Services could include a few minor features or slightly different material options. However, different tier services must not impact your end product. Your contractor needs to give 100% even when you opt for a lower-cost service.
You can also negotiate on price if you are willing to do some of the work yourself or provide your own materials. Just be sure to have all this information laid out since prices will fluctuate depending on these variables.
10. Avoid Building A Deck As A DIY Project
Building a deck is not a DIY project because it requires specialized knowledge and skills. A contractor will have years of experience in construction and will be able to build your deck quickly and efficiently.
According to a study, homeowners found DIY projects more expensive and more challenging than expected (over 40% each), and  77% of primary residences need minor or major renovations after DIYs.
They will ensure that the deck is built safely and to code. If you attempt to build the deck yourself, there is a risk that you will make mistakes that could damage your home or injure someone. Besides, doing it yourself means you won't have access to suitable decking material, permission from the authorities, and other details that will add to the stress.
Additionally, building a deck is a complex process that involves many different steps. It's important to have a plan in place before you start construction; otherwise, the deck will turn out different than what you imagined.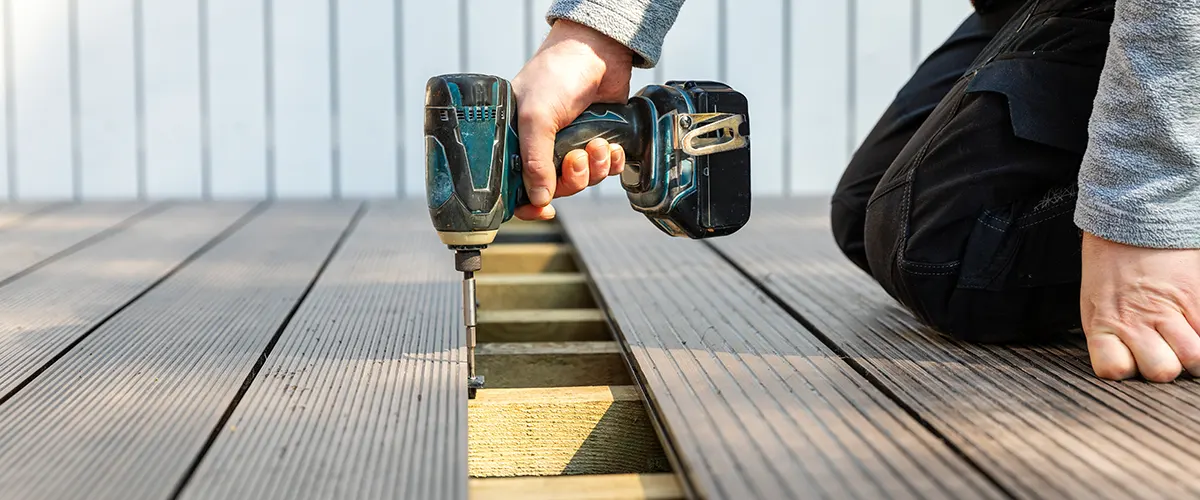 11. Have A Professional Build Your Composite Deck
As with any significant home improvement project, the best decision you can make is to hire a professional.
Building a deck is no different, and one of the benefits of hiring a contractor is that they bring years of experience and knowledge in construction to the table.
Their expertise ensures the construction process is efficient and that you get an excellent end product that you and your loved ones will enjoy for a long time.
DeckBros offers high-quality construction services at an affordable price. We take pride in our vast experience in building decks and our super easy process. Have a licensed and insured expert work on your deck, and rest assured, knowing that your home is in the best hands.
For any home project, it's essential to do your research to find a qualified professional that's up for the challenge. You'll want the best deck builder in Omaha to take care of your needs. A contractor that's insured and licensed, has good reviews online, and interacts with his customers.
Before making a decision, ask for different opinions from friends and family.
A crucial step in picking the best deck contractor is to get multiple quotes before hiring someone. This ensures you get the best cost-value service, and you don't end up paying more than you should for your project.
By following our tips for finding the best deck builder, you can be sure that your new outdoor space will be a source of enjoyment for years to come.
Get in touch today with our experts at DeckBros and bring serenity to your home with a professionally installed deck!