Having a beautiful and functional deck should be every homeowner's goal when making such investment.
But composite materials and aluminum railing are not all you can do to uplift your deck.
Adding deck accessories and features are a guaranteed and inexpensive way of boosting the functionality of your outdoor space.
In this blog post, you'll discover a few must-have deck accessories that uplift your space like nothing else!
Awnings are a must-have deck accessory if you want to enjoy your outdoor space in any weather condition.
They provide shade and protection from the rain, making your deck usable all year round.
There are a variety of awning styles and sizes to choose from, all providing a different coverage area for your deck. You can find them in home improvement stores like Lowe's, Home Depot, or Ikea.
According to homeyou.com, the average cost per awning in Omaha is $341.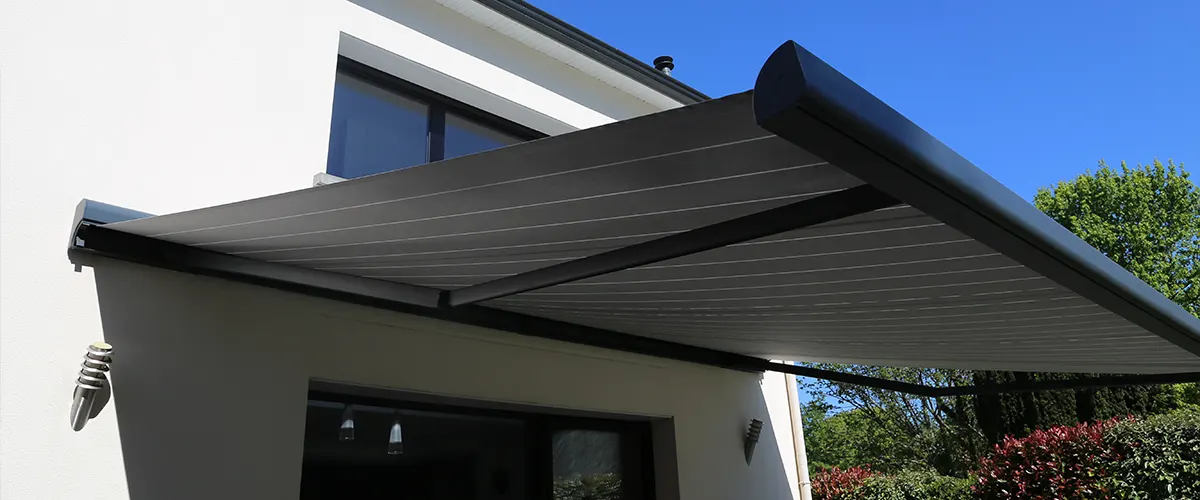 A pergola is a type of structure that is often used in gardens and yards. It is composed of columns and beams that support a roof or canopy made of lattice panels, vines, or other plants.
Pergolas provide shade and can be used to cover walkways, decks, or other areas. They are typically made of wood, although some pergolas are made of metal or plastic.
If you have a green thumb and have a lot of potted plants around the property, they'd make your pergola feel like an incredibly cozy space to relax.
Pergolas are great if you spend time on your deck no matter the season. If it's a strong structure, it can resist the most extreme weather.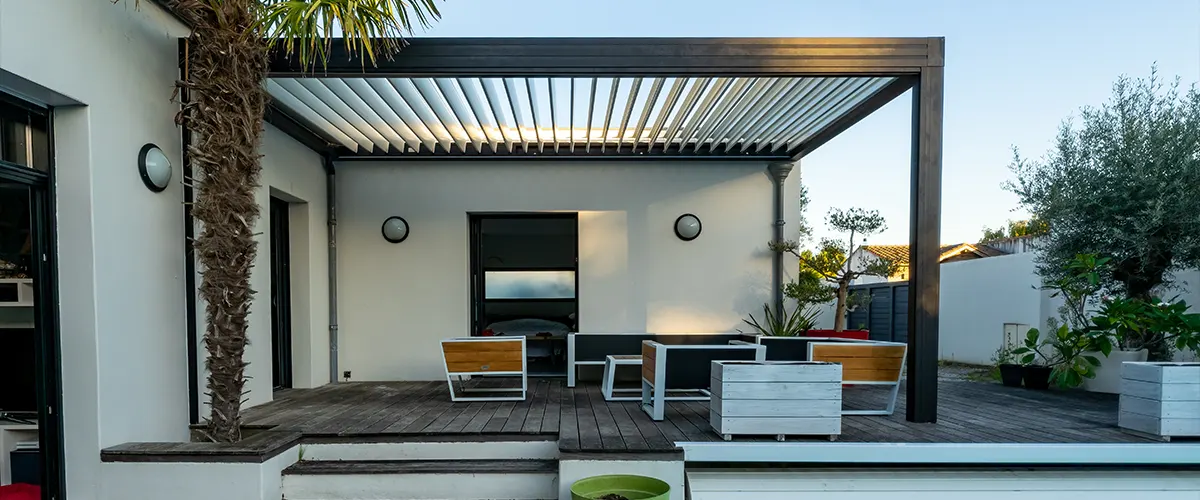 Outdoor furniture is another must-have deck accessory. It allows you to transform your deck into a comfortable and inviting outdoor living space.
There is a wide range of outdoor furniture to choose from, including chairs, sofas, tables, and more. You can find outdoor furniture at most home improvement stores or online retailers.
The most common outdoor furniture our customers get is the built-in bench for their decks. These benches can have a hidden cooler or provide various storage options.
This is a wooden bench integrated in the deck. The only downside of built-in benches is that you can't move it around.
Cost Of Outdoor Furniture
According to fixr.com, the national average cost of built-in seating is $1,800.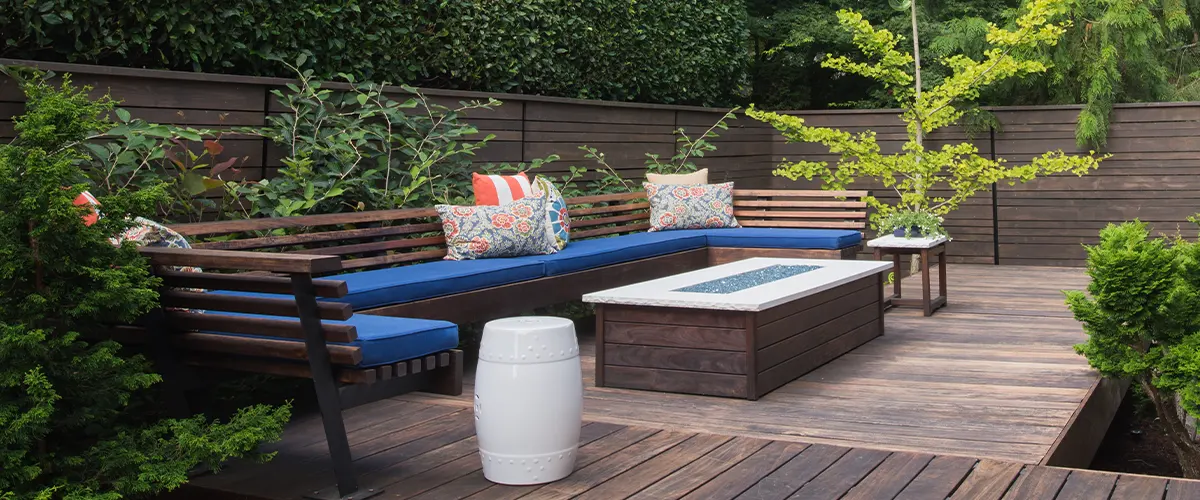 Fire pits are another great and elegant accessory to have on your dream deck.
They provide warmth and a cozy atmosphere to transform your deck into the relaxing place it needs to be.
There are a variety of fire pit styles to choose from, and most home improvement stores carry them. You can get a prefabricated fireplace that you'll only need to install, or you can have a professional build one for you.
Learn more about stone fireplaces on decks from our article "How to Install A Stone Fireplace on Deck: Tips for a Safe and Beautiful Outdoor Space".
According to manta.com, a prefabricated gas fireplace can cost as much as $4k.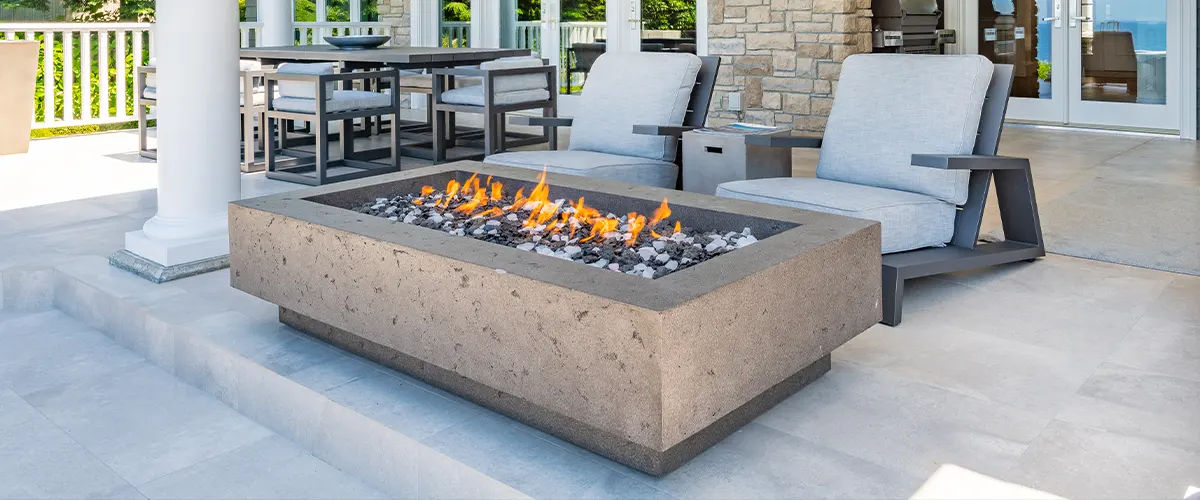 Deck lighting is a great way to enhance the look and functionality of your deck.
There are a variety of deck lights to choose from, including recessed deck lights, post cap lights, and more. Not only deck lighting boosts the functionality of your deck, but it also makes it safer for you and your loved ones.
In fact, in many cases, deck lighting is mandatory, as per the building codes in Omaha.
You can find deck lighting at most home improvement stores or even online retailers. However, to install them, you'll need a professional that can lay down the electrical installation.
You're playing with electricity and wood, so you'll need a professional to install your deck lighting if you want to make sure everything is up to the highest standards and your deck remains safe.
If you think you can DIY this project, check out our guide on installing decking lights here.
According to manta.com, the average cost to install lighting is between $147 to $190 per light material.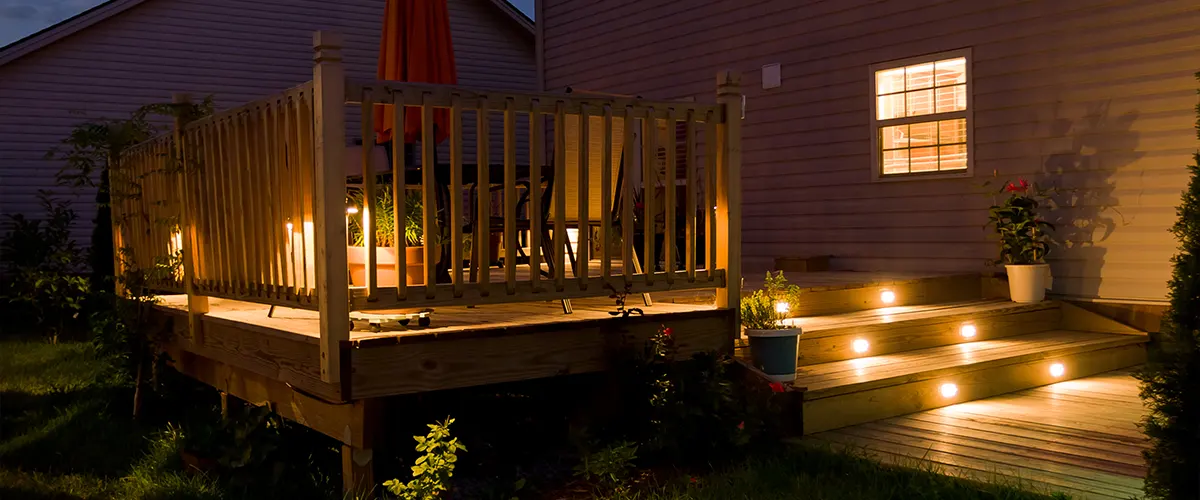 A drinking rail is really one of the most inexpensive upgrades that uplift the comfort and functionality of your deck. We love installing drinking rails for our customers because they bring great value for such a small investment.
If you're used to hosting family gatherings or to entertain guests on your deck, a drinking rail is a great feature that'll impress your visitors.
A drinking rail is simply a 3×3 inch piece of lumber that's installed on top of the railing.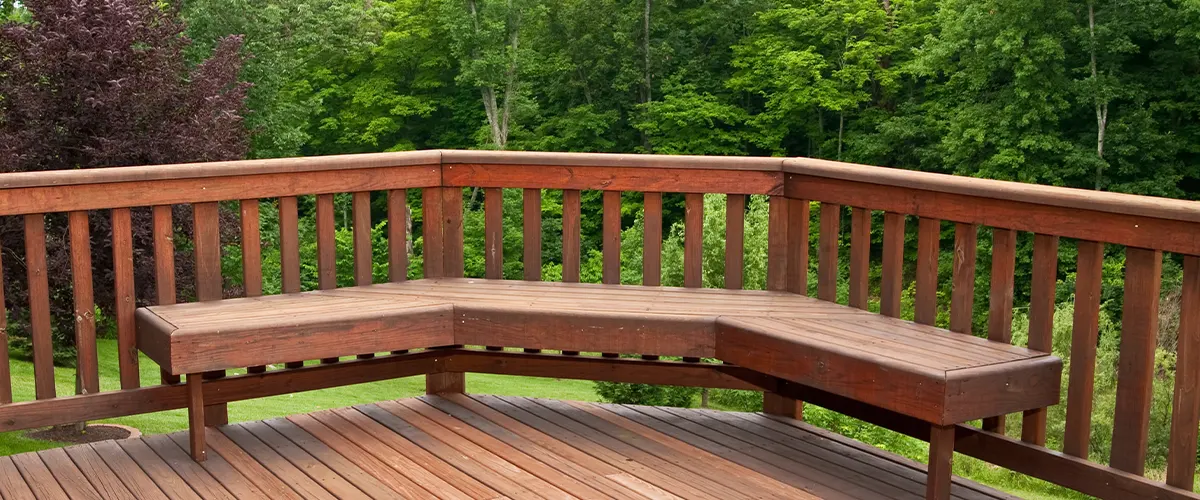 Wrapped columns are a popular deck accessory that can really enhance the look and feel of your deck. They are a type of column that is covered in material like wood, metal, or stone.
There are a variety of different materials you can use to wrap your columns, so you can choose the one that best suits your style.
While a wrapped column doesn't do much to improve functionality, it can really upgrade the aesthetics and vibe of your outdoor space. Depending on the style you choose, you can make a deck feel more luxurious, more rustic, or more contemporary.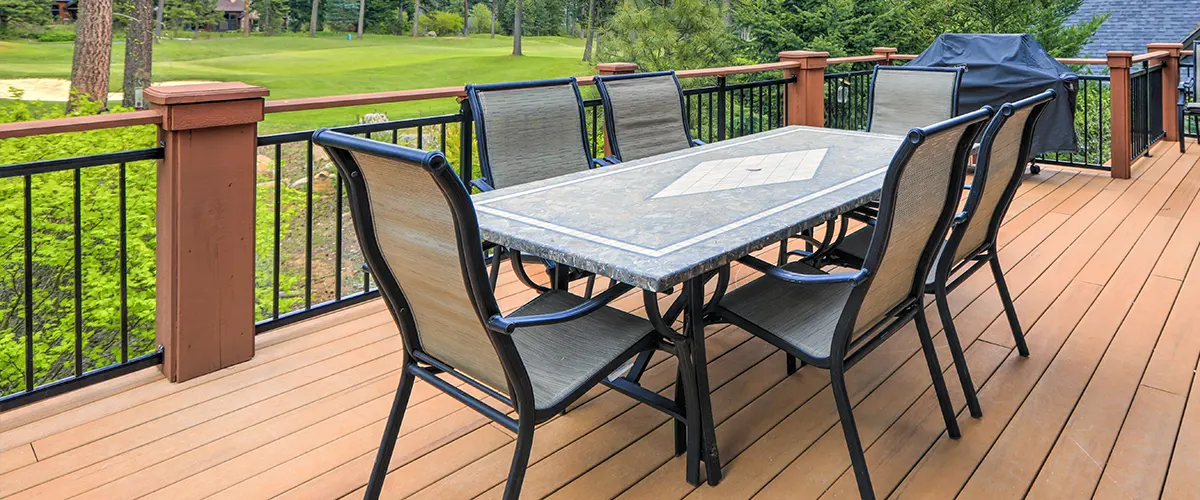 Deck accessories are perfect if you're looking to upgrade the comfort and functionality of your existing deck without breaking the bank.
Although a back deck is a great addition in your backyard, you can use all these for a patio or a front porch as well.
The upgrades we mentioned are inexpensive and valuable, giving you the perfect opportunity to increase your property's value without too much hassle.
If you're interested in adding deck accessories or you want to know more of your options, get in touch with us! Our experts would be more than happy to consult you in picking the best upgrade for your deck!