Humidity is probably the #1 enemy of natural wood, and it ruined most decks we've ever worked on.
Creating dry space under decking is of utmost importance if you want a long-lasting product. But how can you do it efficiently without too much hassle on your behalf?
There are a few ways to ensure the space below your deck remains dry. Let's see which one will work best for you!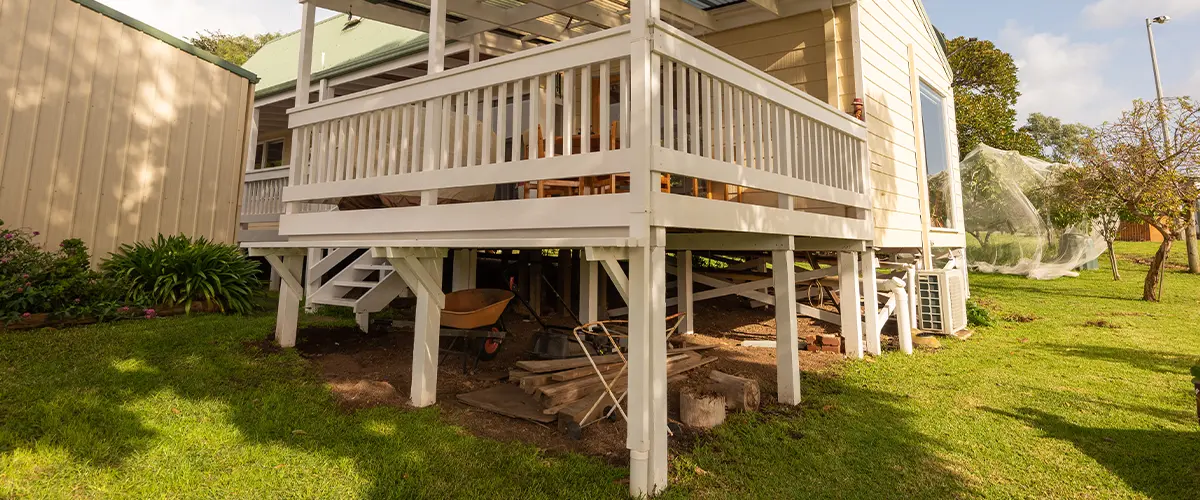 Place Gravel Beneath Your Deck
Putting gravel underneath your deck is one of the most common practices when building decks. This ensures the deck is not placed above the dirt or grass, which can create a humid environment for your new deck construction.
Whether it's a composite or a wood deck, spreading gravel on the whole perimeter of your deck will save you from a lot of humidity issues down the road.
But what's the best type of stone to use beneath a new deck construction?
Crushed limestone is the most common type of crushed stone used in landscaping. It usually has a bluish-gray color, but other colors (which tend to be more expensive) are available for aesthetic purposes.
For optimum performance, we advise using ¾" clean crushed stone. Generally speaking, larger stones are more arduous to install beneath the deck and not as useful for storage (you can also go with our synthetic turf installation on top).
When selecting gravel for your deck, remember to avoid fine or "crusher run" stone that includes tiny stones and dust particles. Such crushed stone will not drain properly and can be easily washed away or scattered from under the deck.
River rock is exceptionally smooth and usually rounded compared to crushed stone, which has a rough texture. A specific kind of river rock known as "Egg Rock", so-called for its oval shape, is often employed underneath decks.
River rock can add an elegant and breathtaking touch to any backyard, but its cost is significantly higher than that of crushed stone. According to Fixr, river rocks cost 2-3 times more than crushed stones.
River rock's round edges make it incompatible for use as a stable surface, thus making it an inadequate option when constructing storage areas underneath decks.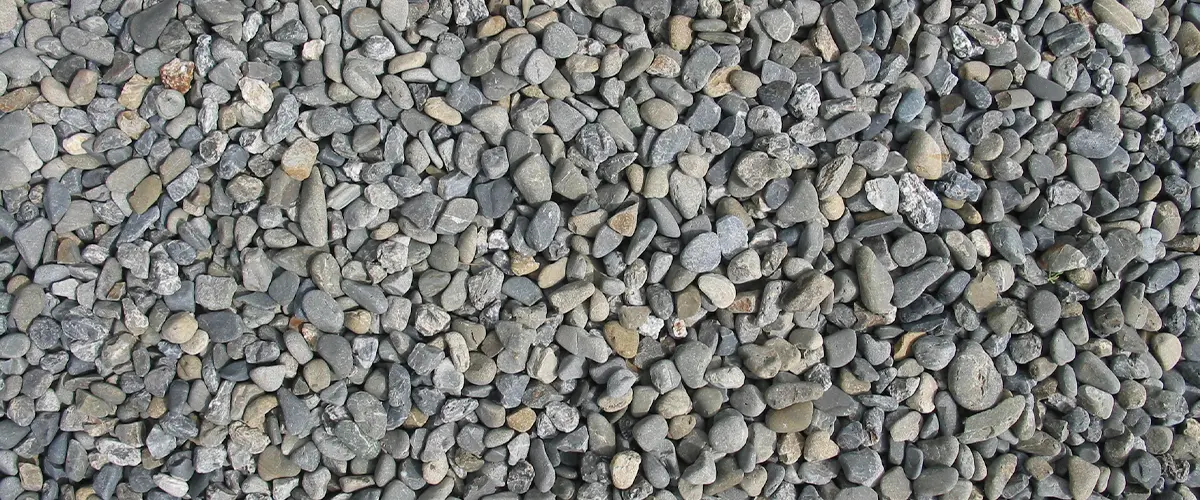 Pea gravel is akin to river rock, just in a smaller size. This makes it more inexpensive for the budget conscience homeowner, making laying it under a deck an enticing option.
Nevertheless, since it has smooth edges, pea gravel cannot be compacted tightly enough to store under the deck. Additionally, if there is a slant in the area beneath your deck, this gravel may not stay put as well.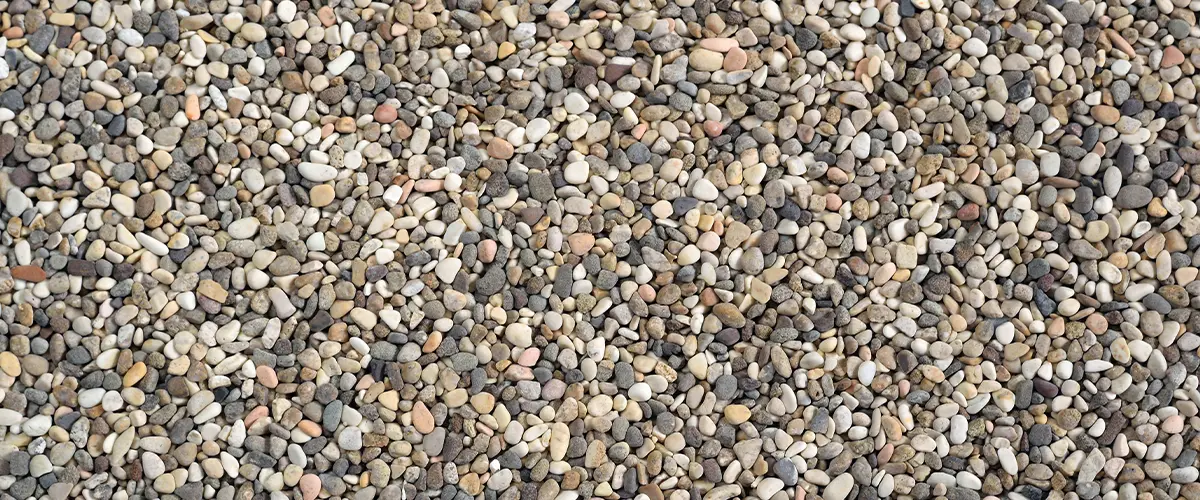 What Else Can You Put Beneath Your Deck To Keep It Dry
Maybe crushed stones are out of your budget, or you just don't like their look. In that case, here are some other alternatives.
Mulch is a popular landscaping material, frequently chosen to dress up decks. It's attractive and cost-efficient – two benefits that make it an appealing choice for the budget-conscious homeowner!
Although there are a few drawbacks to using mulch. For instance, since it is an organic material, you will have to replace the mulch as it decomposes over time. Besides, its ability to prevent erosion may not be as strong compared to gravel, and it is less effective at controlling weeds.
Because it's an organic material, mulch provides an inviting space for pests like termites, and it can also pose a mild fire risk in dry regions, especially under a wood deck.
Avoid using sand to fill the space beneath your deck, for it won't help with erosion issues like bare soil does. Moreover, animals will find its inviting texture ideal for leaving their excrement – a smell you definitely don't want anywhere near your outdoors, let alone during a barbecue!
Rubber mulch is a great choice for the garden due to its excellent weather resistance and recycled material composition. You can choose between classic black or any number of vibrant colors, ensuring that your outdoor space looks exactly how you want it to!
During the heated summer months, rubber mulch emits a strong synthetic smell – making it an unwise choice to place under your deck.
Glass mulch, also known as "recycled glass gravel," is a unique and beautiful choice for landscaping applications such as under decks. Not only does it provide stunning visuals, but its recycled materials are environmentally friendly too!
Although glass mulch is more costly than conventional crushed stone, it's worth the extra money. Unfortunately, due to its shimmering presence, this material cannot be used if you have plans of storing things under your deck area.
Pavers and concrete are man-made marvels of resilience, a luxurious solution to any deck base. Durable in nature, they guarantee longevity while withstanding the elements – making them both aesthetically pleasing and virtually weatherproof.
The primary deterrent for many people when considering this option is cost. Installing a concrete pad or paver patio is substantially pricier than simply adding crushed stone or gravel beneath your deck.
A paver patio is an investment, and it's actually a totally different project than a deck.
If you have a second-story deck, it'd be a shame to let the space underneath go to waste. With some extra protection against rain, this area can be turned into a covered patio whenever it's raining.
Even if you don't want a patio, one thing is for sure, you don't want raindrops to fall from between the decking boards.
In that case, the DrySpace Deck Drainage system from TimberTech's AZEK is one of the best options you have, especially for second story decks.
It's made of solid extruded vinyl to maximize strength, durability, and weather resistance. It's also easy to clean and incredibly easy to install. On TimberTech.com, these kits are available for 12″ on-center spans in 12′ length, or 16″ on-center spans in 12′ and 16′ lengths. It'll attach to the deck joists and posts, so the installation is fairly easy.
We're getting this question a lot. "Will deck cleaners damage DrySpace?". Well, according to TimberTech "TimberTech DeckCleaner™ will not damage the DrySpace system, and it can actually be used to clean the surface of DrySpace. Any other cleaners should be verified to be vinyl-safe before using."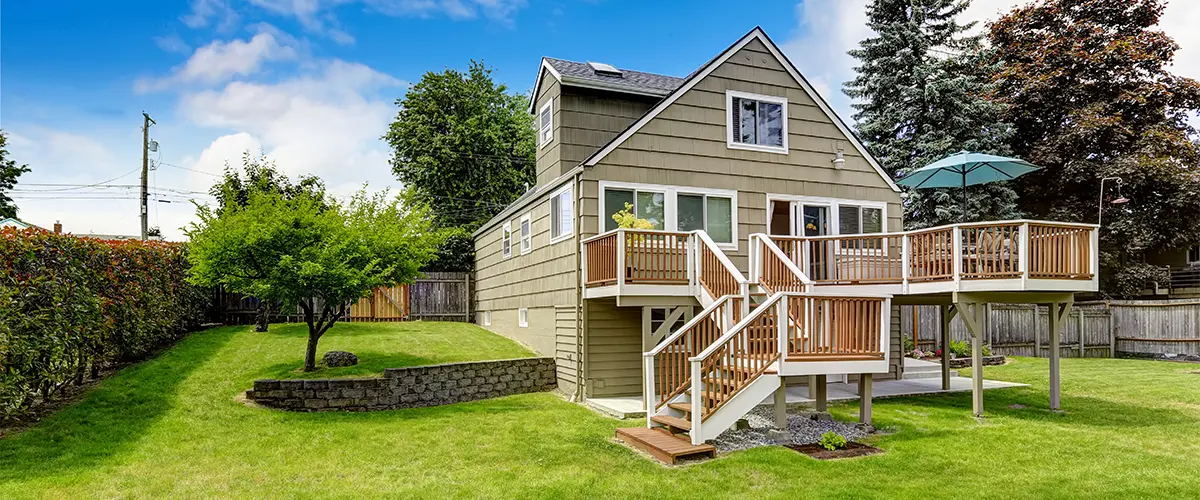 Dry space under deck outdoor space is crucial for the longevity of your investment.
Keeping the space from underneath your deck dry is super important if you care about your outdoor space. Just think about all the damage that humidity and trapped water have always caused on wood structures. On your deck, you'll first start to see rot in the existing deck joists.
While installing a gravel bed is the easiest and fastest solution, there's still one major issue. Water can get trapped between the gravel and the weed barrier.
The best solution is to just install a DrySpace Drainage System. This ensures no water reaches the space under your deck, and you'll even get to spend time beneath it when it's raining.
We offer our complete decking services everywhere in the Omaha Metro Area, including Papillion, Bellevue, Gretna, Elkhorn, Lincoln, Fremont, and more!