This Is How To Stain A Deck So You Can Love The Look As Much As You Love Having A Deck
Staining a deck is a fantastic idea! It not only makes it look amazing but protects the wood too, extending its life.
In this post, you can find out how to stain a new deck and how to stain an old deck that already has a stain.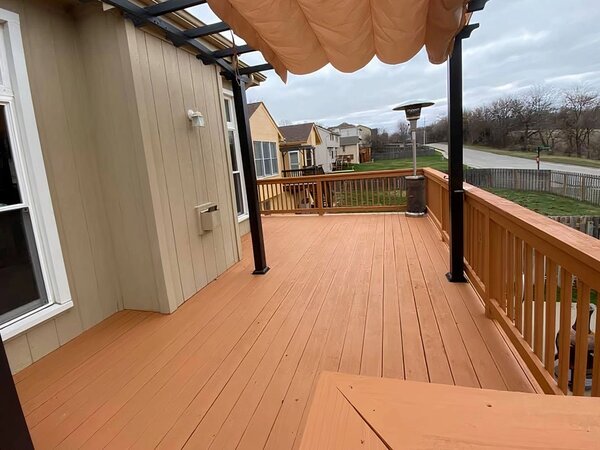 What's Their Process Like?
"Staining the deck's a great idea!" says Amber.
Robert nods. "Yep. It'll look better and the stain will protect the wood so it lasts longer. I wonder how they stain decks?"
Amber shrugs, pulling her phone out from her purse. "I don't know, but Google sure does! Well, people who posted the process on Google," she chuckles. "Just like when we were looking up does composite decking gets as hot as wood." She unlocks her phone and starts searching on Google.
Here's what they find:
Materials For Deck Staining
Gloves
Safety glasses
Broom
Garden hose
Drop cloth
Sanding sponge
Stiff synthetic-bristle brush
4″ brush
Brush holder
Roller
Extension pole
Pump sprayer (optional)
SuperDeck® deck care products
How To Stain A New Deck For The First Time
1. Choose your stain
Clear: least protection but offers the best view of natural wood
Toner: light color highlights the wood grain and has good durability
Semi-Transparent: good durability and rich pigmented color that allows the natural grain to show
Solid: best durability and it covers up blemishes and unsightly grain
2. Sweep your deck
3. Apply cleaner using a roller or pump sprayer (wear protective equipment to avoid contact with skin and eyes)
4. Work the cleaner into the surface using a stiff synthetic-bristle brush
5. Use a garden hose with a good stream to completely rinse the cleaner from the wood
6. Once the deck is completely dry, lightly sand any areas of new wood to remove any remaining residue
7. Working with the wood grain, apply an even coat of stain. You can also use a roller first then work it into the wood with your brush.
8. If you need to apply a second coat wait 4 hours between applications.9. Allow 48 hours for the stain to dry
How To Stain An Old Deck
It's the same process as staining a new deck with one major difference.
You need to first remove the old stain. Stain and sealer remover works really well for this.
You May Also Like To Know
"So that's how they do it," says Robert. Amber nods. "Looks like it. I wonder if it's the same process for painting a deck." Robert shrugs. "I don't know, maybe this blog has something on it. Let's poke around a bit more and see what else we can learn about decks."