The cold weather and snow and ice can really take a toll on a deck.
The water can seep into the wood and cause it to warp, rot, and decay. After it's deep in the wood, that water will freeze and expand, forcing the wood to expand with it.
As a result, you'll start seeing the wood decking boards split or crack, causing even more damage.
To avoid all this from happening, you need to prepare your deck for winter.
Here are 6 deck maintenance tips on how to prepare a deck for winter so you don't ruin your outdoor space and have it looking great for many years to come!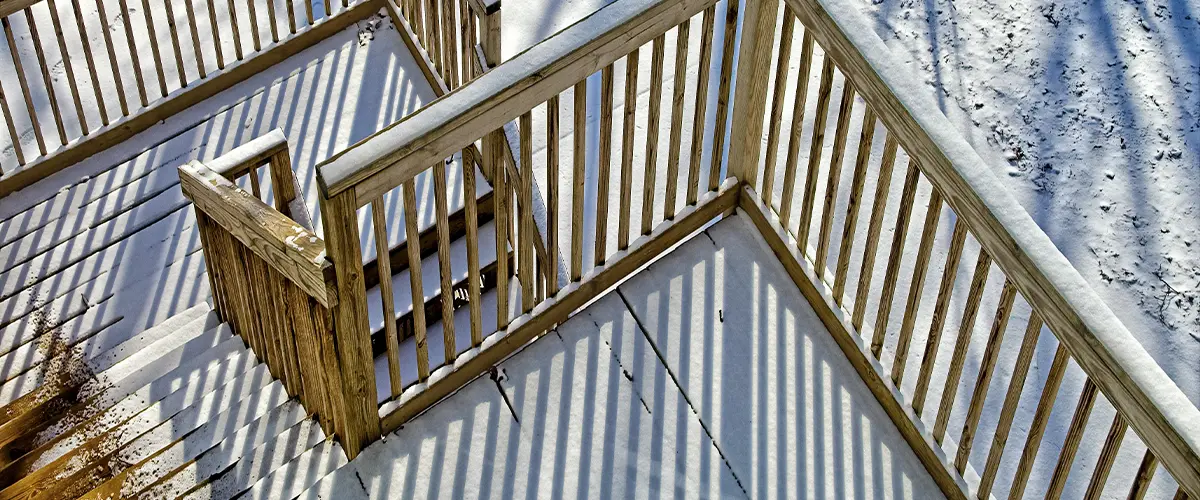 1. Think Of A Deck Repair Project
We'd recommend that right before the colder season kicks in, you do a thorough deck inspection and see what are the most pressing issues with your deck.
Repair or replace any damaged boards as necessary. Replace or add more fasteners when needed. Take a closer look at the stairs, the railings, and most importantly, at the frame.
If you see the wood is already split, you'll need to address the issue, or it's going to cause more problems further down the line. Wood rot, for example, is one of the most difficult problems to fix on decks.
If you want to prepare a deck for winter, this step is of utmost importance for the best results.
Before the first snow, clean off any leaves, debris, or dirt that may have accumulated on your deck surface over the summer. A stiff brush or even a wind blower should do the trick.
It's important to understand that cleaning the deck should never be an afterthought, not even on composite decks. Leaves can develop bacteria that'll damage or stain wood decks, and debris or dirt is not very aesthetic.
In short, it's better to keep your deck cleaned and organized, no matter if the winter weather is coming or not.
In fact, we'd also recommend shoveling snow from your deck constantly. Not only because the extra weight can weaken the structure, but because that snow will eventually start melting and your deck will accumulate a lot of water.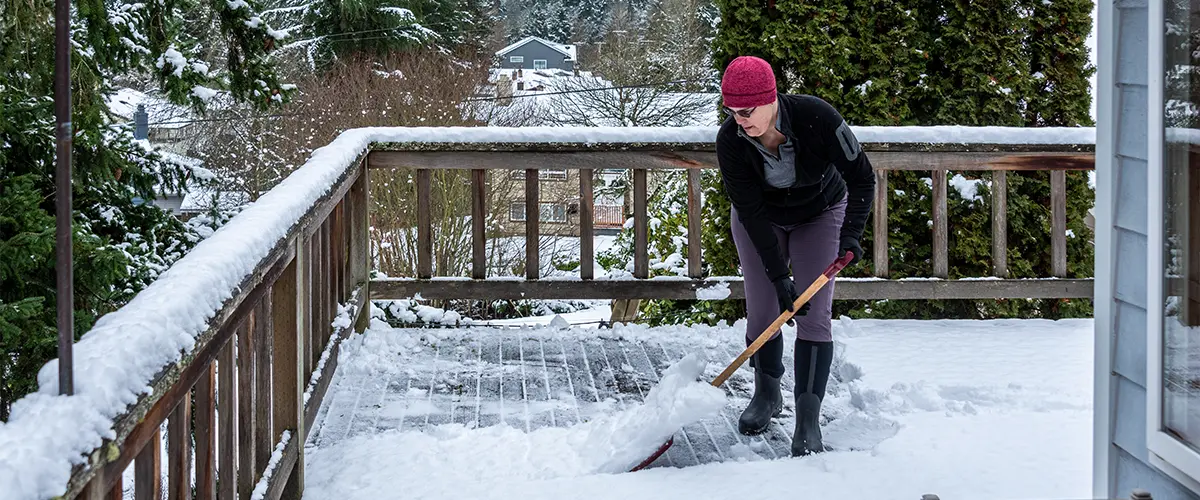 3. Treat The Deck With Sealant Or Stain
Apply a coat of sealant or wood stain to your deck boards and railings. This will help protect them from the cold weather and snow.
Make sure to invest in a sealant or a stain designed for extra protection against freezing, ice, or water.
Some of the best wood sealers are Seal-Once Nano+Poly Penetrating Wood Sealer, Rain Guard Water Sealer, Thompson's WaterSeal Advanced Natural Wood Protector.
Another way to protect your deck from melting snow is to cover the entire deck with a tarp or a sheet of plastic. Yes, this looks cheap and might not always be the best idea, but it works as a last-minute measure of protection.
If you have composite decking, lucky you! You won't need to stain or seal composite decks.
Install a railing system if you don't already have one. On both a wood deck or a composite deck, ice can form and create a hazardous situation where no homeowner wants to find themselves.
A handrail will offer you support and extra safety when walking on a deck that's full of ice.
Another upgrade you can get is anti-slip boards, but do so only on certain areas of your deck, like on stairs or in front of the door.
If you have a covered deck, we'd also recommend making sure the roof is clear of snow, as you don't want all the snow to collapse right in front of your door, or worse.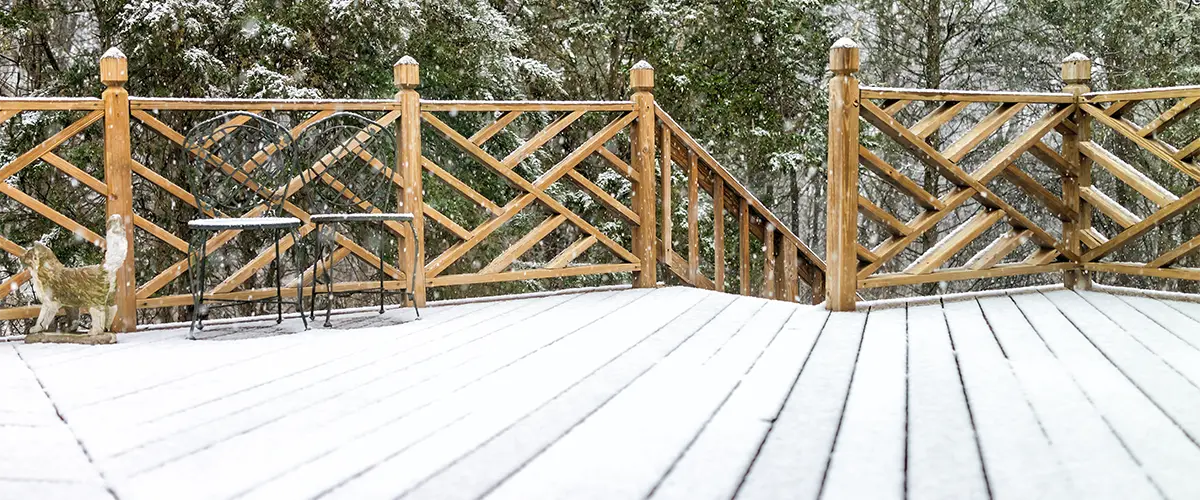 Harsh winter weather will need to be combated by putting down some ice melt or sand to help prevent slips and falls on icy surfaces. Sand will be a safer option for a wood surface, as it won't do any harm. Ice melt, however, contains several chemicals that might damage the wood when they come in contact.
If you live in a cold climate and have a composite deck, calcium chloride melts are the best option for you – plus, they won't scratch your deck's surface. For optimum results, remove snow with a plastic shovel and then spread the ice melt thinly over the entire surface of your deck.
When shoveling composite decks, be sure to shover in the direction of the texture, otherwise, you risk damaging the composite board which can't be refinished, and it's fairly difficult to replace it.
6. Keep An Eye On It During The Holidays
Finally, make sure you keep an eye on your deck throughout the winter and take care of any repairs or maintenance as needed.
Even if you prepared your deck for winter, make sure you don't leave it unattended for longer periods of time. Whenever you have time, use a broom or shovel snow off your deck regularly.
Avoid using a snow blower, especially if you don't have an enormous outdoor space. You never know what hides beneath the snow, be it outdoor furniture, potted plants, or your dog's favorite toy.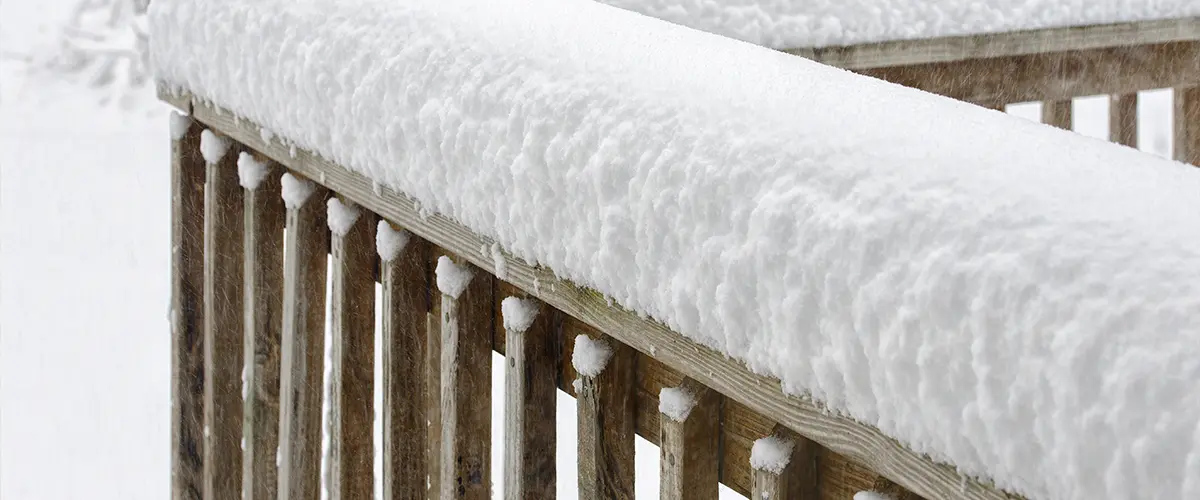 So, preparing a deck for winter doesn't have to be a hassle. Try and do all these tips a couple of months before the cold season kicks in, and you've ensured a deck that'll face the winter without any major issues.
After the winter is over, do another inspection to determine any possible damage and address the issues before you start spending time barbecuing outdoors.
At Deck Bros, we offer a complete decking maintenance service. With us, you're getting in-depth deck inspections, thorough repairs, quick and efficient sealing and staining, and valuable insights about your outdoor space.
Call us today at (402) 369-5724 to discuss how to prepare your deck for winter or request your free quote on our maintenance service, and let's talk!