Triangle decking provides homeowners with the perfect opportunity to transform their outdoor spaces into something truly remarkable. With a range of shapes and designs possible, triangle decking can provide the perfect touch to any modern living space.
Whether you're looking for a simple wooden floor or more complex composite structures, this guide will help you get further acquainted with all aspects of triangle decking design, installation, and maintenance – making sure that your investment stands the test of time.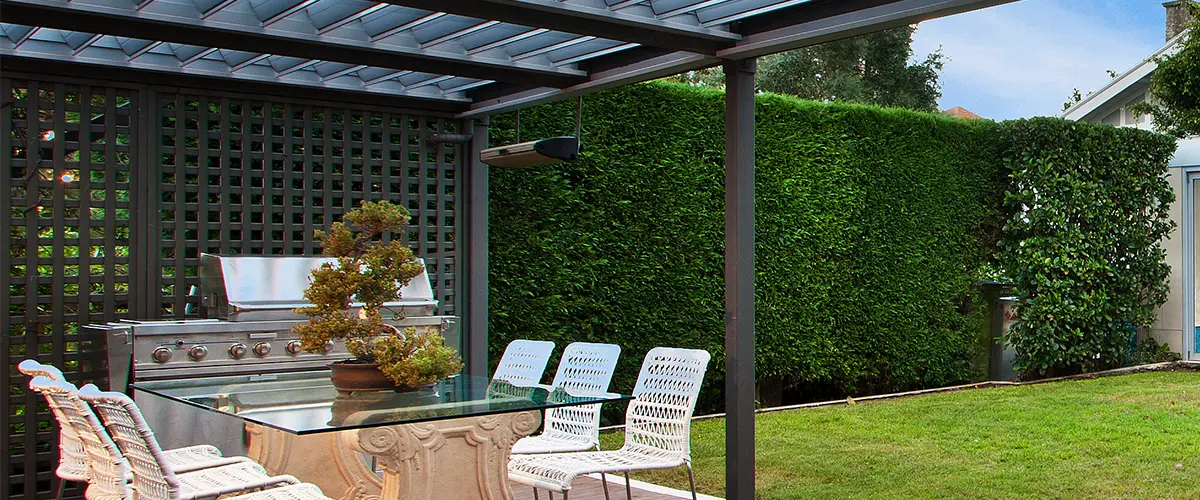 What Is Triangle Decking?
Triangle decking, as the name suggests, involves the use of triangular shapes to create a unique and eye-catching deck design. It's one of many deck styles homeowners can choose from.
This visually pleasing approach utilizes unique triangular shapes to create eye-catching designs such as zigzag patterns and chevron layouts.
How Is a Triangle Deck Designed?
Designing a triangle deck is like creating a masterpiece – the size and shape of the triangles you choose will affect the overall aesthetic. From big and bold to small and intricate, exploring different patterns will bring your deck to life.
Once you've settled on the aesthetic, it's time to choose between the different material options: traditional wood, durable composite, or low-maintenance PVC. Your decision will depend on your preferences and the look you're going for.
How Are Triangle Decks Installed?
Installing a triangle deck isn't complicated, but it takes great attention to detail and at least that much patience. At Deck Bros, we offer professional deck installation services, taking care of your decking projects while you enjoy life or go about your daily tasks.
If you're interested in the exact installation process, you should know a few things.
First, ensure your deck is ready by cleaning and clearing the surface. Then, use your creativity to plan a triangle design with the help of a tape measure and chalk line.
Install support beams to bring the design to life, followed by the deck boards. Once everything is secure and level, cut triangles to size and attach them to the support beams. Don't forget to add a finishing touch with railings, stairs, or other accessories.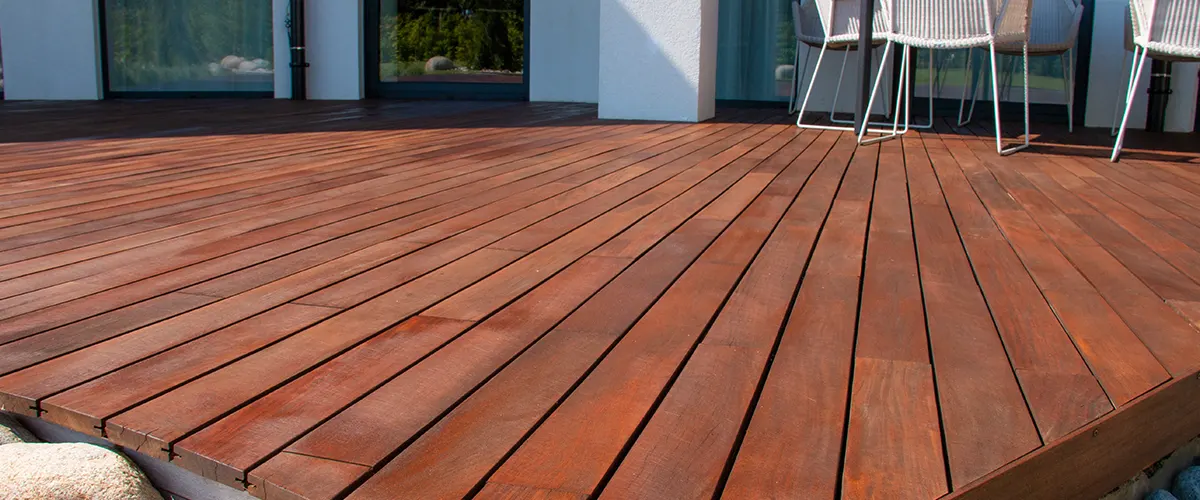 Do You Need Professional Deck Installation Services?
Think twice before breaking out those DIY tools. While it may seem like a cost-effective solution, installing a deck on your own can lead to many problems, including a wonky structure, potential safety hazards, and an unsightly finish that can leave your space feeling less than inviting.
Instead of taking on the job yourself, consider hiring a professional deck installation contractor to ensure that your triangle deck is beautiful, safe, and structurally sound.
It Saves You Time and Money
As tempting as it may be to DIY your new triangle deck, it could cost you more than you bargained for. Trusting a professional deck installation contractor will not only guarantee timely completion, but can also result in cost savings.
With state-of-the-art tools and equipment, they can finish the job more efficiently than you could alone. Furthermore, their established supplier contacts may yield discounted materials, leaving more money in your pocket.
Don't let a potential short-term cost-saving approach become a long-term quantity-over-quality investment.
You Get Experts on the Job
Your outdoor living space deserves the best, and that's where professional deck installation contractors come in. With years of expertise under their belts, they're the perfect partner for your decking project.
They know the ins and outs of every material, from traditional wood to composite and PVC options. Plus, they're skilled in tackling tricky terrain, like sloped or uneven land, to create a level and secure foundation.
With their help, you can relax with the assurance that your triangle deck will be flawlessly installed, with no unsightly or dangerous flaws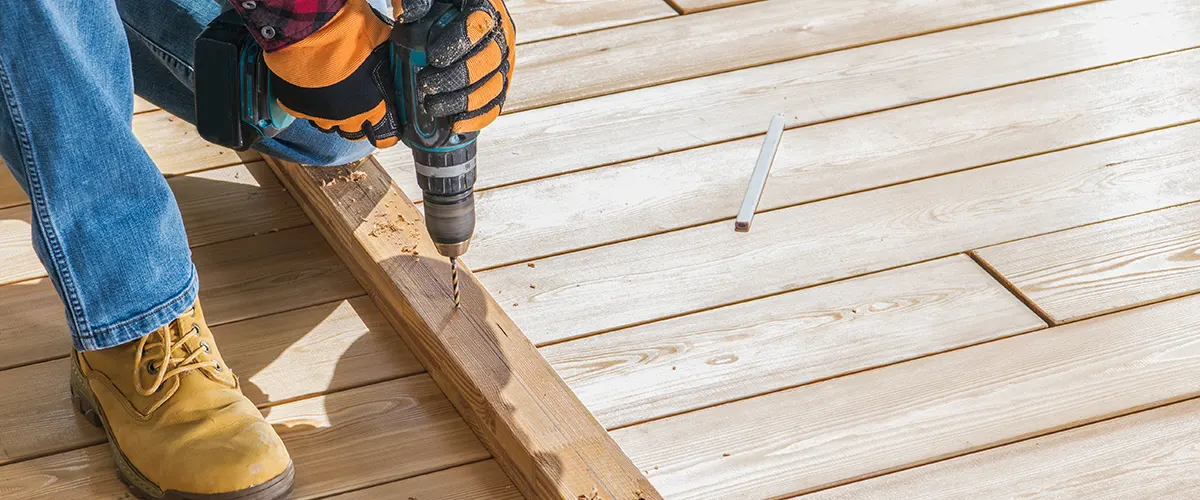 You're Following Building Codes
It's important to remember that building codes don't just apply to the house itself, but also to any added structures like decks.
These codes are implemented to guarantee that your deck is built with the utmost safety and structural integrity in mind – after all, no one wants a deck that won't hold up!
To ensure your new deck makes the cut, you'll want to work with a professional deck installation contractor who is well-versed in local building codes.
You're Not Liable for Damage or Injuries
When you entrust your deck installation to professional contractors, you invest in a beautiful addition to your home and your own peace of mind.
These skilled individuals come fully insured, ensuring that you are not held financially responsible for any accidents or injuries that may occur during the installation process.
What's more, their coverage extends beyond the installation period, protecting you against any potential structural issues in the future.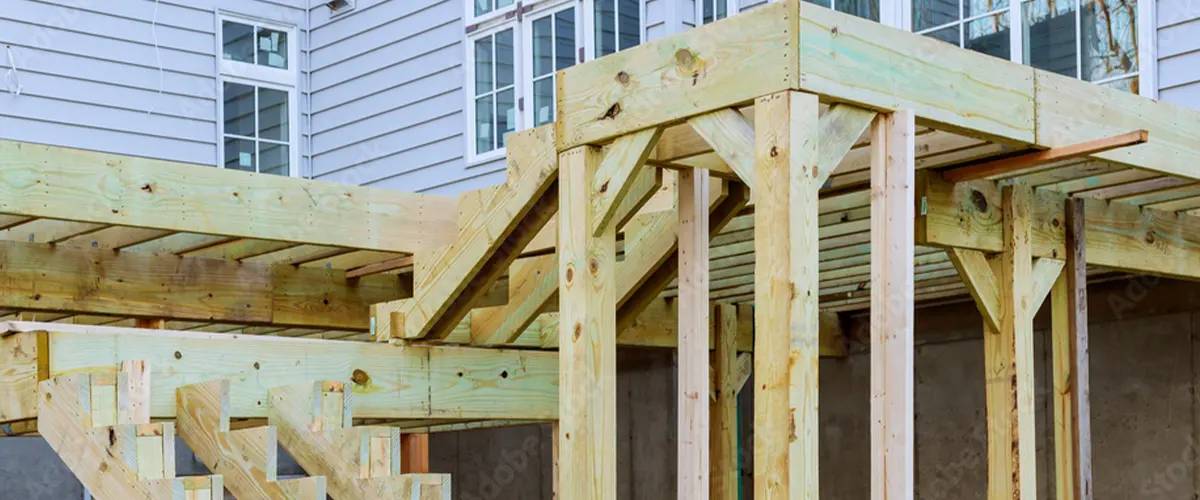 Is It Difficult To Care For a Triangle Deck?
Maintaining your deck is vital to prevent unwanted rot and decay, but don't worry. It's not as daunting as it sounds. Regular cleaning and sealing will keep your deck free from mold and mildew while protecting it from harsh weather conditions.
Don't forget to sweep the deck ever so often to ensure any fallen leaves or debris don't cause damage to your fabulous deck. And for that extra level of protection, apply a premium sealant to shield the wood from the sun's rays and any moisture that may come its way.
To sum up, triangle decks are an interesting and unique addition to outdoor living spaces. While their design can get complicated in certain areas and construction is a time-consuming process, the upkeep of the deck is fairly simple.
Do you want the most trustworthy deck installation contractor in NE? If you're looking for top-of-the-line deck professionals, Deck Bros are your perfect match.
With our expertise and quality customer service, we will surely give you exactly what you need — and all of this at an unbeatable price. We're just two minutes away from learning all about your decking needs!