Wood decking remains the traditional decking and framing material. It's affordable, homeowners love their natural beauty, and it has the potential to return up to 80% of your investment. 
We're talking about an 80% ROI compared to the 68% ROI of composite decking.
However, the type of wood you choose for your new deck will impact your outdoor experience. Different types of wood will need different types of maintenance. Some require more staining, sealing, and cleaning than other options.
In this post, we'll talk about different types of wood for your deck, and you'll discover one will fit your needs best.
Types Of Wood For Your Decking Surface
Let's first look at the most common wood decking options homeowners in Omaha, Nebraska choose.
Ipé is a South American Hardwood extremely resistant to bugs and rot. In fact, Ipé wood is so hard that it's also capable of withstanding fires. It's a heavy and tough wood and because of it, it can be difficult to work with.
However, Ipé is among other tropical hardwoods (like mahogany, Cumaru, or Tigerwood) rainforest wood and using it for decking is controversial.
If you decide to use it, make sure you're buying Ipé wood that carries the Forest Stewardship Council (FSC) trademark. This means the wood was harvested safely.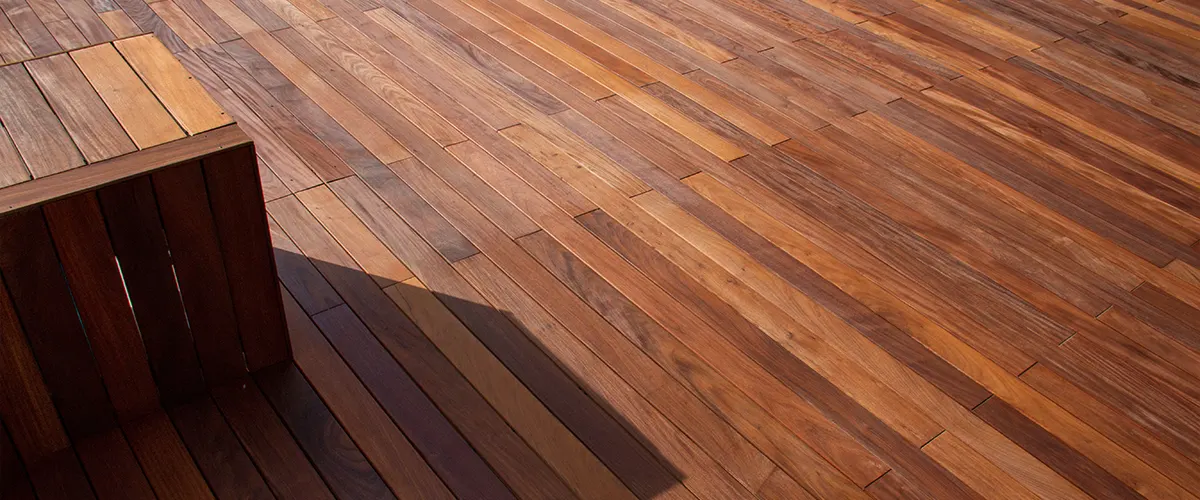 Redwood is a beautiful decking material because it provides a natural and classic look for your deck. This wood is similar to cedar, but there are some differences.
Redwood has a reddish hue while cedar is more yellow. In any case, both age to a silvery shade. Redwood deck boards are smoother and come with no knots and a faint wood grain. 
This type of wood for outdoor decks is also 23% more durable than cedar. However, for a residential deck, both redwood and cedar perform well when it comes to durability.
Both redwood decking and cedar are said to be rot resistant, but with time, every wood type needs more and more attention. These materials require constant sealing, staining, and cleaning, which adds up to the final costs. 
Besides, western red cedar and redwood's availability is tight, especially if you're not located on the Western Coast.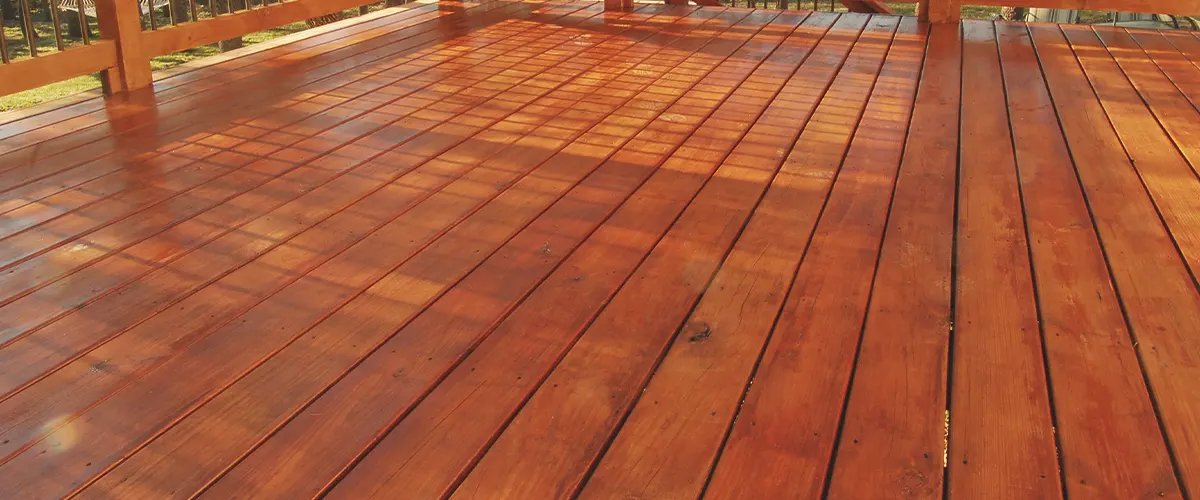 Mahogany is a tropical hardwood, naturally resistant to rot and pests that can damage the wood. Like any wood, you can stain and seal mahogany for improved performance and durability. 
You can treat it with oil to make it resemble a different wood grain, or you can let it age on its own for a totally different look.
Just like Ipé and other exotic hardwoods, make sure your mahogany wood has the FSC trademark on them.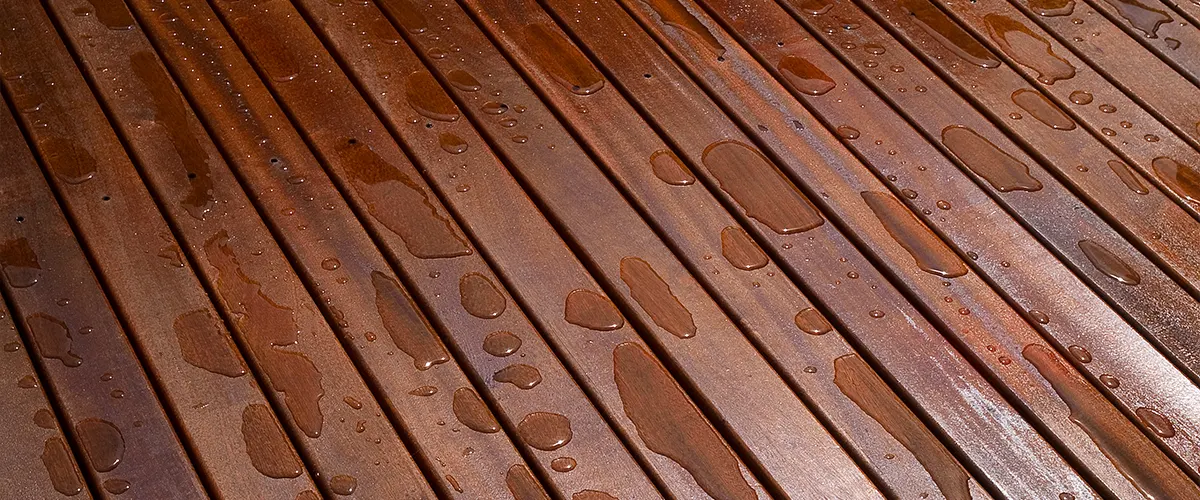 Pressure treated lumber is the most affordable material available for decking boards. Not all types of woods can be pressure treated, but for outdoor decks, the most common ones are southern yellow pine and Douglas fir.
To get pressure treated wood, manufacturers place lumber in a chamber, they seal it, and then force chemicals into the wood under pressure.
What makes this material so common among deck builders is its affordability and accessibility. It doesn't look as good as other types of wood, but it brings similar benefits. 
As with any wooden decking, pressure treated wood requires constant sealing and staining, sometimes as often as twice a year.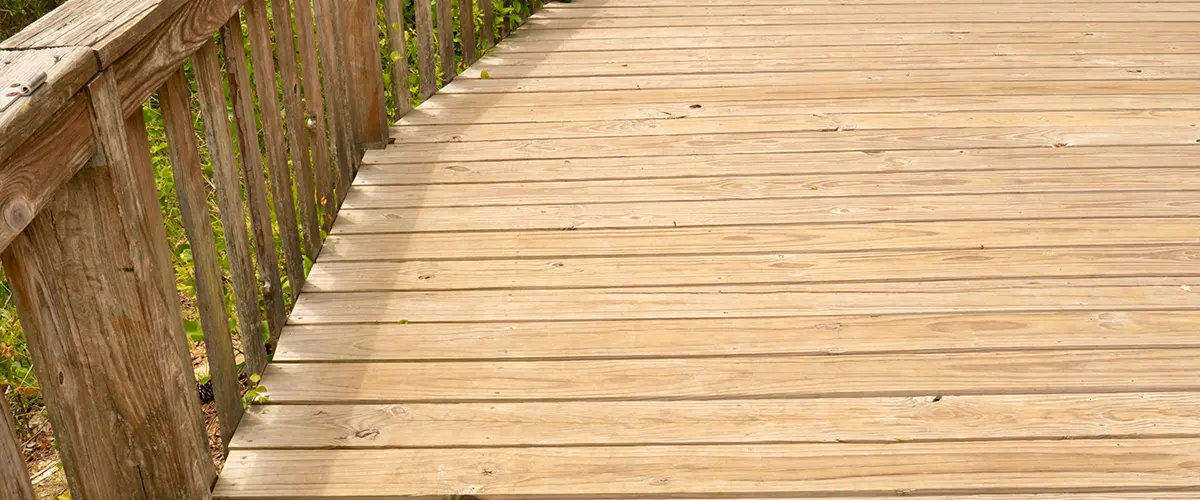 Composite wood is a man-made material that's increasingly more sought after by deck builders and homeowners alike. 
It's made of wood fibers and particles, pressed together under extreme heat to create a strong decking material. Composite decking is resistant to rot, water damage, pests, and it's a more environmentally friendly option.
One of the reasons homeowners are starting to choose composite wood is because of its low-maintenance properties. A composite deck doesn't require staining, sealing, or any other wood preservative. A pressure wash once a year will keep this decking material in good shape for years to come.
Composite wood deck materials might be more expensive upfront, but since you won't spend any money on its maintenance, it makes it a far better choice for long-term decking projects. 
Another downside is that composite wood might not bring the same look and feel as its counterparts, but is definitely a better choice if you're looking for a more practical option.
After all, you want to spend time enjoying your deck, not maintaining it.
Here at Deck Bros, we prefer Trex composite decking because of its quality and price. It's affordable, versatile, and gives you many colors and products to choose from.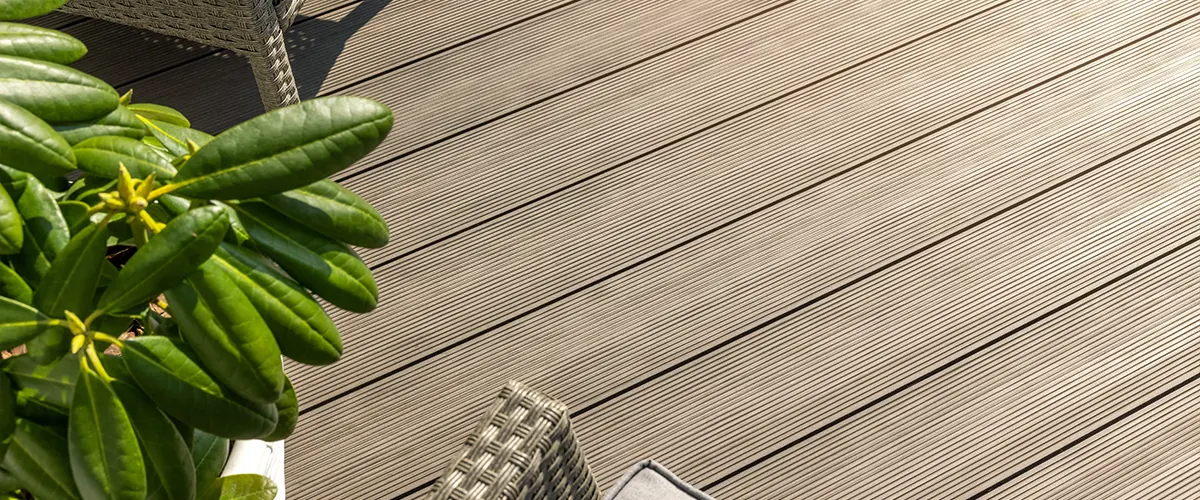 Decking materials improve the aesthetic of your outdoor space, but framing is crucial to make your new space safe for you and your loved ones.
The outdoor deck framing is the bones of the structure, and we know that without strong bones, any structure is destined to fail, collapse, and cause serious damage.
Let's see your best options for your deck framing.
Pressure treated wood is the traditional framing option for outdoor decks. They are somewhat resistant to rot, sturdy, and take nails and screws well. We already mentioned pressure treated wood is widely available and affordable, helping it maintain its #1 option for deck framing.
But pressure treated lumber fails to deliver the most important aspect on a deck: safety.
Although it's chemically treated to resist rot, pressure treated wood is far from immune to it. And even if you don't see the damage on the outside, the inside of the wood is just as fragile. We've cut into dozens of old deck frames that were decent on the outside, just to find the interior completely rotten and eaten by insects.
This happens because although water can't get in through the surface of the lumber, it can get in through cracks and splits made by nails. The water that gets trapped inside causes the wood to soften, making it easier for pests to start eating it.
So, if pressure treated wood is not as safe as we used to think, what is?
Lately we started looking into metal frames for decks, and we realized it's the best possible choice for homeowners that value their safety.
Steel is one of the toughest materials out there. It's what skyscrapers are built of, so you can only imagine how strong your deck is going to be.
But it's all worth it. Your deck is out in the open since day one. Heat, rain, ice, and wind are constantly damaging and weakening most residential structures, creating a real safety issue in the long term.
Steel frames, however, are immune to any of that.
Let's look at the advantages of a steel frame:
Yes, the cost to buy and install a steel framing is more expensive than any other option, but when your safety is on the line, does price really matter?

A steel framing ensures your deck will last for decades without you having to replace, repair, or even worry about the safety of your outdoor space.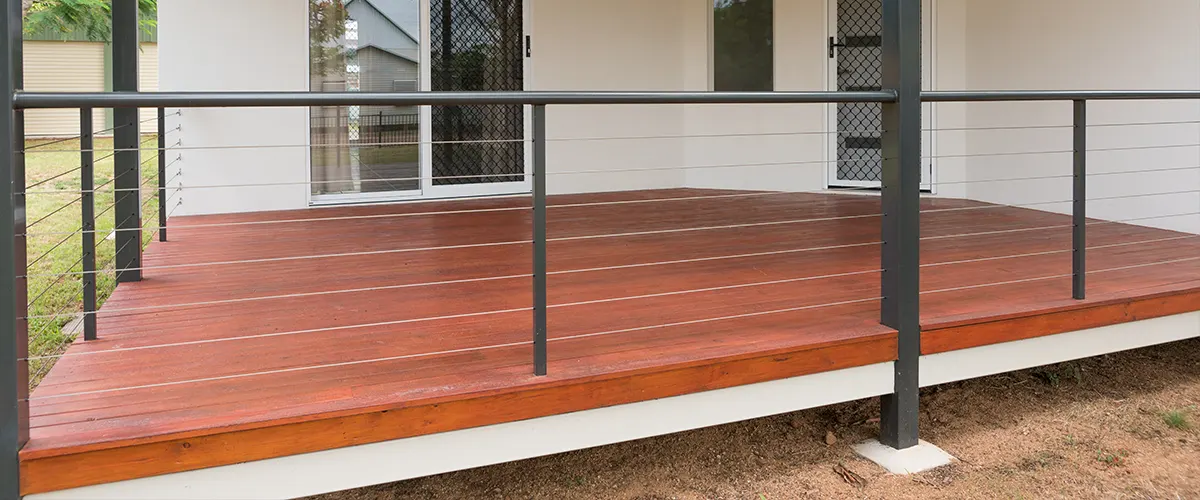 The type of wood for your deck really depends on your needs and preferences. If you have plenty of free time on your hands and don't mind maintaining your deck, redwood and cedar are common decking options that many homeowners seem to love.
If you're fine with spending more money, Ipé or mahogany bring a luxurious vibe to your outdoor space, but remember, they still require some maintenance.
The best option if you want a low-maintenance deck is to go with composite decking. It might be a little more expensive upfront, but in the long-term is clearly the better choice.
When it comes to framing, there's no doubt about it. Choosing to upgrade to a steel frame will be your best possible choice. It ensures safety and comfort throughout every hazard mother nature throws at it, but will also increase the value of your property.
Here at Deck Bros, we are experts in building the best outdoor spaces in Omaha, Nebraska. You'll get transparency and professional advice from craftsmen dedicated to bringing your dream to life.
Get the fastest quote for your deck now, or call us directly at (402) 369-5724.