Complete Deck Restoration Services In Omaha, NE
The complete deck restoration and deck repair services that proudly serve Omaha Metro, Papillion, La Vista, Bellevue, and Gretna.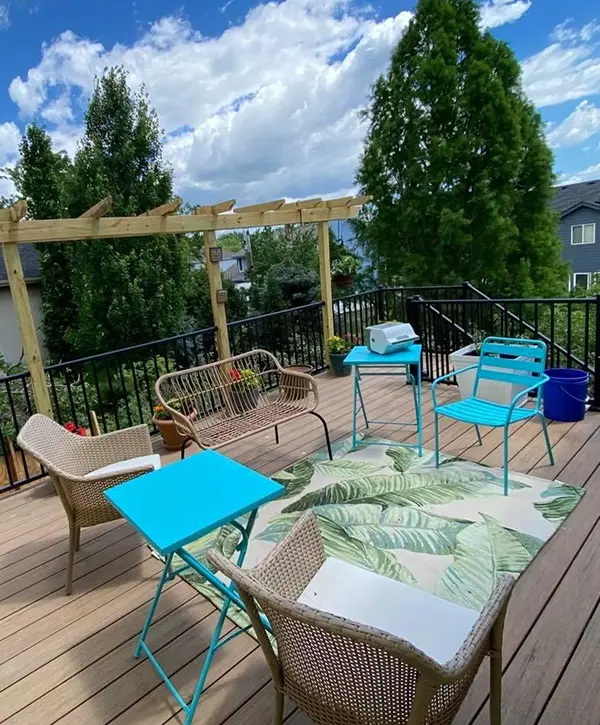 Picture yourself walking out onto a stunningly well-kept deck, the gentle rays of sunshine glistening on the polished surface, beckoning you to make cherished memories with your family and friends.
A properly maintained deck is more than just an outdoor area; it's a haven that enhances the worth and delight of your home.
At Deck Bros, we specialize in deck restoration services and understand the importance of having a beautiful deck and how it can enhance your daily life.
Our experienced team is dedicated to transforming old and damaged decks into exceptional outdoor living areas in which you will love to spend time.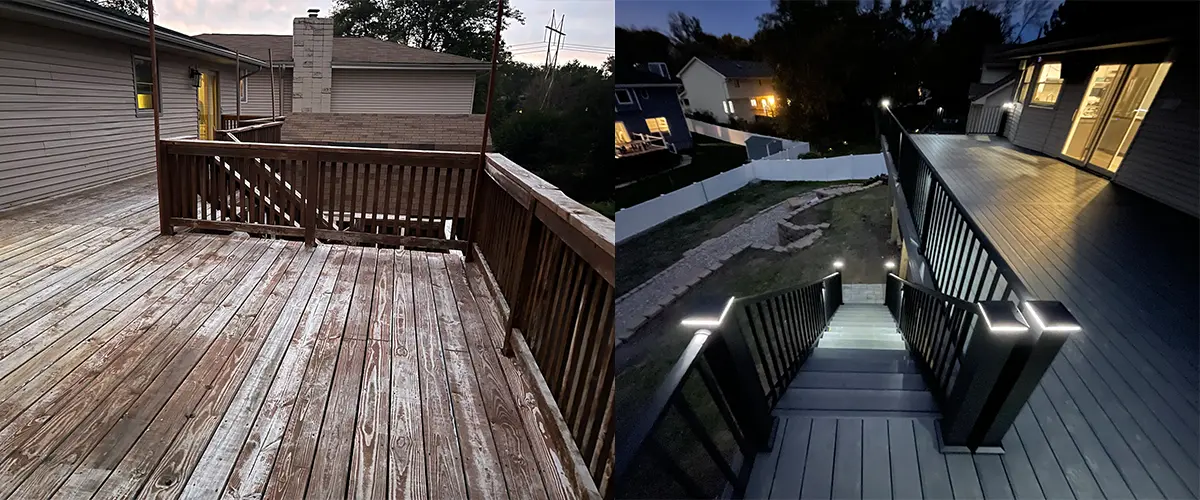 Your Deck Restoration Specialists, at a Glance
With our experience in deck repair, we can bring back an old deck to life, so you can enjoy:
As a homeowner with an outdoor deck, it's important to check it regularly for damage. Consider using deck restoration services to keep your family safe if any issues arise.
Look out for common signs of wear and tear, such as warped, rotted wood or loose railings. It's also a good idea to inspect screws and bolts, as these may become loose over time due to weathering or general use.
Have you noticed any soft or spongy areas on your deck boards or support structures? These can be indications of rotting or decay caused by moisture infiltration. If left unaddressed, this could compromise the structural integrity of your deck and pose safety risks.
Splintering or Cracked Boards
Do you have any boards on your deck that are splintered, cracked, or warped? These issues can happen over time due to exposure to the elements and frequent foot traffic. Splintered boards not only look bad and feel uncomfortable to walk on, but they can also pose a safety hazard if they're not fixed.
Loose or Missing Fasteners
Check your deck for any screws, nails, or fasteners that may be loose or missing. Loose fasteners can make your deck shaky and hazardous to use, while missing fasteners can affect the stability of the entire deck. It's crucial to address any fastener issues immediately.
Faded or Discolored Decking
Do you have a faded or discolored deck? Exposure to sunlight, rain, and other environmental factors can cause this. A faded deck can take away from its appearance and may signal that it lacks protective sealant. We can give your deck a fresh new look, removing that faint color.
Are there any dark spots, green patches, or musty smells on your deck's surface? These may be signs of mold or mildew caused by too much moisture. Mold and mildew not only ruin your deck's appearance but can also harm your family's health.
Shaky or Unstable Structure
Is your deck unstable or wobbly when you walk on it? This could signify structural problems such as loose connections, weakened support posts, or inadequate bracing. Neglecting these signs may cause accidents and further damage to your deck.
At Deck Bros, we can quickly assess and fix any issues related to deck repair, offering the best solutions that allow you to enjoy life while a professional contractor does all the work.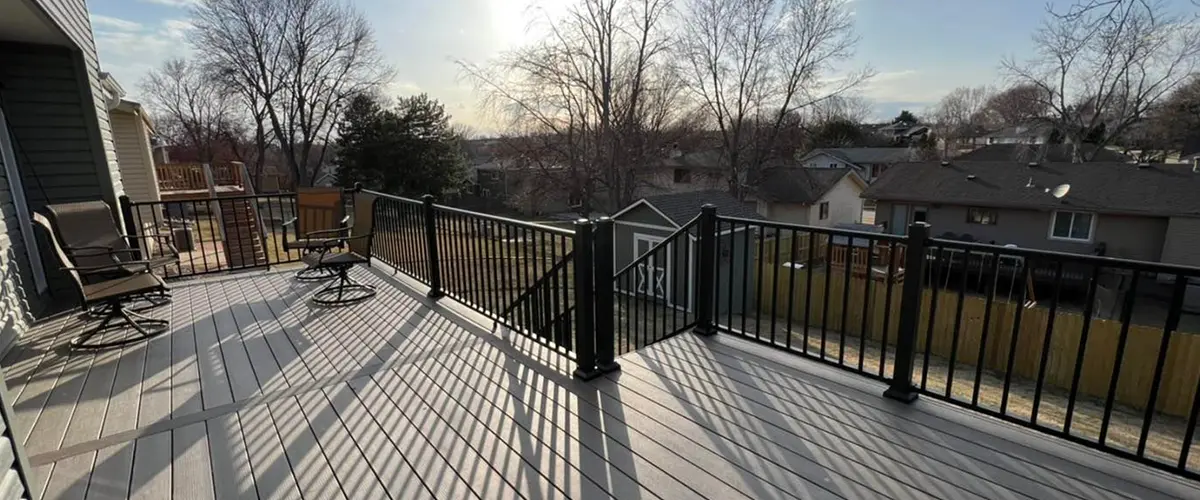 Why Our Past Customers Recommend Us
They did a excellent job. Crew was professional. I live 2 hours from Omaha and they took the job without that being an issue. Our deck turned out beautiful.
We have the best looking deck in town. I am so glad that we chose Deck Brothers. If you want quality
go with Deck Brothers It will the best choice you make.
Deck Bros showed up at 8:00 am and worked until dark everyday. They had old deck torn down in one day. We are very happy with the finished product.
We went with Deck Bros because of Luan's charming personality but they can also build a sweet deck!!!! Thanks Luan and team
The Dangers Of Deck Damage
The dangers of deck damage should not be taken lightly. Even minor signs of wear and tear can cause serious safety risks for your family, leading to costly repairs or even replacement. Inspecting your outdoor deck regularly for signs of warping, rotting wood, loose railings, and other issues that could compromise the structural integrity of your deck.
Damaged decks can pose significant safety risks to you, your family, and your guests. Loose or rotten boards, unstable railings, or weakened support structures can lead to slips, falls, or even collapses. The last thing you want is for an enjoyable outdoor gathering to turn into an accident due to neglected deck damage.
If you leave deck damage untreated for a long time, it could damage the structure of your entire deck. Rotting wood, corroded fasteners, or weakened beams can make the deck unstable and unsafe to use. This increases the risk of the deck collapsing completely.
A deck that has been damaged can be a safety hazard and increase the chances of accidents and injuries. If the boards are splintered or cracked, it can lead to painful splinters or create trip hazards. Fasteners like nails, screws, or other loose materials can also catch on bare feet or clothing, causing puncture wounds or cuts.
Deck damage doesn't only affect the deck itself but can also lead to property damage. For instance, if a weakened support beam gives way, it can cause the entire deck to collapse, potentially damaging other structures or causing harm to your property. This is especially valid when the deck is attached to other structures. 
If the wood in your deck is damaged or decaying, pests like termites, ants, or carpenter bees could be attracted to it. This could lead to additional damage to your deck and make it less stable. In addition, these pests may also cause harm to wooden structures and furniture inside your home if they get inside.
Damaged decks can decrease the value of your home. A deck in bad condition can make your home look unattractive and raise concerns about the rest of the property. If you're considering selling your home, a damaged deck could make it worth less and make people interested in buying it think twice.
Sit back and relax while we handle anything related to deck repair in a complete professional service meant to make your life easier.
Regain Your Deck's Original Condition
Deck Bros offers a comprehensive and professional approach to revitalizing your outdoor living space with our deck restoration services.
Our process involves six steps, as outlined below. When you choose to work with us, you can trust that we will follow these steps to ensure the best results for your project.
Once we connect, we'll schedule an initial meeting to assess your deck's condition and restoration goals. During this appointment, we'll thoroughly inspect the deck boards, wood structure, and surface. We'll also discuss your desired outcome and address any specific concerns you have about the deteriorated deck.
To start the restoration work, we will clean the entire deck to remove dirt, grime, mold, and any old deck stain or finish. We use high-quality deck cleaners and may use a pressure washer at an appropriate level to remove stubborn stains without harming the wood.
Our skilled craftsmen will replace any damaged deck boards, address wood rot, and strengthen weakened deck railings to improve the structural integrity of your deck. This is important to ensure your deck is safe and durable in the long term.
We will sand the wood of the deck surface to remove any rough areas, splinters, or raised wood fibers before applying the new deck stain. This step is important to improve the deck's appearance and provide a comfortable surface for you and your family to enjoy.
After preparing the deck, we will apply a wood or deck stain of your choice to enhance its natural beauty. This high-quality stain will also protect the wood from damage caused by sunlight, moisture, and foot traffic. Our team will apply the stain evenly to ensure complete coverage and consistency.
During the restoration process, we prioritize protecting your property. We'll use plastic sheeting or similar measures to cover nearby plants, furniture, and other items around the deck. After completing the restoration, we'll clean up any debris, leaving your outdoor space tidy.
Contact us today to schedule a consultation and leave the task of deck restoration to us. As experts in the field, we can transform your old deck into a stunning focal point of your yard.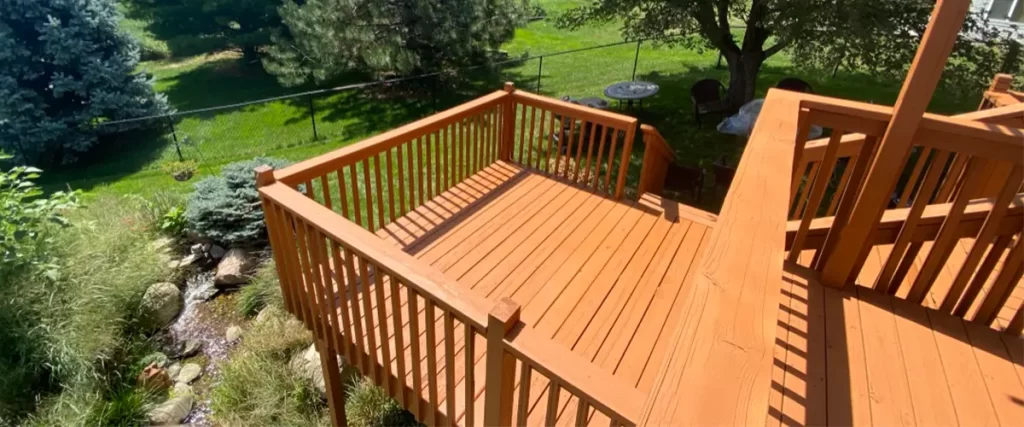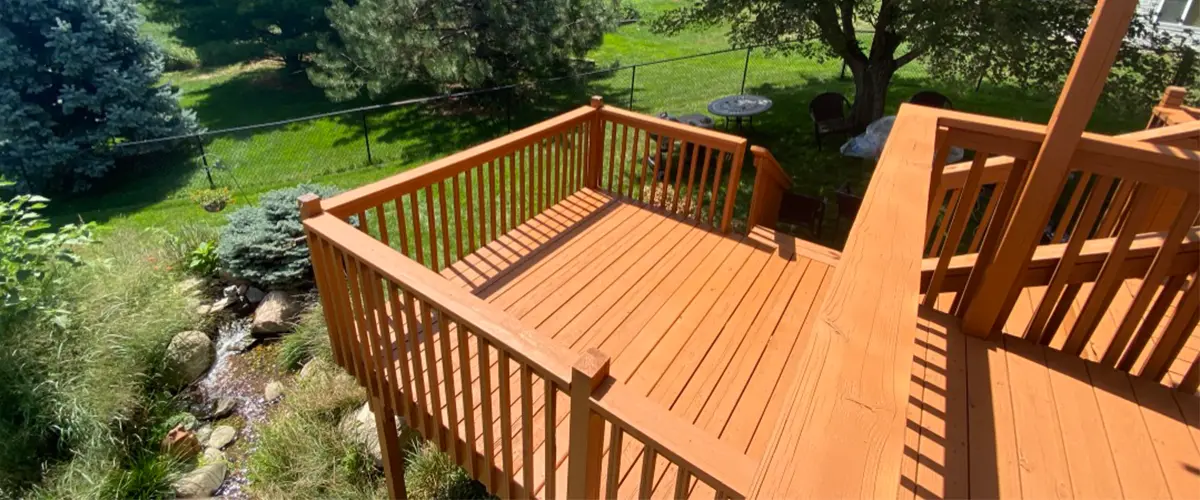 Omaha's Beloved Deck Restoration Services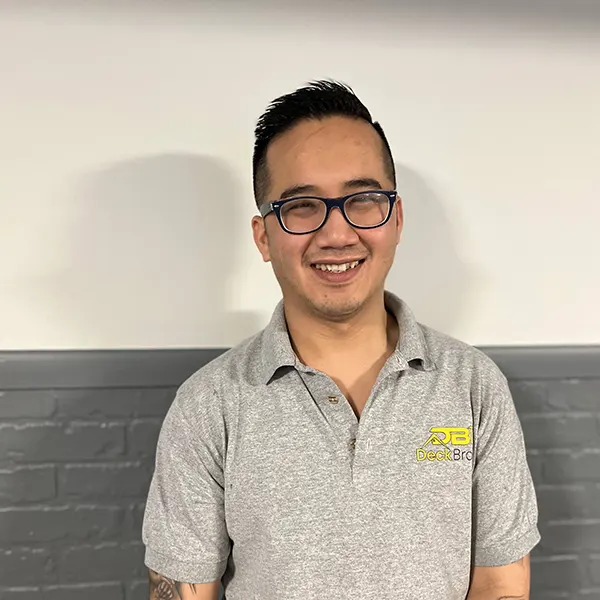 If your outdoor deck has weathered wood, damaged surfaces, or worn-out finishes, our deck restoration and deck repair services can revitalize it.
Don't wait until it's too late and endanger your family's safety. Contact us now to schedule a consultation and let our experts assist you in restoring your deck.