The Best Deck Lighting Service in Omaha, NE
Make your deck more functional and beautiful with deck lighting installation in Omaha, Bellevue, Papillion, and Elkhorn.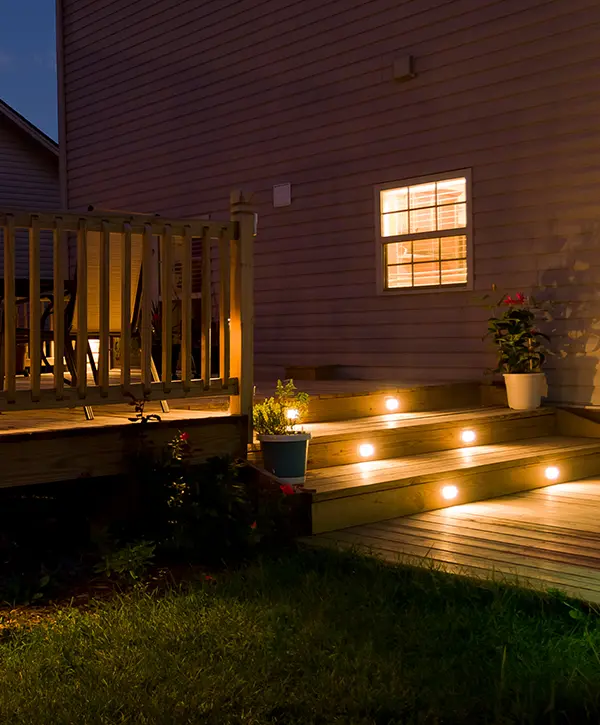 Adding proper lighting to your deck can not only increase safety, but it can also take your backyard oasis to the next level. From post-cap lights to recessed lighting, we offer a variety of options to fit your style and preferences.
Our knowledgeable team will help you choose the best lighting to create the perfect ambiance for your outdoor space. With our efficient installation services, you'll be enjoying your beautifully lit deck in no time.
Let us help you make the most of your backyard with our top-quality deck lighting solutions.
Unlock perks which include:
The Benefits of Deck Lighting
A deck is a great addition to any home. It provides a space to enjoy the outdoors, entertain guests, and relax after a long day.
But what about when the sun goes down? That's where deck lighting comes in! Adding landscape lighting to your deck can enhance its beauty, safety, and functionality.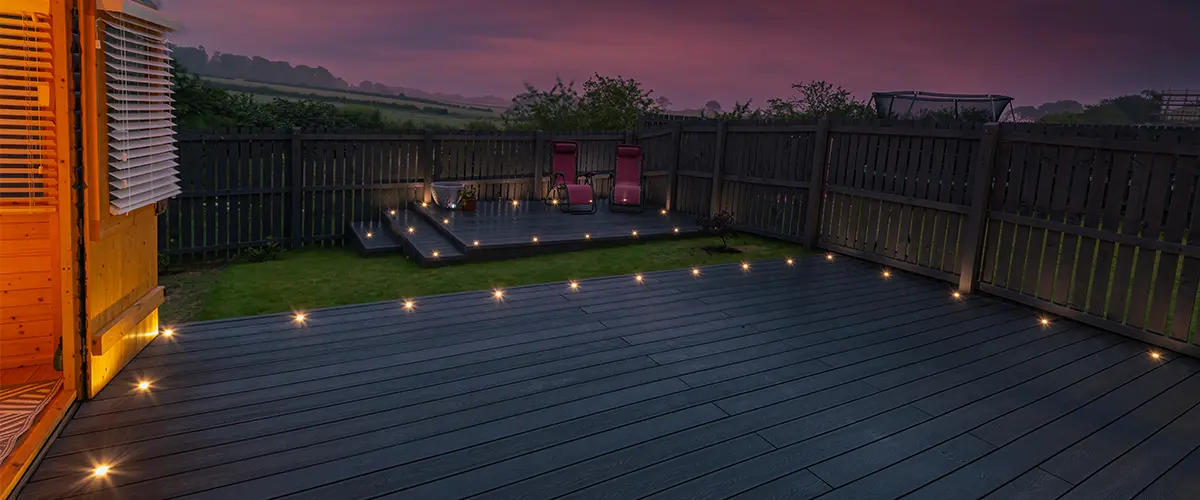 One of the main benefits of deck lighting is safety. Outdoor lighting can help prevent accidents and injuries by illuminating steps, pathways, and other potential hazards. This is especially important if you have children or elderly people in your household who may have difficulty seeing in the dark.
Outdoor deck lights can create a warm and inviting atmosphere for you and your guests due to its soft glow. It can highlight the features of your deck, such as railing, posts, and architectural details, and make your outdoor space more visually appealing.
By adding outdoor lights to your deck, you can extend the use of your outdoor living space into the evening hours. This is especially useful during the summer months when the days are longer, and you want to spend as much time outside as possible.
Deck lighting can also increase the value of your home. It's a simple yet effective way to improve the look and functionality of your deck, which can make it more appealing to potential buyers if you decide to sell your home in the future.
LED lighting is an energy-efficient option that can save you money on your electricity bill. LED lights use less energy than traditional incandescent bulbs and last longer, which means you won't have to replace them as often.
Real Reviews From Homeowners
My family and I have been renovating our home for the last two years and have used many local companies. Deck Bros was hands down the best!
The quality of work, attention to detail and communication with my husband and I throughout the project was second to none.
The workers were meticulous and did beautiful work on my back deck and front porch.
Luan (the owner) was very responsive with our questions and was always checking in on the project to ensure we were satisfied. Highly recommend using Deck Bros!
I found Deck Bros on Facebook & gave them a call. The owner Luan was very pleasant, came out and gave me a quote on the spot.
I HIGHLY recommended this company for your decking needs, Luan's employees were so much fun to be around. They didn't have any issues with the dogs being around checking on their work.
They were all very professional & worked hard, arriving early & getting to work. We even did some salsa dancing to the music. They went above and beyond, and no request was an issue.
Thank You, Luan, and the main guys that were there every day, Christian, Carlos & Leo.
Exploring the Different Types of Deck Lighting
If you want to enhance the beauty and functionality of your deck, adding lighting is a great place to start.
Not only will deck lighting give your space a cozy and welcoming glow, but it'll also keep everyone safe and allow you to enjoy the outdoors long after the sun goes down.
Take your pick from a variety of lighting options, each with its own perks and personality.
Deck lighting has evolved throughout the years, and post caps have made a lasting impression. They're not only a practical choice, but they also add a touch of elegance to your outdoor space.
These lights are strategically installed atop the posts that hold your deck railing, and create a gentle illumination that sets the ambiance for any occasion.
The design options for your outdoor spaces are endless, with shapes ranging from classic squares to sleek pyramids.
Whether you choose solar or electric-powered lights, post-cap lights will add a special touch to your deck that will leave a lasting impression on all who visit.
Deck lighting just got a whole lot cooler with rail lights! These trendy lights aren't just stunning to look at, they're also incredibly practical.
By being installed on the railing itself, they serve as both decorative and functional lighting options.
You'll be spoilt for choice with different styles to choose from, including LED strips, under-rail lights, and post-mounted lights
If you want to add some extra pizzazz to your outdoor living area while also keeping your loved ones safe, consider installing step lights.
These nifty little devices provide illumination with style, and can be placed either on the vertical face of your steps or tucked away under the tread.
Plus, you don't need to be an electrician to enjoy this smart upgrade – step lights can be powered by good old-fashioned electricity or even the sun's power!
Solar lights are energy efficient, so they're a great way to light up the deck while saving money on electricity.
Enhance the ambiance of your deck space with recessed lights that blend seamlessly into the surface, providing a modern and polished appearance.
Choose from various sizes and styles, including square, round, and oval, to complement your deck's design perfectly. Install these sleek lights in the deck boards or underneath the railings for a subtle yet stylish touch.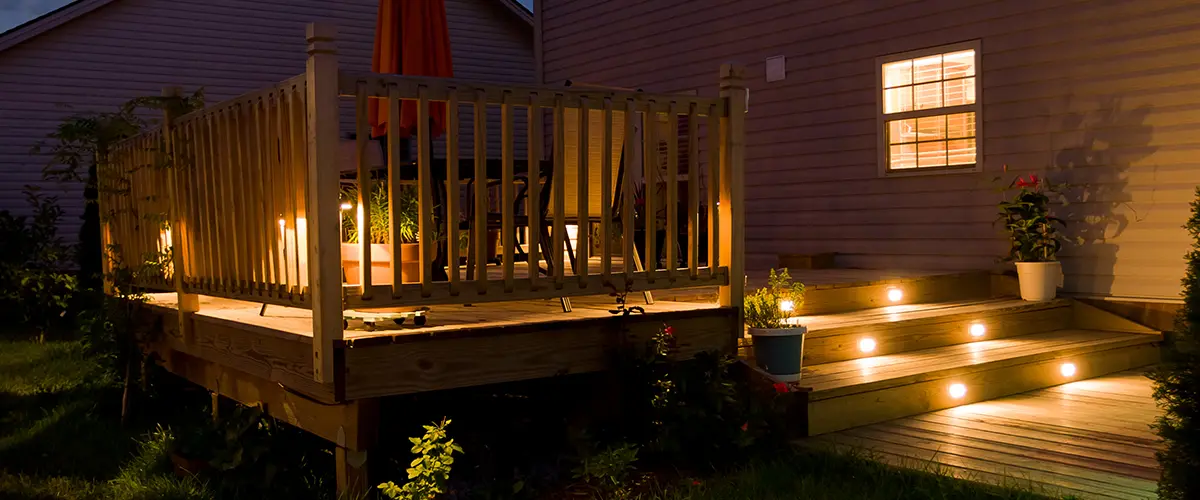 Design Considerations for Enhancing Your Outdoor Space
Your outdoor space is more than just a functional area, it can be an extension of your personality and style. Enhance its safety and functionality with deck lighting.
Don't settle for ordinary lighting when you can add a touch of sophistication through color, texture, and overall style. Elevate your home's aesthetic and make your outdoor space truly shine.
When choosing deck lighting, it's important to consider your home's color scheme. Neutral homes can benefit from warmer tones like bronze or copper to add some depth, while colorful homes might want to balance things out with cooler tones like silver or white.
Elevate the ambiance of your deck with lighting that complements its design. Rustic enthusiasts should consider showing off their style with charming lantern-style lights or fixtures with a more outdoorsy texture. If a modern and chic look is more your speed, go for minimalist and sleek fixtures with a smooth finish.
Your deck lighting can add ambiance and style to your outdoor living space. But, finding the right fixtures can be daunting. To ensure the lighting complements your home's overall aesthetic, consider its style. Traditional homes can rock ornate post cap lights, while a contemporary home may be better suited with sleek and modern recessed lighting.
Answering Your Deck Lighting Questions
Work With The Top Deck Building Company in NE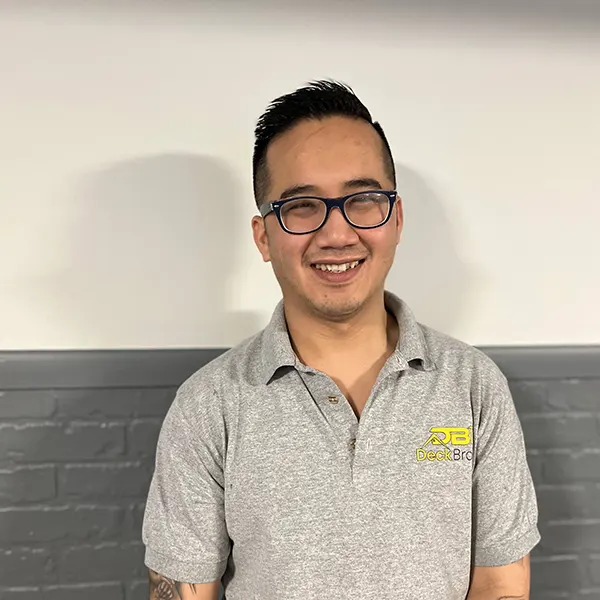 At Deck Bros, we specialize in deck building, installation, and repair, including deck lighting installation.
Our team of experts can help you choose the right lighting for your deck and create a design that perfectly complements your home.
Contact us today to learn more about our deck lighting services and how we can help you enhance the beauty and functionality of your outdoor space.
Get Your Deck Faster Than Anyone Else Today!