Concrete Patio In Omaha, NE
Thinking of installing a concrete patio beneath your deck? Here's a quick way to complement your outdoor space!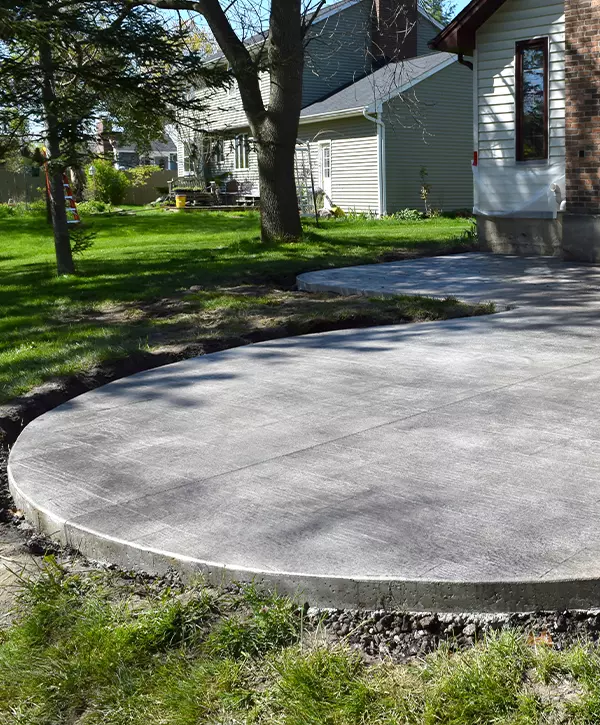 A concrete patio can significantly enhance the aesthetic appeal and functionality of a homeowner's outdoor space. It provides a perfect area for hosting barbecues, garden parties, or simply enjoying a quiet evening outdoors.
Additionally, a well-designed patio can increase the property's value, offering an attractive feature for potential buyers.
Luckily for you, we at Deck Bros are experts in concrete patios and can get yours built in record time! In fact, our deck building projects take just 3 days, so you can imagine how quickly we'll finish your patio.
Let's take a deeper look at what building a concrete patio for your home in Omaha, NE, means for you, your property, and your budget.
3 Reasons That Make Concrete Patios Great Investments
Nowadays, concrete patios are the one upgrade for your outdoor space that complements your home and makes it easier for everyone in your family to enjoy the great outdoors. Here are 3 reasons you should get a patio.
A concrete patio effectively serves as an extension of your home's living space. It invites the outside in, creating a seamless transition from indoor comforts to the liberating openness of the outdoors.
With a well-furnished patio, you can enjoy alfresco dining experiences, sun-soaked relaxation, or a cozy night under the stars — turning previously underutilized space into your new favorite spot.
A concrete patio not only expands your available area for entertaining but also offers a dedicated and comfortable open-air space for relaxation, play, and family gatherings. This added functionality brings a new dimension of enjoyment to your home living experience.
A concrete patio can considerably boost your home's market value. Potential homebuyers are often attracted to properties with well-constructed, attractive outdoor spaces as they offer added utility and aesthetic appeal.
Furthermore, a quality patio indicates that the home has been well-cared for, which can reassure prospective buyers about the property's overall condition. Investing in a concrete patio can offer a high return on investment when it's time to sell, often recovering up to 70% of the installation cost.
Moreover, this outdoor feature can help your home stand out in competitive markets, providing an edge that accelerates the sale process.
A concrete patio can significantly enhance your home's curb appeal. It serves as a focal point, drawing the eye to the well-defined outdoor space making the entire property appear more organized and well-maintained.
Depending on the design chosen, a concrete patio can add a touch of elegance, rustic charm, or modern minimalism to your backyard. When adorned with vibrant furniture and lush greenery, it can transform the backyard into an inviting oasis that exudes warmth and tranquility.
The visual impact of a beautifully designed patio often impresses passersby and visitors, leaving a lasting impression and elevating your home's attractiveness.
Ready to take your outdoor living experience to the next level? Contact us, and let's talk about how our expert team can transform your outdoor space.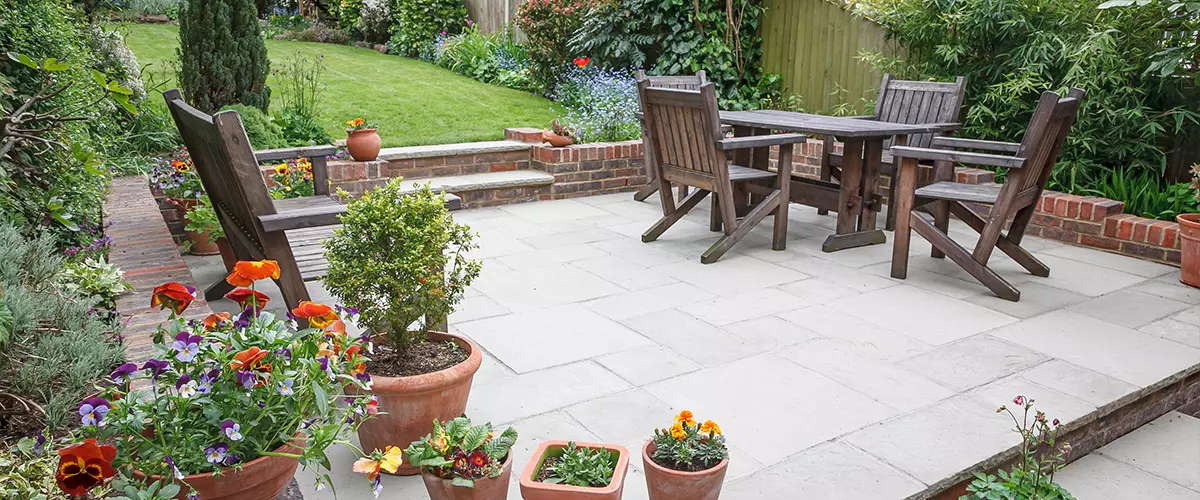 Concrete Patio Cost In Omaha
The cost of building a concrete patio can vary significantly depending on a variety of factors, such as the size of the patio, the complexity of the design, and the type of concrete used.
Most concrete patios range from $8 to $20 per square foot in Omaha, NE. This means that a simple 10×20 foot patio could cost between $1,600 to $4,000.
For a more complex design with custom colors or stamping, the price could increase to $15 to $30 per square foot or more. If your design includes added features like fire pits, built-in seating, or landscaping, the costs would obviously be higher.
Keep in mind these are just estimates; the actual cost could vary based on the specifics of your project. Deck Bros offers free quotes for concrete patio projects, ensuring you have a clear understanding of the cost and scope before the project begins.
A simple concrete slab patio is the most cost-effective option for a concrete patio. The cost of concrete slabs is typically between $4 to $7 per square foot, while labor costs range from $2 to $4 per square foot.
However, you have the option to elevate your poured concrete by employing specialized techniques for the finishes. These finishes have the potential to raise labor costs, ranging from $1 to $10 per square foot.
Instead of going for the poured concrete slab approach, another option is to choose concrete pavers. In terms of material costs alone, concrete paver patios typically range between $10 and $15 per square foot. When factoring in labor costs, the total expense comes out to approximately $12 to $19 per square foot.
Concrete patio costs depend on the type of finish as well.
| Type of Concrete Patio | Average Cost per Square Foot |
| --- | --- |
| Slab | $6 - $11 |
| Pavers | $12 - $19 |
| Exposed aggregate | $8 - $13 |
| Painted | $8 - $17 |
| Polished | $9 - $21 |
| Stenciled | $7 - $21 |
| Stained | $11 - $21 |
| Stamped | $11 - $21 |
Sure, concrete patios are the most common, affordable, and maybe even beautiful patio materials on the market at this time, but there are other alternatives that will satisfy other preferences. Let's look at 6 of the most common patio materials today.
Concrete:

Concrete is a popular choice for patio surfaces due to its durability and versatility. It can be colored, textured, and shaped to create a unique and aesthetically pleasing design.

Flagstone:

An upscale choice, flagstone is sturdy and provides a natural, organic look. It comes in several colors and can be laid in a variety of patterns.

Brick:

Offering a classic look, bricks are versatile and can be arranged in different patterns. They are durable and require little maintenance.

Pavers:

Pavers are easy to install and come in a variety of shapes, sizes, and colors. They are also durable and can withstand heavy foot traffic.

Tile:

Outdoor tiles add a touch of elegance to any patio. They come in an array of colors, patterns, and materials, including ceramic, porcelain, and natural stone.

Gravel:

One of the most budget-friendly options, gravel is easy to install and can be complemented with stepping stones or pavers for a more finished look. However, it requires more maintenance to keep it looking tidy.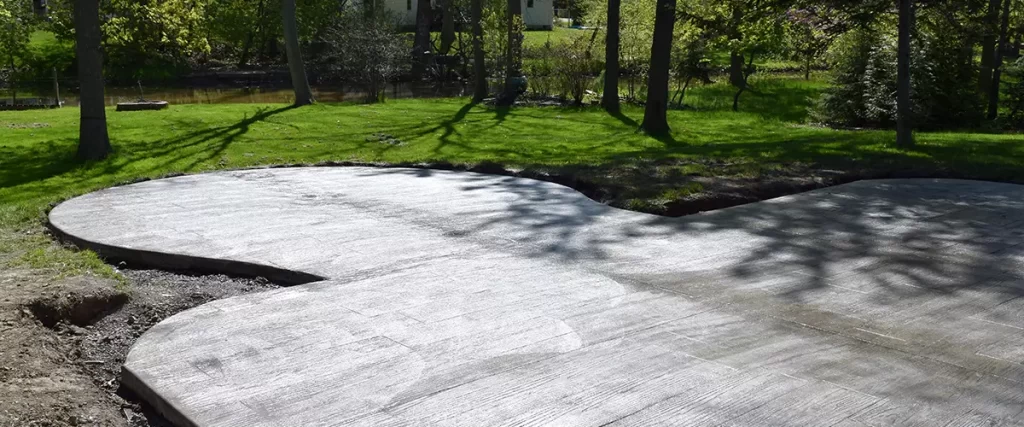 Working With Pros On Your New Concrete Patio
While DIY projects can be fulfilling and sometimes cost-effective, when it comes to installing a concrete patio, opting for professional help is often the better choice. Professionals bring a level of expertise and precision that is hard to match without the necessary training and experience.
Firstly, pros are familiar with local building codes and regulations, ensuring your patio adheres to all required standards, which is crucial if you ever decide to sell your home.
Secondly, working with professionals eliminates the risk of costly mistakes. They have the right tools to ensure an efficient concrete patio installation and can expertly navigate challenges like uneven ground or complex patio designs.
Additionally, a professional crew can complete the job more quickly and efficiently than a DIY enthusiast, saving you time and providing you with a high-quality, durable patio that will last for years to come.
Lastly, many professional concrete patio companies offer warranties on their work, providing an additional layer of protection for your investment. Here at Deck Bros, you'll get a 5-year workmanship warranty that'll give you the peace of mind of a lasting investment.
Get Your New Concrete Patio Installed By Local Pros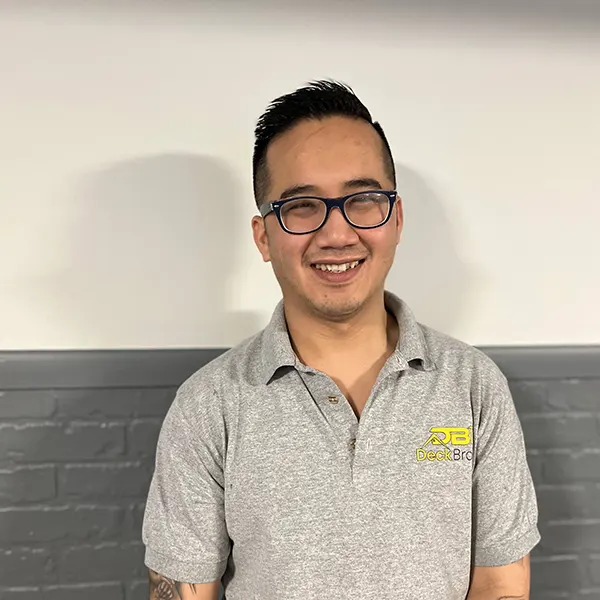 A concrete patio brings a lot of benefits to your property. Increased home value, better curb appeal, and more outdoor living space square footage are the most popular reasons homeowners decide to make this investment.
Here at Deck Bros, we're putting at your disposal the best patio installation crew in Omaha. Our team consists of concrete professionals who can finish your new patio and make it worthy of the best remodeling magazines in the nation.
If you're ready to make an investment that'll boost your property's value, work with us, and let's see your vision to fruition!