Unlike composite, wood decking is prone to much more damage from the elements. Heat, ice, wind, but especially water will harm your decking boards and cause a lot of damage over time.
In this case, the best defense is deck sealing. 
A quality sealant ensures your wood decking boards will last longer, as the treatment protects them from water damage — a common enemy of wood decks.
Because we've seen a lot of decks poorly sealed, we decided it's time for a blog post on it.
Keep reading to discover the difference between a sealer and a stain, how to seal your deck, and some extra tips on sealing and staining decks!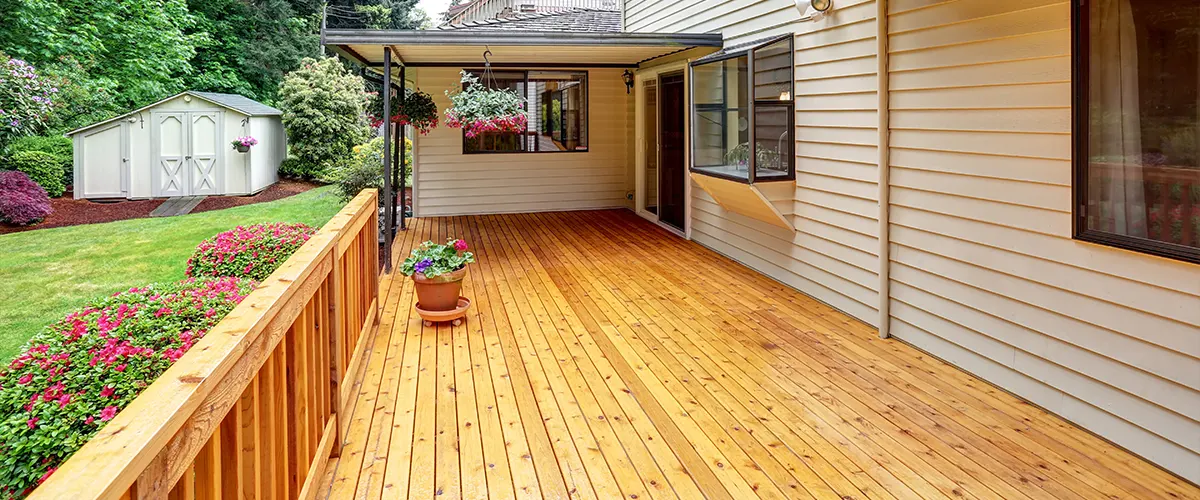 Both stain and deck sealing are great at protecting your decking surface, but they're not the same thing.
A deck sealer is a transparent liquid that seeps into the wood and fills it to stop anything else from entering it. On the surface, it creates a protective barrier without altering the natural look of the wood.
The main goal of a sealer is to stop as much water as possible from entering the wood, but also to lock out moisture. As a result, deck sealers are great to reduce fungal growth and stop wood rot (the most common issues with wood decking).
Sealing protects the wood from water, but it's not as efficient for extreme heat. Direct sunlight will dry the wood's natural oils, causing its color to fade and the wood to crack or splinter.
Deck stain gives your wood decking some water resistance, but it also adds more color to the wood. In general, stains are better to block UV light and offer more protection to scratches than a sealer does.
In fact, the more pigment you add by staining, the more protection it'll give to your decking surface.
Hiring a professional to clean, stain, or seal a 250 square foot deck costs on average between $700 and $1,000. Generally, deck sealing a 250 square foot surface ranges between $300 to $400, and $400 to $600 to stain a deck.
A gallon of deck sealant costs between $25 to $40. For a 250 square foot of decking, you'll most likely need two gallons, so it'll cost you between $50 to $80. To stain a 250 square foot deck you'll need as many as three to six gallons of stain, which costs between $75 to $240.
Deck sanding costs are on average between $210 and $350 for a 200 square foot deck.
8 Steps To Seal Your Deck
Deck sealing is not rocket science, but if you want to do it properly, there are some steps you need to follow.
Before you begin sealing, make sure your deck is completely dry. If you have a new deck made with treated wood, leave it a few weeks to completely dry before you start sealing it.
Even though deck sealers are made to protect the wood from water, it still needs time to settle in and reach its maximum efficiency.
Make sure you get at least two days of dry weather with temperatures below 90 F, as this will ensure the best seal.
Take everything off your deck, including furniture, plants, and other objects. This makes it much easier to work on your deck.
In some cases, you might need to sand your deck to ensure the oil will penetrate the deck surface. Sand in the direction of the wood grain, and always wear a mask to do it.
After sanding, clean your deck thoroughly from all debris. You can use a broom to get into every crack and corner of your deck. A strong leaf blower can also work. Don't use a power washer for deck cleaning, as you'll need to wait for the wood deck to dry again.
Before applying the oil, stir it. Be careful not to shake the sealer, as this can cause bubbles when you apply it on your decking surface.
To apply the sealer you can use a brush, a paint roller, or a sprayer. Go for a thin coat first, as you can add a second coat later. In fact, two thin coats will dry faster than one thick coat of any sealant.
Repeat step 6 and re-apply the sealer once again. We recommend using a fine paintbrush to get the sealer into more difficult places, like cracks, railings, steps, or in-between the decking boards.
Give your deck a couple of days to fully dry out. Don't use it before it's dry, as you can compromise the sealer.
Tips On Deck Sealing And Deck Staining
The steps above should make your project go smoother, but there's more to deck sealing and staining than that.
Let's look at some tips on sealing and staining a deck.
Best Deck Sealers On The Market
Many deck sealers companies promise the impossible. What we can guarantee is that no sealer will last longer than a year, no matter how they market their product.
Let's look at some of the best sealers on the market these days.
Thompsons Waterseal Advanced Natural Wood Protector
Thompsons Waterseal is a great product in general, so definitely worth being our first option. This product goes a long way to preserve your wood decking from mildew and water damage. It also has a higher resistance to UV damage than most other sealers.
ECO-SAFE Wood Treatment - Stain & Preservation by all Earth
According to them, you can use their ECO-SAFE Wood Treatment without any pre-application prepping, as long as your deck is clean. Although it can be true, we still recommend following the steps in this article to ensure a proper seal.
Rust-Oleum Coppercoat Wood Preservative
This is an EPA-registered product that delivers really good protection against water damage, but termites and ants too. However, one downside of this sealer is that it produces a slight transparent green layer on your deck, right after its application. The color will fade with time, it's up to you if you want to wait.
CabotStain Australian Timber Oil
CabotStain is a high-quality sealer said to penetrate very deep inside most wood types. Besides the water damage protection, this sealer also has an increased UV protection.
Thompsons Waterseal - Transparent Stain
Like we said, Thompsons Waterseal is a great product. This product offers the best of both worlds. It's a combination of deck stain and sealer that provides a transparent, waterproof color that prevents damage from mildew, rot, and mold. It has a simple application and dries faster than most other products.
Wood remains the traditional material choice for decking across US homeowners. It offers a beautiful and natural look, and they're also the most affordable decking materials out there.
However, they do have some major disadvantages.
Every wood decking requires constant maintenance at least twice a year. This includes deck staining or sealing, pressure washing, painting, and repairs or replacements.
These are not free, and after several years of added up costs, you realize you were better off with spending a little extra money on a composite deck that requires little to no attention.
Deck sealing and staining can be a relaxing activity, until it's not.
If you're interested in more information about the maintenance of your wood decking, or you want to upgrade to a low-maintenance deck, get in touch today!