Our Deck Building Service Areas
Enjoy a superior deck built in record time with your local deck building professionals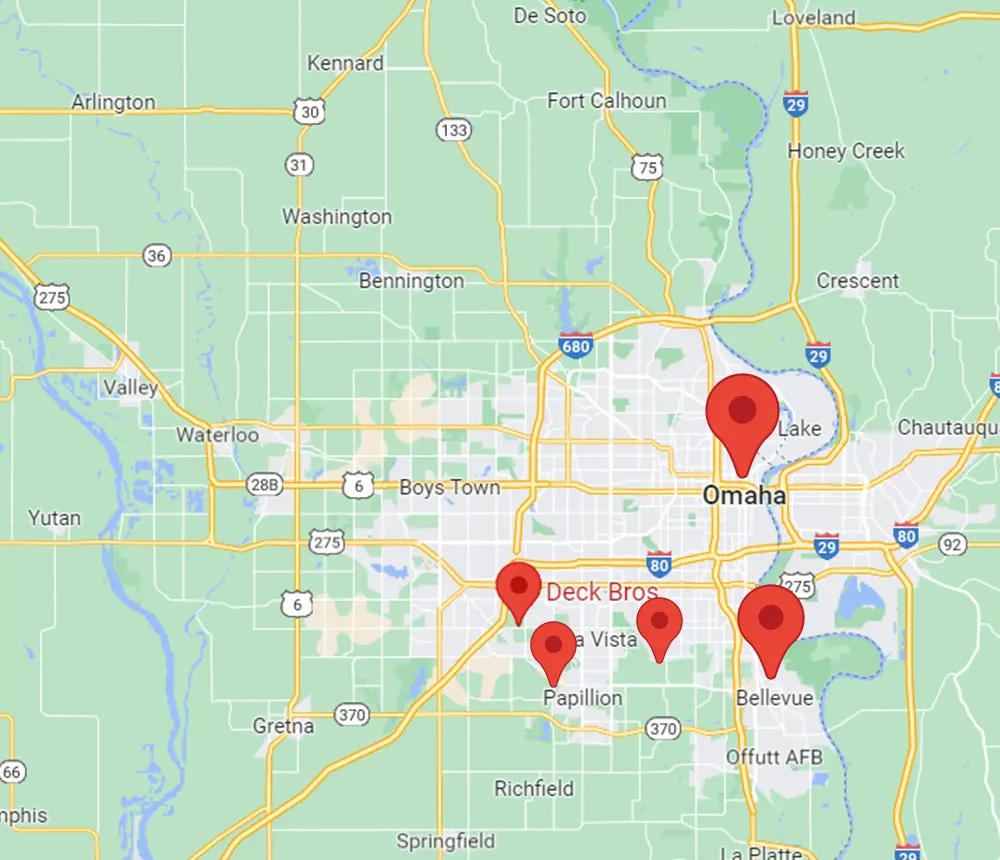 Scroll to check out where you can find us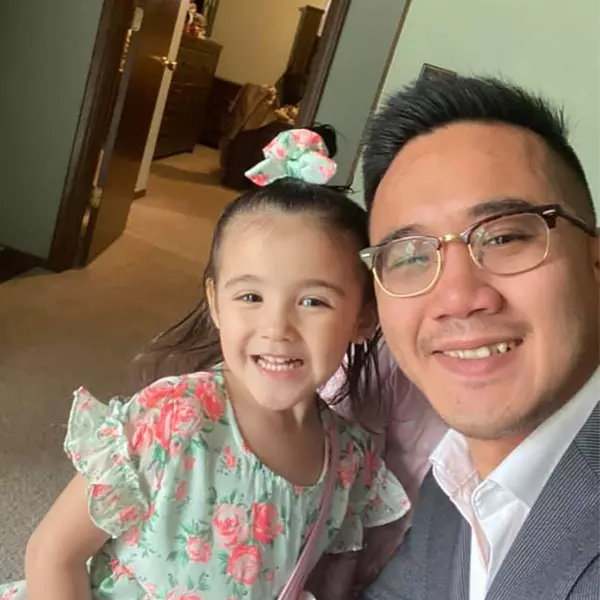 Premium Deck Building With Deck Bros
Based in Omaha, Nebraska, and proudly serving homeowners in Papillion, Bellevue, La Vista, Elkhorn, and Gretna, we are a team of experienced deck builders and carpenters striving to reach the highest level of perfection on all our projects.
Go through a process that allows you to be in full control of your project and enjoy a premium deck built in record time!
Our ultimate goal is your complete satisfaction and seeing you smile the moment you step on your new deck.
Here's what we bring to your project:
Our Deck Building Service Areas
Get a safe and sound new deck for you and your family and uplift your outdoors starting today!
We're proud to be headquartered in Omaha and we love our city. We're planning to change the deck building industry, and we start from here! 
Homeowners in Papillion love a good deck when they see one, which is why many of our projects come from here.
All our projects in Bellevue turned out great and our customers were in love with their decks. Check out our Bellevue projects below!
Decks feel different with the beautiful scenic view of the Big Papio Creek basin. Outdoor spaces here will undoubtedly uplift your mood!
Although a small town, Elkhorn has so many opportunities similar to what big cities have to offer, including amazing views.
Gretna is an amazing place to live. This city if full of history, great schools, beautiful homes, but most importantly, mesmerizing decks!
Lincoln is the capital city of the U.S. state of Nebraska and the county seat of Lancaster County.
Fremont is famous for its cultural and educational opportunities. We love this city and its homeowners, which is why we go above and beyond with our service!
Although small and barely noticeable on the map, we love the atmosphere in Blair. Building decks here is relaxing, so some of our best projects come from here!
Valley is a city in Douglas County, Nebraska, United States. Valley is also home to the area's National Weather Service office, serving portions of eastern Nebraska and southwestern Iowa.
Bennington was founded in 1887 and soon after incorporated as well. It still maintains its safe, small-town atmosphere, while being very close to the conveniences of the Omaha metropolitan area (10 miles away). Here you can get:
Arlington was once called Bell Creek, but because of the similarity to another town in Nebraska, it was renamed Arlington after a city in Virginia. We love this town no matter where its name came from! Here's what you can get with us:
Chalco is a census-designated place (CDP) in northern Sarpy County, Nebraska, United States, and an adjacent suburb of Omaha, with La Vista located to the southeast. The population was 11,064 at the 2020 census. Chalco is a quiet, family-friendly community with a strong sense of community. The area is home to a variety of parks and recreation facilities, including Chalco Hills Park, which offers hiking trails, a playground, and a swimming pool.
It's Your Time To Get The Deck Bros Experts On Your Project!
Our customers love working with us for several reasons. We perfected our process to ensure it makes everyone comfortable while working with us, but also to constantly keep you in the loop.
Deck Bros did a phenomenal job with our deck! 
Luan went over all the pros and cons of what we were doing, encouraged us to ask questions, and kept us updated on all progress. 
Everyone was professional and efficient, and the crew worked hard and did their job both quickly and well. The new deck is beautiful and has some nice warranties to go with it!
Deck Bros did an amazing job replacing my old Deck. 
Luan and his team were very professional and got the job done quickly. If you are looking to get your old deck replaced or have one put in these are the guys. 
I am very happy with the finished product.
Licensed, Insured, And Bonded
Work with the best deck builders in Nebraska and get yourself a deck that's up to the highest standards. Enjoy a long-lasting outdoor space and an excellent deck building journey!
Ready To Get Your Well-Deserved New Deck?
Start your deck building journey today and enjoy a top-quality outdoor space!