Transform Your Outdoor Living Space with Deck Remodeling
Have a stunning outdoor space with our deck remodeling, building, and repair services in Omaha, NE.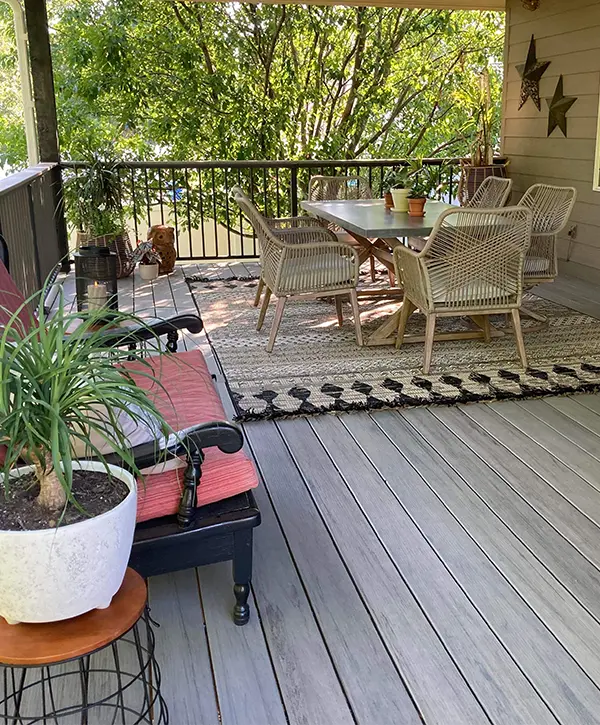 At Deck Bros, we specialize in bringing your vision to life with our top-notch deck services. With over 30 years of carpentry experience and a team of experts, we guarantee you will be thrilled with the results.
Whether you are looking for a complete rebuild or need repairs or maintenance on an existing structure, we've got you covered!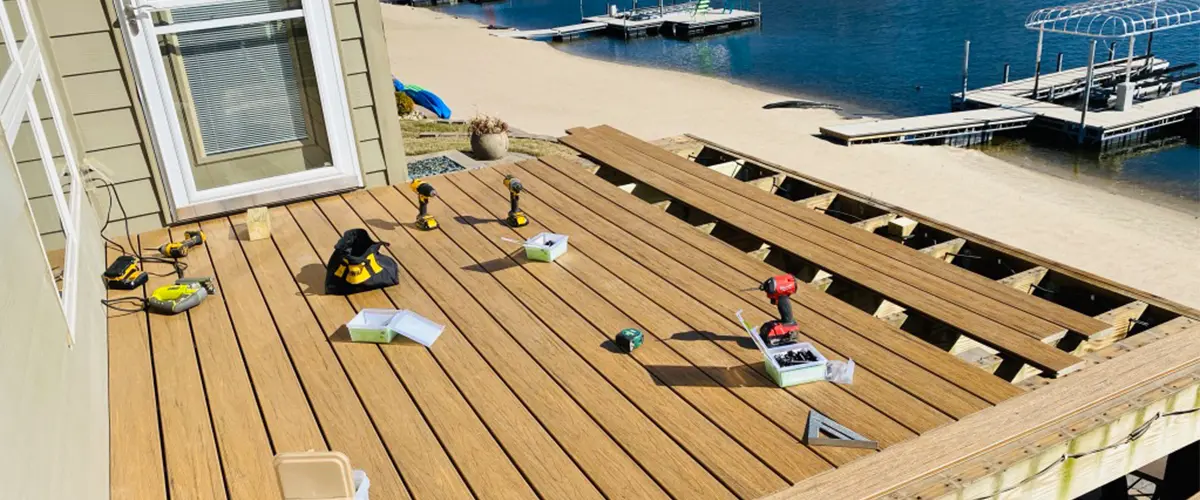 The Specialists Who Understand Decks
Our experience in deck building and repair has taught us that deck remodeling brings a lot of benefits to the surface.
With deck remodeling, your home can enjoy:
Benefits Of Deck Remodeling
Picture a deck renovation that would help you create a space that you and your family will love. Deck remodeling is all about customizing the deck to suit your needs and tastes while creating more outdoor room for quality family and friends time.
By remodeling your deck, you'll not only enjoy a higher quality outdoor living space, but you could also increase the value of your home. Decks are a great way to add extra square footage to an existing home and can add up to 80% of their cost if and when you decide to sell.
The cost to repair and maintain your deck is a fraction of the cost of replacing it. This can save you hundreds, even thousands of dollars in the long run. With Deck Bros' expert advice on maintenance, you can ensure your deck lasts for many years.
Deck remodeling allows you to make your outdoor space more functional. For example, it can be used to create a space for entertaining guests or hosting parties. You could add outdoor furniture or features such as planters, fire pits, and water to your deck.
A well-designed and remodeled deck can instantly transform your home's exterior, providing a touch of elegance and beauty. Even if your deck isn't visible from the street, reinvent it with new features such as furniture, planters, and colored art pieces.
A remodeled deck can essentially add additional living space to your home. With a comfortable and functional outdoor living area, you can entertain guests, relax, and spend time with family and friends in a beautiful outdoor setting.
If your deck is aging or in disrepair, a remodeling project can help you address safety concerns. You can replace damaged or rotted boards, fix loose railings, and update other features to make your deck safer and more secure.
We can help you create a stunning outdoor living space by designing a unique and functional deck that meets all your needs. Contact us now to start transforming your outdoor area.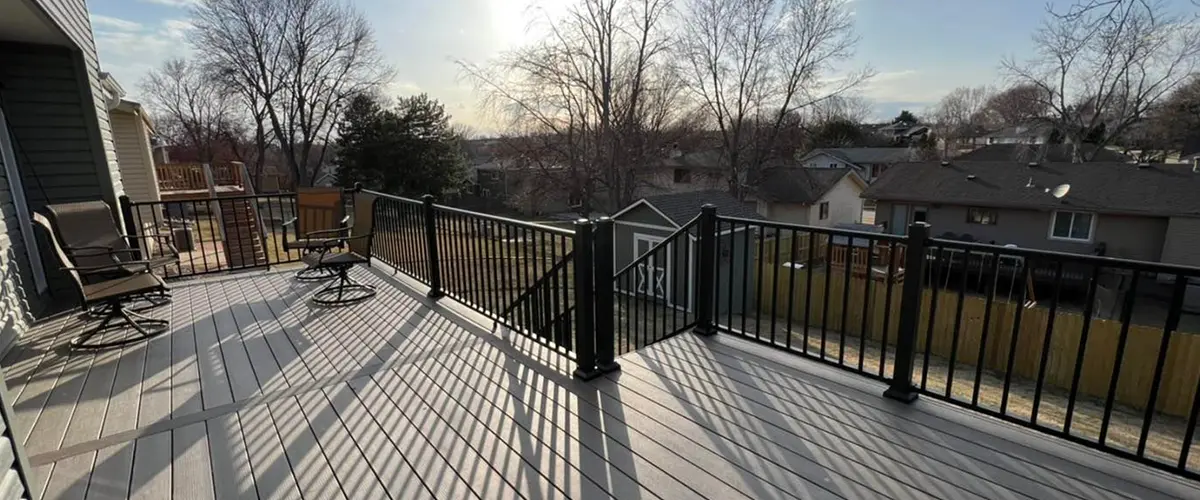 Why Homeowners Choose Deck Bros Over & Over Again
My family and I have been renovating our home for the last two years and have used many local companies. Deck Bros was hands down the best!
The quality of work, attention to detail and communication with my husband and I throughout the project was second to none.
The workers were meticulous and did beautiful work on my back deck and front porch.
Luan (the owner) was very responsive with our questions and was always checking in on the project to ensure we were satisfied. Highly recommend using Deck Bros!
Luan and his crew are first-rate deck builders.
They refurbished and re-supported our old deck and added on additional new decking in a week after all was approved by the city of La Vista.
The only problems were with the composite supplier which Luan handled quickly.
Definitely recommend them if you are looking for a new deck or want to update an old one.
There are many ways to transform a dull-looking wood deck into something truly spectacular. It would be a shame not to take advantage of your existing space and turn a basic deck into a space for heartwarming family get-togethers. Here are some deck ideas to get you started.
Adding a hot tub to your existing deck can be a great way to add a little luxury and relaxation to your outdoor living space. A hot tub is not only fun, but also provides great health benefits.
Studies show that soaking in hot water can reduce muscle tension, improve blood circulation, and even help you relax and sleep better at night.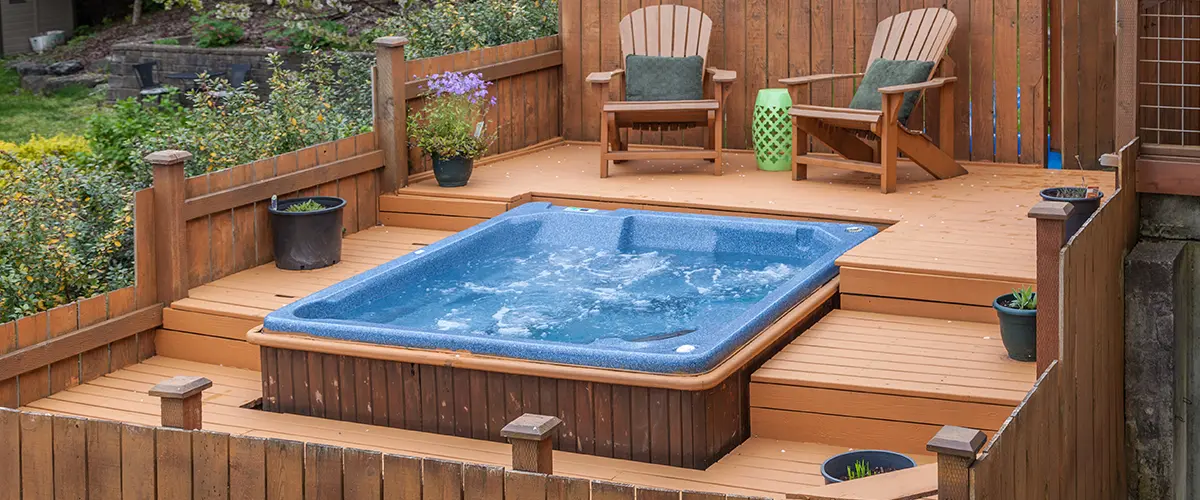 Expanding on adding a hot tub to your deck, you can also create an outdoor dining space for entertaining friends and family. It can be as simple as adding a dining table and some chairs.
With a beautiful outdoor dining area, you can enjoy an al fresco dinner with friends or host a barbecue without leaving your backyard.
Adding an outdoor kitchen to your existing deck is the perfect way to upgrade your outdoor living space. You can choose from various styles and sizes that fit your needs, budget, and design aesthetic.
A built-in outdoor kitchen will give you all the convenience of indoor cooking with the bonus of enjoying the great outdoors.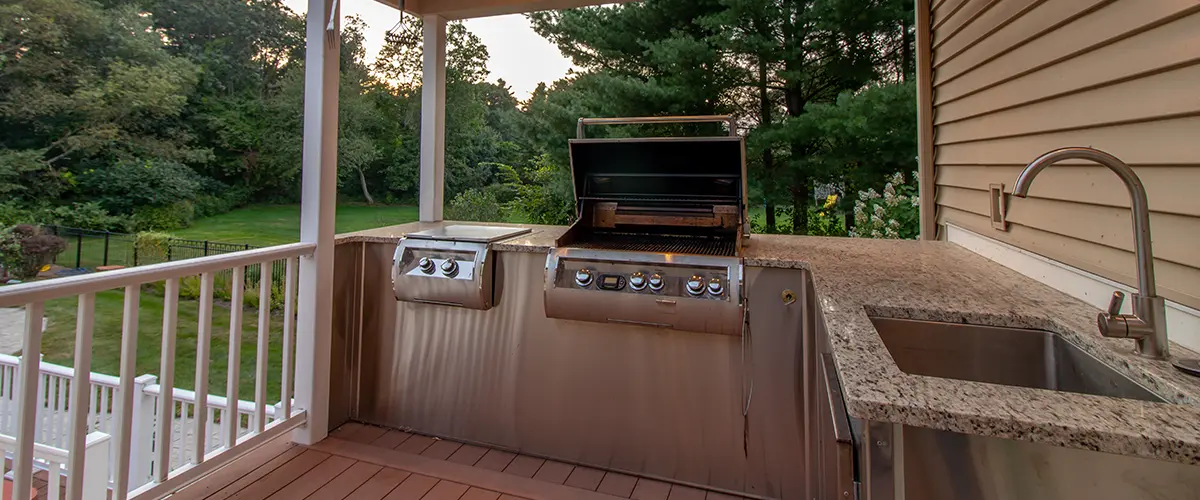 For all those of you who enjoy quality time alone, curled up with a good book: why not create an outdoor reading corner on your deck? It helps shoot two birds with one stone: you get to spend more time outdoors while doing one of your favorite things.
Setting up an outdoor reading corner can be as simple as adding a comfortable seating space, some lighting, and an umbrella or a pergola for shade on sunny days.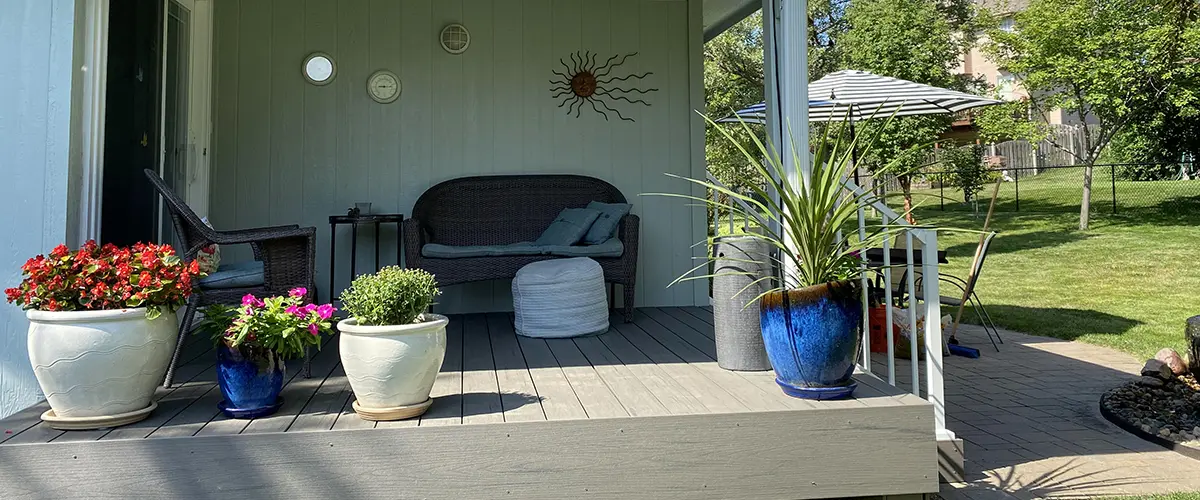 Adding a fire pit to your deck is a great way to create an inviting and cozy atmosphere for you and your guests. Fire pits provide a natural gathering spot where friends and family can gather around, roast marshmallows and share stories.
With the right design, they can also become a visual centerpiece that will help tie your outdoor living space together.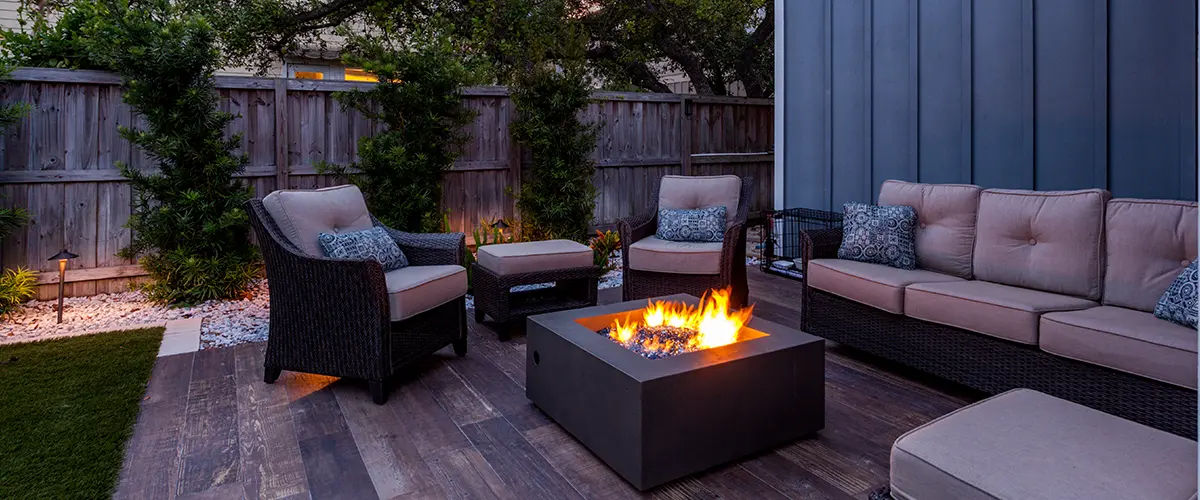 Adding potted plants to your deck is a great way to add a touch of nature and beauty to your outdoor living space.
With the right type of plants, you can bring color and texture to your deck that will make it come alive. Potted plants are also an easy and low-maintenance way to bring some life into your backyard.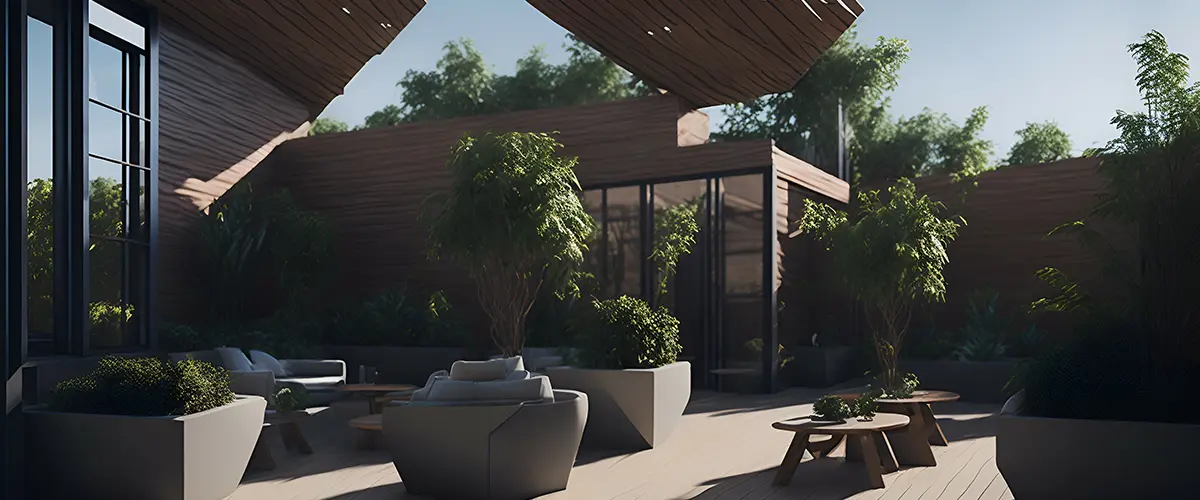 Transforming a deck into an outdoor room can create an inviting space that expands your living area and provides an ideal place to entertain or relax.
Invest in comfortable, durable outdoor furniture to make your deck feel like an outdoor room. Consider adding a mix of elements for a seating area, such as a sofa, chairs, and benches.
Adding pops of color with rugs and throw pillows is a great way to bring vibrancy and life to an outdoor deck.
Outdoor rugs can create a warm, inviting atmosphere and add both texture and pattern to the space. Throw pillows can provide an additional burst of color that brings together the deck's overall look.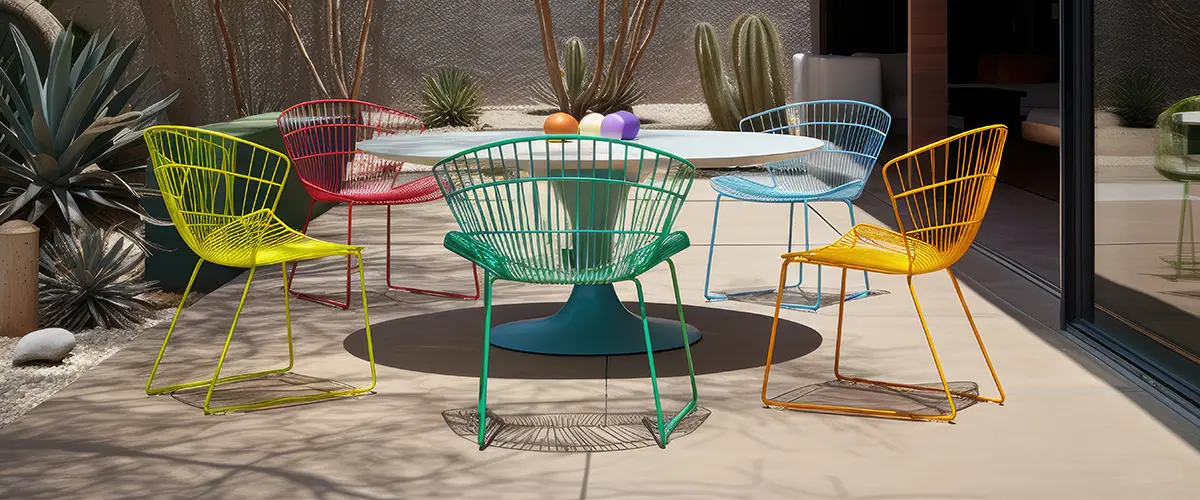 At Deck Bros, our team of experts will work with you to create the perfect outdoor living space for your home. We will design a unique and beautiful deck that meets all your needs and exceeds your expectations.
The Most Frequent Deck Remodeling Questions, Answered
The Deck Remodeling Experts With A Passion For Outdoor Spaces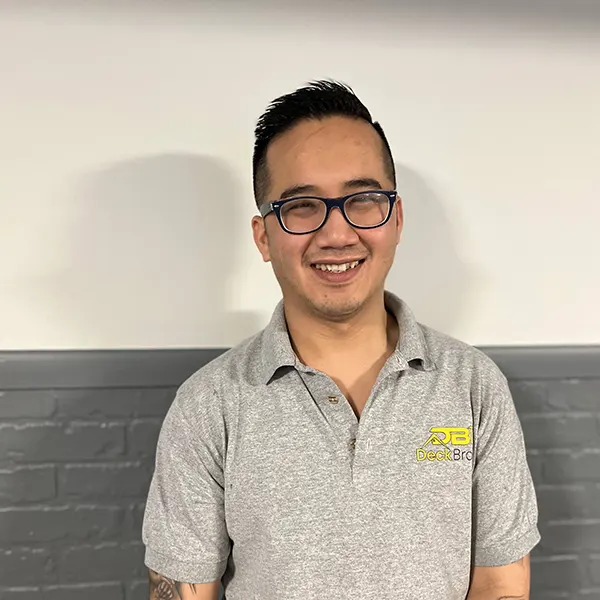 At Deck Bros, we believe a well-designed outdoor living space is essential to having fun and enjoying life at home. 
We specialize in deck remodeling projects that are both cost-effective and high quality. So if you're ready to start transforming your outdoor space into something special, click the button below to contact us today!