Want a deck that'll last for a lifetime with minimum maintenance? PVC decking is the answer.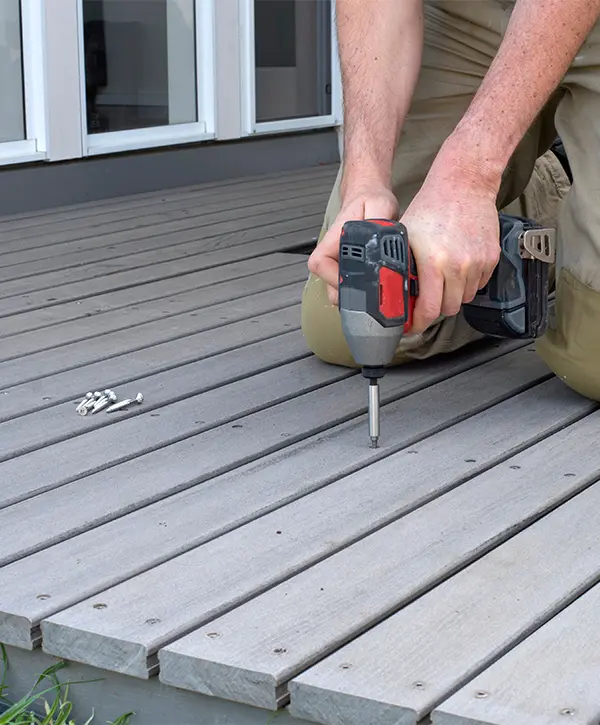 There's just one more option that'll save you even more time and money than composite decking, and that is PVC decking. PVC decks have a lifespan of around 50 years and often come with a warranty for fading and staining.
This option is more expensive than composite and wood decks but perfect if you want a self-sufficient deck that doesn't need your attention. Here at Deck Bros, we install some of the best PVC decks in Omaha, NE, and surroundings, so if that's what you're looking for, you know what to do!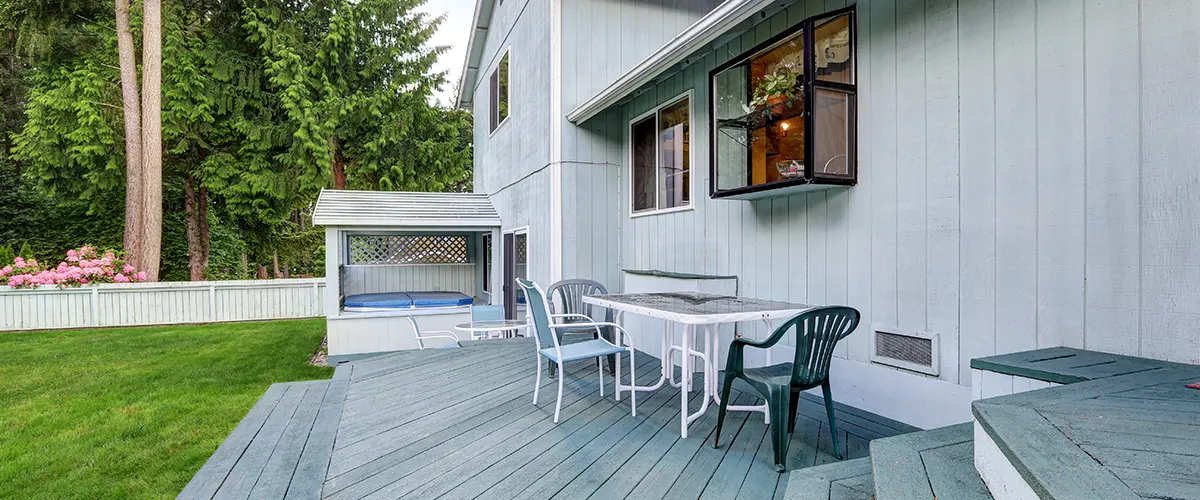 3 Reasons PVC Decks Are Superior
There's no doubt that PVC decks are better, but let's see what exactly makes them better compared to the upscale composite decks or the budget-friendly cedar or pressure-treated decks.
Over 50 Years of Lifespan
PVC decks are renowned for their longevity, providing a robust decking solution with a lifespan that extends over 50 years. Moreover, your PVC deck's color is more than just superficial. The pigments are integrated into the material during manufacturing, not just coated on the surface. This means the stunning colors of your PVC deck are built to endure, resisting the common problem of fading seen in other deck types. PVC decks come with an impressive 50-year warranty against fading and staining.
Real Wood Looks, Without The Downsides
PVC decks bring you the aesthetic appeal of real wood without the drawbacks. The material is designed to mimic the natural beauty of hardwood, displaying rich, textured grains that make each deck unique. Unlike real wood, PVC decks require no sealing, staining, or painting. The material resists rot, insects, and decay, promising you a deck that maintains its luster without demanding your time or money for constant upkeep.
Immune To Any Kind Of Weather
Unlike other decking options, PVC is highly resistant to the effects of weather and wear. It doesn't warp, fade, or crack under the harsh elements of sun, rain, or snow, maintaining its vibrant appearance and structural integrity for decades to come. It's also resistant to mold, mildew, and moisture, making it an ideal choice for decks in humid or wet climates, but also resistant to strong UV rays, making it just as good in areas that get a lot of heat during the summer. Regardless of where you live or what weather conditions your deck is exposed to, PVC decking can handle it all with ease.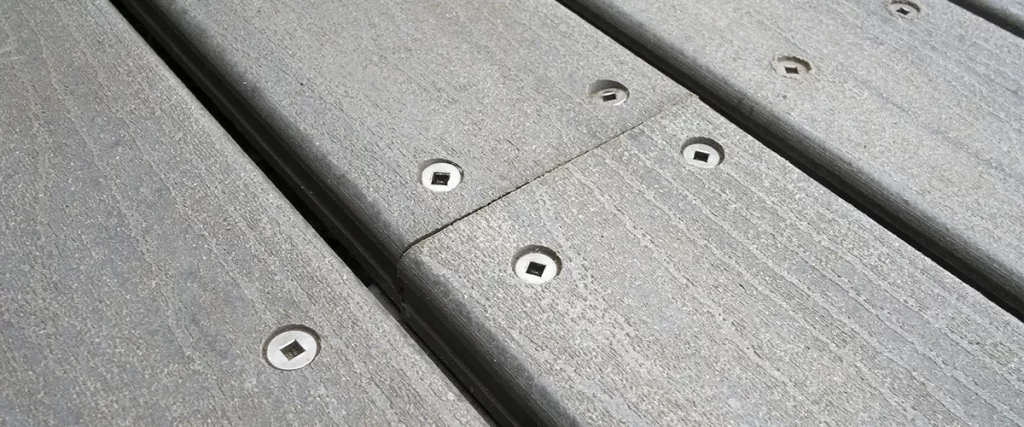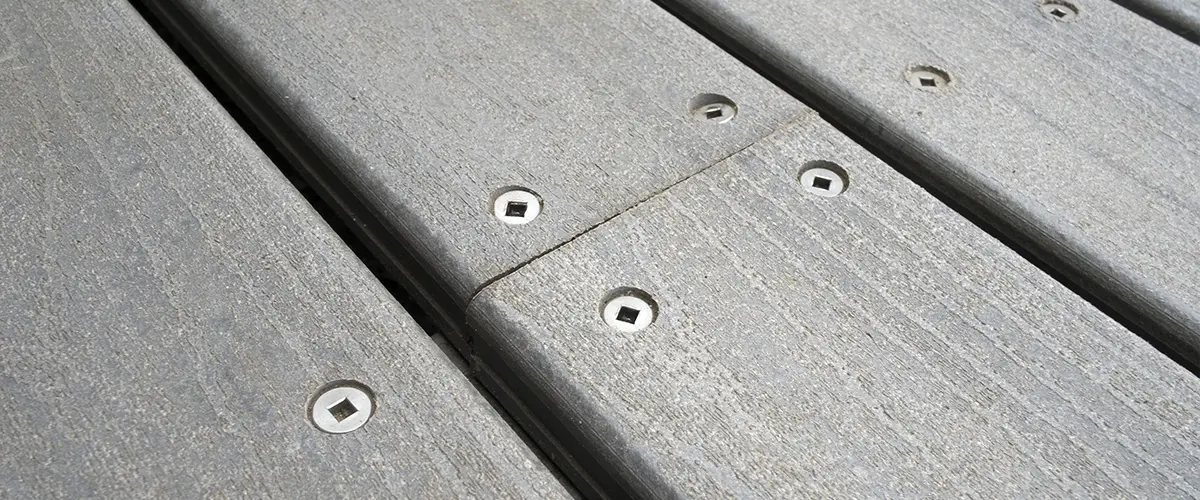 The average cost of composite decking ranges from $25 to $45 per square foot, with the national average of around $35 per square foot. This cost includes both material and labor. However, there can be a significant variation in price depending on the specific materials used and the complexity of the installation process.
Installation costs will add between $35 to $75 per hour, depending on how good your contractor is. Naturally, seasoned deck installers will charge more for superior service, while beginners will lower their costs so they can compete.
| SQUARE FOOTAGE | LOW COST | AVERAGE COST | HIGH COST |
| --- | --- | --- | --- |
| 100 | $2,500 | $3,500 | $4,500 |
| 200 | $5,000 | $7,000 | $9,000 |
| 300 | $7,500 | $10,500 | $13,500 |
| 400 | $10,000 | $14,000 | $18,000 |
| 500 | $12,500 | $15,500 | $22,500 |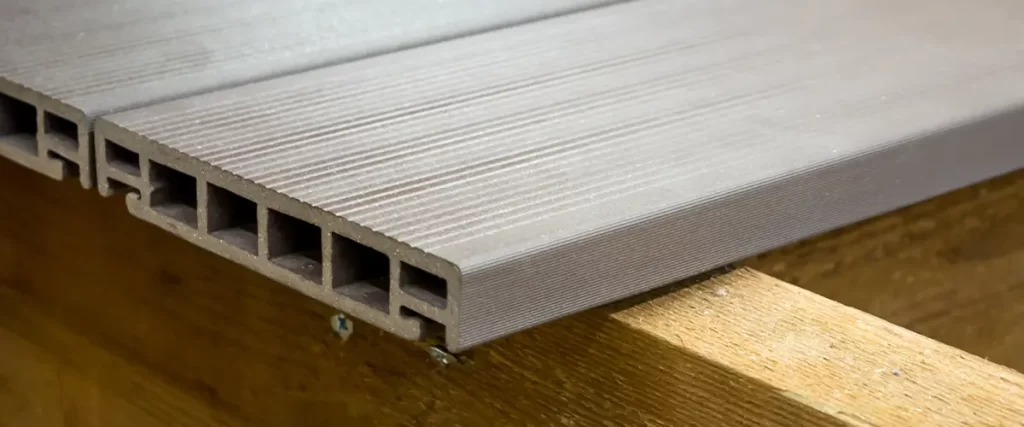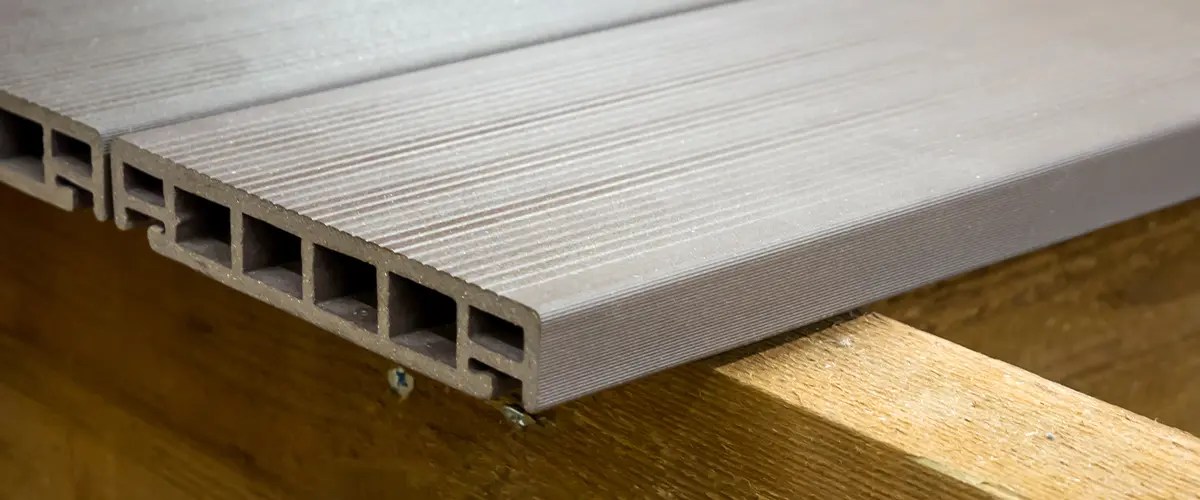 Best PVC Decking Brands Around
Step 1: Clear the Deck
Remove all furniture, planters, and any debris, like leaves and branches, from the deck. Sweep the deck thoroughly using a broom or a leaf blower to clear away loose dirt and debris.
Fiberon is another respected name in the world of PVC decking. They offer a wide range of options with varied colors, grain patterns, and finishes. Fiberon's decking products are known for their protective shell that resists fading, staining, and weathering. Moreover, Fiberon ensures environmental sustainability by using 94% recycled content in its products.
TimberTech offers high-quality PVC decking, known for its strength, durability, and resistance to harsh weather conditions. They provide a variety of color options, from warm earth tones to cool grays. TimberTech's decking is also extremely low-maintenance, requiring minimal upkeep to maintain its appearance and performance. The brand is committed to sustainability, using up to 80% recycled materials in their products.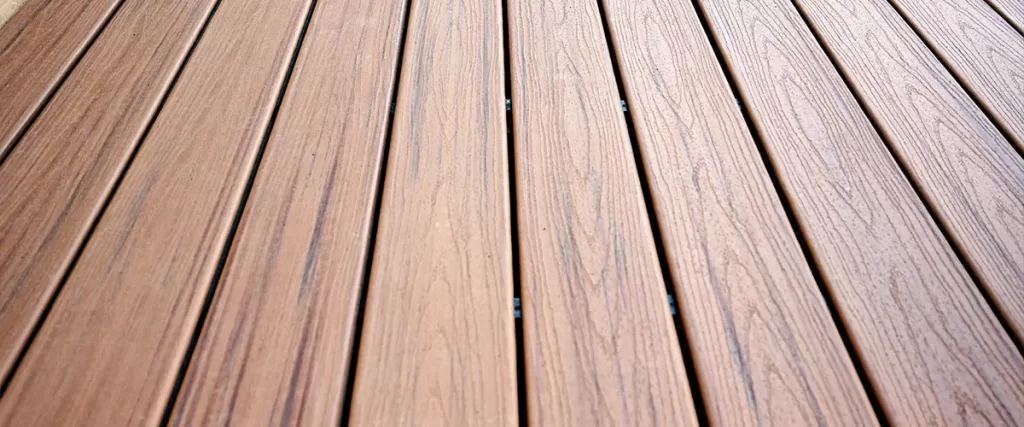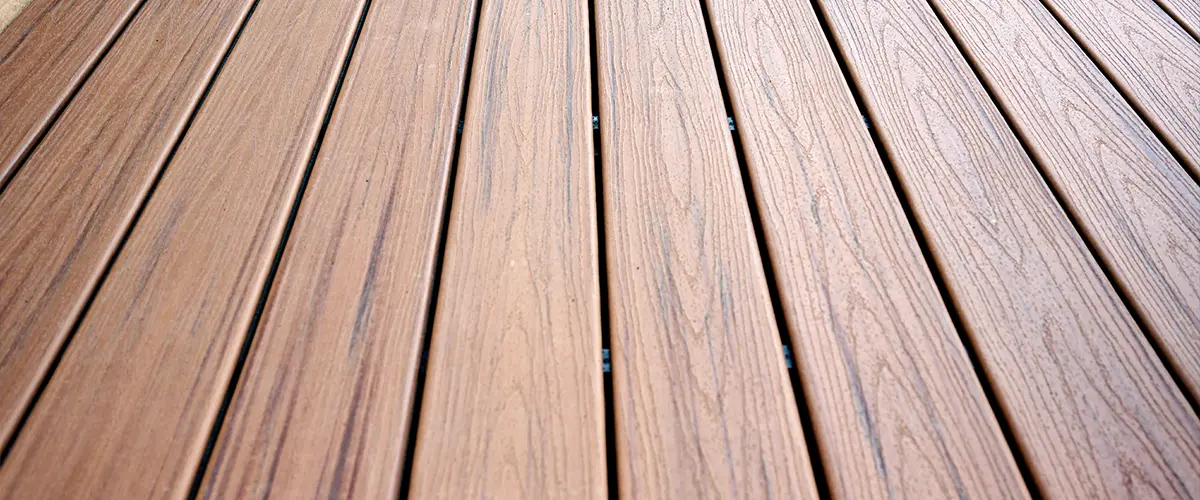 PVC Decking Installation With Pros Or DIY?
While embarking on a DIY PVC decking installation project might seem like a cost-saving endeavor, it often leads to a series of unexpected issues that compromise the quality, durability, and aesthetic appeal of the final result.
Firstly, without professional expertise, it can be challenging to accurately measure and cut the decking materials, leading to waste and potentially unsightly errors. Any mistake in the fitting process, such as ill-aligned boards or improper spacing, can result in a deck that is uneven, unstable, or prone to premature wear and tear.
Secondly, the installation of PVC decking requires specific tools and techniques that the average homeowner might not be familiar with. For instance, special fasteners are needed to secure the decking, and these need to be installed in a precise manner to ensure stability and longevity.
Moreover, a professional contractor would be aware of the local building codes and regulations, ensuring your deck is not only beautiful but also legal and safe.
Lastly, there's the warranty issue. Most manufacturers of PVC decking provide warranties that are valid only if a certified professional installer performs the installation. A DIY installation could void the warranty, leaving you unprotected in case of defects or problems.
Thus, although a DIY project might seem appealing at first glance, it is highly advisable to work with a professional deck installer to ensure the best results for your PVC decking project.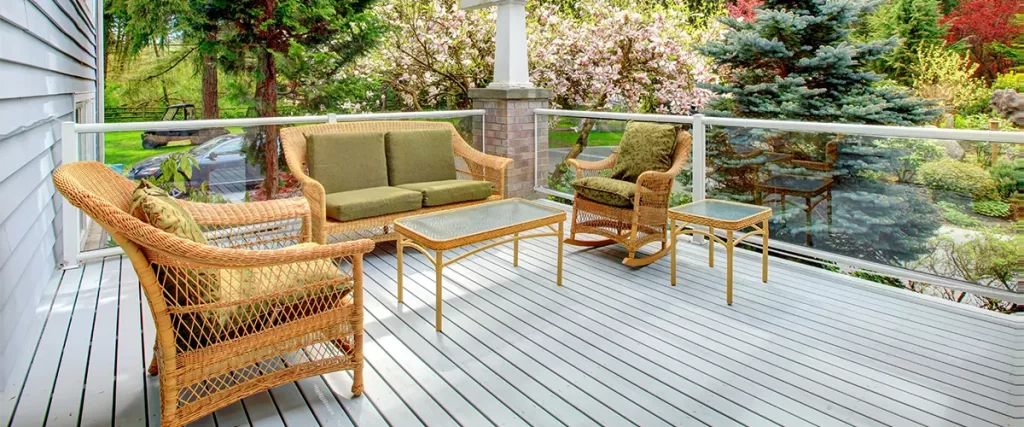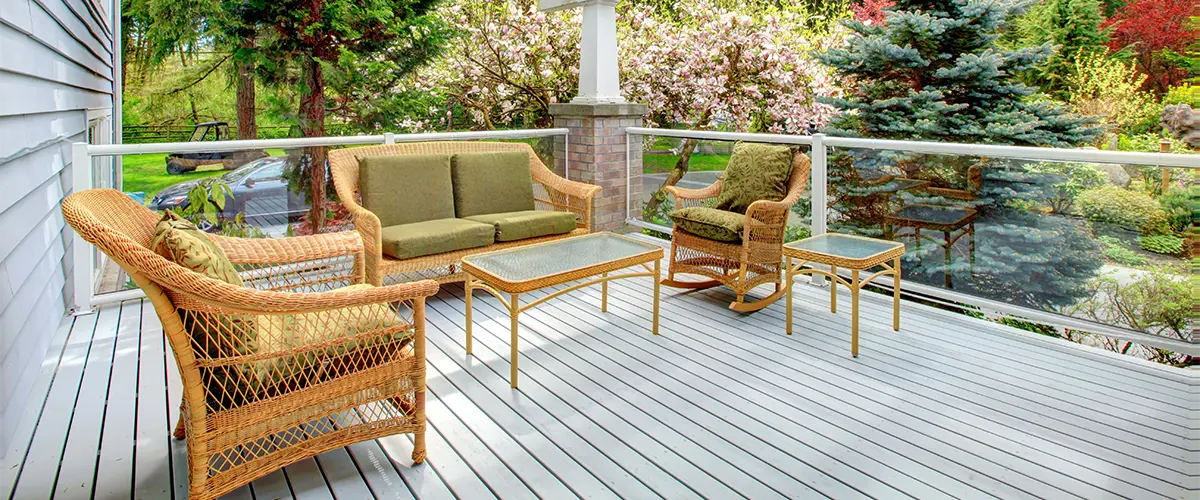 Get A Professional PVC Decking Installation In Omaha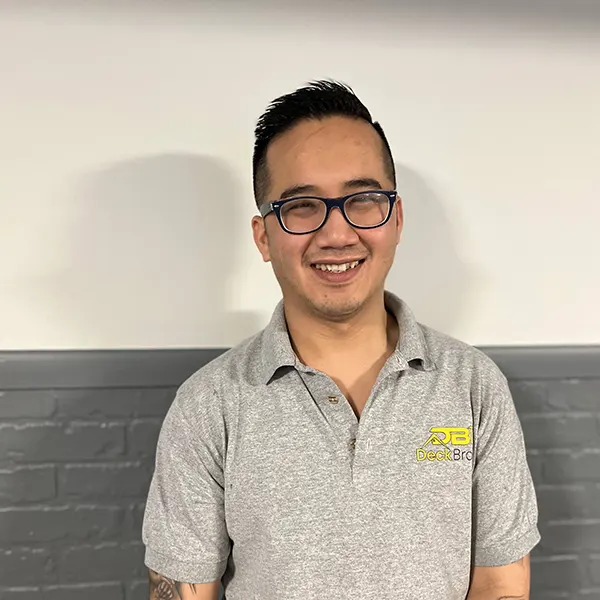 At Deck Bros, we take great pride in providing an exceptional PVC deck installation with a clear and smooth process that keeps you in the loop at all times. With us, you'll enjoy a seasoned team of installers, all friendly, polite, and respectful of your home, time, and money.
With us, you're getting a beautiful PVC deck at a fair and affordable price, too! Get your free quote from us today by requesting a quote, or call us directly at (402) 369-5724.