Top Tier Composite Deck Installation Services in NE
We handle composite deck installation for all Omaha Metro, Papillion, La Vista, Bellevue, and Gretna, NE homeowners.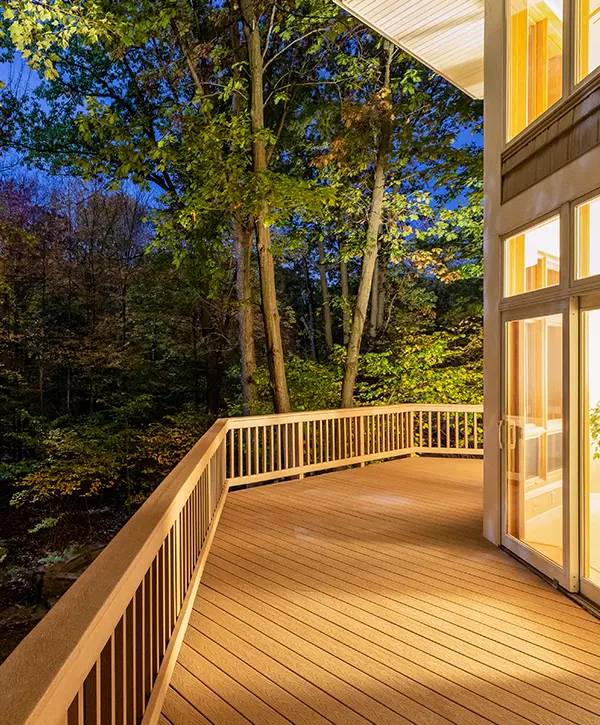 Get in touch with our expert deck installers, and we'll show you how a composite deck can completely change your outdoor space, making more room for quality outdoor time.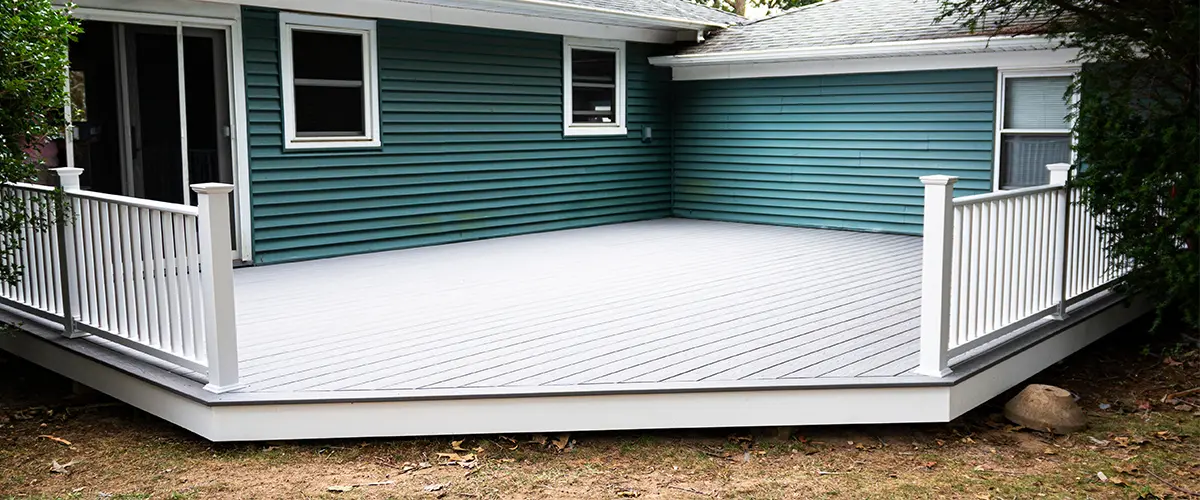 With our reliable, hard-working decking team, we're ready to replace old decks and make them safe and durable once again. Get in touch for a free quote.
Why Choose A Composite Deck?
Composite decking is a new and improved option for outdoor living spaces that is better than traditional wood decks. Understanding composite decking and its characteristics can aid you in making an informed decision about using it for your deck installation.
Composite decking is different from a natural wood deck because it is made from a combination of wood fibers and recycled materials like plastic or PVC. This produces a deck board that is very strong and can resist rot, warping, splitting, and cracking for a longer time.
Composite decking requires minimal maintenance compared to wood decking. While wood decking needs regular staining, sealing, and sanding, composite deck boards are resistant to fading, staining, and mold growth. To maintain its appearance, composite decking only needs periodic cleaning with soap and water.
You can choose composite decking materials like Trex deck boards that can endure outdoor elements and last longer. These decking materials offer both aesthetic appeal and durability, withstanding harsh weather conditions throughout the years.
You can choose from many design options with composite decking to match your style. You can select from a variety of colors, textures, and finishes to create a natural wood decking look or to try more modern designs. This lets you make your outdoor living area uniquely your own to showcase your individual taste.
By installing composite decking, you can use hidden deck fasteners that eliminate the need for visible screws or nails. This results in a neat and seamless deck surface that enhances its appearance and makes it safer to walk on barefoot without any risk of splinters.
Environmental Considerations
Composite decking is a great option if you value sustainability. It utilizes recycled materials, which reduces the need for new timber and lessens environmental impact. Composite decking's durability and ease of maintenance also aid in lowering the carbon footprint when compared to traditional wood decking.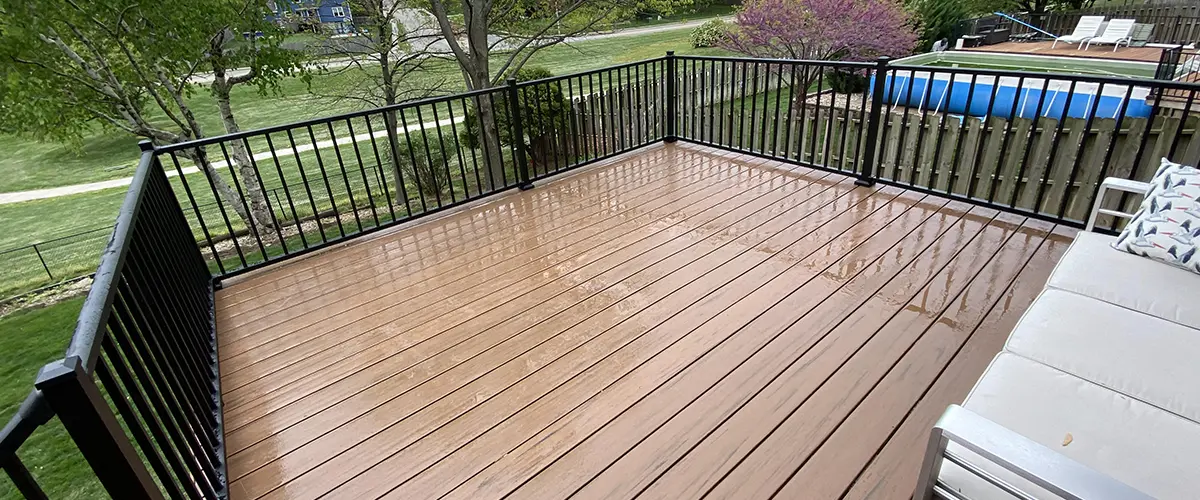 If you want a deck that's made to last, easy to care for, and looks stunning, contact us so we can take a look at your outdoor space and start planning your cozy outdoor home retreat.
Why Homeowners Love The Deck Bros Experience
Deck Bros showed up at 8:00 am and worked until dark everyday. They had old deck torn down in one day. We are very happy with the finished product. 
We went with Deck Bros because of Luan's charming personality but they can also build a sweet deck!!!! Thanks Luan and team
Great product, great price, and great service. The Deckbros exceeded my expectations and I couldn't be happier.
I wish I had 2 decks I needed to be built. 6/5 would recommend to anyone looking for an amazing deck. Thanks guys!!
Benefits of Composite Deck Installation
Composite deck installation has many benefits, making it an ideal choice for homeowners.
Not only does composite decking offer superior construction and low maintenance requirements, but it also provides enhanced longevity and aesthetic appeal.
With a range of colors, textures, and finishes to choose from, you can customize your outdoor living space to reflect your individual style.
Composite decking material is absolutely fantastic when it comes to durability! It's made with top-notch composite materials, like the incredible Trex decking. These decks are specifically built to stand strong against the trials of time. They won't rot, warp, or splinter, which means you'll have a beautiful outdoor living space that lasts.
When you choose composite decking, you're opting for a much easier maintenance routine compared to traditional wood decks. The composite material is amazing at resisting fading, staining, and mold growth, which means you can say goodbye to regular staining, sealing, or painting. All you need to do is give it a simple occasional cleaning with soap and water, and your composite deck will continue looking fabulous.
Composite decking is incredibly versatile when it comes to design. You have a wide range of options to choose from, whether you prefer square edge boards or grooved edge boards with hidden fasteners. With various colors, finishes, and textures available, you can easily create a customized outdoor space that matches your style.
Composite decks prioritize safety with their slip-resistant and splinter-free surface, making them ideal for families with children and pets. Knowing that the deck provides a safe environment, you can enjoy barefoot activities comfortably.
If you care about the environment, composite decking is a fantastic option! It's made from recycled materials and wood fibers, which reduces the need for new timber. By choosing composite decking, you're not only creating a stunning outdoor space, but also supporting sustainable practices. It's a win-win for you and the planet!
Having a sturdy and reliable deck frame is important when choosing composite decking. With the composite material's strength and a well-built deck frame, you'll have a deck that's stable and secure and able to handle lots of foot traffic and different weather conditions.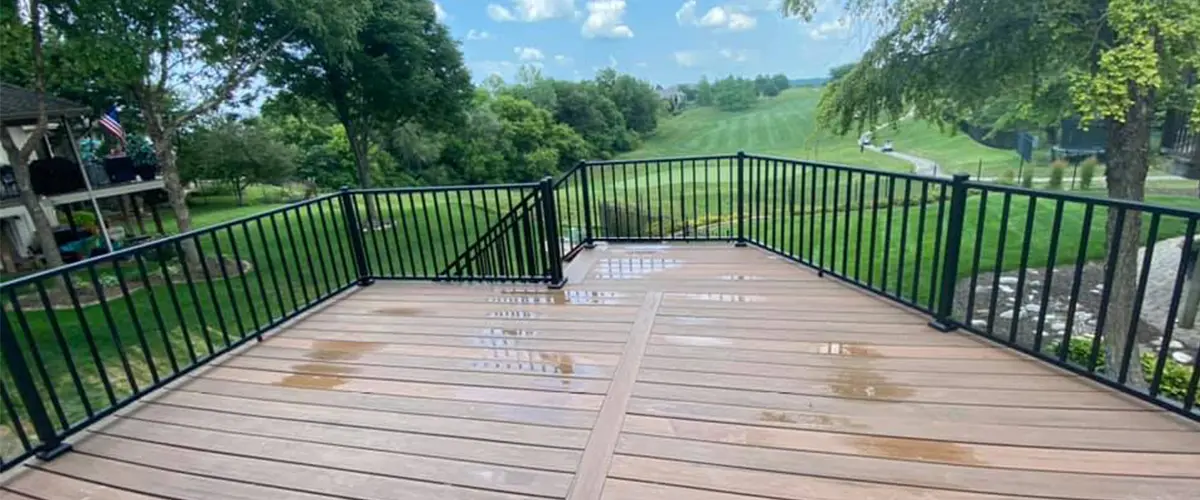 Thanks to our all-inclusive deck-building services, you can update your outdoor space with everything from cooking areas to pergolas and seating!
Our Composite Deck Installation Process
When it comes to deck building, homeowners need to know what to expect from their deck-building company. Working with a reliable and experienced team of professionals can make the process more efficient and ensure you get desired results.
They can provide superior construction services for your composite deck installation and offer additional features like hidden fasteners and design options that will create an outdoor living space tailored specifically for your needs.
Our all-inclusive services guarantee quality craftsmanship so you don't have to worry about any problems down the line. Our experts have years of experience in designing and constructing custom decks, making us the perfect choice for getting your dream outdoor retreat!
Before installing your new composite deck, our team will assess your current deck structure to establish necessary repairs or modifications. We will preserve the frame while getting rid of the old deck boards. 
If your deck frame needs reinforcement or adjustments to meet current building codes and standards, we will make the necessary improvements. This will create a strong foundation for your new composite deck and help it last longer.
Board Placement & Spacing

To start the installation process, we place the first composite deck board with proper spacing between each board. This helps with water drainage and ventilation to avoid moisture buildup and warping. Afterwards, we gently use rubber mallets to tap and secure the boards in place.
Consistent Materials & Design
We use the same composite material for all deck boards during installation to achieve a consistent and visually appealing look. This approach results in a unified and seamless appearance for your new deck.
Picture Frame Border & Railings

To make your composite deck look more elegant, we suggest adding a picture frame border around the perimeter. For safety and aesthetics, we will also install deck railings. You can select railings that match the design and style of your composite deck.
Finishing Touches & Grand Reveal
To finish the installation, we check the spacing carefully and make sure all deck boards are fastened securely. If needed, we trim any extra material and use circular saws to make accurate cuts. Our team focuses on every detail to make sure that your composite deck looks great and is sturdy.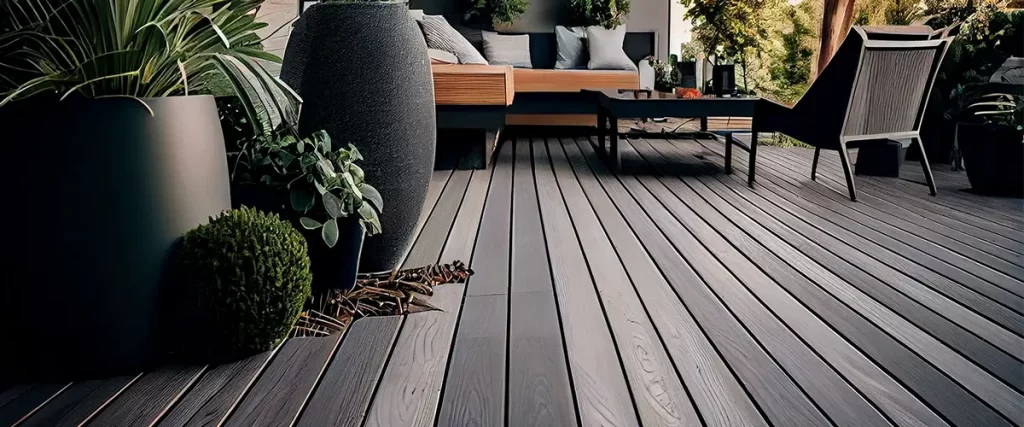 If you have any questions about installing a composite deck, don't hesitate to reach out to us. We would be happy to construct a beautiful deck that is perfect for spending time with family.
Composite Deck Installation FAQs
Reach Out To Omaha's Top Deck Builders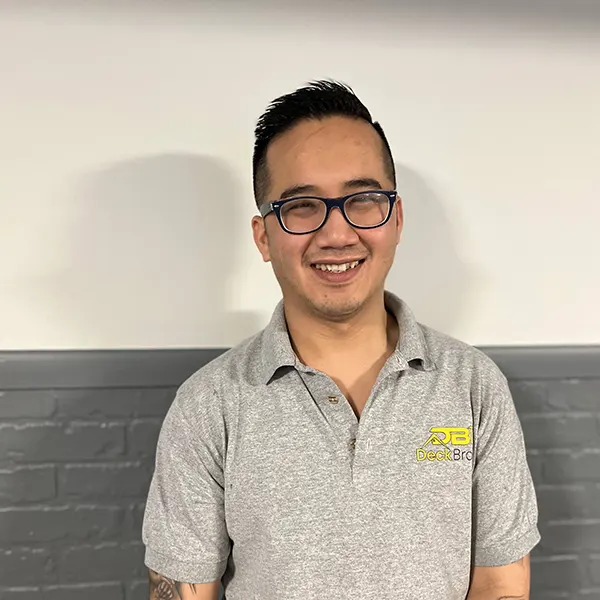 At Deck Bros, our team of skilled deck-building experts is excited to turn your vision into a reality.
Leave the installation process to us, and we'll ensure a smooth and breathtaking deck you'll cherish for years. Contact us now to get started!