Deck Refinishing Services In Omaha, Papillion, Bellevue, And More Of NE
Work with a reliable deck refinishing and repair company in Omaha, Papillion, Bellevue, La Vista, Elkhorn, and Gretna, NE.
Welcome to Deck Bros, your trusted partner in deck refinishing. If you have a wooden deck that has seen better days, we're here to bring it back to life and make it the envy of the neighborhood.
Deck refinishing is a process that involves cleaning, repairing, and applying a fresh coat of stain or paint to rejuvenate the appearance and protect the wood from the elements.
With our team of skilled professionals, state-of-the-art equipment, and a commitment to excellence, we ensure that every deck refinishing project is executed with meticulous attention to detail.
Whether your deck needs a thorough cleaning, repair of damaged boards, or a complete makeover, we have the expertise to deliver exceptional results.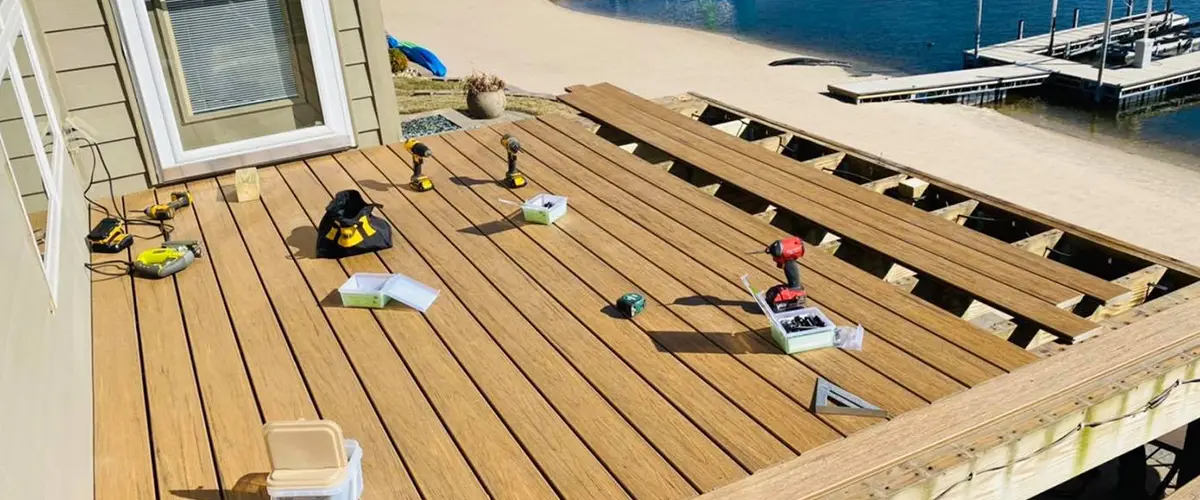 What is Deck Refinishing?
If you're a proud homeowner with a stunning wood deck, you know how it can be the centerpiece of your outdoor living space.
But over time, your deck may start to show signs of wear and tear, losing its luster and charm. That's where deck refinishing comes in.
Deck refinishing is the process of rejuvenating your deck's appearance and protecting it from further damage.
It involves refreshing the deck surface by removing old finishes, cleaning the wood, and applying a new coat of wood stain or paint. With deck refinishing, you can breathe new life into your deck and enjoy its beauty for years to come.
With deck refinishing, you can enjoy:
Why Should You Consider Deck Refinishing?
Your deck is exposed to the elements day in and day out. Rain, sun, snow, and even foot traffic can take a toll on the deck boards, causing them to fade, crack, warp, or splinter.
Additionally, the protective layer of paint or stain once applied to your deck may start peeling or chip away.
By investing in deck refinishing, you can address these issues proactively and prevent further damage. Not only does it enhance the aesthetic appeal of your entire deck, but it also safeguards the wood from the elements, extending its lifespan.
Think of it as a facelift for your beloved outdoor space, ensuring it remains a welcoming retreat for you, your family, and your friends.
Transform Your Weathered Deck into a Stunning Showpiece
When you choose deck refinishing, you open the door to a world of possibilities. You have the freedom to choose from a wide range of wood stains or paints that can completely transform the look of your deck.
Whether you want to retain the natural beauty of the wood with a transparent stain or add a pop of color with vibrant paint, the choice is yours.
Deck refinishing isn't just about appearances; it's also about protecting your investment. The new layer of wood stain or paint acts as a shield, preventing moisture penetration, UV damage, and insect infestation.
By fortifying your deck, you ensure its structural integrity and save money on costly repairs in the future.
Invest in deck refinishing and let us transform it into a beautiful showpiece that will enhance the aesthetics of your outdoor space. Contact Deck Bros today to schedule a consultation and bring your deck back to life.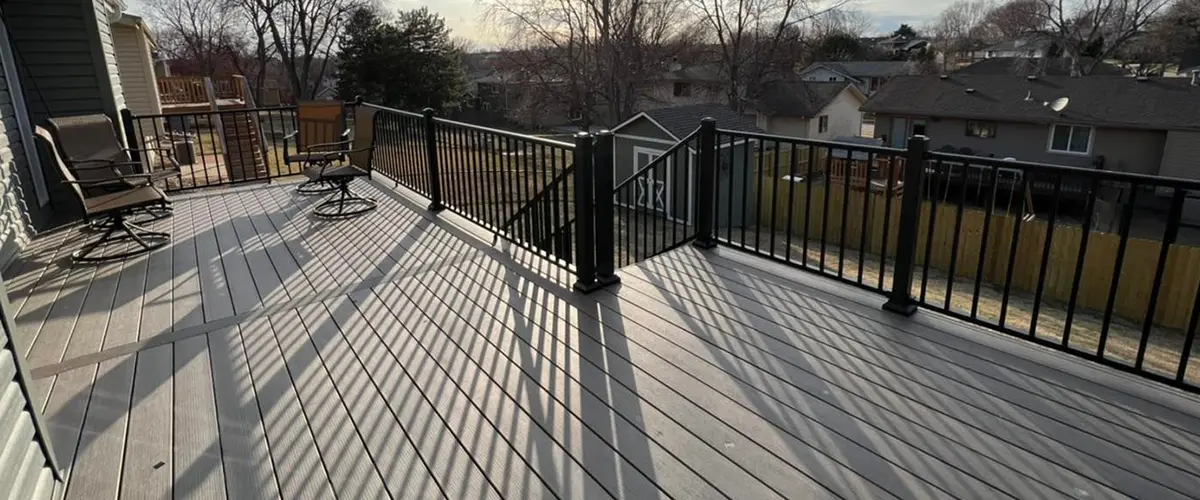 Real Reviews From Homeowners
Consider Deck Bros one of the best companies I have ever worked with. I had my old deck taken down and a new deck designed and erected all in a period of six days.
Luan the designer allowed changes throughout the 6 days. The crew was tremendous in their work assuring the work met all safety requirements as well as starting each morning and keeping grounds cleaned up each evening as well as keeping us informed of how the job was progressing.
If ever need another deck would never consider another company but Deck Bros. They are the best.
I found Deck Bros on Facebook & gave them a call. The owner Luan was very pleasant, came out and gave me a quote on the spot.
I HIGHLY recommended this company for your decking needs, Luan's employees were so much fun to be around. They didn't have any issues with the dogs being around checking on their work.
They were all very professional & worked hard, arriving early & getting to work. We even did some salsa dancing to the music. They went above and beyond, and no request was an issue.
Thank You, Luan, and the main guys that were there every day, Christian, Carlos & Leo.
Signs Your Deck Needs Refinishing
Your wood deck is perfect for relaxing, entertaining, and enjoying the great outdoors.
But just like anything else, it requires proper care and attention to maintain its beauty and integrity. Over time, exposure to the elements and regular use can take a toll on your deck.
So, how do you know when to consider deck refinishing? Watch for these unmistakable signs that your deck needs some tender loving care.
Take a closer look at your deck boards. Are they no longer the vibrant, rich color they used to be? If your deck boards have faded or discolored, it indicates that the protective layer of wood stain or paint has worn away.
This leaves the wood vulnerable to the elements, leading to discoloration and a dull appearance. By refinishing your deck, you can restore its natural beauty and revive its faded colors, making it look brand new again.
When you see the wood stain or paint on your deck surface starting to peel or crack, it's a definite sign that your deck is ready for refinishing.
Peeling or cracked finishes mar the aesthetics of your deck and expose the wood grain to potential damage.
Dead wood fibers can accumulate in these cracks, trapping moisture and causing further deterioration.
To prevent this from happening and protect your deck, it's essential to begin refinishing before the problem escalates.
Removing the old stain, sanding the deck surface, and applying a fresh coat can restore its smoothness and protect it from future damage.
If you notice any warped or splintered deck boards, it's a clear indication that your deck needs immediate attention. Warping occurs when the wood absorbs moisture unevenly, causing it to twist or bend.
Splintering, on the other hand, exposes sharp edges and makes your deck unsafe for bare feet. These issues not only compromise the appearance of your deck but also pose potential hazards.
By refinishing your deck, you can address these problems head-on. Sanding down the warped or splintered areas and applying a solid color stain or paint can help restore the deck's integrity and create a smooth, splinter-free surface that everyone can enjoy.
Contact Deck Bros and let our experts breathe new life into your beloved wood deck. Trust us, the result will be nothing short of a "wow" moment, as if you have a brand new deck to enjoy.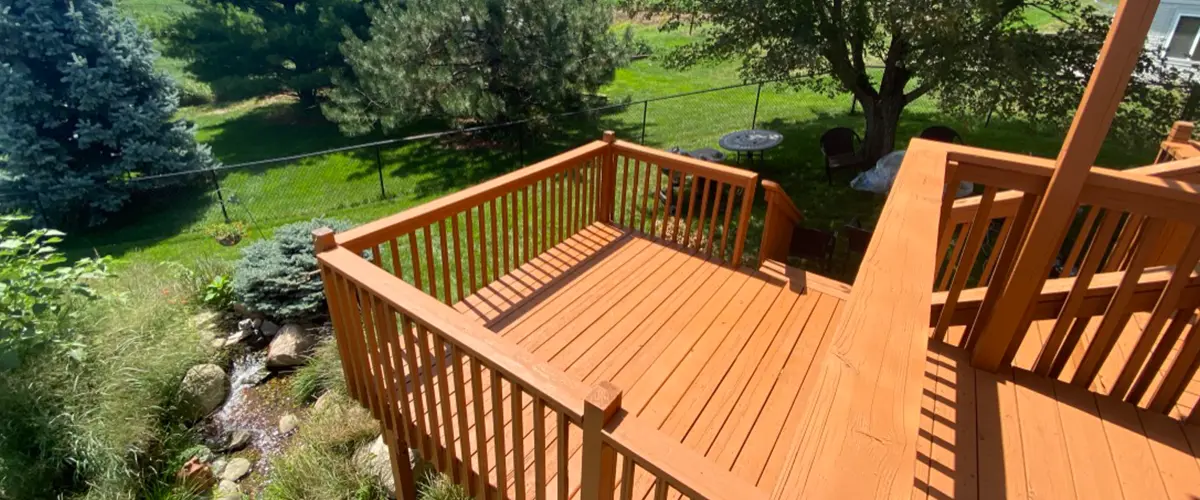 Deck Refinishing Projects We've Worked On
Before
After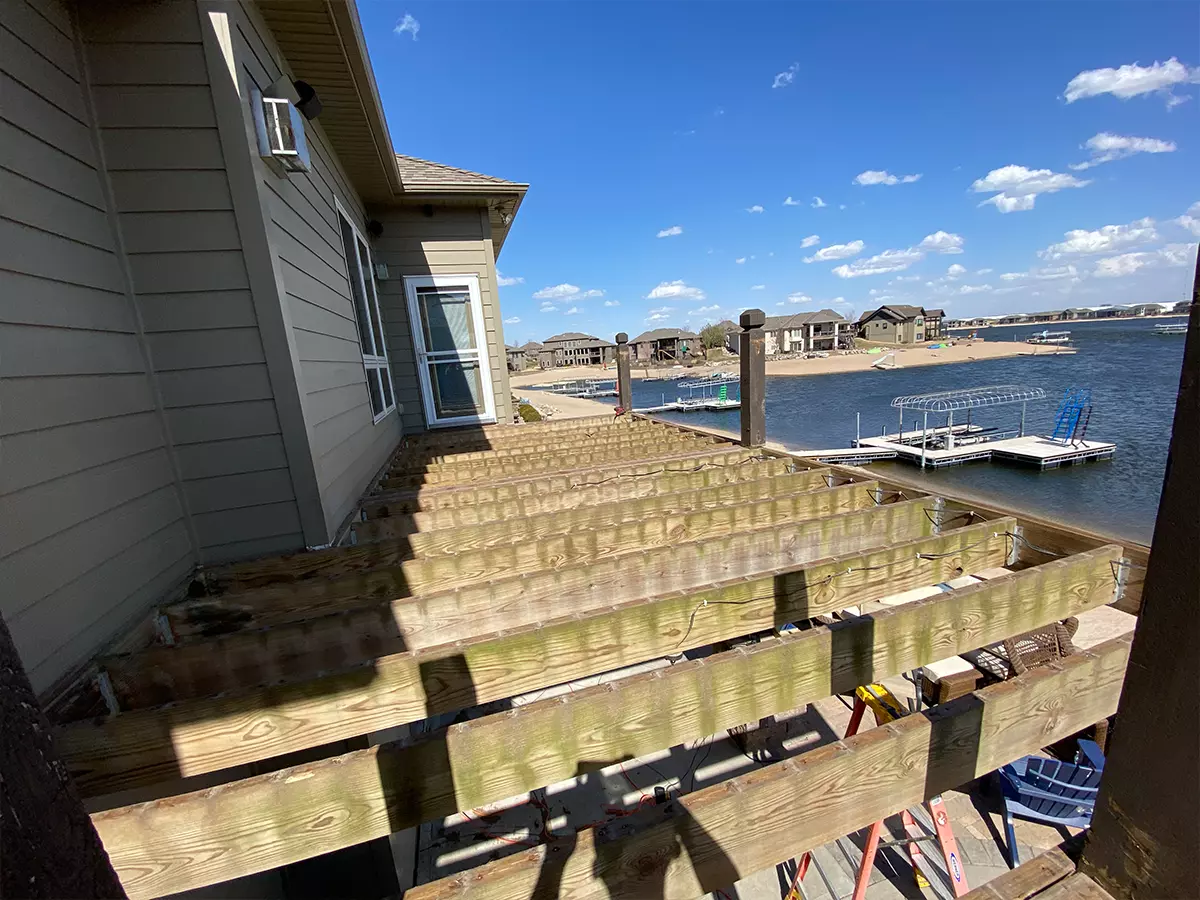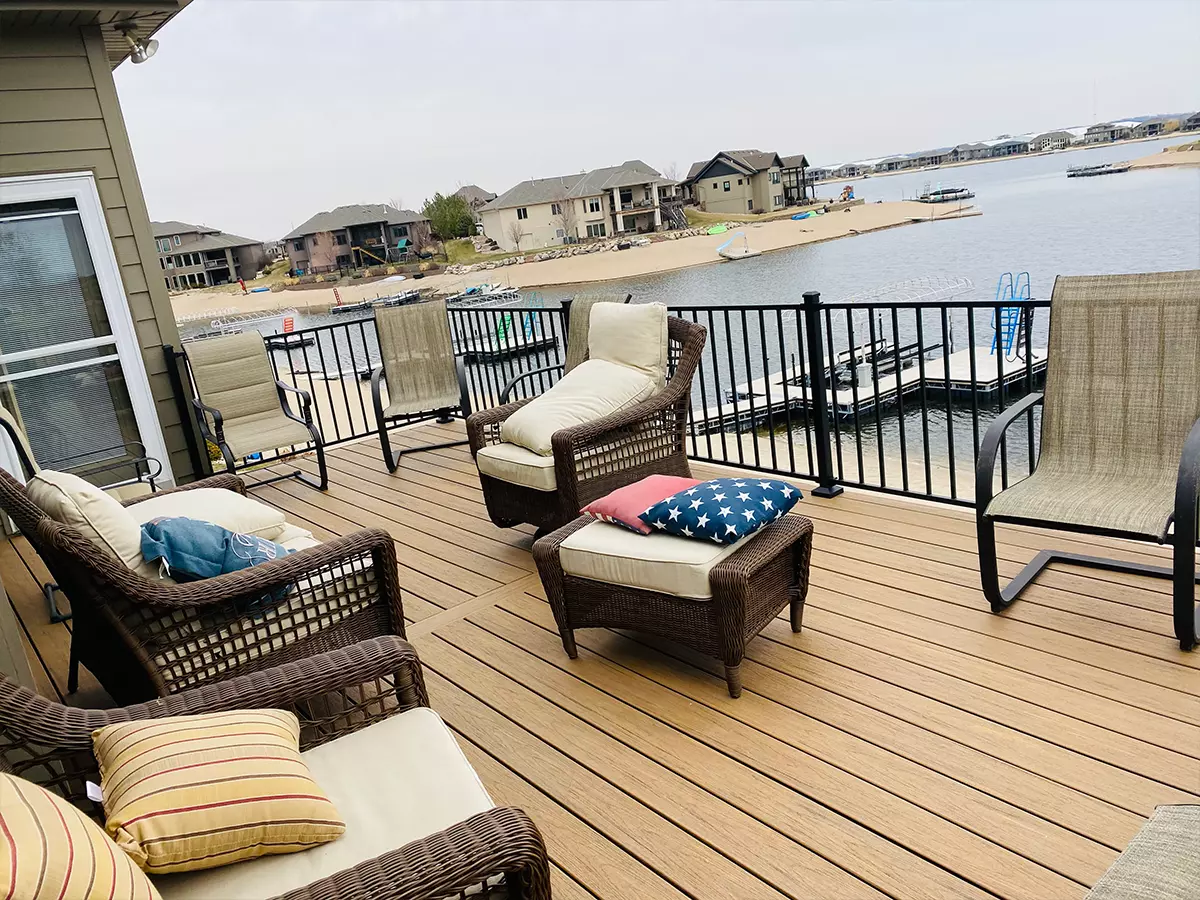 Deck Refinishing in Valley
This 24×12 ft. deck refinishing project included:
Before
After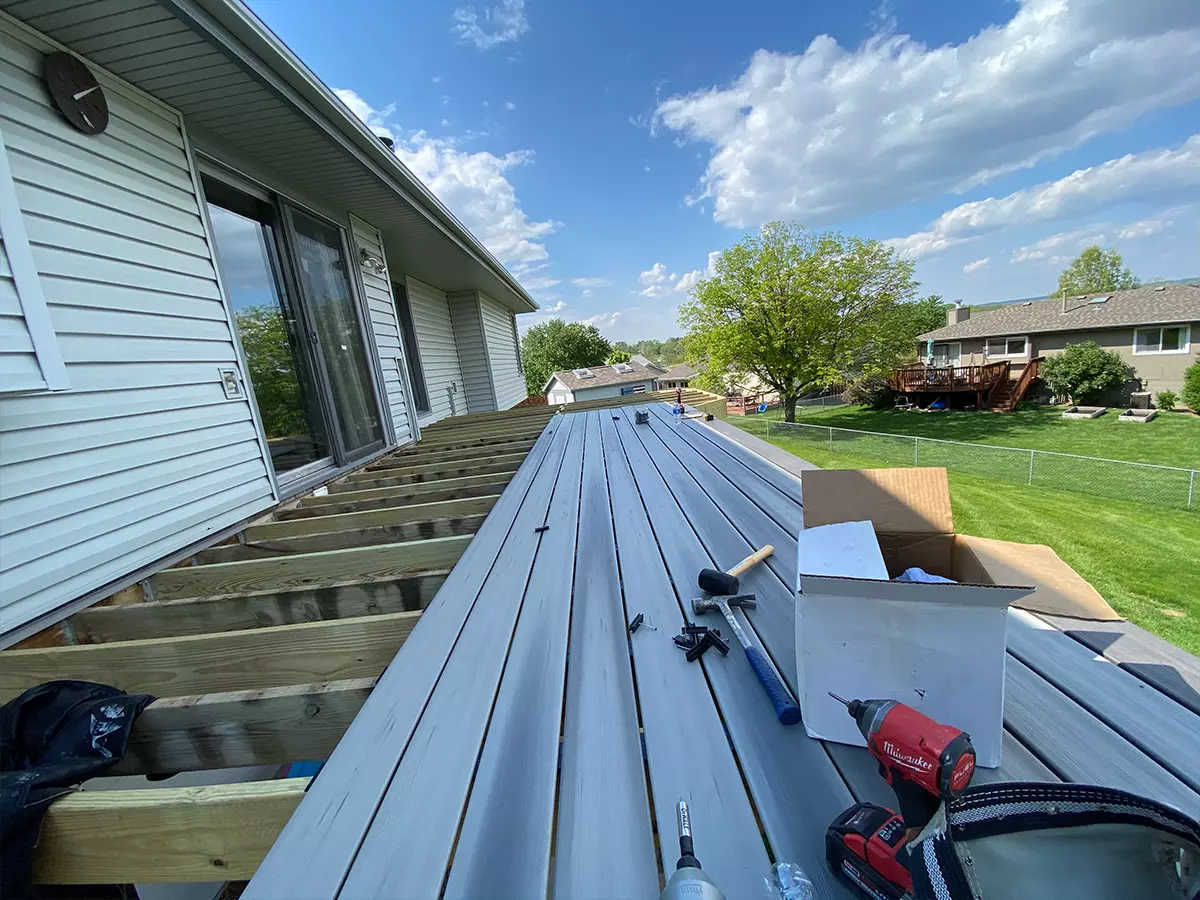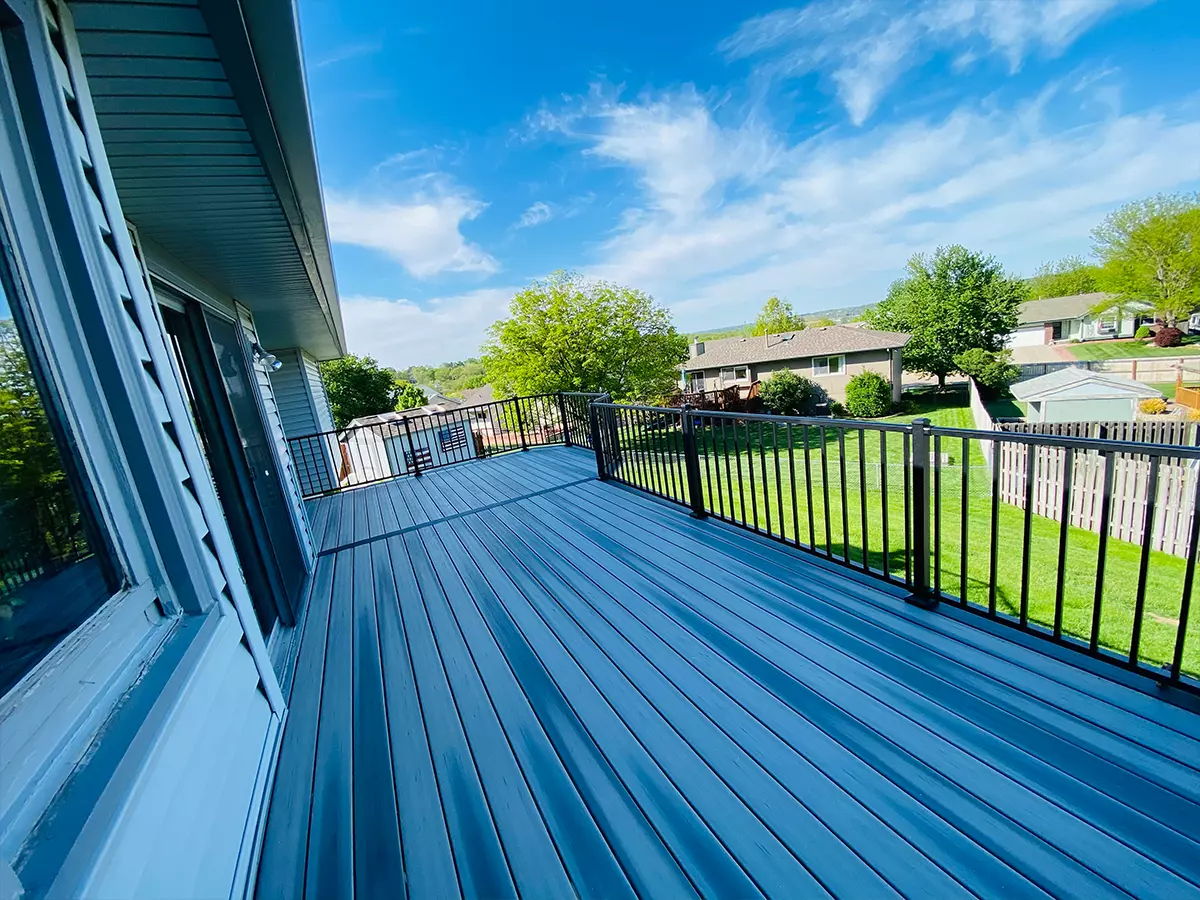 Deck Refinishing in LaVista
This deck refinishing project included:
Unveiling the Steps to Restore Your Beautiful Wooden Deck
You've decided to revitalize your wooden deck through the power of refinishing. But what exactly does this process entail?
Understanding the deck refinishing process can help you know what to expect and appreciate the value you're getting for your hard-earned money. So, let's dive into the steps we take to bring your deck back to its former glory.
Our skilled team will thoroughly inspect your deck to start refinishing. We'll assess its condition, identifying any damaged or rotted boards, loose screws, or other issues that require attention.
This initial inspection ensures we clearly understand the scope of work needed to transform your deck.
Once the inspection is complete, we move on to preparation. We'll prepare your deck by removing any furniture, plants, or other items that could hinder the refinishing process.
We cover nearby plants and protect your landscaping to prevent any damage during the cleaning and staining phases.
With the deck properly prepped, it's time to tackle the cleaning stage. We use a pressure washer to remove dirt, grime, mildew, and old finishes from the deck surfaces.
The pressure washer allows us to reach deep into the wood grain, ensuring a thorough and effective clean. This step not only enhances the appearance of your deck but also helps the new stain or paint adhere better to the wood.
Once the deck has dried completely after power washing, we sand and smooth the surfaces.
Sanding helps remove any rough spots, splinters, or imperfections, creating a smooth canvas for the new finish. It also ensures that the stain or paint will be evenly absorbed by the wood, providing a consistent and beautiful result.
During this step, we pay special attention to areas such as deck railings and any intricate details, ensuring they receive the same level of care and attention as the main deck surface.
Our goal is to deliver a flawless finish that enhances the overall aesthetic appeal of your deck.
Now comes the exciting part—applying the new finish to your deck. Depending on your preferences and the condition of your deck, we'll work with you to choose the right type of stain or paint.
Solid color stains are a popular choice as they offer durability, UV protection, and a wide range of colors to suit your style.
We carefully apply the chosen finish to your deck using professional-grade tools and techniques. We ensure even coverage, paying attention to detail to achieve a seamless, high-quality result.
Once the finish is applied, we allow ample time to dry and cure, ensuring the longevity and durability of the final product.
Congratulations! Your deck has undergone a remarkable transformation. Now it's time to sit back, relax, and enjoy the fruits of our labor.
You can take pride in knowing that your deck has been refinished with the utmost care and attention to detail, providing you with a stunning outdoor space that will envy your neighbors.
Remember, proper maintenance is essential to prolonging the lifespan of your refinished deck. Regular cleaning, resealing, and periodic inspections will help maintain its beauty and protect your investment for years to come.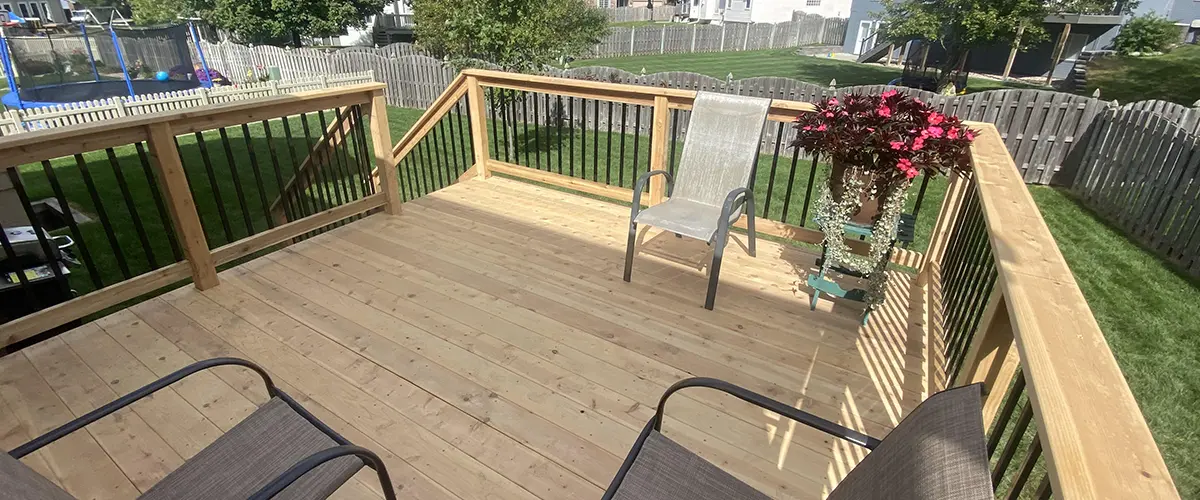 At Deck Bros, we are passionate about delivering exceptional results through our refined deck refinishing process. Contact us today to schedule a consultation.
Common Deck Refinishing Questions
The Deck Refinishing Service That Respects Your Home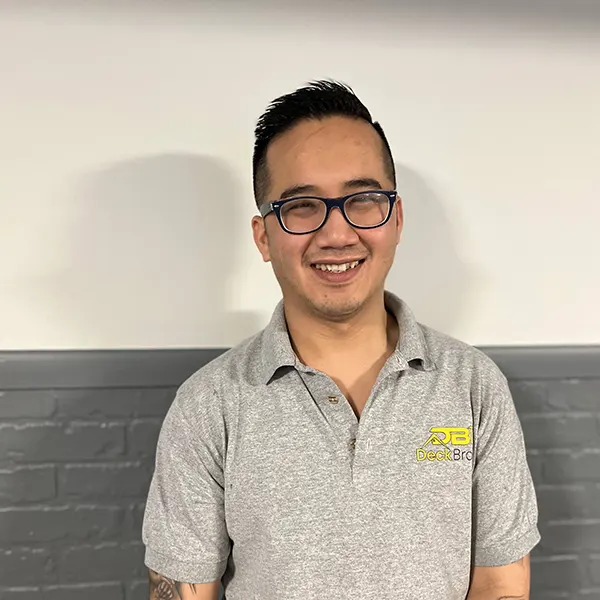 If you have any additional questions or concerns about deck refinishing, our team at Deck Bros is here to assist you.
Feel free to contact us; we'll be happy to provide you with the information you need to decide on your deck refinishing project.
Request a free quote and let's discuss how we can help with deck refinishing! Or talk directly with me at (402) 369-5724 and see if we're the right fit.