The Best Deck Painting In Omaha Metro Area, NE
Looking to give your decking a fresh look? We've got you covered!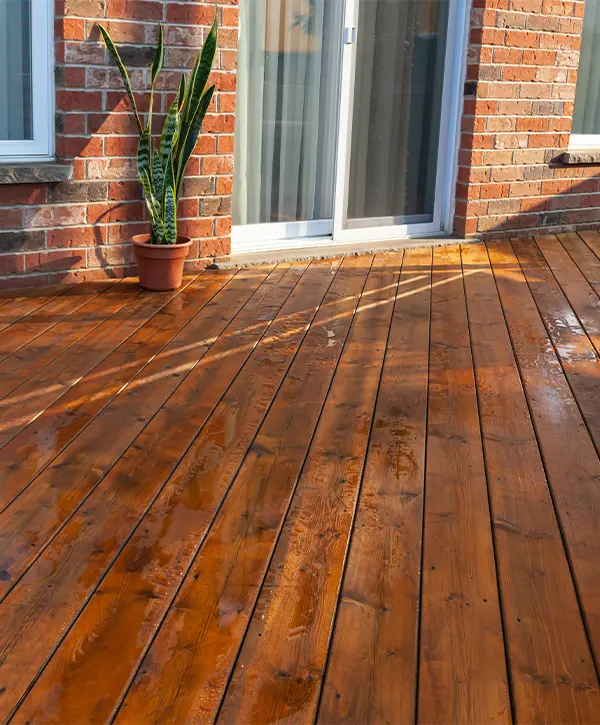 Be it pressure-treated or cedar, wood decks will eventually lose their beauty. Even an Ipe hardwood deck will show wear and tear after hosting dozens of family gatherings.
A quality painting job is the best – and most affordable – way to uplift your deck's aesthetics. Deck painting is a quick project that anyone with a brush can do, but not everyone can bring the same results as professionals.
We take our deck painting service a step further to ensure you're 100% satisfied with the look and vibe of your outdoor space.
A Deck Painting Service That Over Delivers Every Single Time
No matter the project, we're never content with delivering the bare minimum. We truly care about your time and investment, so going the extra mile is always in the books for us. With Deck Bros, you're enjoying all the perks of working with a top-tier deck builder.
The Benefits Of Deck Painting
Starting a deck painting project at the right time means you'll have your deck ready to entertain your guests much sooner than anyone else. If your existing outdoor space is still working properly and is safe, this quick project will uplift its looks and make it the ideal place to host a barbecue.
But these are not the only benefits of painting your deck. Here are some more.
Painting a deck can give it a fresh look and make it more visually appealing. A well-painted deck can also increase the curb appeal of your home.
Higher Protection From The Elements
Painting a deck can protect it from harsh outdoor elements like UV rays, heavy rain, hail, and snow. The paint acts as a barrier to prevent moisture from penetrating the wood, keeping your decking surface safe from rot, decay, and warping.
A painted deck is easier to clean than an unpainted one. The paint can prevent dirt and debris from penetrating the wood, which makes it easier to sweep or wash away. Besides, paint is less porous than the wood surface, making it easier to swipe or mop.
Deck painting has a lot of ROI, and you can potentially sell your place for more as long as everything looks great, including your deck. A well-maintained deck increases the value of your home and lets everyone know that you took great care of it.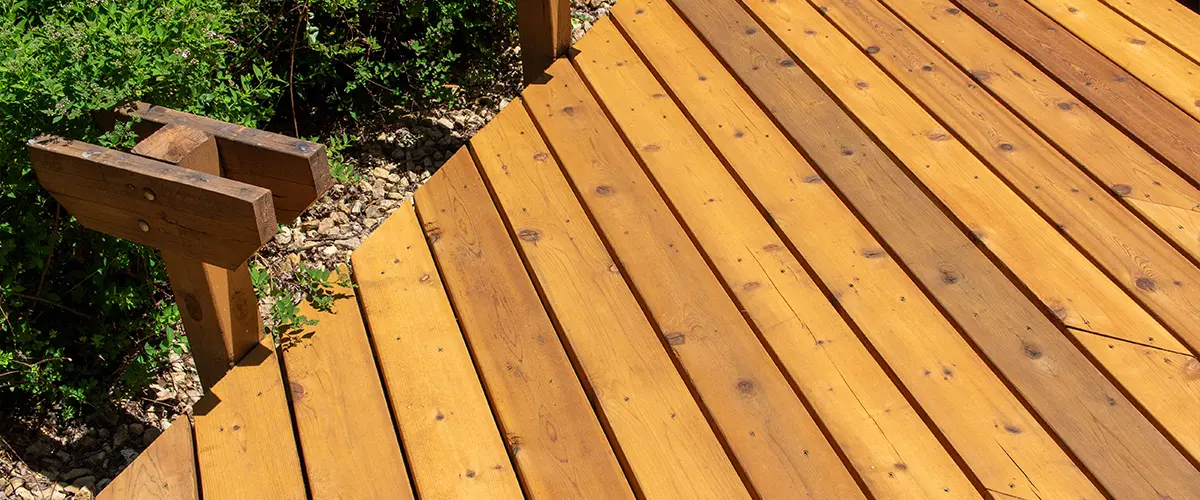 Our Customers Love Our Quality Deck Painting Service
For senior homeowners or homeowners that simply don't have the time to maintain their decks, hiring a professional to paint their deck is more feasible. We helped hundreds of homeowners with their deck painting projects, and their reviews are proof of our commitment.
I consider Deck Bros one of the best companies I have ever worked with. 
I had my old deck taken down and a new deck designed and erected all in a period of six days. Luan the designer allowed changes throughout the 6 days. 
The crew was tremendous in their work assuring the work met all safety requirements as well as starting each morning and keeping grounds cleaned up each evening as well as keeping us informed of how the job was progressing. 
If I'll ever need another deck I would never consider another company but Deck Bros. They are the best.
I found Deck Bros on Facebook & gave them a call. The owner Luan was very pleasant, came out and gave me a quote on the spot.
I HIGHLY recommended this company for your decking needs, Luan's employees were so much fun to be around. They didn't have any issues with the dogs being around checking on their work.
They were all very professional & worked hard, arriving early & getting to work. We even did some salsa dancing to the music. They went above and beyond, and no request was an issue.
Thank You, Luan, and the main guys that were there every day, Christian, Carlos & Leo.
Best Types Of Deck Paints For Homeowners In Omaha
We're using many types of deck paints, but some are much better than others from multiple standpoints. Whenever we have to choose, we consider the drying time, the texture, the VOC of the paint, and the type of wood we're painting. Here are some of the best deck paints on the market:
TotalBoat TotalTread Non-Skid Deck Coating creates a rugged, textured surface suitable for decks, patios, and more outdoor spaces. It gives your space a fresh new look and anti-slip protection that lasts, making this paint superior to many others.
The manufacturer claims this polyurethane deck paint is so tough that it can be used even on boat decks, and that it imparts a high-traction, low-sheen finish that won't crack or peel even after years of using it!
This paint takes up to 16 hours to dry and it requires two coats that can be applied with a brush or a roller. 
With one gallon you'll paint around 300 square feet of decking, but keep in mind that this paint is anything but cheap – around $60 a gallon.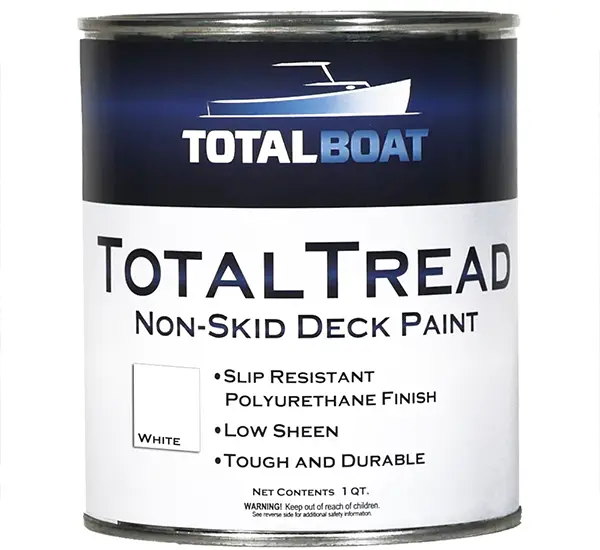 If you want the nonslip properties but you're not ready to pay the price for the TotalBoat paint, this one is a more affordable (and maybe just as good) paint.
INSL-X Sure Step Anti-Slip Paint is an acrylic deck and porch paint made by Benjamin Moore. It provides a high-traction surface at a reasonable price. It also comes in a wider range of colors, but the gallon will cover much less, up to 120 square feet of decking.
This paint takes around 8 hours to dry and requires a minimum of two coats. It's a great alternative if you're on a tighter budget, coming down at $50 per gallon.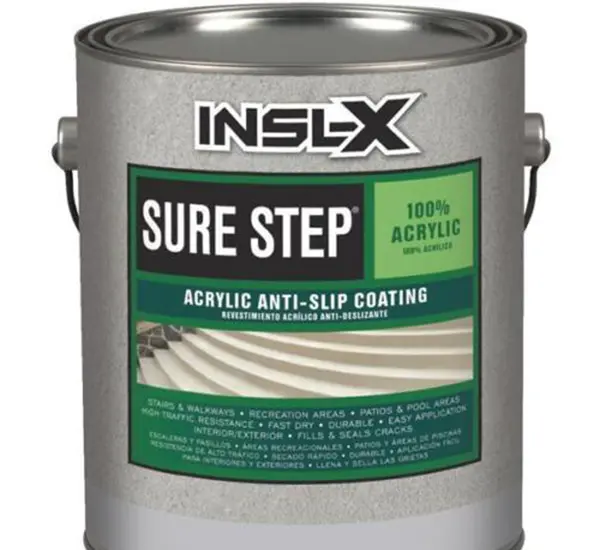 Montage Signature Eco-Friendly Paint offers good resistance to mold, mildew, and UV rays, but it's not as durable as the other options mentioned above. In fact, this deck paint is not designed to withstand foot traffic, so it's best used on railings and benches.
This is a water-based paint with a low-VOC and free of toxic fumes. Even so, the smell isn't appealing, so applying it yourself can become a nightmare. Luckily the strong odor disappears once the paint has dried out.
Montage Signature is available in either semi-gloss or low-luster sheens and comes in 18 gray and earth tones. The drying time is around 4 hours after which you'll want to apply a second coat for optimum results. One gallon will cover up to 300 square feet of decking.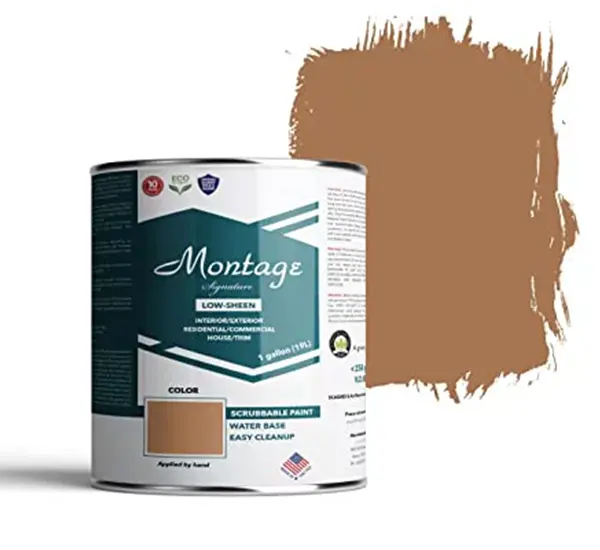 Inspiration For Your Upcoming Deck Painting Project
Our portfolio is proof of our superior craftsmanship. Check out some of our finished projects and ensure your upcoming deck painting project turns out perfect!
Choosing The Right Product For Your Deck Painting Project
With all these choices for deck paint, choosing the type of paint, the finish, and everything in between can become overwhelming. Our experts from Deck Bros will aid you in choosing what's best for your outdoor space, so you're guaranteed to make the best choice for your deck painting project in Omaha.
Let's see what we'll look into:
When deciding on a type of paint, you must weigh the pros and cons of water-based (acrylic) or oil-based paints. 
Acrylic is not only easier to apply and clean up, but it can also be more resistant to wear than its oil counterpart. 
However, if your budget is tight, consider using an oil-based deck paint. You'll sacrifice a little bit in terms of durability, but you'll pay less for this paint.
If your deck gets a lot of traffic, you'll want to look for something that can take a beating. 
You'll also want to keep the weather in mind. Frequent storms, high winds, and heavy rain or snow can damage deck paint, so you'll want a paint that's withstand wear and tear. 
A covered deck, for example, might not need the most durable paint out there, whereas a deck out in the open will need every measure of protection you can give it.
You have a variety of finishes to choose from, such as matte, semi-gloss, satin, or glossy. 
Each one brings its own unique appearance and ambiance, but they all have a small downside. 
For example, while glossy can give off an affluent sparkle, it may show dirt more easily. 
If you're looking for something with less shine that also better conceals dirt (particularly if your color choice is light), a flat finish might be the most suitable option!
Before purchasing any paint, you'll want to measure the square footage of your deck in order to understand how much paint is needed. 
Generally speaking, one gallon can cover around 400 square feet; however, bare wood absorbs a lot more paint, so there are chances you'll paint a lot less than you initially measured – even less than 250 square feet with a gallon.
Besides, most paints require at least two coats for the best results, so make sure you're buying some extra paint to have it just in case.
Deck Painting In Omaha Is Now Easy, Affordable, And Quick!
We made our painting process straightforward and quick so you can take full advantage of it and bring it back to its former glory. We're quick, efficient, and deliver superior quality on every project we take on – all in record time!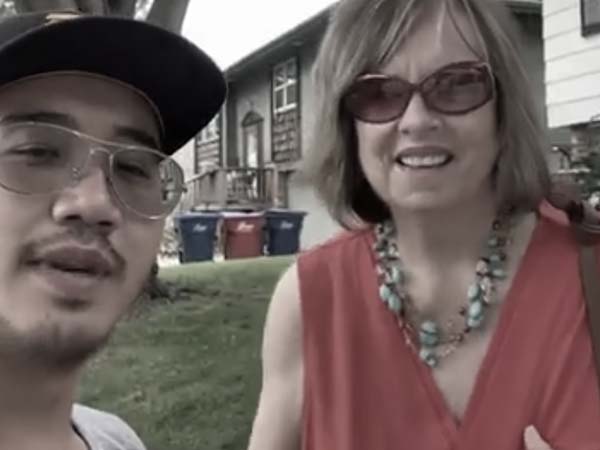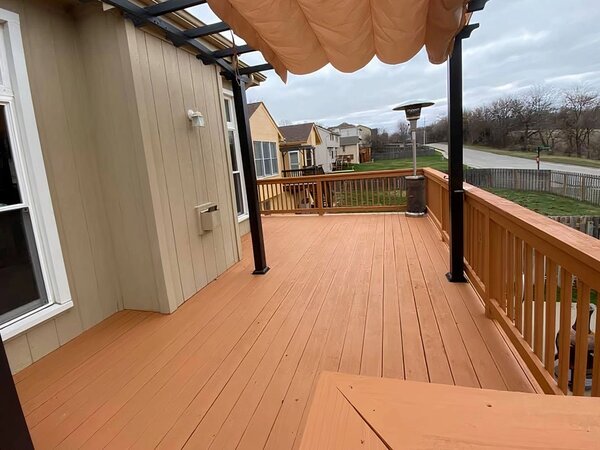 We'll sign the paperwork and get to work!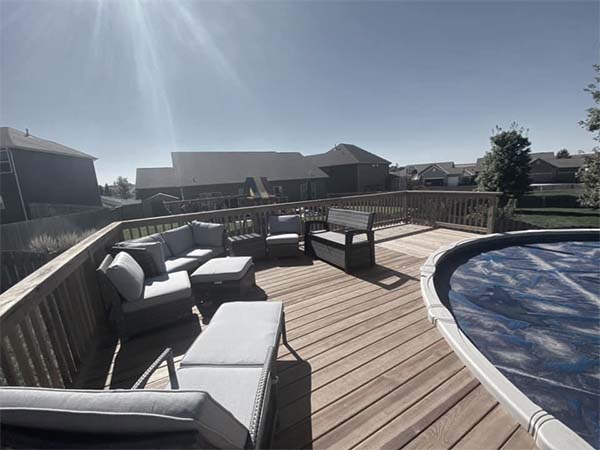 Plan your next barbecue on your new deck!
Frequently Asked Questions On Deck Painting
Painting is usually more about changing the aesthetic of your deck rather than offering it more protection from the elements. If you want to make your deck tougher, we recommend you stain your deck. If you just want to change your deck's appearance, painting is the way to go. There's also sealing, which significantly improves the deck's water resistance.
Although as long as the old deck paint is still in good condition, you should be able to paint right over it, we don't necessarily recommend it. Peeling or sanding off the existing paint ensures the new coat will apply firmly and will last longer. If the old paint is cracking, peeling, or otherwise damaged, there's no question about it – it needs to go.
When it comes to painting, priming the surface is a critical step before applying paint or stain. This is especially true for deck boards that are exposed to extreme temperatures, moisture, humidity, and frequent foot traffic. Ensuring they're primed properly will ensure an even finish and long-lasting results.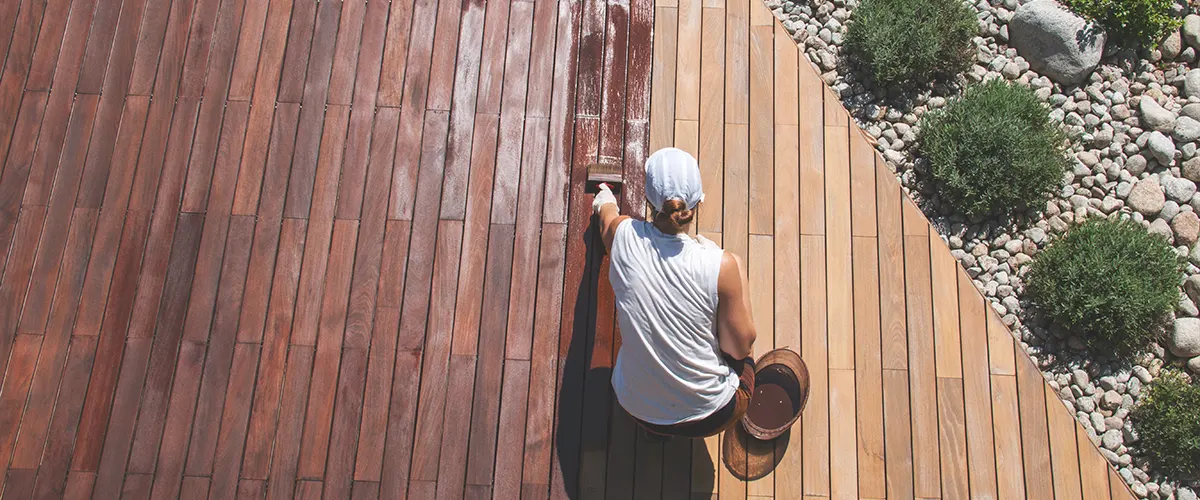 Start Your Deck Painting Project Now And Enjoy A Pristine Outdoor space Sooner!
Sooner or later, deck painting is a project you'll want to undertake, especially if you have a wood deck that needs constant maintenance. In fact, you should seal, stain, or paint your deck once every 2 – 3 years to protect it from wear and tear.
But painting a deck so often can quickly become a chore for many homeowners. Many of our senior clients ask us at Deck Bros if we can paint their deck, and we're more than happy to assist them.
We offer homeowners in the Omaha Metro Area the best deck building, deck installation, and deck repair service that you can get around here. We focus on a quick and simple process that gets the job done in record time!
Not only that, but we'll go the extra mile for your success!
Enjoy Affordable And Quick Deck painting With Deck Bros!