Preparing The Space For Your New Hot Tub On Deck
We can build your custom deck for future hot tub installation in Omaha, Papillion, Bellevue, La Vista, and more of NE.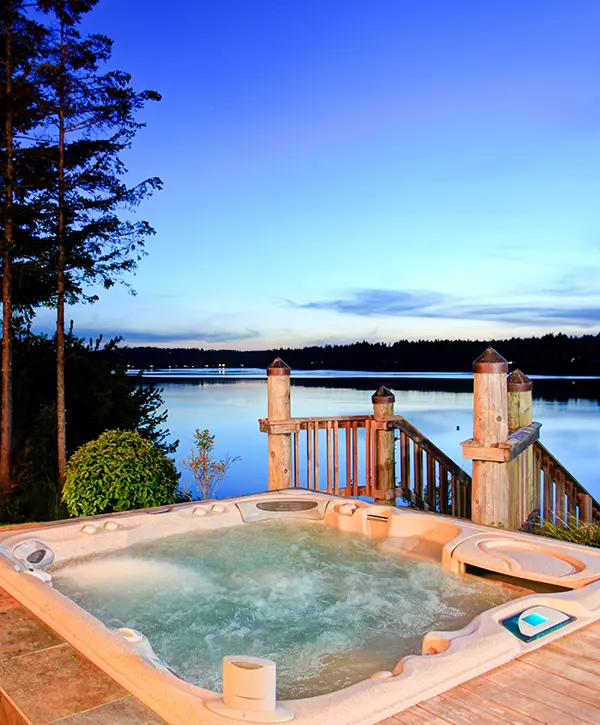 Welcome to Deck Bros! We are your go-to company for all your deck building and repair needs in Omaha, Papillion, Bellevue, La Vista, and more of NE.
We specialize in crafting inviting retreats where families can spend quality time outside. While we don't sell hot tubs, we can customize a deck to fit your needs and preferences, making it the perfect base for your new hot tub.
Creating Luxurious & Affordable Decks
Whether you want to add a luxurious touch to your backyard or increase your home's value, we're here to help.
A custom hot tub deck provides:
Why Install a Hot Tub on Deck?
If you've been looking for ways to upgrade your backyard and improve the quality of life at home, consider the many benefits a hot tub can provide.
Research supports that regular hot tub use brings tremendous advantages, from increased relaxation to improved health results – such as enhanced circulation and decreased joint pain.
And don't forget – it's also an excellent way to bond with friends or family while adding value to your property.
Soaking in a hot tub can help you relax and reduce stress. The warm water can help soothe tired muscles and promote relaxation.
A well-designed deck with a hot tub can add value to your home and make it more attractive to potential buyers.
Regular use of a hot tub has been shown to provide various health benefits, such as improved circulation, reduced joint pain, and improved sleep quality.
A hot tub on a deck can provide a great opportunity for socializing with friends and family. It can be a fun and relaxing way to spend time together.
Contact us today to discuss how we can help you build the perfect deck for your hot tub, transforming your backyard into an inviting retreat.
Real Reviews From Homeowners
My family and I have been renovating our home for the last two years and have used many local companies. Deck Bros was hands down the best!
The quality of work, attention to detail and communication with my husband and I throughout the project was second to none.
The workers were meticulous and did beautiful work on my back deck and front porch.
Luan (the owner) was very responsive with our questions and was always checking in on the project to ensure we were satisfied. Highly recommend using Deck Bros!
Luan and his crew are first-rate deck builders.
They refurbished and re-supported our old deck and added on additional new decking in a week after all was approved by the city of La Vista.
The only problems were with the composite supplier which Luan handled quickly.
Definitely recommend them if you are looking for a new deck or want to update an old one.
A hot tub is a great addition to any deck, providing relaxation and enjoyment for you and your family.
However, to ensure your hot tub stays in good condition, proper maintenance and care of your deck are essential. Here are some tips and advice on maintaining your deck and hot tub.
Cleaning your deck is essential to maintain its integrity and longevity.
A good rule of thumb is to sweep your deck daily to avoid the accumulation of dirt and debris that can cause staining or damage to the deck boards. You can also use a pressure washer to clean your deck.
However, be careful not to use too much pressure as it can damage the deck surface.
Cleaning your hot tub is equally important, especially if you use it frequently. Drain and refill your hot tub at least every 3-4 months to keep it clean and hygienic.
Protecting Your Deck from the Weight of the Hot Tub
A filled hot tub can be heavy, with an average weight of 5,000 pounds. This weight can cause damage to your deck boards, especially if it is not designed to support the hot tub's weight.
Consult with a professional to ensure that your deck can handle the hot tub's weight. Drop us a line; we're happy to help with that!
Protecting Your Deck Surface from Chemicals
Chemicals used to treat hot tub water can damage your deck surface. Ensure that the chemicals used in your hot tub are compatible with the deck surface. You can use a hot tub pad to protect your deck surface from the chemicals.
We offer ongoing maintenance and repair services to ensure your deck remains in excellent condition.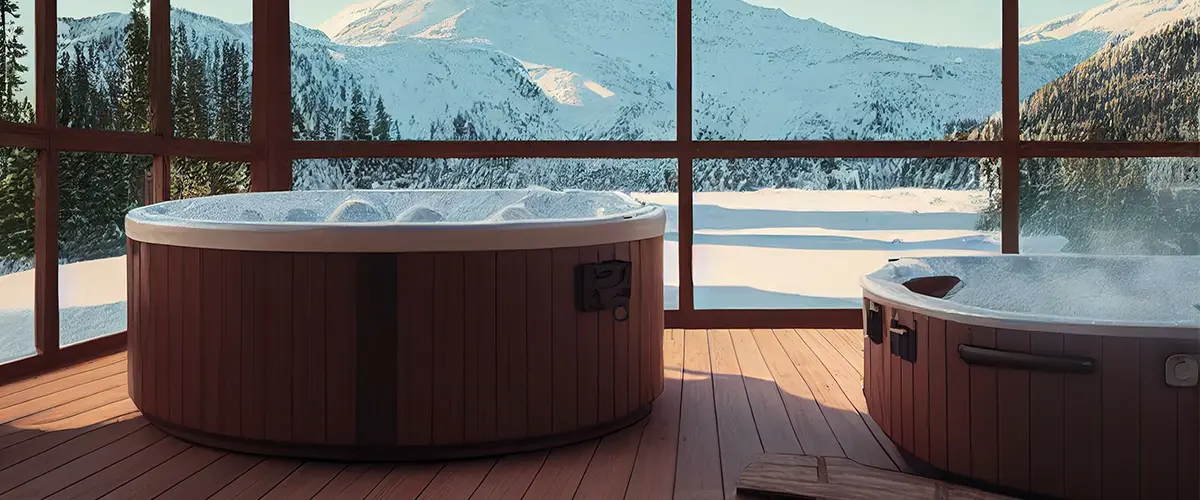 The Most Common Questions About Installing A Hot Tub On Deck
Get Your Custom Deck For A Safe And Pleasant Hot Tub Experience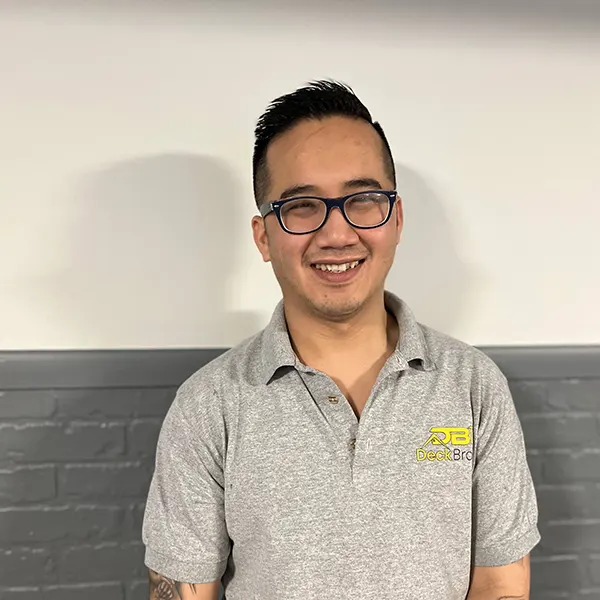 If you're looking for a deck that won't buckle under a hot tub, choose Deck Bros! We help you create the outdoor space of your dreams.
Simply click below to schedule a free consultation and get started today.