Pergola Construction In Omaha, NE
When it comes to transforming your backyard into a serene and functional outdoor oasis, few investments can rival the elegance and practicality of a pergola.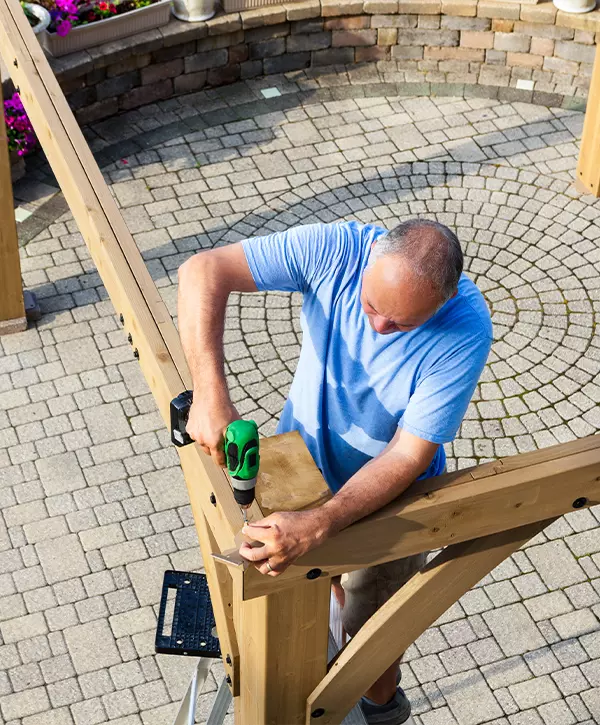 These versatile structures have become increasingly popular among homeowners, and for good reason – from boosting your property's value to promoting a healthier lifestyle. Here at Deck Bros, we're making sure you're getting a high-quality and reliable pergola construction that'll last for as long as you'll live in your home.
Besides, we make working with contractors a pleasant and simple journey that brings none of the hassle and stress that you'd expect.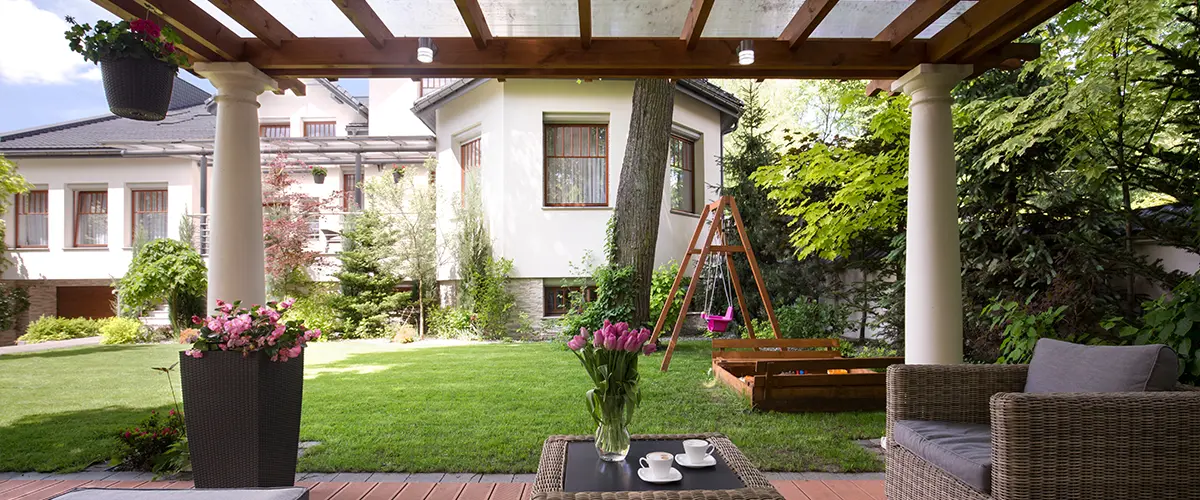 3 Ways Installing A Pergola Pays Off
Pergolas are beautiful outdoor structures that not only enhance the beauty of your backyard but uplift every other aspect of it, from privacy to ROI. Here are 3 ways in which pergolas pay off in the long and short term.
Installing a well-designed pergola can significantly increase the value of your property. Prospective buyers are often drawn to homes that offer unique and functional outdoor spaces. A pergola not only adds visual appeal but also provides a defined area for relaxation and entertainment, making your property more attractive to potential buyers.
Pergolas lend an air of sophistication and charm to any outdoor space. With various materials and design options available, you can customize your pergola to match your home's architecture and your personal style. Whether it's a classic wooden pergola or a sleek, modern aluminum one, it becomes a focal point that elevates your backyard's overall aesthetic.
Pergolas equipped with retractable canopies or adjustable louvers offer the flexibility to control sunlight and shade. This protection not only ensures that you can enjoy your outdoor space even during scorching summer days but also shields your outdoor furniture and plants from the elements, prolonging their lifespan.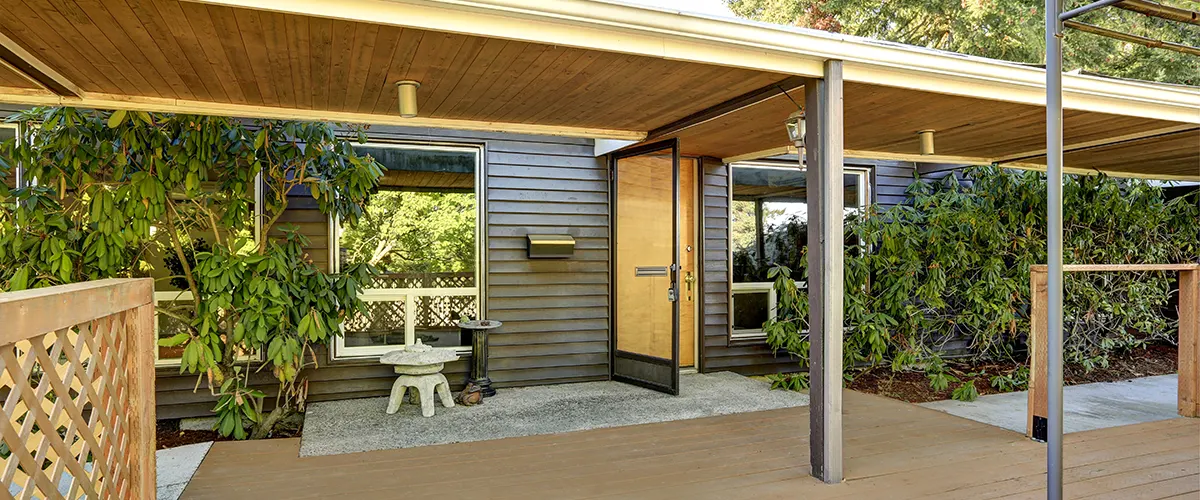 Pergola Material Selection
If getting a pergola is starting to sound like a great idea, you'll want to get a quality one. here are some materials that you can choose from.
Wood: Wood is a widely preferred material for pergolas due to its natural aesthetic that effortlessly complements garden environments. Among the top choices are cedar and redwood, prized for their exceptional resilience against weather, rot, and insects.
Vinyl: If you desire a low-maintenance option, vinyl might be an excellent choice. It boasts weather resistance and effortless cleaning. However, it does lack the warmth and texture that wood provides.
Metal: Metal pergolas are renowned for their exceptional strength and durability. These structures effortlessly endure even the harshest weather conditions while remaining impervious to rot and insect damage. When it comes to metal options, aluminum and steel stand out as the most commonly chosen materials.
Fiberglass: Fiberglass pergolas offer a combination of lightweight durability and superior resistance to warping compared to wood. With minimal maintenance requirements, they can be effortlessly painted to perfectly complement the exterior of your home.
Brick or Stone: To achieve a classic or rustic aesthetic, one may opt for the use of brick or stone. These materials possess remarkable durability and can withstand diverse weather conditions; however, their installation necessitates the expertise of a skilled mason.
*Concrete slab is almost always used for the pergola flooring. Depending on your pergola plans and where you want to build it, we can replace concrete slabs with composite decking, wood decking, or even tile floors.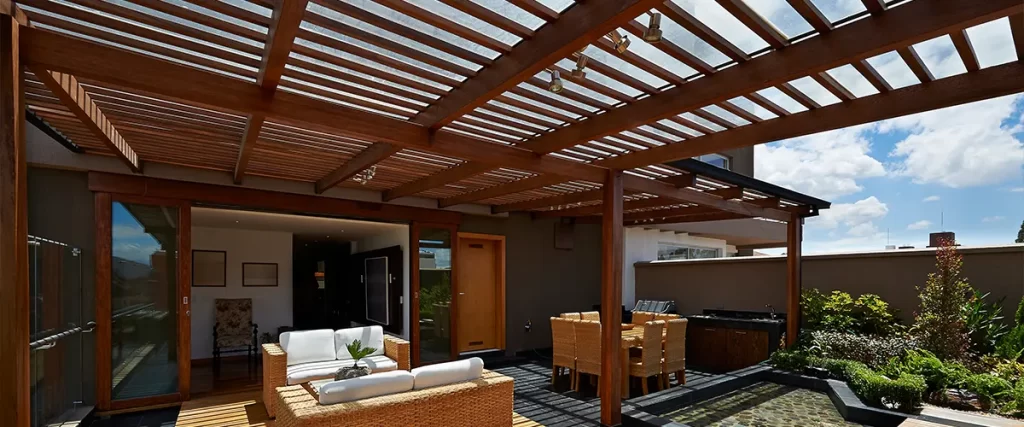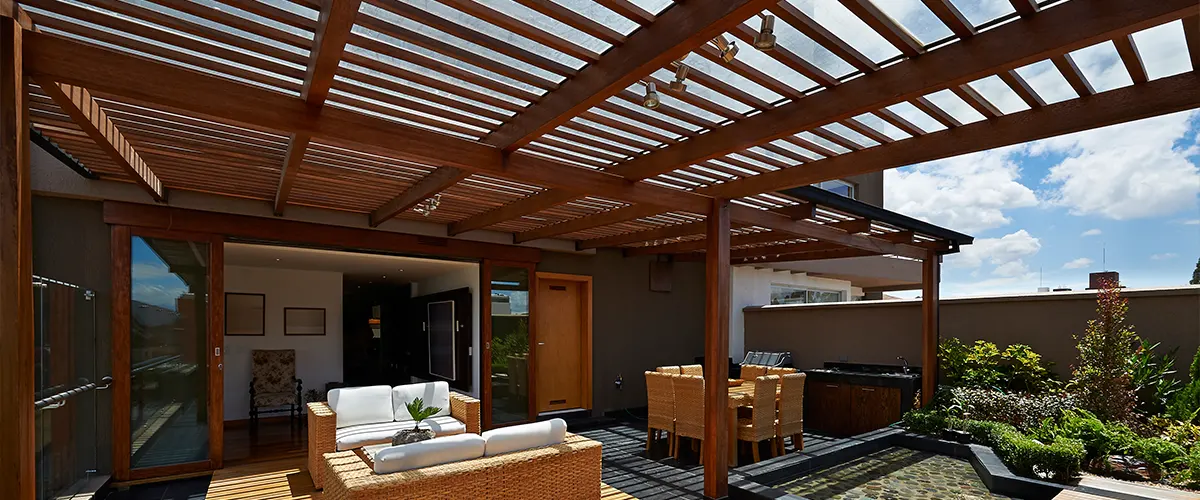 Pergola Materials Cost In Omaha
Here's a general overview of the cost range for different materials commonly used in pergola construction:
Pressure-Treated Pine: This is a more budget-friendly option. Costs can range from $500 to $2,000 for a basic 10×10-foot pergola.
Cedar: A mid-range option that offers durability and aesthetics. Costs typically range from $1,500 to $5,000 for a basic 10×10-foot pergola.
Redwood: A premium wood with natural resistance to decay and insects. Costs can start at around $2,000 and go up from there.
Vinyl pergola kits are available at various price points, starting at around $800 for a basic kit. More intricate designs or larger sizes can cost up to $5,000 or more.
Aluminum pergola kits offer low maintenance and modern aesthetics. Costs range from $800 to $5,000 or more.
These are often considered high-end and can cost between $3,000 and $8,000 or more, depending on size and design.
These are often custom-built and can range from $2,500 to $7,000 or more, depending on the complexity of the design and the type of metal used. They're the most expensive, but if you want your own pergola to be sturdy and last decades, this is the best option.
Note that the cost ranges below are approximate and may vary significantly depending on factors such as your location, the materials selected, additional features, and labor expenses. For a precise pricing estimate, request your free quote today!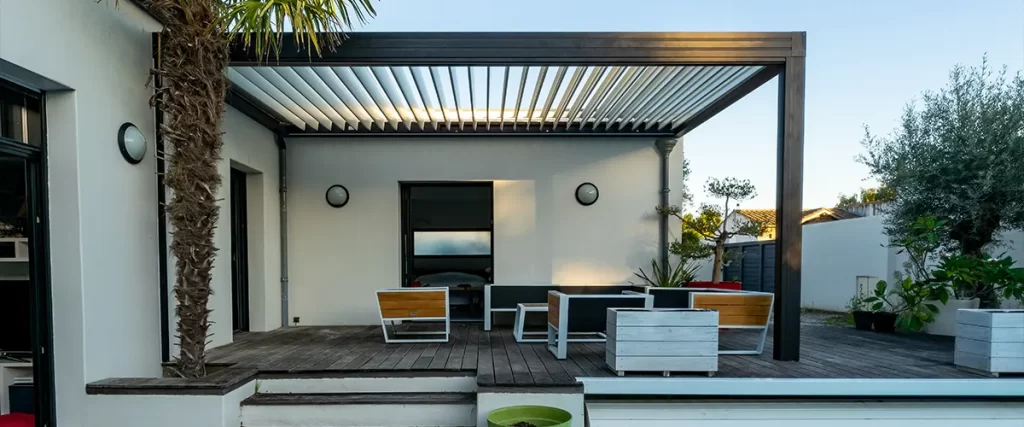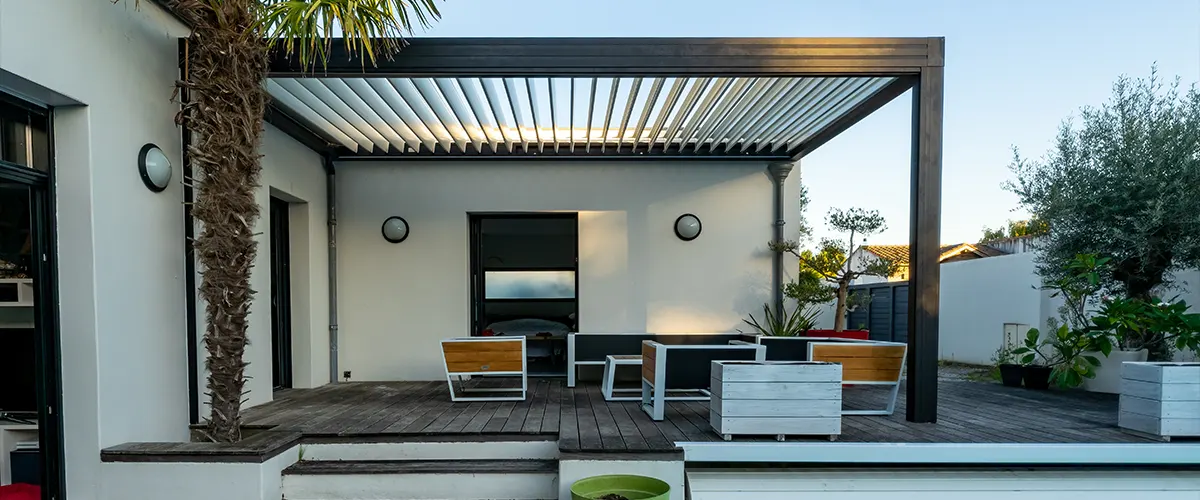 Get Your Pergola Construction With An Outdoors Expert
A DIY pergola will never be as good as one built by an expert. There are several benefits to hiring a professional for your pergola construction:
Outdoor Expertise: Professionals specializing in outdoor installations possess extensive expertise in the construction of pergolas, encompassing various designs, sizes, and materials. They possess an acute understanding of the intricacies of such projects, enabling them to anticipate potential challenges and facilitate a seamless and efficient installation process. Moreover, if you desire a bespoke pergola crafted exclusively to complement your outdoor space, entrusting the task to a seasoned professional ensures a long-lasting investment that will stand the test of time.
Custom Design: Expert designers can offer custom design services, tailoring your pergola to perfectly match your unique requirements and aesthetic preferences. They provide valuable advice on the optimal designs, materials, and finishes that will beautifully complement your outdoor space. While prefabricated pergolas are convenient, they lack the personal touch and uniqueness that can make them seamlessly blend with your home.
Value for Money: While the initial expense may appear higher, a professionally installed pergola can provide exceptional durability and longevity, minimizing the need for expensive repairs or replacements in the future. Moreover, a well-designed and expertly installed pergola can enhance the value and allure of your property. Even if it's a pre-made pergola, attempting a DIY installation without following crucial steps can result in structural failure and potentially dangerous accidents, which can best be avoided.
Note that the cost ranges below are approximate and may vary significantly depending on factors such as your location, the materials selected, additional features, and labor expenses. For a precise pricing estimate, request your free quote today!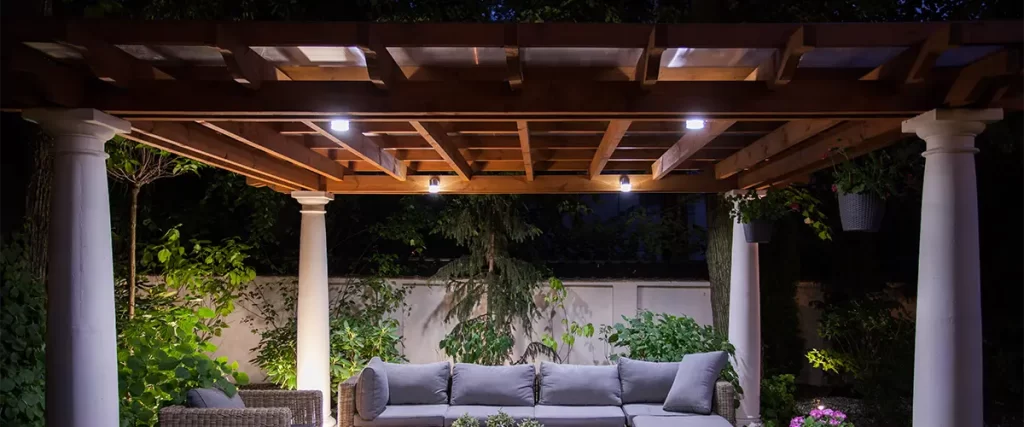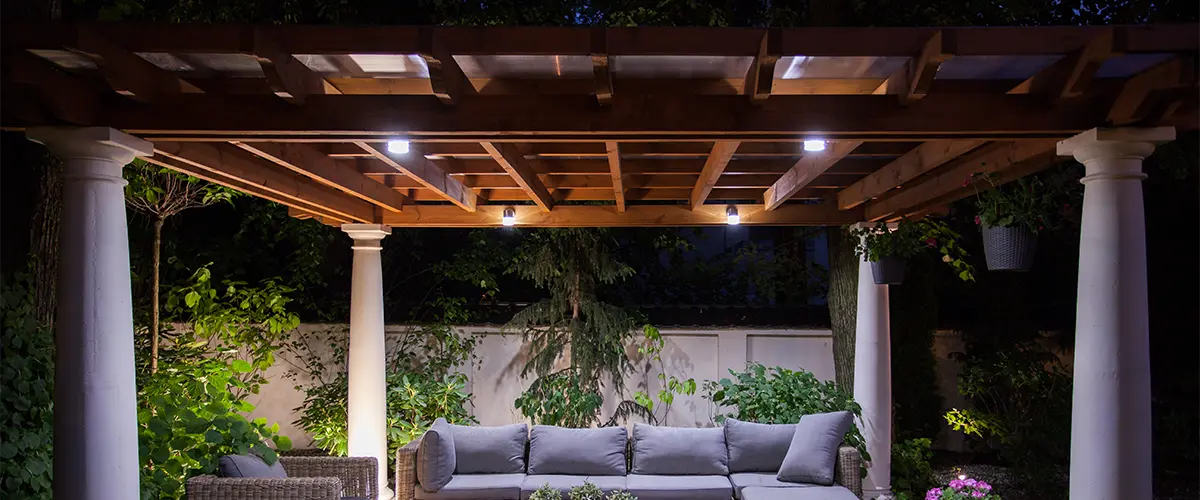 Get Your Pergola Construction With The Best Builder In Omaha!
Pergolas are a fantastic addition that will enhance your outdoor space and elevate it to new heights, but it rarely happens with DIY pergola plans. If you want to build it yourself, chances are something will turn out bad and you'll have to replace it much sooner than you thought you would.
Deck Bros guarantees a beautiful pergola that is not only built to withstand the test of time but also designed to provide entertainment for your entire family.
With our extensive expertise in outdoor spaces, we offer you the opportunity to have a bespoke pergola that perfectly complements your lifestyle and harmonizes with your home.
Elevate your outdoor space with Deck Bros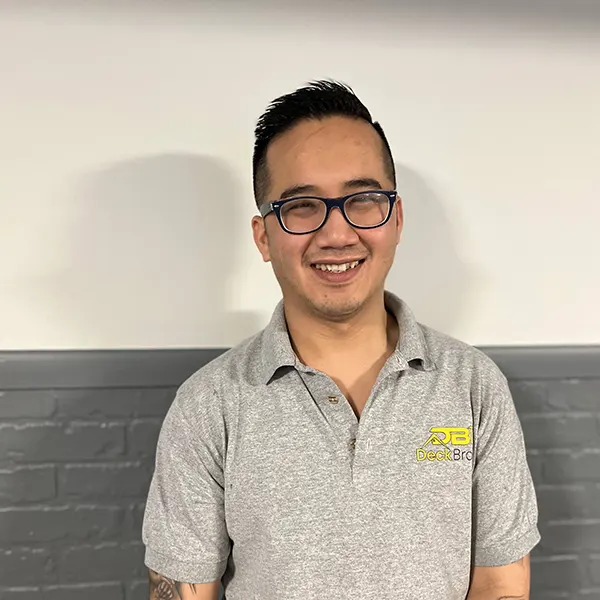 Whether we're building it on an existing patio or we're starting from scratch, we'll take care of everything.
Contact us at (402) 369-5724 or request a free quote, and let's start your pergola building process!