Get Your Exceptional Free Standing Deck In Omaha, NE
We build amazing free standing decks in Omaha Metro, Papillion, La Vista, Bellevue, and more of NE.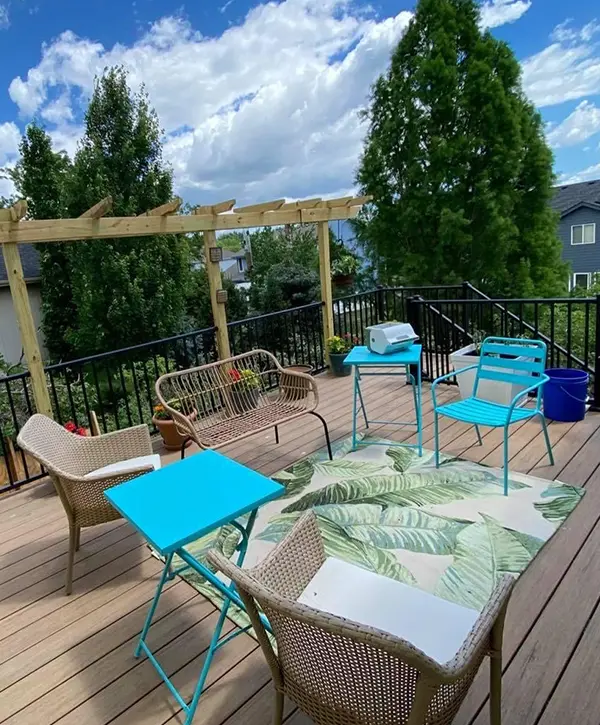 Welcome to the world of freestanding decks—your ticket to transforming your backyard into a stunning outdoor retreat.
If you want to enhance your outdoor living space with a versatile and flexible addition, freestanding decks are the perfect solution.
Free standing or freestanding decks are not attached to your home but stand on their own, offering various advantages and opportunities for your outdoor space.
These decks have an individual design and construction that create a fantastic expansion of your living area, beautifully combining the outdoors with a comfortable, relaxing area.
With clever engineering and thoughtful design, our team at Deck Bros can work with the natural contours of your yard to create a beautiful, level deck that harmonizes with the surrounding landscape.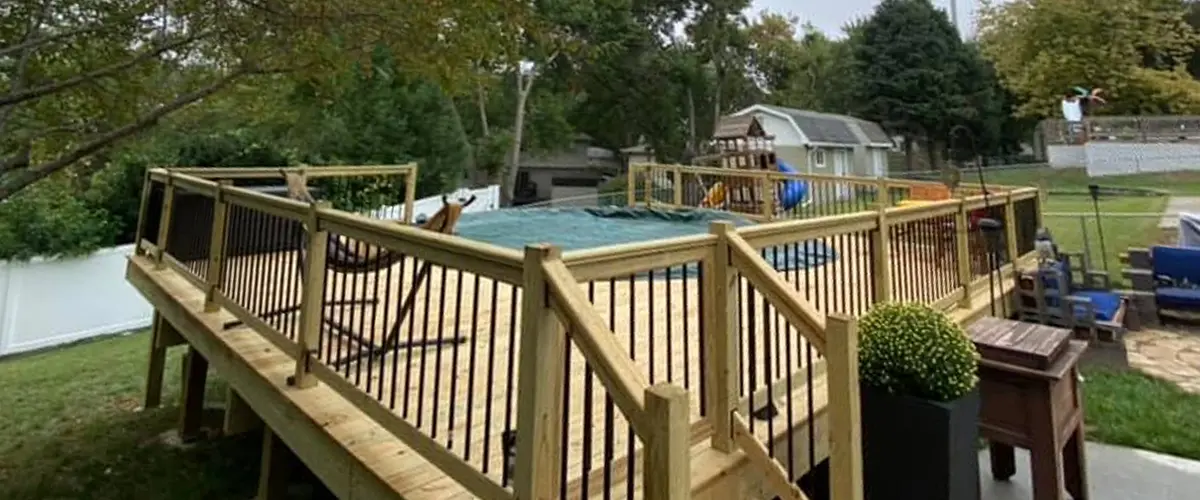 Free Standing Decks, Made Simple
We build freestanding decks for all sorts of yard configuration, so you can enjoy perks such as:
Advantages of A Free Standing Deck
Are you looking to add an extra living space to your home? Freestanding decks offer the perfect solution. These decks are not attached to your house but stand on their own, allowing you to place them in any area of your yard.
With thoughtful design, our team at Deck Bros can create a beautiful, level deck that harmonizes with the surrounding landscape.
Not only do freestanding decks provide more usable space for entertaining or relaxation, but they also offer numerous other benefits as well.
Expand Your Outdoor Living Space
A freestanding deck can significantly increase your usable outdoor area. Imagine having an additional space dedicated to relaxation, entertainment, and quality time with family and friends. It's the perfect extension of your indoor living space, offering a seamless transition to the great outdoors.
Boost Property Value & Curb Appeal
A well-designed and professionally built freestanding deck enhances your lifestyle and adds value to your home. Potential buyers are often drawn to properties with attractive outdoor living spaces, making your freestanding deck a smart investment that pays off both now and in the future.
Adaptability for Any Terrain
s your backyard hilly, sloped, or uneven? No problem! One of the greatest advantages of freestanding decks is their adaptability to various terrains. Our expert team at Deck Bros can work with the natural contours of your yard, ensuring a level and stable deck that blends harmoniously with the landscape.
No Structural Modifications
When you choose a freestanding deck, you eliminate the need for any structural modifications to your home. This means a quicker and less invasive installation process. Our experienced team will efficiently construct your freestanding deck without disrupting your living space, ensuring a smooth and hassle-free experience for you.
The freedom to position your freestanding deck anywhere in your yard is a significant advantage. Whether you prefer to soak up the sun or enjoy the shade, you can choose the perfect location. Moreover, if you decide to rearrange your outdoor space or move to a new home in the future, your freestanding deck can easily be disassembled and relocated to suit your needs.
When it comes to design, freestanding decks offer boundless possibilities. Whether you envision a cozy nook for relaxation, a spacious area for outdoor dining, or a captivating entertainment zone, our team at Deck Bros will bring your vision to life. You can customize your freestanding deck's shape, size, and features, making it a unique reflection of your personal style and preferences.
At Deck Bros, we specialize in creating exceptional freestanding decks that exceed your expectations. Our expert team combines professional craftsmanship with a passion for outdoor living to deliver a stunning deck you'll enjoy for years.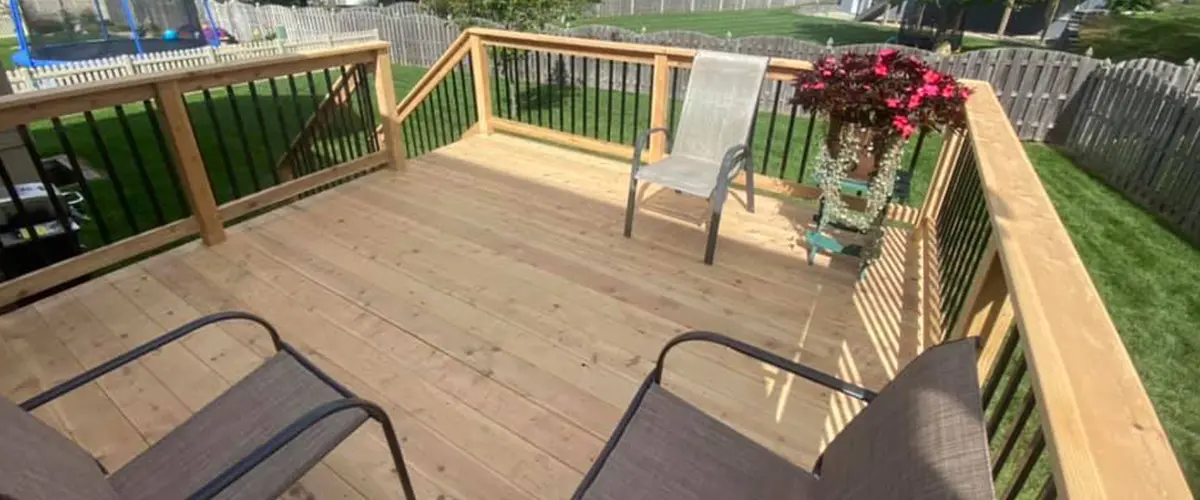 Why Our Past Customers Recommend Us
We hired Luan and his crew to touch up our deck prior to selling our house. They came on time and found that the deck was in worse shape that it appeared.
Without raising the price, they went out of their way to replace all the railing and even put in new stairs for it. The deck looked great afterward and was one of the big selling point for our house.
Deck Bros showed up at 8:00 am and worked until dark everyday. They had old deck torn down in one day. We are very happy with the finished product.
We went with Deck Bros because of Luan's charming personality but they can also build a sweet deck!!!! Thanks Luan and team
Free Standing Decks Design Considerations
As you embark on designing your freestanding deck, several important factors must be considered. By carefully contemplating these design considerations, you'll ensure that your deck perfectly suits your needs and desires.
To begin designing your freestanding deck, first evaluate the space in your backyard. Consider the size, layout, and intended use of the deck. Visualize how it will fit into the overall design of your outdoor area. This assessment will help determine the ideal size and shape of the deck, ensuring it fits seamlessly into your backyard.
To ensure your deck is functional and easy to use, it's important to think carefully about its height. You can choose to build it at ground level or raise it up. It's also a good idea to make sure the height of the deck fits well with the surrounding landscape, both to make it look great and to keep it practical for you and your guests.
To take your freestanding deck to the next level, consider adding practical and decorative features to improve your time spent outdoors. For example, you could install built-in seating for relaxing or entertaining guests. Consider adding some lighting fixtures to create a cozy atmosphere for evening get-togethers. Installing shade options such as pergolas or umbrellas could be a good idea too.
Before designing and building a freestanding deck, it is important to become familiar with the local building codes and regulations. These regulations may vary by region and may include specific requirements for deck dimensions, railing heights, and structural considerations. Don't forget to check if permits are required and make sure that all legal obligations are met to avoid future issues.
Our experienced team will guide you through the design process, ensuring that every aspect is tailored to your preferences and meets the highest quality and safety standards.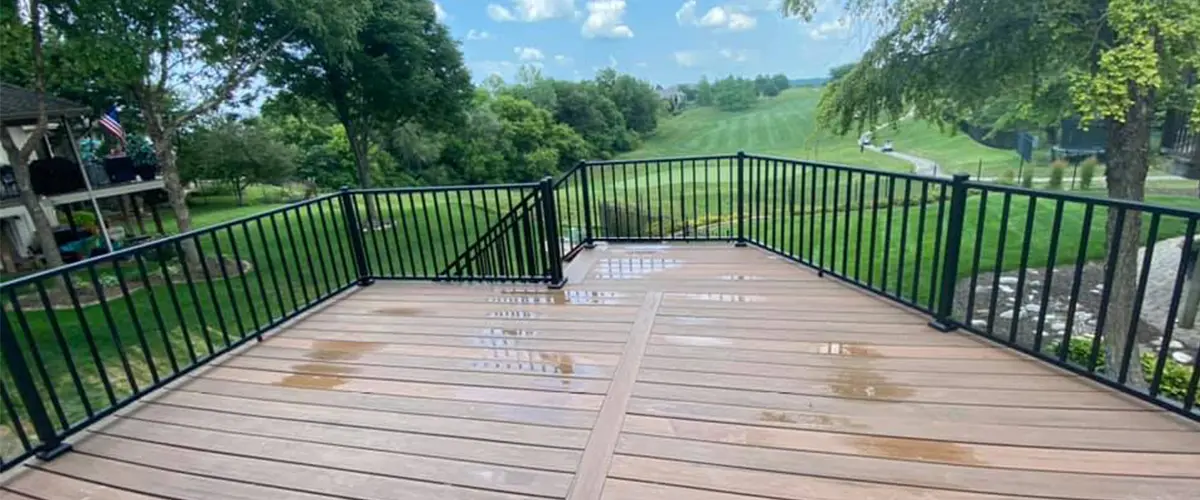 Choosing the right materials and construction techniques for your freestanding deck is crucial to ensure its longevity, durability, and aesthetic appeal. Here's a guide to help you make informed decisions about materials and construction methods:
Choose from a range of wood options for your deck, including budget-friendly pressure-treated lumber, naturally rot-resistant cedar and redwood for a warm aesthetic, or durable and elegant exotic hardwoods like ipe or mahogany. Consider maintenance needs and longevity when making your selection.
Opt for low-maintenance and durable composite decking, which combines wood fibers and recycled plastic. It offers the appearance of wood without the constant upkeep, as it resists fading, staining, and warping, ensuring a long-lasting deck.
PVC decking is a man-made material that is very strong, doesn't get damaged easily by water or bugs, and needs very little upkeep. You can pick from different colors and textures to get your desired deck look. The color won't fade over time, so your deck will stay looking nice for a long time.
For a sleek and modern aesthetic, consider freestanding decks made of aluminum or steel. These materials offer excellent durability, strength, and resistance to the elements. They require minimal maintenance and provide a unique contemporary appeal. 
For a sturdy freestanding deck, it's important to use proper techniques for its construction. This involves choosing a suitable foundation like concrete piers or footings to provide stable support. To ensure a secure and durable deck, it's recommended to use top-notch fasteners and connectors.
When building your freestanding deck, remember that it represents your personal taste. You can add personalized features such as built-in benches, planters, or storage compartments. You can also explore different railing designs, lighting fixtures, and decorations to enhance the overall look of your deck.
We offer expertise in material selection and construction techniques, guiding you through the process to ensure you make the best choices for your freestanding deck. Get in touch with us today for a free quote.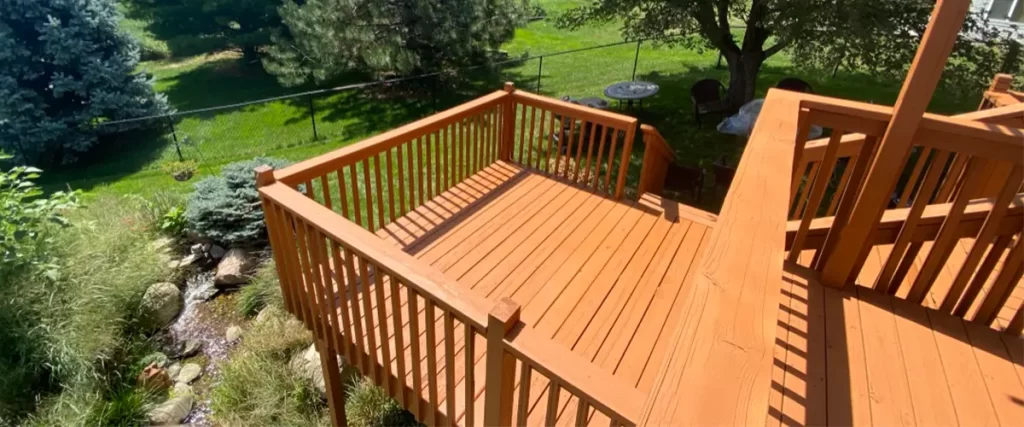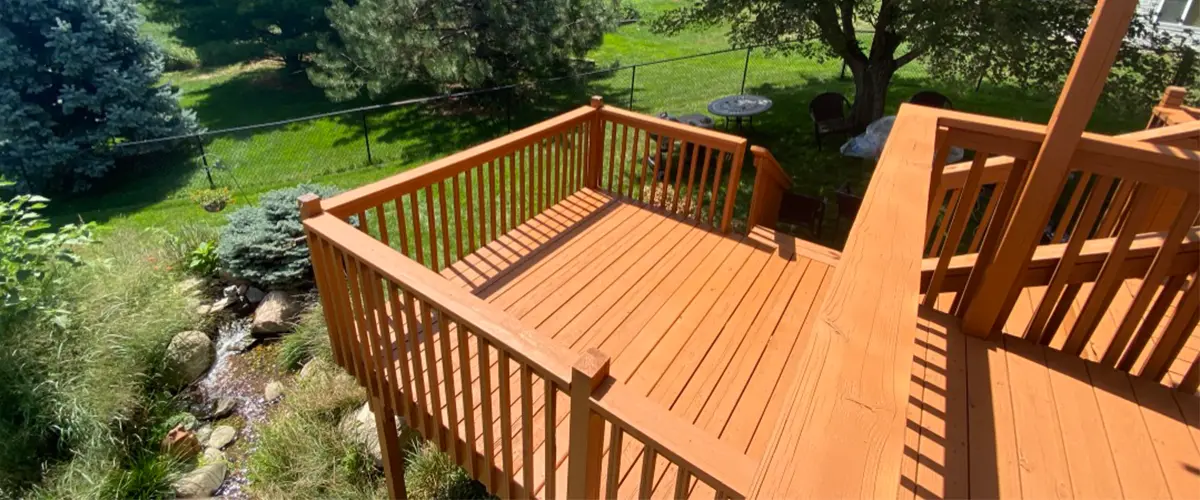 Enjoy More Family Gatherings On Your New Free Standing Deck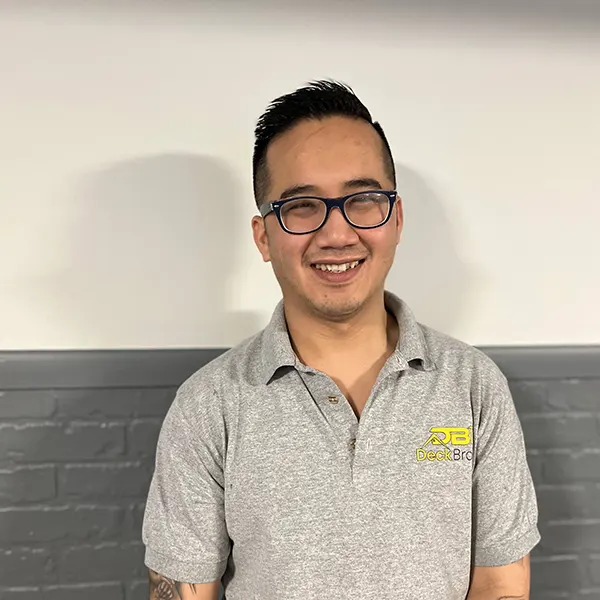 Whether you want to create a cozy space for family gatherings or an entertainment hub for hosting friends, we're here to make it happen.
Don't wait any longer – take the first step toward your dream outdoor oasis. Contact us today and let our experienced team at Deck Bros bring your deck-building vision to life.