Deck Steps In Omaha, Papillion, La Vista, And More Of NE
Enhance your deck's accessibility with quality deck steps for your Omaha deck.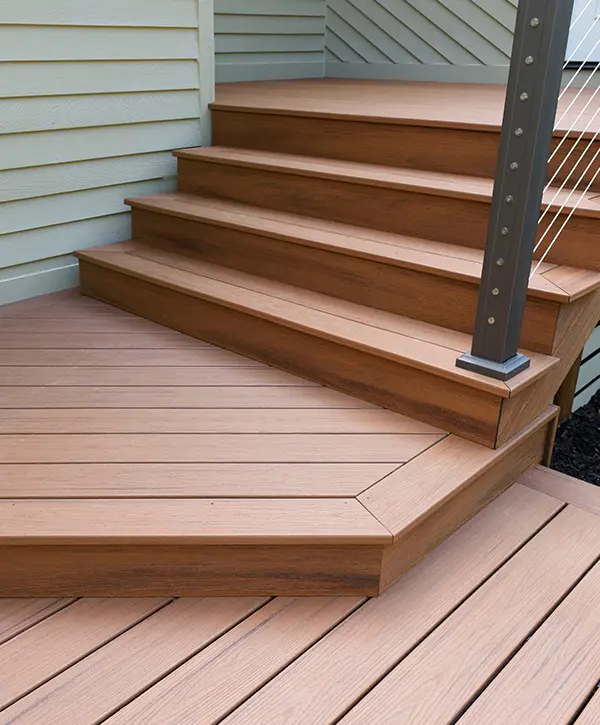 At Deck Bros, we don't just build deck steps; we build connections between levels, seamlessly blending your deck into your outdoor landscape. Our expertise, attention to detail, and dedication to your vision ensure that your deck steps aren't just a practical necessity – they're a stunning feature that enhances your entire outdoor space.
So, if you're ready to take your deck to new heights, both literally and aesthetically, look no further. Join us on a journey where safety, style, and innovation converge to create deck steps that will leave you and your guests in awe. Let's make your outdoor dreams come true – together.
When you choose Deck Bros for your deck building needs, you get to enjoy:
Benefits Of Having Deck Steps On Your Deck
One crucial aspect of your deck that can truly transform your space is the inclusion of well-designed deck stairs. Beyond their functional purpose, deck stairs offer a myriad of benefits that you won't want to miss out on. Here's why having deck steps is a decision you'll appreciate every time you step outside:
Imagine your gently sloping backyard and a stunning deck, perfect for relaxation and entertainment. However, without deck steps, moving from your deck to the rest of your outdoor space can be awkward and risky.
Deck stairs elegantly solve this issue by seamlessly connecting different outdoor levels. Whether you're grilling, sipping morning coffee, or soaking in the view, deck stairs effortlessly blend your deck into your home's natural flow.
Deck steps are not just functional; they're a chance to infuse your outdoor space with architectural elegance. Just like a grand staircase in a beautiful home, well-designed deck stairs become a focal point that adds character and style.
Our expert craftsmen at Deck Bros understand that each deck is unique, and we tailor your deck stairs to match your deck's aesthetic seamlessly. With the right design, your deck stairs can become a stunning design element that enhances the overall appeal of your outdoor living area.
Safety should always be a top priority, especially when it comes to outdoor spaces. Deck stairs are not only about making your deck accessible; they also provide a safe and convenient way to move between different levels.
With proper railing and baluster options, we ensure that your deck stairs are not only visually appealing but also meet stringent safety standards. Say goodbye to awkward steps or potential slips, and say hello to a worry-free transition from your deck to the surrounding areas.
Investing in deck steps isn't just about the immediate benefits – it's an investment that keeps on giving. When you choose to add deck stairs, you're elevating the overall value of your property.
Potential buyers and appraisers alike recognize the added functionality, aesthetics, and safety that deck stairs bring to the table. So, whether you plan to stay in your home for years to come or eventually move on, deck stairs are a smart addition that boosts your home's marketability and value.
Ready to take your outdoor living experience to the next level? Contact us, and let's talk about how our expert team can transform your deck into a true masterpiece.
Why Homeowners Across NE Love Working With Us
We hired Luan and his crew to touch up our deck prior to selling our house. They came on time and found that the deck was in worse shape that it appeared. Without raising the price, they went out of their way to replace all the railing and even put in new stairs for it. The deck looked great afterward and was one of the big selling point for our house.
Deck Bros did a phenomenal job with our deck! Luan went over all the pros and cons of what we were doing, encouraged us to ask questions, and kept us updated on all progress. Everyone was professional and efficient, and the crew worked hard and did their job both quickly and well. The new deck is beautiful and has some nice warranties to go with it!
Enhancing Safety Through Thoughtful Deck Step Design
Safety is the cornerstone of every outdoor space, and at Deck Bros, we take it seriously. Our approach to building deck steps isn't just about aesthetics – it's about creating a secure transition that ensures you can enjoy your deck with peace of mind.
The first step in our safety-driven approach is calculating the minimum stair rise and vertical distance between each step. These measurements are crucial to prevent trips and falls, especially on a raised deck. Our experts meticulously calculate these dimensions, allowing for a comfortable and safe ascent or descent.
A sturdy foundation is essential for secure deck steps. We anchor your deck steps by securely attaching them to the deck rim and framing. This connection guarantees stability, preventing wobbling or shifting, and enhancing safety as you move between deck levels.
Safety isn't subjective – it's defined by rigorous building codes and standards. Our deck step installations comply with these codes to the letter. From the height and depth of each stair tread to the attachment methods, we follow industry regulations to provide you with a safe and reliable set of deck steps.
Our experienced craftsmen understand the importance of precision in building deck steps. Every aspect of your deck stairs, from the alignment of the stair risers to the even attachment of decking boards, is executed with meticulous care. This commitment to craftsmanship ensures a seamless and secure transition as you navigate your outdoor space.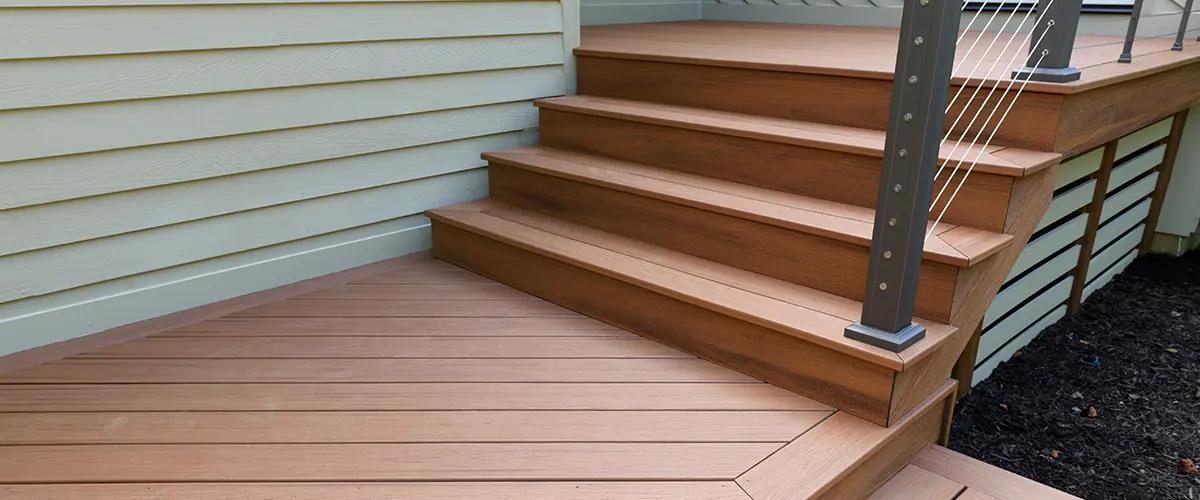 When you choose Deck Bros to build your deck steps, you're not just investing in convenience – you're investing in a safer outdoor experience. Contact us to prioritize your well-being by considering every detail, from the minimum stair rise to the careful attachment of your stairs to the deck framing and rim.
Our Proven 6-Step Process for Seamless Deck Steps Installation
At Deck Bros, turning your deck stairs dreams into reality is a meticulously planned process that combines expert craftsmanship with precision engineering. When building deck stairs with our team of experts, here's the step-by-step journey you can expect.
Step 1: Design and Measurement
Our journey begins with a thorough understanding of your deck and outdoor living space. We carefully measure the available area, accounting for factors like the deck's height, desired stair rise, and tread thickness. This essential step ensures that every element of your deck stairs aligns perfectly with your deck design and local building codes.
Step 2: Stair Stringer Calculation
Calculating the stair stringers, the backbone of your deck steps, is next on our list. We determine the number of stair rises and tread depths required, ensuring each step's precise dimensions. This calculation accounts for the exact riser height, ensuring a comfortable and safe ascent and descent on your deck stairs.
Step 3: Stringer and Frame Installation
With the measurements and calculations in hand, we begin constructing the stair stringers. These key components support the stair treads, ensuring stability and durability. Once the stair stringers are in place, we carefully attach them to the deck frame, securing them with deck screws to create a sturdy foundation for your deck stairs.
Step 4: Stair Tread Installation
With the stair stringers securely in place, it's time to add the stair treads. These horizontal boards provide the stepping surface for your deck stairs. We attach them using deck screws, making sure they are level and evenly spaced. Each tread is solidly attached to the stringers, ensuring a safe and comfortable journey up and down your deck stairs.
Step 5: Railing and Safety Compliance
Safety is paramount, especially when it comes to deck stairs. We install sturdy railing and balusters along the sides of your deck steps, adhering to local building codes to ensure they meet safety standards. These railing systems provide essential support and guidance, ensuring your outdoor living space remains safe for all.
Step 6: Finishing Touches and Inspection
Before we consider our work complete, we meticulously inspect every detail. We check each step's rise and run, confirming that they align precisely with the design specifications. Our team ensures that all deck screws are in place, and every solid board is attached securely. Finally, we perform a comprehensive inspection to make sure every aspect of your deck stairs meets our high standards.
Interested in having a stunning deck that enhances your outdoor space? At Deck Bros, we do more than just build deck stairs. Our deck-building services focus on giving you what you need without you having to lift a finger!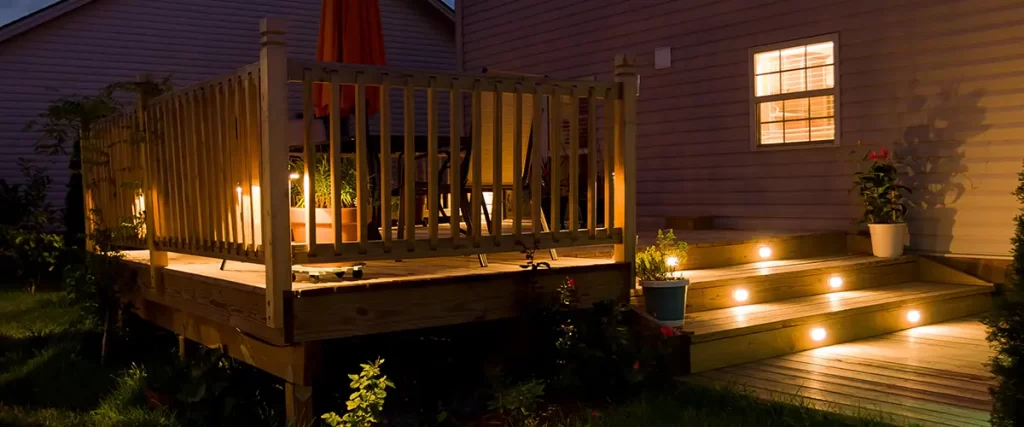 Let's Elevate Your Deck Together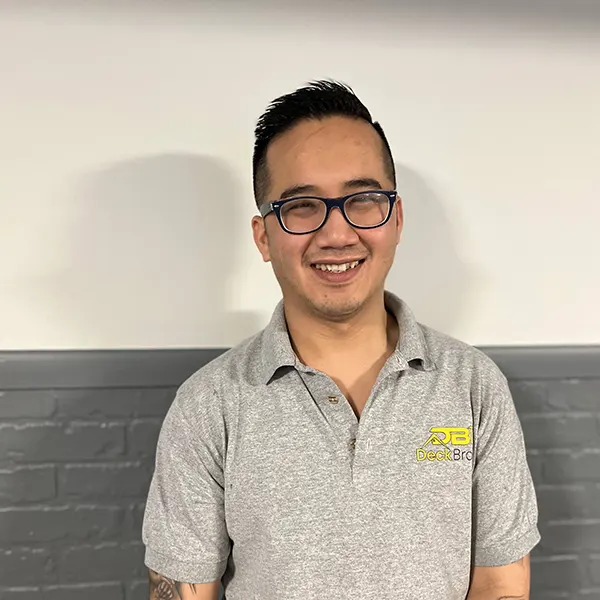 Elevate your outdoor living experience with Deck Bros – where safety, aesthetics, and craftsmanship come together to create something truly exceptional.
Contact us today at (402) 369-5724 to discuss your deck stairs project. Our experts are eager to hear your ideas, answer your questions, and guide you through the process. If you prefer, you can also send us a message, and we'll promptly get back to you.