Deck Railing Installation In Omaha, NE
That old, wobbly railing on your deck is not safe! Get a deck railing installation service from a reliable pro!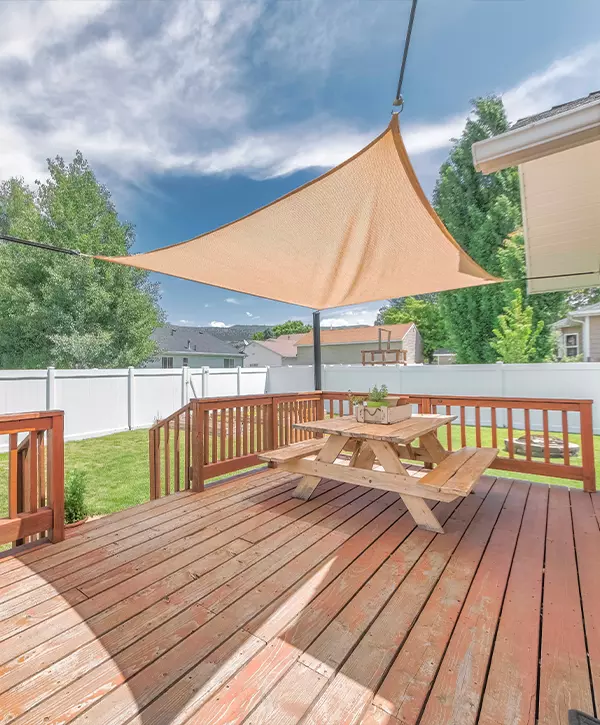 Deck railing is mandatory for all elevated decks, and there's no way around it. They're beautiful and will make your deck seem complete and finished.
A quality railing installation means a sturdy structure that'll withstand the force of the elements and the merciless test of time. As a result, your railing will last for as long as the decking surface, ensuring a lasting investment.
Deck Bros offers world-class and highly reliable deck railing installation services for decks in Omaha, NE, and surrounding areas. We're fast, efficient, and friendly people who will go the extra mile for your satisfaction.
Why Do You Need Deck Railing
Railing installation is, most of the time, part of a larger deck building project. Here at Deck Bros, we always recommend our customers get a quality railing if they want to make their outdoor space completely safe, regardless of whether the deck is on the ground level or not.
Here are 3 reasons why you need deck railing.
Deck railings act as a barrier that prevents people from accidentally falling off, especially on elevated decks.
This is particularly crucial if children or pets frequently use the deck. Secondly, they provide support for those who need extra stability when climbing stairs or moving around the deck, such as the elderly or those with mobility challenges. Railings can also act as a deterrent to unwanted intruders, adding an extra layer of security to your home.
By installing a sturdy and high-quality railing, you ensure a safer and more secure deck for both your family and guests.
Your Deck Will Look Finished
Without a doubt, installing a railing will elevate the aesthetic appeal of your deck, making it look complete and well-structured. A deck without a railing might seem unfinished or lacking in design.
On the other hand, a well-crafted railing can act as a beautiful frame for your outdoor space, giving it a polished and cohesive look. Not only does it serve a functional purpose, but a railing can also contribute significantly to the overall design theme of your deck.
Ultimately, a deck railing enhances the architectural harmony of your house while also allowing you to express your personal style and taste.
You're Building An Up-To-Code Deck
Building codes play a significant role in deck construction, including the installation of railings. These regulations are in place to ensure the safety and structural integrity of decks.
Many areas, including Omaha, NE, have building codes that stipulate the presence of railings on decks that are above a certain height from the ground. These heights can vary, but the general rule of thumb is that any deck more than 30 inches off the ground requires a railing.
These codes also dictate aspects such as the height and spacing of the railing to ensure it provides an effective safety barrier. Non-compliance with these codes can lead to penalties, can affect your home insurance coverage, and you can even be forced to demolish the deck and start all over if it's not up to code.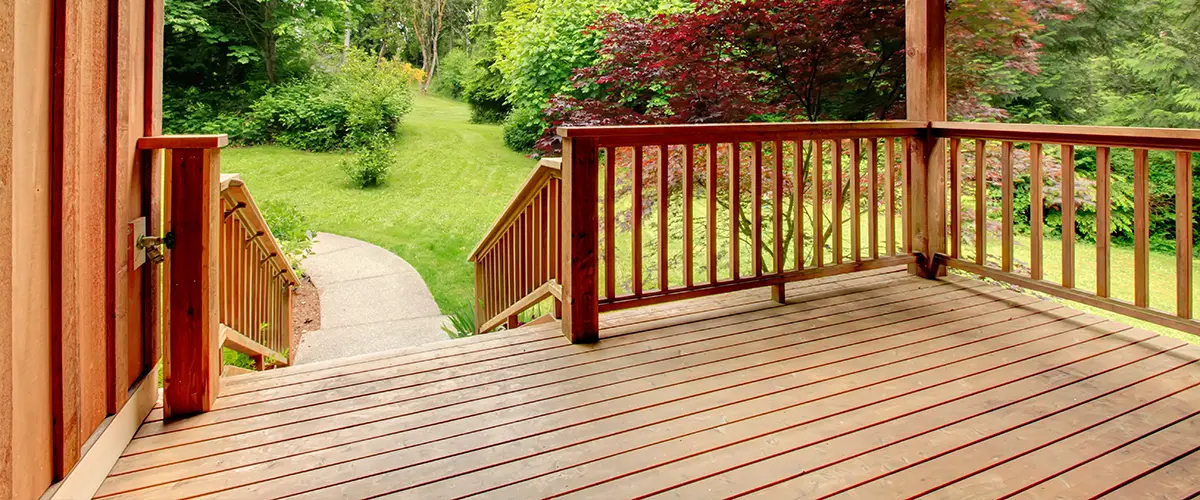 Deck Railing Installation Cost In Omaha
The cost of installing deck railings in Omaha, NE, can vary greatly depending on the design, materials, and labor involved in the project. Deck railings installation cost typically starts at $50 per linear foot and can go all the way up to $120 for upscale metal rails.
At Deck Bros, we're committed to providing high-quality railing installations at competitive prices, and we'll be more than happy to offer you a free, no-obligation quote for your project.
There is a wide variety of materials you can choose for your deck railing. Here are five common options:
Wood Railings: Traditional and versatile, wood is a popular choice for railings. Like any wood deck, this material is the most affordable, but it requires constant maintenance. The cost can range from $30 to $50 per linear foot, depending on the type of wood chosen.
Vinyl Railings: Vinyl railings are virtually maintenance-free and resist weathering, decay, and insects. These railings usually cost between $20 to $40 per linear foot.
Composite Railings: Made from a blend of plastic and wood fibers, composite railings are durable and require little maintenance. They work great with composite decking. The cost ranges from $60 to $100 per linear foot.
Aluminum Railings: Lightweight, durable, and requiring minimal maintenance, aluminum railings are a great choice for modern homes. They typically cost between $50 to $100 per linear foot.
Wrought Iron Railings: Offering a classic, elegant look, wrought iron railings are strong and highly durable. They can cost anywhere from $100 to $300 per linear foot due to the detailed craftsmanship involved.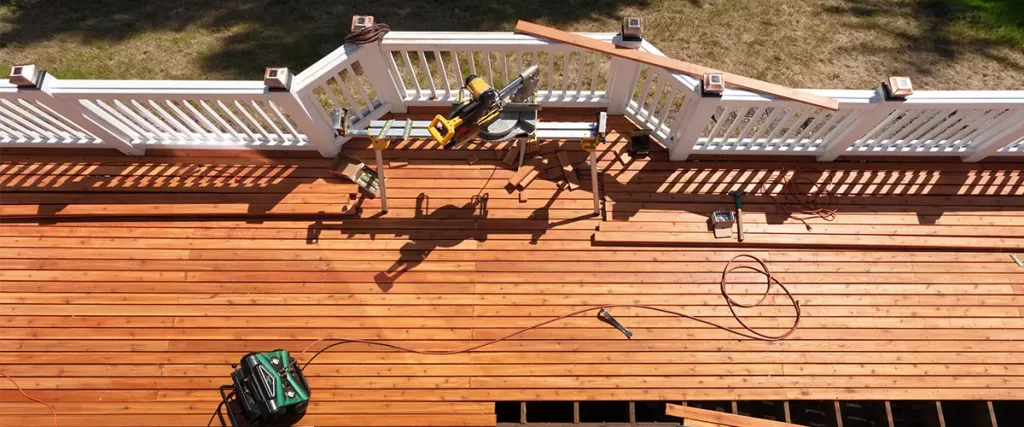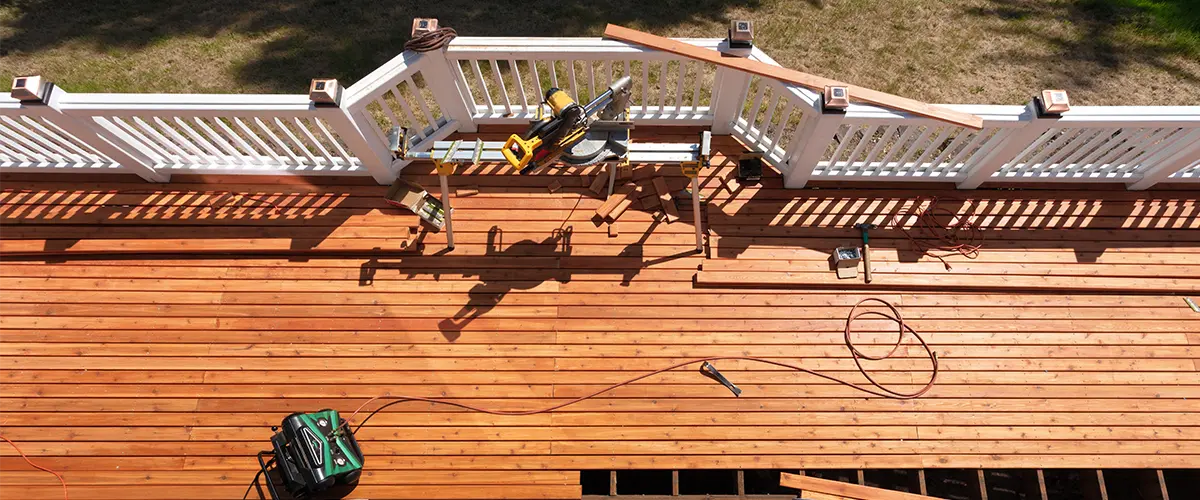 What's The Proper Way To Install Deck Railing
Deck railing installation involves a methodical process to ensure robustness and longevity. Here's the typical procedure broken down into six essential steps:
Measure and Plan: The first step is to accurately measure the deck's perimeter and plan out where the posts will be installed. These posts should usually be spaced about six feet apart to ensure the stability of the railing. Make sure you're not damaging the deck framing at any given time.
Install Posts: To install the deck railing posts, drill holes into the deck boards, insert the deck posts, and secure them with bolts for maximum stability. At the corners of the deck, double posts may be required to support the railing structure.
Attach Top and Bottom Rails: Once the posts are securely in place, the next step is to attach the top and bottom rails. These rails should be cut to the correct length and then fastened to the posts using screws or brackets.
Attach Caps: To finish off the installation, caps are placed over the top of each post. They not only enhance the aesthetic appeal of the railing but also protect the posts from weather damage.
Final Inspection: After installation, a final check is essential to ensure all elements are secure and that the railing complies with local building codes. Any necessary adjustments should be made at this stage. Check the deck joists, deck rail, deck post, bottom rail, lag bolts, mounting brackets, floor joists, and everything else on your deck.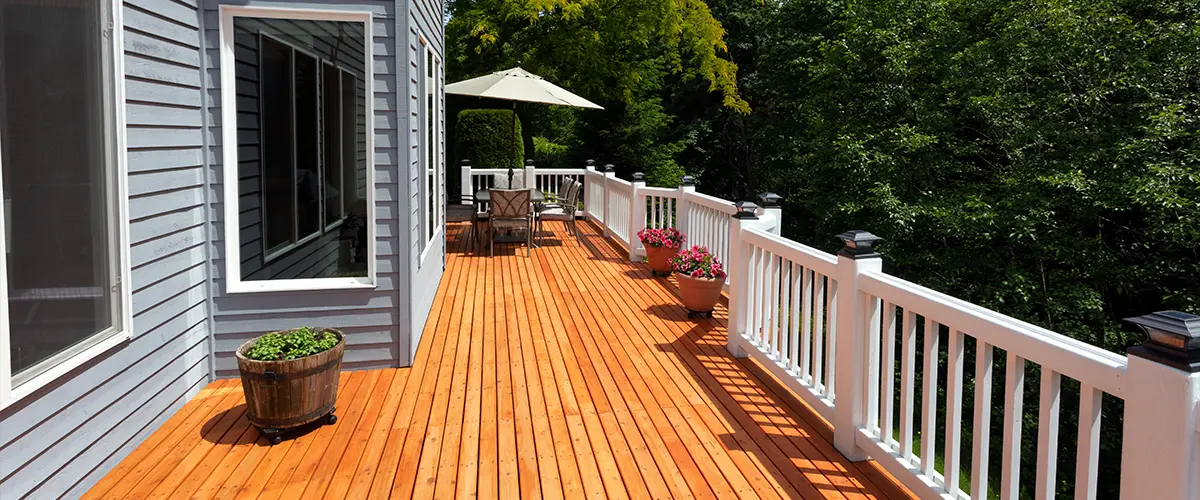 Should You Install Deck Railing Alone?
Installing deck railing may seem like a straightforward DIY project, but in reality, it can be a complicated and risky endeavor if attempted without the necessary expertise.
Firstly, incorrect installation can compromise the safety of the railing and pose a hazard.
Secondly, failure to adhere to local building codes during installation can result in penalties and may even necessitate the removal of the structure.
Moreover, the installation process requires specialized tools and equipment, which may not be readily available to the average homeowner.
Finally, without the correct training and experience, determining the right materials and layout for your specific deck can be challenging.
Unless you have some experience in building decks and installing railings, we don't recommend anyone to take this project upon themselves. Although not the hardest upgrade, there are still guidelines you need to follow to ensure a railing that's 100% up-to-code.
Working With Pros On Your New Deck Railing
You'll want to work with a pro on your new railing system for a bunch of reasons, but the most important one is that you'll get a better product.
Our experts at Deck Bros have been building decks and installing railing posts for decades, and they're 100% accustomed to the building codes and regulations that your deck needs to meet.
We focus our service on a smooth and easy experience where we minimize the stress and hassle of such upgrades.
We're deck builders who want what's best for you, and we'll go the extra mile to make sure that happens.
Get Your New Deck Rail Installed By Local Pros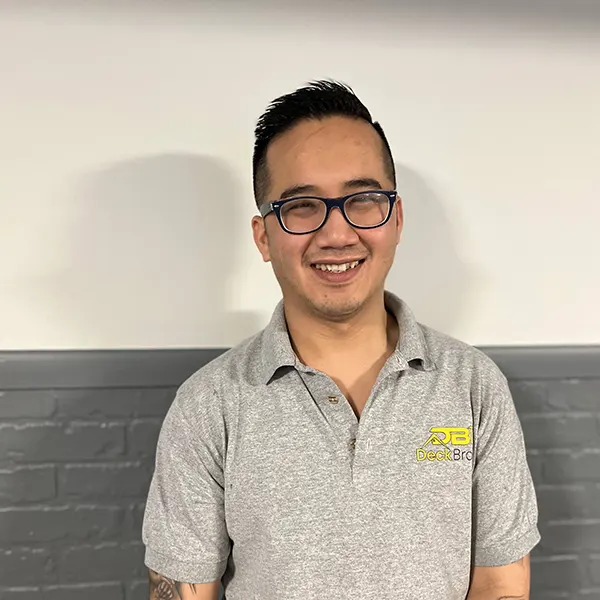 Don't take any chances with your deck railing installation and make sure you're getting a quality product that can ensure your loved ones' safety 24/7, 365 days a year!
Call us at (402) 369-5724 or request a free quote from the button below.