The Best Deck Replacement Services in Omaha, NE
Enjoy a brand new deck with our deck replacement services in Omaha Metro, Papillion, La Vista, Bellevue, and more of NE.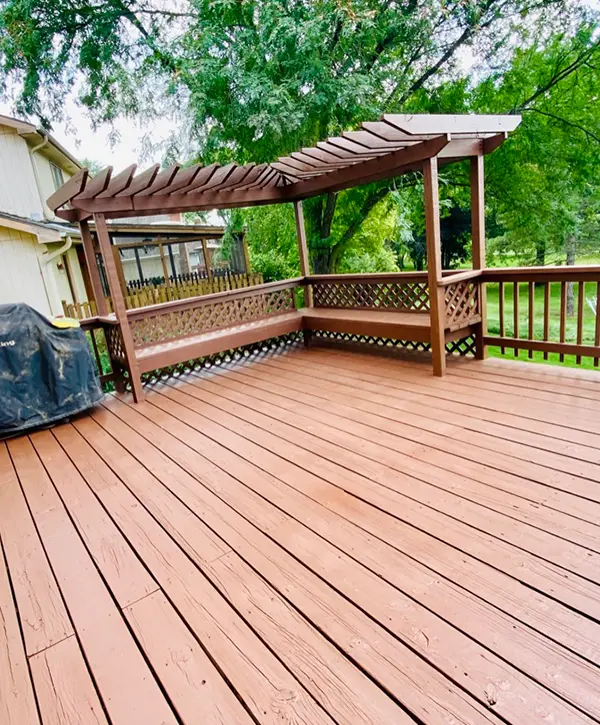 Is your deck starting to show its age? Are you experiencing structural issues or unsightly wear and tear?
At Deck Bros, we understand the importance of having a beautiful, safe, and functional outdoor space for your home. If you're considering deck replacement, you've come to the right place.
Over time, decks endure the relentless forces of nature, daily use, and the test of time. Harsh weather conditions, pests, and general wear can take a toll on even the sturdiest of decks.
That's where we come in. Our team of experienced professionals specializes in deck replacement, offering you a seamless and hassle-free solution to transform your outdoor area.
With our reliable, hard-working decking team, we're ready to replace old decks and make them safe and durable once again. Get in touch for a free quote.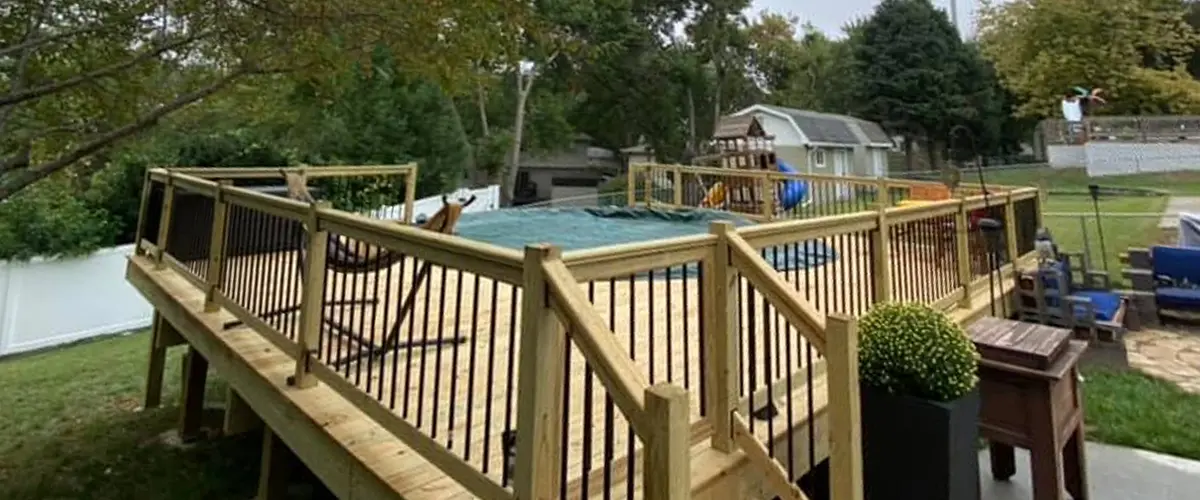 Work with us for a deck that offers:
Signs Your Deck Needs Replacing
Decks are exposed to various elements and undergo wear and tear over the years. While regular maintenance can prolong their lifespan, there comes a time when deck replacement becomes necessary.
These signs are meant to indicate when it's time to get your deck replaced.
If you notice significant structural issues such as sagging, rotting, or loose boards, it's a clear indication that your deck's stability has been compromised. Structural instability poses a safety risk to you and your loved ones. When these problems arise, it's best to consult professionals like Deck Bros to assess the condition of your deck and determine if replacement is necessary.
Decks have a limited lifespan, and older decks tend to show visible signs of wear and age. If your deck has surpassed its expected lifespan or exhibits extensive fading, splintering, or warping, it's a strong indication that replacement is in order. Upgrading to a new deck will enhance its appearance and ensure improved functionality and longevity.
Are you constantly spending time and money on deck repairs? If you find yourself regularly fixing boards, railings, or supports, investing in a new deck may be more cost-effective and practical. Deck replacement eliminates the need for ongoing repairs, giving you a fresh start and peace of mind.
If your deck no longer meets your functional needs or lacks the aesthetic appeal you desire, it might be time for an upgrade. Deck replacement offers an opportunity to reimagine your outdoor space and create a deck that aligns with your current lifestyle. Our team at Deck Bros can help bring your vision to life.
Wood decks are particularly susceptible to rot and decay, especially in regions with high moisture levels. If you notice widespread rotting, decay, or termite damage, promptly addressing the issue is crucial. Deck replacement will eliminate the underlying problems, providing a fresh foundation for a beautiful, long-lasting deck.
A deck should be a safe and enjoyable space for you, your family, and guests. If you frequently encounter safety hazards such as loose or wobbly railings, protruding nails, or unstable stairs, it's a clear indication that your deck requires immediate attention. Replacing your deck allows you to prioritize safety and provide a secure outdoor area for everyone to enjoy.
Ready to transform your outdoor space with a deck replacement? Contact Deck Bros today and let our knowledgeable team bring your vision to life.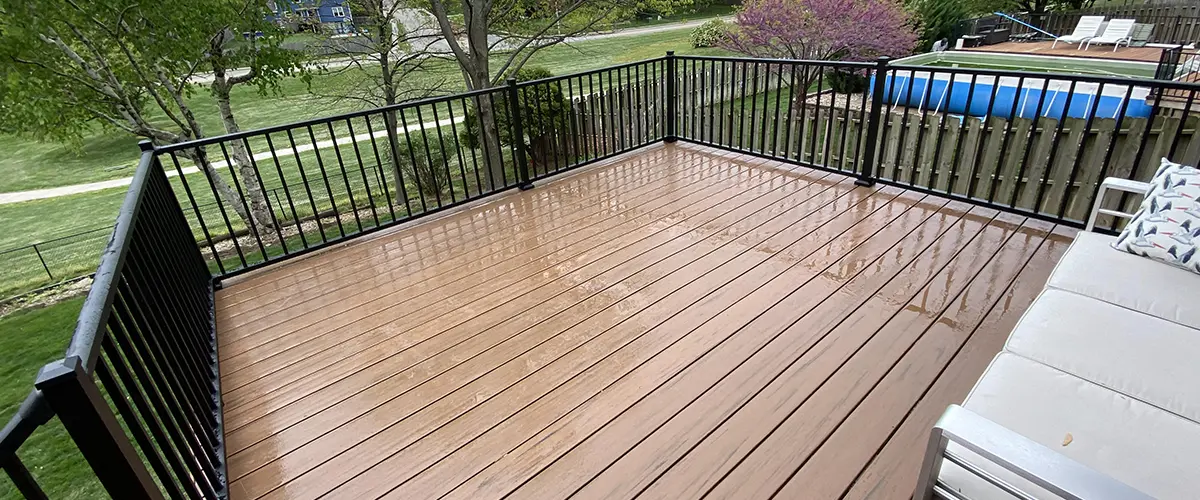 A Word From Our Past Customers
They did a excellent job. Crew was professional. I live 2 hours from Omaha and they took the job without that being an issue. Our deck turned out beautiful. 
We have the best looking deck in town. I am so glad that we chose Deck Brothers. If you want quality
go with Deck Brothers It will the best choice you make.
Great product, great price, and great service. The Deckbros exceeded my expectations and I couldn't be happier.
I wish I had 2 decks I needed to be built. 6/5 would recommend to anyone looking for an amazing deck. Thanks guys!!
Benefits of Deck Replacement
At Deck Bros, we understand that your deck is more than just an outdoor space; it's a place where you create memories with family and friends.
If your deck is showing signs of wear and tear or has structural issues, it might be time to consider deck replacement. Here are six key benefits of choosing deck replacement.
Safety should always be a top priority, especially when it comes to your deck. Over time, decks can become weakened by weather exposure, pests, and general wear. By opting for deck replacement, you ensure that your new deck will be structurally sound and safe for everyone who enjoys it.
Is your current deck lacking in functionality? A deck replacement offers an opportunity to rethink the layout and optimize the utilization of your outdoor space. Whether you need additional seating areas, built-in features, or improved accessibility, our team will work with you to create a deck design that maximizes functionality.
Deck replacement allows you to explore new design possibilities and update the look of your outdoor space. Our team will work closely with you to understand your vision, preferences, and functional requirements. Whether you prefer a traditional aesthetic or a modern design, we can create a custom deck that perfectly complements your home's architecture and reflects your personal style.
Investing in a deck replacement can significantly enhance the value of your home. A beautiful and well-maintained deck creates an appealing outdoor space that potential buyers will appreciate. By choosing quality materials and expert craftsmanship, Deck Bros can help you maximize the value of your property while providing a fantastic outdoor area for your family's enjoyment.
Older decks may require constant repairs and regular maintenance to keep them in good condition. With a deck replacement, you can choose durable materials and modern decking technologies that are designed to withstand the elements and require minimal upkeep. Our team will recommend the best materials and finishes that suit your needs, ensuring your new deck remains beautiful and hassle-free for years.
By choosing Deck Bros for your deck replacement project, you can have peace of mind knowing that our commitment to quality and customer satisfaction backs our work. We stand behind the craftsmanship and materials used in our deck replacements and offer warranties to protect your investment. Our goal is to ensure that you're completely satisfied with your new deck and that it brings you joy for many years to come.
Our friendly team will handle all the details, from obtaining necessary permits to ensuring a smooth installation process.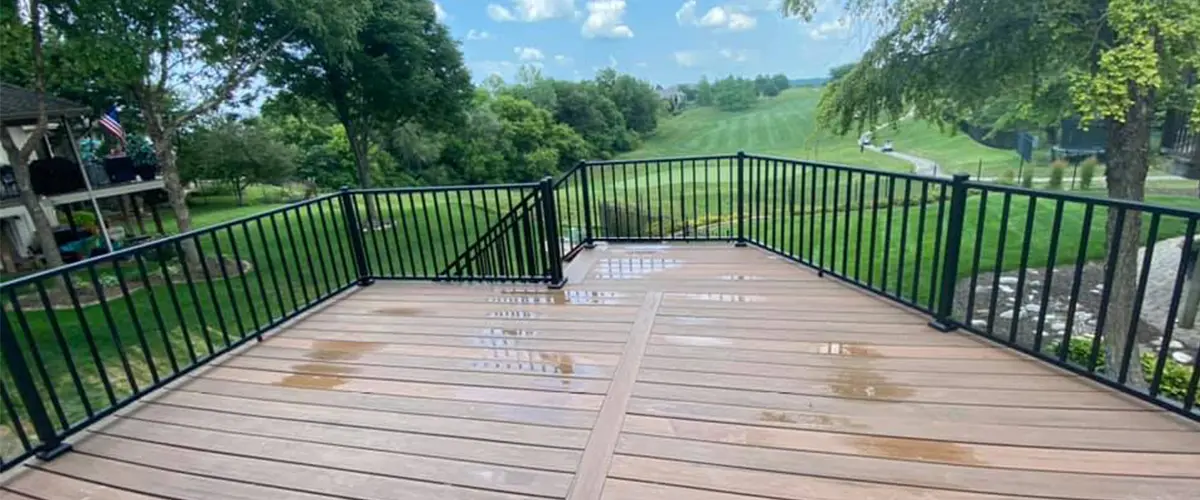 Our Deck Replacement Process In 6 Simple Steps
At Deck Bros, we strive to provide our valued customers a seamless and stress-free deck replacement experience. When you choose us for your deck replacement project, here are the six steps you can expect.
1. Consultation and Assessment
We begin by scheduling a consultation to understand your specific needs and assess your existing deck. Our experts will thoroughly examine the condition of your wood deck boards, deck frame, and deck railing. Based on our assessment, we'll provide you with professional recommendations, discussing options such as deck board replacement, composite decking, or a full deck replacement.
2. Design and Material Selection
Next, our team will collaborate with you to create a customized design that suits your preferences and functional requirements. We'll discuss the available deck materials, including traditional wood decks and composite deck boards, ensuring that you clearly understand each option's pros and cons. We aim to help you make an informed decision that aligns with your vision and budget.
3. Planning and Preparation
Once the design and materials are finalized, we'll create a detailed plan for the deck replacement project. This plan includes the timeline, required permits, and any necessary preparations. Our team will handle all the logistics, ensuring a smooth process from start to finish. You can rely on our expertise to navigate the complexities and minimize any disruption to your daily life.
When it's time to start the deck replacement, our skilled professionals will carefully remove the existing deck boards, deck railing, and any other components that need replacing. We prioritize efficiency and cleanliness throughout this process. We also take care of responsible disposal, ensuring that any old materials are properly removed and disposed of in an environmentally friendly manner.
5. Expert Installation and Finishing
With the old deck removed, we proceed to expertly install the new deck components. Whether you've chosen wood deck boards or composite decking, our team has the knowledge and experience to deliver exceptional craftsmanship. We pay attention to every detail, including installing wood deck railing or any other desired features. We aim to create a beautiful and functional deck that exceeds your expectations.
6. Final Inspection and Satisfaction
Before considering the project complete, we conduct a thorough final inspection to ensure that everything meets our high-quality standards. We want you to be completely satisfied with your new deck, so we address any last-minute adjustments or touch-ups. Our team will walk you through the finished deck, explaining the care and maintenance required for the chosen deck material.
We are committed to providing exceptional service, superior craftsmanship, and a beautiful deck that enhances your outdoor space, so get in touch for a quote!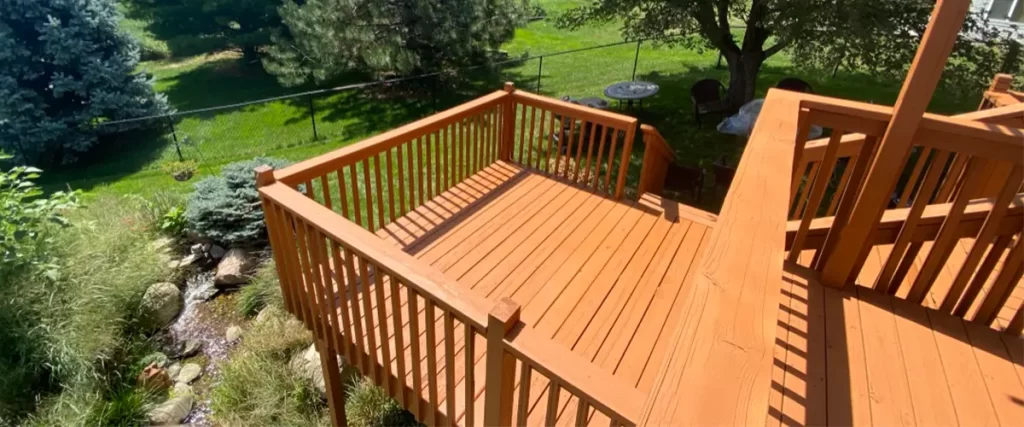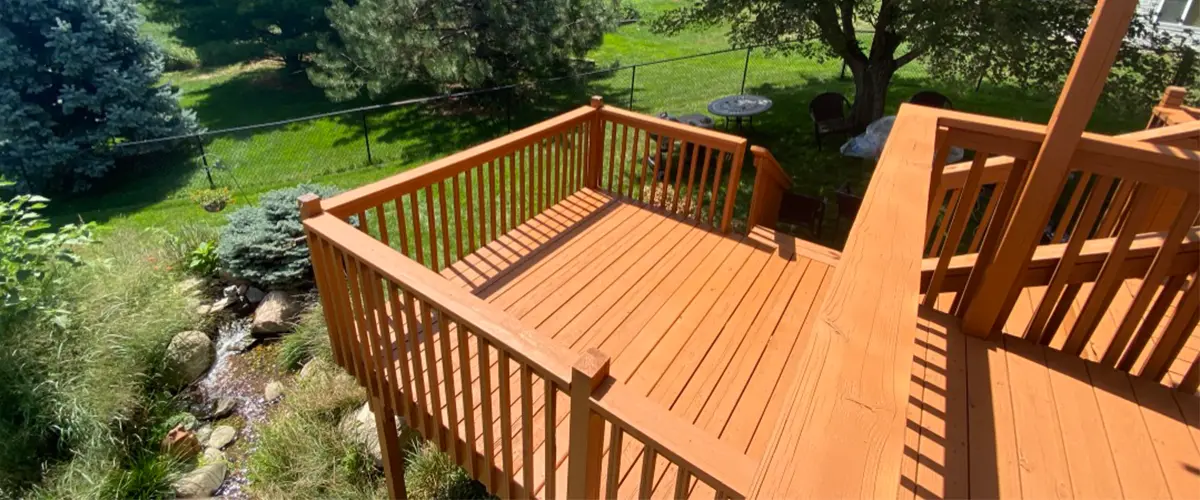 Work With The Best Deck Replacement Company In NE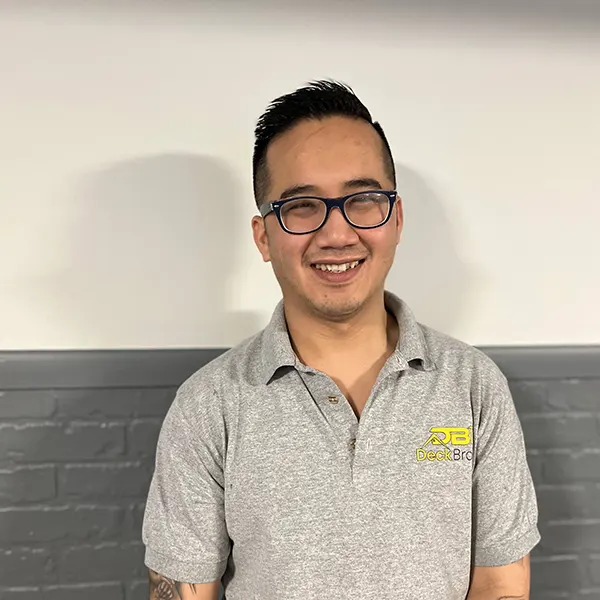 Your dream deck is just a call away. Our friendly and experienced professionals are ready to bring your vision to life and create a deck that exceeds your expectations.
Reach out to Deck Bros now and take the first step towards a remarkable deck transformation!