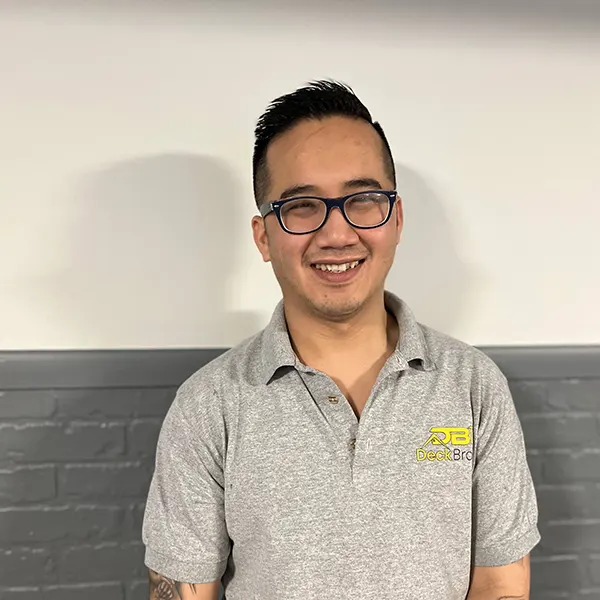 Get Answers For Your Deck Project
Hi, I'm Luan, the owner of Deck Bros. Below, you can browse the most common questions we get from homeowners like you. If you want to discuss your project in more detail, submit a free quote request or reach out to us via phone or email.
Frequently Asked Questions
There's no wrong time to work on your deck, but certain months can be busier than others. Spring and summer are ideal seasons to work on a deck project because longer days allow us to work longer hours and finish your deck faster. But autumn and winter seasons work just as fine.
At Deck Bros, we're excited about decks no matter the time of year, so get in touch with us and we'll be ready to help!
No, you don't have to worry about that. As your deck builder, we'll take care of all the materials needed for your decking project.
We'll take care of disposing of the leftover material and debris in an environmentally safe way.
Building a deck can be a fun and exciting project, but it's important to make sure you are following the correct permitting and zoning procedures.
To spare you any paperwork hassle, at Deck Bros we handle all the administrative details for your deck project.
When you work with Deck Bros, we strive to give you an in-depth understanding of every detail pertaining to your project. As soon as we know the specifics of your deck project, we'll walk you through the entire process and let you know what is and isn't included in the price. If unexpected issues come up along the way, we'll make sure to inform you about them, present our solutions, and ask you how you want to proceed. Our purpose is to make sure you're comfortable and informed at every step of the way.
A deck made of untreated lumber will need to be replaced every 5-10 years, while a deck made of treated wood can last up to 20 years with proper maintenance. These timeframes can change depending on your local environment. 
Decks that are regularly exposed to water and weather elements will need to be replaced more often than those in dry climates. In Omaha, summers tend to be humid and wet, while winters are freezing, windy, and snowy, so your wood deck will require periodic maintenance and protection to last longer. In addition to sealing, staining, and painting, we recommend to regularly check your wood deck for rot, loose boards, unstable footings, or wobble railings. 
Although we're a young company founded in June 2020, our skilled carpenters have over 30 years of combined experience. We are young, driven, and innovative in our approach, which means we'll get your project done to the highest of  standards. We're also fully licensed, bonded, and insured.
We're proud of all our happy customers and their honest reviews speak volumes about our work. Check out their latest feedback on our reviews page here.
Owner Luan personally oversees every detail of our deck projects. He's on-site daily, making sure everything about your deck is built up to code and updating you every step of the way.
Deck Bros is proudly serving Omaha Metro and surrounding areas, including Papillion, La Vista, Bellevue, and Gretna.
Ready To Get Your Deck Project Started?
We'll answer all your questions as your project unfolds.