These Colors Are The One's People Near You Are Choosing To Finish Their New Or Older Decks With
Colors are important! Each one gives a different look and feel to what it's being used on and even the area it's in.
In this post, you can find out which 5 deck paint colors and 3 deck stain colors people are choosing. You can also discover tips for picking the right color for your deck.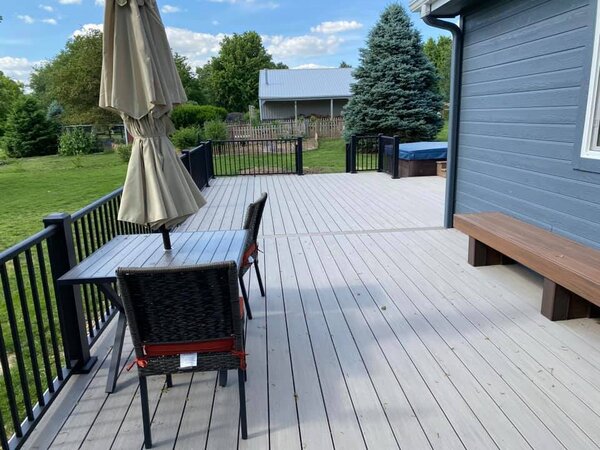 Tips For Picking Deck Paint And Stain Colors
Make sure it matches the color of your home exterior
You can also try to have it match the interior flooring near the door leading to the deck
If you'll use it often you may want darker colors. It'll get dirty and worn down faster and darker colors take longer to show dirt and wear
Darker colors get hotter than lighter ones
5 Deck Paint Colors People Love
1. Whitewash
This isn't a bright, solid white (that would be blinding in the sun). Whitewash is a faded white that allows the characteristics of the wood to show through.
2. Reds
Whether it's a bright, fiery red, or a faded red, this is a popular deck paint color. It's unique and eye-catching.
3. Browns
Earthy browns that have a wood feel to them are also popular. People who paint decks brown mostly do so because they love the color but don't want the wood to show through as it would if it were a stain.
4. Grays
Grays are a nice, neutral deck color. It matches everything yet still manages to stand out from the background.
5. Beige
Beige is another more neutral color for decks. A popular style of beige is greige, or grayish beige.
3 Deck Stain Colors
1. Browns
Cedar is a popular brown deck stain color. It fits almost any house color and landscape. It also doesn't get as hot as other deck colors can.
Honey is another. The lighter tones of honey stains will show off the characteristics of any deck. It's not the best color for wetter areas as it'll dull quickly.
2. Reds
Redwood red is a beautiful deck stain color. The beautiful ruby red undertones of this deck stain color make it a favorite. It works well with most color schemes. It also shows off the unique characteristics of the wood beneath it.
3. Naturals
Many people want a more natural, rustic look for their deck. It shows off the grains and characteristics of the wood the most.
Runner-Up Deck Paint And Stain Colors
Blues and black are other deck paint or stain colors people are choosing.
Both of these are unique and wonderful colors. Blue is a calming color while black is bold. Black does get the hottest so it may not be the best for warmer areas.
You May Also Like To Know