Deciding on the perfect pergola for your outdoor paradise can be a daunting task. But did you know that aluminum pergolas, in recent times, have gained immense popularity among homeowners? And for good reason! They're durable, beautiful, resistant, and require almost no maintenance.
This blog will guide you through why they've become a top choice and how they could potentially add value to your living space and property.
Let's dive into this exciting world of trendy backyard makeovers!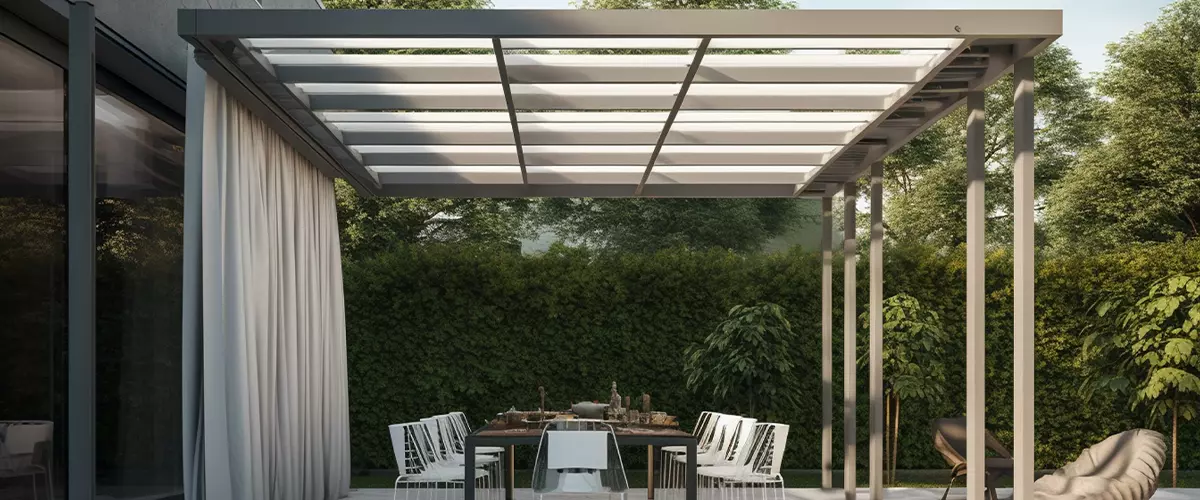 The Rising Trend of Aluminum Pergolas
In recent years, aluminum pergolas have emerged as a trend-setting choice for homeowners, offering an eco-friendly and sustainable option that adds aesthetic appeal to outdoor living spaces.
Eco-friendly and sustainable choice
Aluminum pergolas are an excellent example of eco-friendly and sustainable outdoor architecture.
Manufactured with recycling in mind, these green structures reduce the negative impact on the environment substantially.
The aluminum used often comes from recycled materials, making it a superior option for those seeking to minimize their carbon footprint.
Moreover, unlike wood pergolas that require constant care, thus contributing to environmental degradation through the continuous use of chemical-based treatments and sealants, aluminum variants are virtually maintenance-free, thereby reducing waste generation over time.
Their long-lasting quality ensures less need for replacements, which ultimately results in resource preservation – a key aspect of sustainability!
Increasing popularity among homeowners
Homeowners are no longer settling for the usual wood pergola in their backyard. A clear shift towards aluminum pergolas is becoming apparent, and it's easy to see why.
With features such as rust resistance, durability, and very low maintenance requirements, this smarter option by Fortress Building Products provides value all homeowners desire.
Every stylish homeowner is now opting for an aluminum pergola over traditional choices because of its aesthetic contribution to home exteriors. Its trendy designs can turn any outdoor space into a stunning social area without compromising on function or budget.
Thus the surge in popularity among homeowners who want innovative but cost-effective solutions for enhancing their living spaces.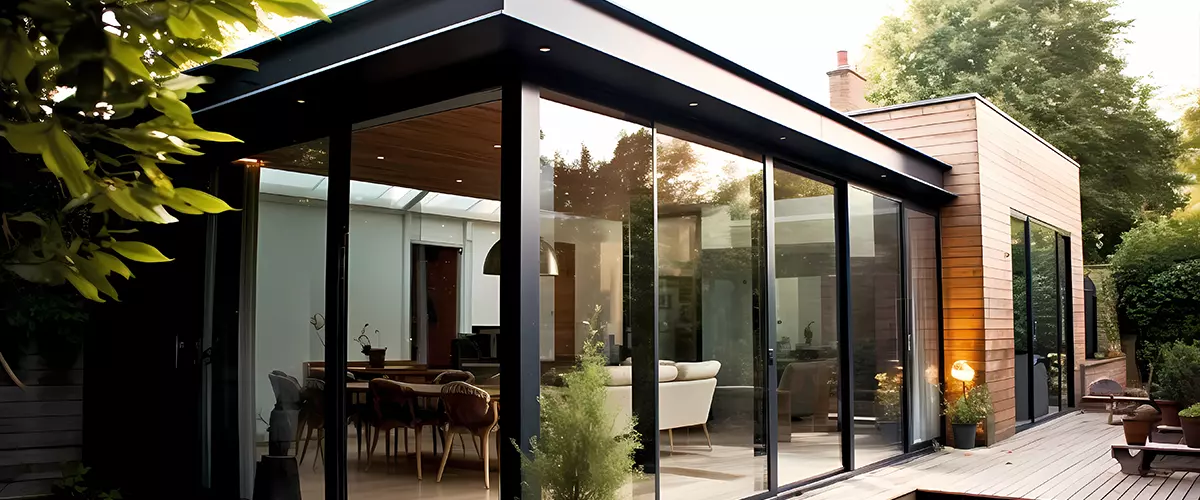 Benefits of Aluminum Pergolas
Aluminum pergolas offer a plethora of benefits to homeowners, including unparalleled versatility that allows for unlimited customization. They stand the test of time due to their unrivaled durability and minimal maintenance needs.
With various trendy design options, aluminum pergolas effortlessly transform outdoor spaces into an enchanting haven. These robust structures are water and rust-resistant which further enhances their longevity.
They serve as a cost-effective solution that offers lasting value due to their impressive resilience against adverse weather conditions.
Versatility, durability, and low maintenance
Aluminum pergolas shine brightly in the spotlight of versatility, durability, and low maintenance. Homeowners are praising them for their flexibility; they can be customized to fit any landscape design or personal style preferences.
The robust nature of aluminum makes these pergolas extraordinarily durable, resisting elements that typically cause wear and tear.
Perhaps the most enticing factor is the minimal upkeep needed; an occasional rinse with a hose keeps it looking brand new, saving homeowners valuable time and effort.
They Add Beauty With All Their Design Options
Aluminum pergolas shine brightly in terms of aesthetics; they come with a broad spectrum of design options.
Whether you want to capture the timeless beauty of wood or prefer a more modern, streamlined look, an aluminum pergola can deliver just that and even more.
The designs are diverse enough to fit into any decor style, enhancing your outdoor living space's aesthetics significantly. With fast customized cuts and finishes available, there is something for everyone from Fortress Building Products.
Depending on your preferred style, you can get a pergola for your patio, your lawn, or even for your deck!
Aluminum pergolas overshadow their wooden equivalent in strength and durability. Homeowners enjoy peace of mind knowing that these structures, unlike wood pergolas, resist all kinds of wear and tear without sacrificing aesthetics or functionality.
The robustness offered by this material adds years to the lifespan of your outdoor centerpiece.
Fortress Building Products specializes in maintenance-free pergola solutions appropriate for diverse climates. Not only do these endure harsh weather conditions, but they also keep bugs at bay.
Aluminum doesn't feed pests or rot over time – a persistent issue with wood alternatives, thus striking the perfect balance between strength and longevity for homeowners worldwide.
Resistance to water and rust
Aluminum pergolas shine in their ability to resist water and rust. This stands as a huge benefit over the traditional wooden structures, which often succumb early to such elements. Unlike wood or steel, aluminum does not corrode or deteriorate when in contact with water.
This means you don't have to stress about rain, humidity, or splashes from your pool damaging your pergola.
Aluminum maintains its aesthetic appeal through all weather conditions year-round without worry of unsightly rust patches forming—a major win for homeowners who want a long-lasting outdoor structure.
No more are hours lost laboring over maintenance works; enjoy peace of mind instead with an aluminum pergola's resistance against nature's harshest conditions.
Cost-effective and long-lasting option
Aluminum pergolas outshine their wooden counterparts as a cost-effective and durable solution for garden enthusiasts. These maintenance-free pergolas, like those offered by Fortress Building Products, prove ideal for homeowners seeking to take advantage of quality without bearing the burden of hefty costs. They're made to last and offer excellent value over time.
The aluminum structures can withstand almost any weather condition, showcasing remarkable durability that lasts several years beyond wood pergola options. Their long lifespan lessens the need for replacements or repairs, making aluminum pergolas an investment that pays dividends in curb appeal and functional outdoor space with minimal expenditure.
Aluminum's resistance to rust ensures its enduring beauty with no added maintenance costs–an assurance wood just can't match.
We Can Help You Get Your Custom Pergola
Planning to enhance your outdoor space with a stylish and low-maintenance aluminum pergola? Let us make this endeavor effortless for you! We offer a range of aluminum pergolas that are tailored to meet diverse aesthetic preferences.
Our products emulate the elegance of traditional wood pergolas while providing added benefits like durability and resistance to water and rust. We install aluminum structure pergolas from Fortress Building Products and ensure high quality is at the center of all our offerings.
So why wait? Choose affordability, ease, and style in one stroke – get your own pergola with us today!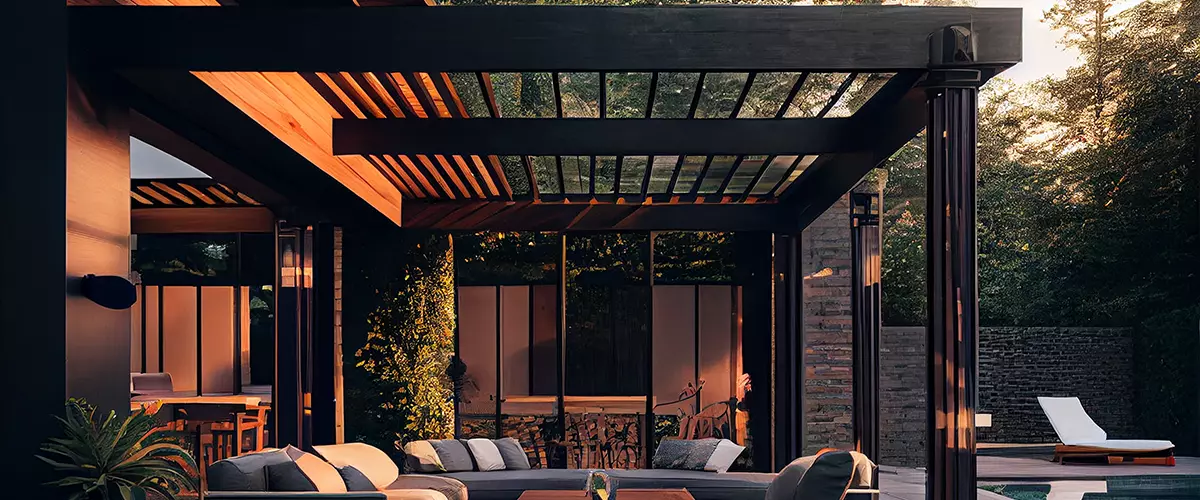 Thanks to their material, these pergolas will last decades with minimal maintenance required. They provide a versatile, durable, and attractive outdoor living solution. Eco-conscious homeowners enjoy them for their sustainability while admiring their strength and rust-resistant qualities.
They stand as a cost-effective option that injects beauty into any exterior space without demanding exhaustive maintenance efforts.