The Best 5 Deck building Companies In Bellevue
Here are the best deck builders in Bellevue! Choose the best fit for your project now!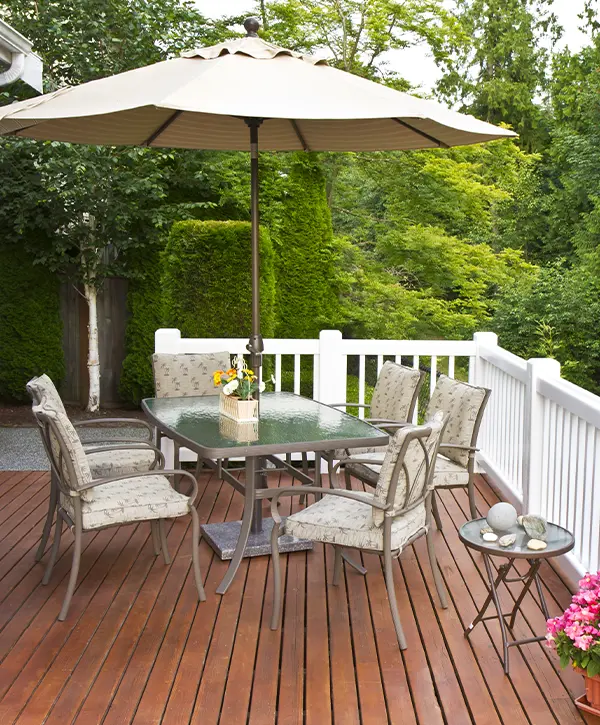 Deck Bros is a renowned deck-building company in Bellevue, but we are not the only company that can provide you with an excellent deck.
Our competitors are our friends. We share knowledge, information, changes in materials, prices, and building codes with them so that we can all improve the industry together. We're even discussing what projects we're all working on.
We know both the underdogs that over-deliver on every deck they work on, but also the big names that fail to deliver what they're promising.
Today, we'll give you an unbiased opinion of the best 5 deck building companies in Bellevue.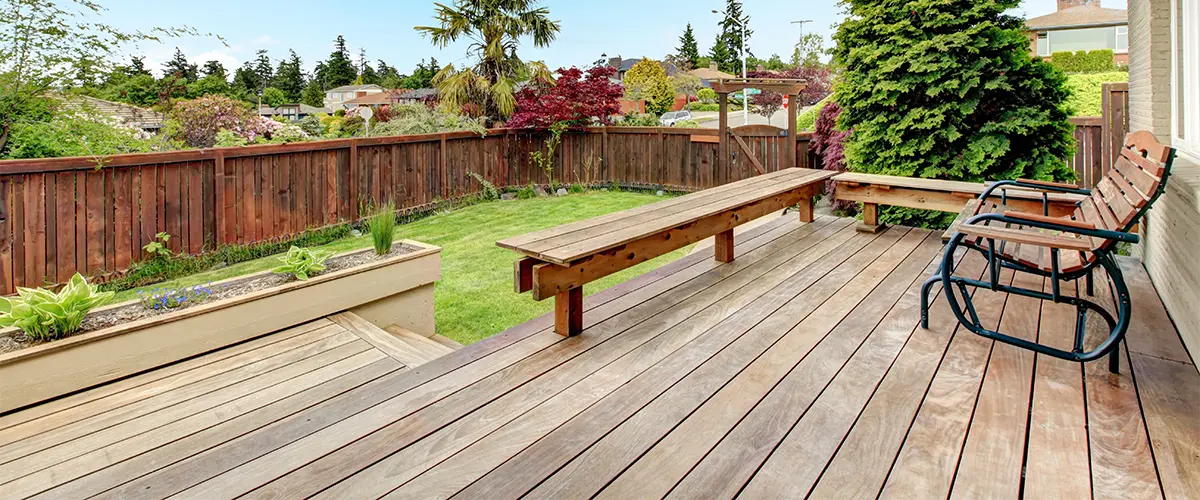 1. Starting With Deck Bros
Deck Bros is committed to transforming the deck-building industry for the better.
Your outdoor deck should be a relaxing space where you feel safe, not a dangerous structure that puts your life at risk. We understand this and only use the latest construction techniques with high-quality materials in all our projects.
We want your deck building or repair project to be as stress-free and quick as possible, which is why we created a process specifically for that. With our experienced builders by your side, you'll have all the information you need about every option available to make the best decision for you.
With Deck Bros, you're getting:
Here at Deck Bros, we take pride in building you a high-performance deck in record time!
Most of our deck-building projects take between 2 – 3 days, but we have smaller projects that we finish in just a day!
And if you're thinking we're cutting corners or doing the work in a rush, know that our products are some of the best decks you can get in Bellevue.
We want you to enjoy your deck as soon as possible, so we're going above and beyond to make sure you're ready to host the best outdoor party in the neighborhood!
Omaha Homeowners Love Their Deck Bros Upgrades!
They did a excellent job and the crew was professional. 
I live 2 hours from Omaha and they took the job without that being an issue. Our deck turned out beautiful. We have the best looking deck in town. I am so glad that we chose Deck Bros. 
 If you want quality go with Deck Bros! It will the best choice you make.
Can't say enough great things about Deck Bros! 
From the initial contact to the completion of my deck, Luan was always available and super responsive. He has a fantastic crew as well.
Deck Bros was hands down the most competitive with pricing. I couldn't be happier with how my deck turned out.
At Deck Bros, we pride ourselves on building decks that will last a lifetime. In addition, they're 100% safe! Our team provides the best deck building price in Bellevue for an add-on that will have all your neighbors in awe.
Wymore Decks & Fence is run and operated by Levi and Kaylin Wymore. They're a young family that loves to spend time outdoors, enjoying activities like camping, archery, animals, and family construction projects.
Since he was a teenager, Levi has loved working with his hands. He spent most of his free time hanging out with friends in the construction industry, which eventually led him to start his own business. Kaylin joined the team when they got married.
They take pride in coming from families that taught them the importance of hard work and valuing others. Their aim is to make Wymore Deck & Fence strive and earn a reputation for excellent quality customer service and products.
Levi Wymore does quality work and is very reliable. I have used him in the past and was very pleased with the results! I highly recommend him for any job that you might need done.
3. Decks, Decks & And More Decks
Decks, Decks & More Decks has focused on crafting composite and PVC decks since 1980. With over four decades of experience, they have helped Bellevue homeowners turn their backyards into beautiful outdoor spaces.
No matter the size of your project, be it a tiny repair or large-scale deck construction, they will provide outstanding craftsmanship, in-depth problem-solving, and creativity.
The family that owns and operates the business welcomes you to their showroom in Omaha, where you can test product samples and speak with them directly.
This company has been featured locally and nationally in Professional Deck Builder Magazine, Deck World Magazine, and Omaha Builder Magazine.
Decks, Decks and More Decks did a fabulous job on our new composite deck. We would recommend them to all as you get everything you would expect with a professional business. What hard working crews they have and they are definitely experts in the area.
We had a great experience with Robert and his team. They are not only good at their craft, but also have amazing planning skills and make the whole project painless. Thanks!
4C Construction has been a trusted name in the Bellevue and Omaha Metro Area for residential construction services. They're a locally owned and operated company that is dedicated to providing their customers with outstanding service.
With over 30 years of professional experience in all phases of the construction industry including new construction, inside and outside remodeling, basement finishing, additions, carpentry, restoration, flooring, countertops, bathrooms, decks, wall modifications, textures, painting, electrical, plumbing, lighting, environmental audit, tenant improvements, general property maintenance, insurance claims, vintage restorations, deck, and gazebos.
They work closely with any customer to make sure they're completely satisfied every step of the way.
While they might not be specialized in decks only, the wide construction experience they've gained throughout the years is worth considering for any other home improvement project that you're thinking of.
I had my deck put on by Master Deck Builders and everything was done the way I would want it to be. Nick was very good at explaining the different options for my deck and answering all my questions. I know in the future I will definitely pick them again and suggest that great company to my friends.
Nick did an exceptional job. From design to actual build, everything was beyond my expectations. You most likely will need to wait a few months for him to start your job but it's worth the wait.
5. Concept Decks & Basements
Concept Decks & Basements was a full remodeling company that turned into a deck and basement company. Now, they offer a high-quality deck construction service and a beautiful and superior basement remodeling service.
They knew they could maintain and even improve the standard of their craftsmanship so they kept at it.
They're also doing deck repairs and can build amazing covered decks, pergolas, and gazebos!
Today, Concept Decks & Basements is one of Bellevue favorites when it comes to decks and basements.
They did an amazing job on my deck. The work was done quickly and the quality is outstanding. I still get compliments today. Couldn't have found a better company to do the work.
Fantastic work!! Well experienced to adjust for the hidden variables and the challenges of the weather.
It's crucial to understand that every deck construction company shines in different ways, even though they're all great companies to Bellevue residents can choose from.
The best way to find the right contractor for your project is to research and be thoughtful about what you're going for.
Do you want a hardscaping company or you're just looking for quality deck construction?
Deck Bros puts you, the customer, first and foremost. You'll be in charge of every detail with constant communication from our highly skilled team of builders– ensuring that your wants and needs are always met to the fullest extent possible.
You'll go through a process that puts you in the center, and everything we do revolves around you. You'll be in control of everything at all times, and our builders will ensure all your needs and preferences are taken care of with the highest level of professionalism.
If you're interested in getting a quote from one of the best deck building companies in Bellevue, click here. If you want to reach us directly and discuss your upcoming project, call us at (402) 369-5724!