Deck Building In Bellevue: Let Pros Handle Your Project
Deck building in Bellevue has never been so easy with the right deck builder to tackle your project!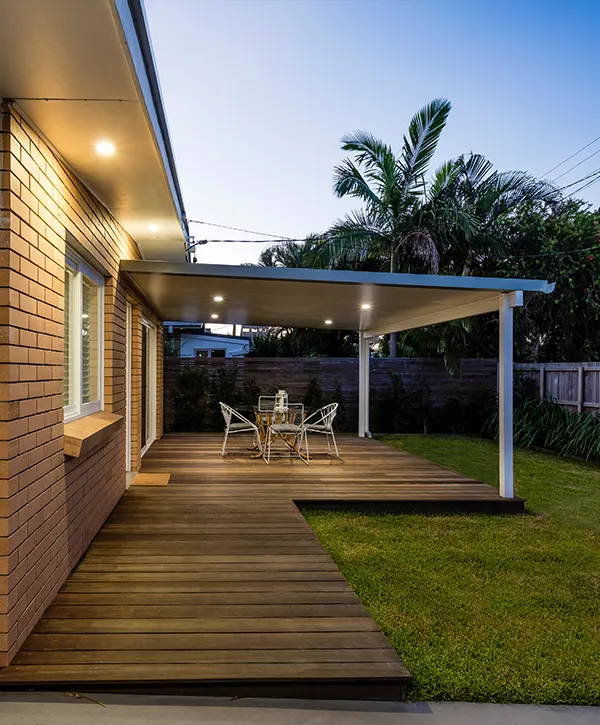 With over 30 years of experience in carpentry and understanding the underlying needs of many homeowners, Deck Bros has become the go-to for decking needs in Bellevue.
If you want to work with a professional deck builder that keeps overdelivering, you're in the right place!
Enjoy Your New Deck With Extra Perks
The deck building industry did you no justice, so we decided to give you more than a deck.
Let The Best In The Industry Take On Your Project
In 30 years of experience, we realized the best way to satisfy our customers was by putting your needs at the front and center of what we do.
The process to get started, our methods of work, team members, and values, all ensure your experience with Deck Bros will be memorable.
You'll get the fastest construction so you can enjoy your new deck in record-time. And not only you'll get your new deck in 2-3 days, you'll also receive premium quality and top-notch service.
Our goal is to make sure you'll call Deck Bros again for your next decking project.
Check out our deck building offer and transform your outdoor space in Bellevue into the place you want it to become.
Our Customers In Bellevue Love Their Deck Bros Upgrades!
I consider Deck Bros one of the best companies I have ever worked with. 
I had my old deck taken down and a new deck designed and erected all in a period of six days. Luan the designer allowed changes throughout the 6 days. 
The crew was tremendous in their work assuring the work met all safety requirements as well as starting each morning and keeping grounds cleaned up each evening as well as keeping us informed of how the job was progressing. 
If I'll ever need another deck I would never consider another company but Deck Bros. They are the best.
I found Deck Bros on Facebook & gave them a call. The owner Luan was very pleasant, came out and gave me a quote on the spot.
I HIGHLY recommended this company for your decking needs, Luan's employees were so much fun to be around. They didn't have any issues with the dogs being around checking on their work.
They were all very professional & worked hard, arriving early & getting to work. We even did some salsa dancing to the music. They went above and beyond, and no request was an issue.
Thank You, Luan, and the main guys that were there every day, Christian, Carlos & Leo.
Get New Ideas For Your Deck Building Project In Bellevue
Get some new ideas for your project or check out some of our work!
Type Of Upgrades And Materials
We know Bellevue homeowners value quality, and if you do too, you'll want the best materials on the market for your outdoor space.
When we'll meet up to discuss your project, you'll get a detailed breakdown of every possible upgrade and materials.
Until then, below you'll find the most common upgrades and materials.
Your deck framing should be your main concern when it comes to safety. Most old decks have serious issues with their frames, becoming a real hazard for you and your loved ones.
Pressure treated lumber remains the most popular option for framing. However, even grade one pressure treated lumber stars to rot at one point, and that's a reason for concern.
The best alternative is steel. It's stronger, durable, and a lot more reliable than any wood is.
Your decking is what sets the vibe and functionality of your outdoor space.
Ipe, mahogany, tigerwood, or even redwood are higher-end woods that give an upscale look to your deck. However, they're more expensive and still require regular maintenance.
Composite decking, on the other hand, is a great deck building material that'll ensure you're enjoying your deck more than maintaining it.
Here at Deck Bros, you'll get competitive prices for the biggest names in the industry of composite decking. We work in close partnership with Trex, TimberTech, and Fiberon.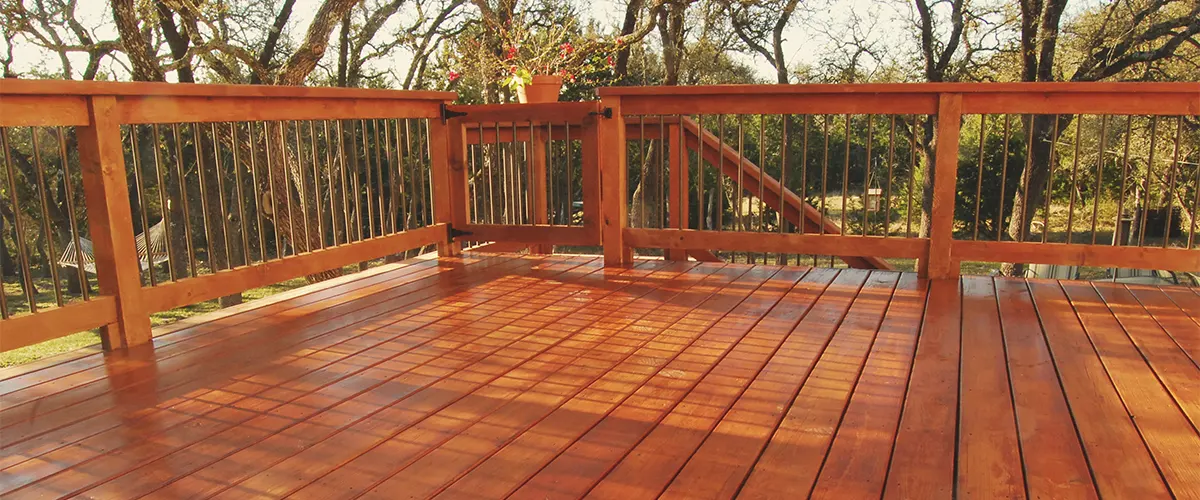 Railings give a sense of comfort and security to your outdoor space.
Wood railings are still the norm in the industry, as they're more affordable and can match a wood decking (which is also common).
However, we advise many of our customers to choose composite or aluminum railings.
Composite railings are more durable than wood, but aluminum railings tops everything. They give an upscale look to your deck, making it look way more expensive.
Just like railings, stairs lights for elevated decks are required by the building laws, so there's no way around it if you want your deck to pass the final inspection.
While getting lights is mandatory, what kind of lighting you want is up to you.
We recommend using low-voltage lighting with a long lifespan. You don't want your electricity bill to skyrocket, and you don't want to have to replace them in a few years' time.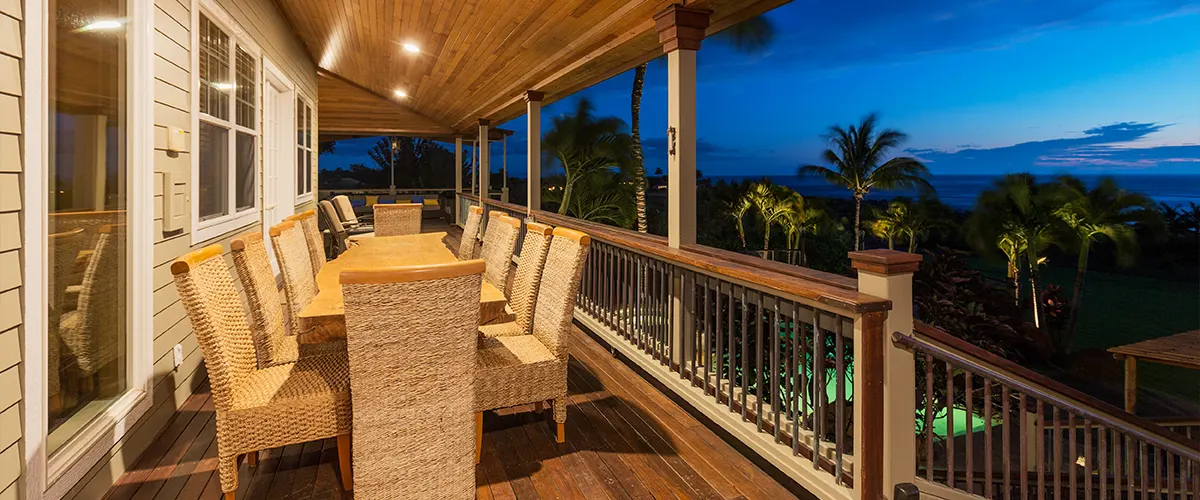 The Best Deck Building Process In Bellevue
The fast and simple process we set up ensures you can get started right now, without any pressure or obligations.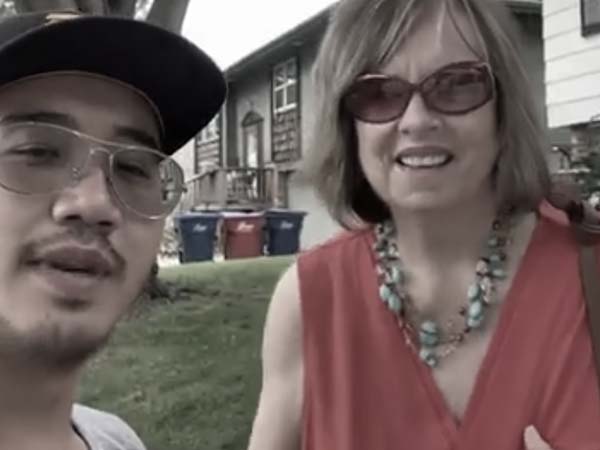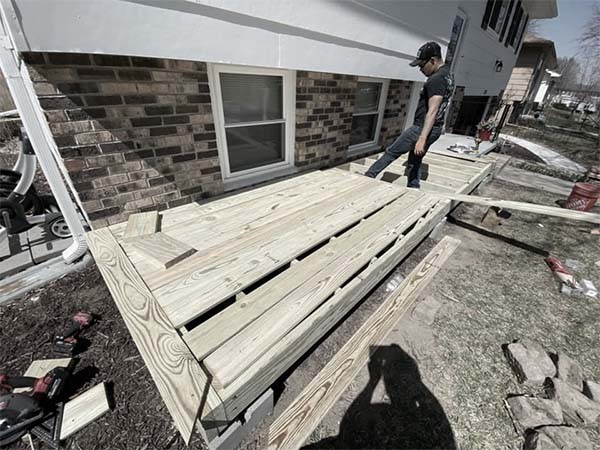 We'll sign the paperwork and get to work!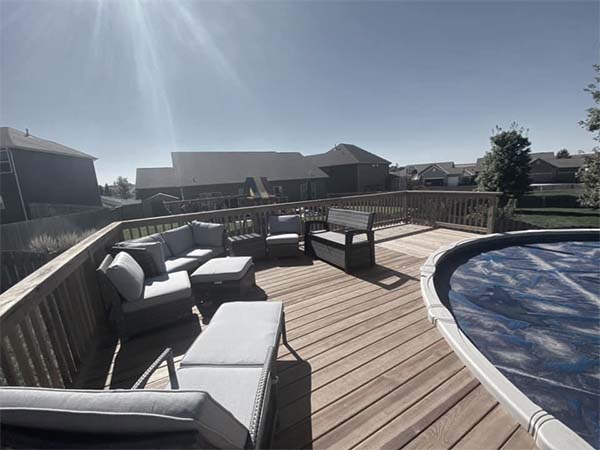 Plan your next barbecue on your new deck!
Deck Building In Bellevue: A Case Study
One of our customers in Bellevue wanted to replace an old 12×12 deck. It was wood decking that was starting to fall apart, so he wanted something that requires less attention and will last more.
The upgrade included:
Before
After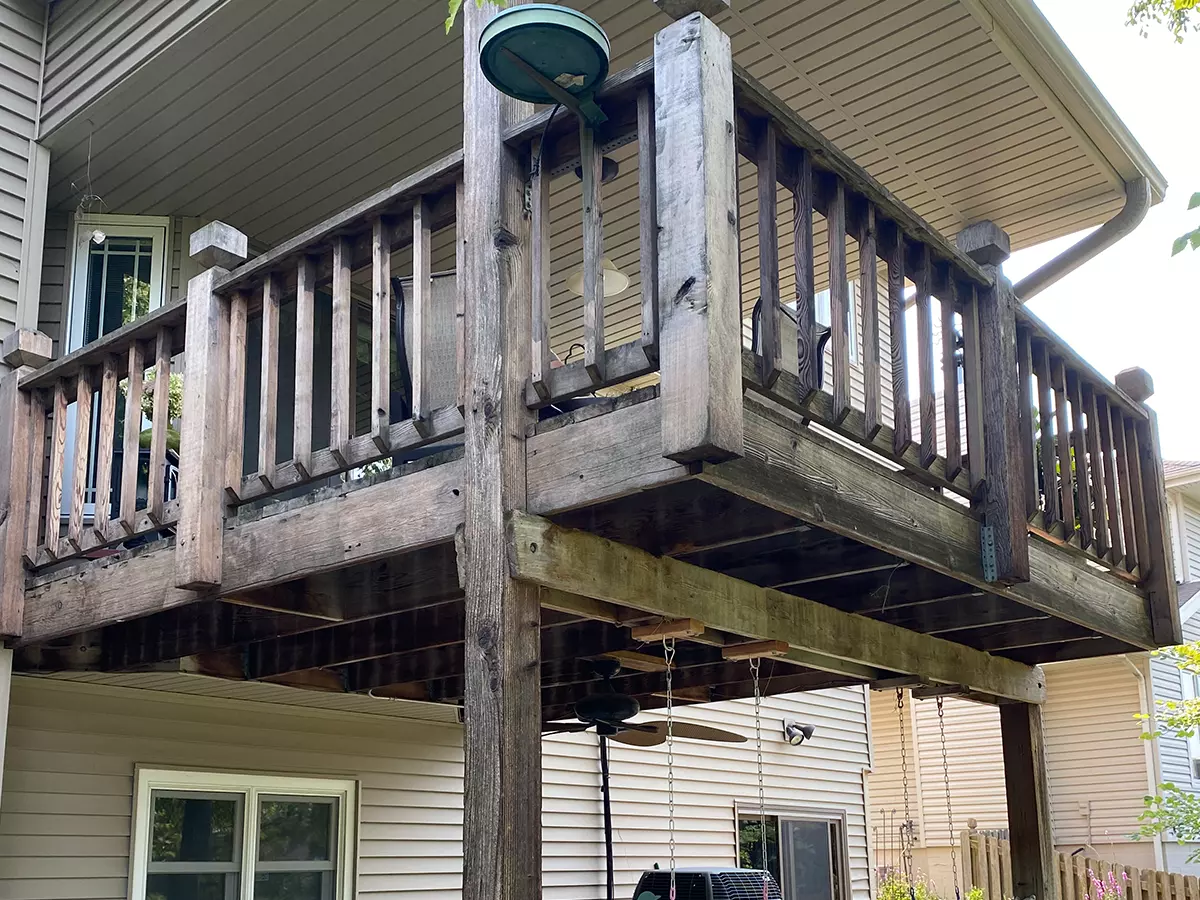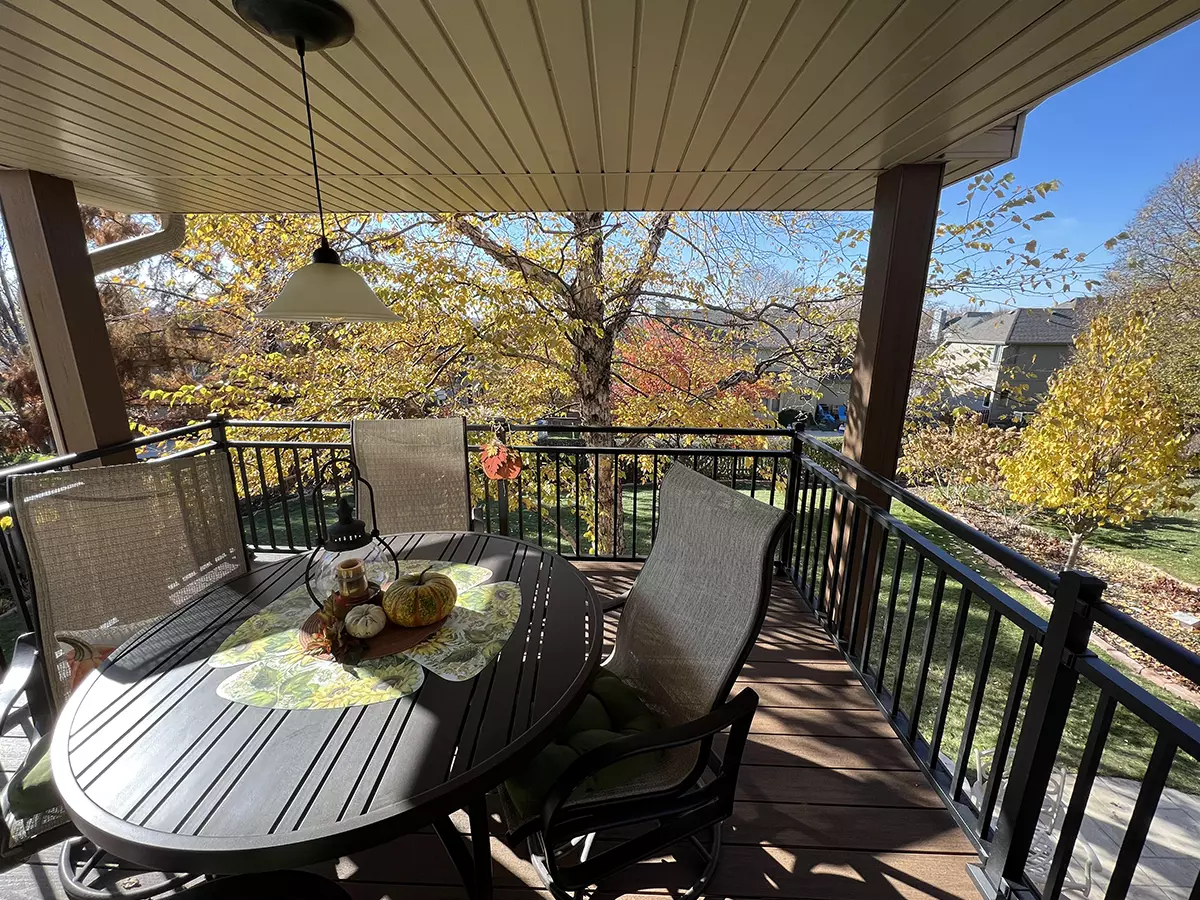 We quoted this deck building in Bellevue at $16k, and the most expensive upgrade on the list was the composite decking material, priced at $7k.
Frequently Asked Questions
An average 12×12 cedar deck will cost around $14k.
For a 20×12 composite deck with aluminum railings, fascia wrapping, and a set of stairs, you're looking to spend around $27k.
Size, elevation, and materials are what impacts the final cost of your project.
We aim to finish your project in 2-3 days, but it all depends on the complexity of your project.
You'll receive an accurate time frame after our consultation, so you'll know exactly when to schedule the next family gathering.
I'm the owner of Deck Bros, Luan, and I lead a team of licensed and insured carpenters. We have over 30 years of experience in deck building and finding cost-efficient solutions for homeowners looking to add a deck.
If you live in Bellevue and you're looking for a deck builder, your search is over!
Let Deck Bros Take Care Of You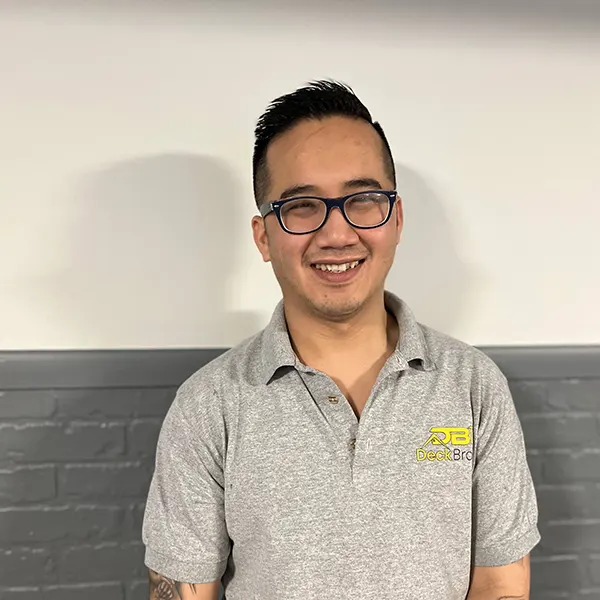 Having your local deck builders work on your project is the best call you can make.
At Deck Bros, you have our undivided attention, and the promise that you'll receive a deck you'll be proud of.
You'll get:
Get Your Deck Faster Than Anyone Else Today!