The 5 Best Deck Repair Companies In Bellevue
Ready to have the best builders on your project?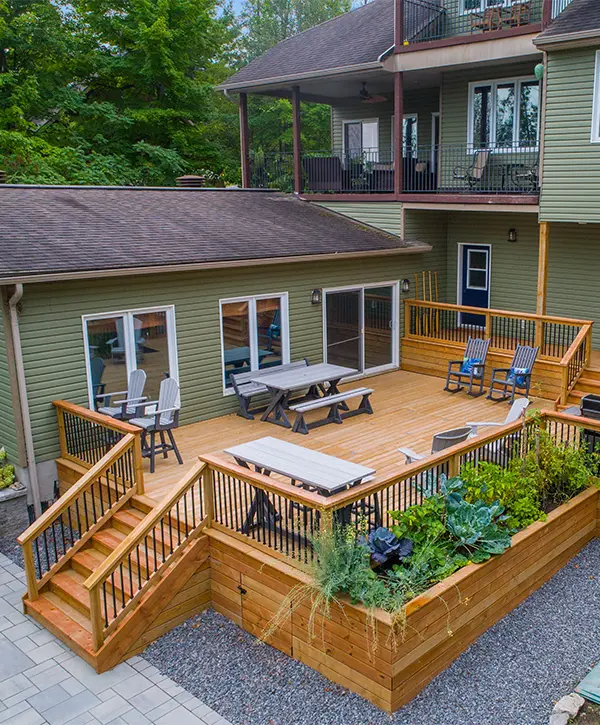 Deck Bros is one of the top-rated deck repair companies in Bellevue, but we're not the only one trying to get on your project and deliver you an efficient and high-quality deck repair.
We view our competitors as allies. We collaborate on knowledge, trends in materials and prices, construction regulations, and more to uncover the best solutions available out there.
While many contractors fail to deliver on their promises, there are others that will make your deck repair project in Bellevue completely worth it.
Today, we'll give you an unbiased opinion of the best 5 deck repair companies in Bellevue.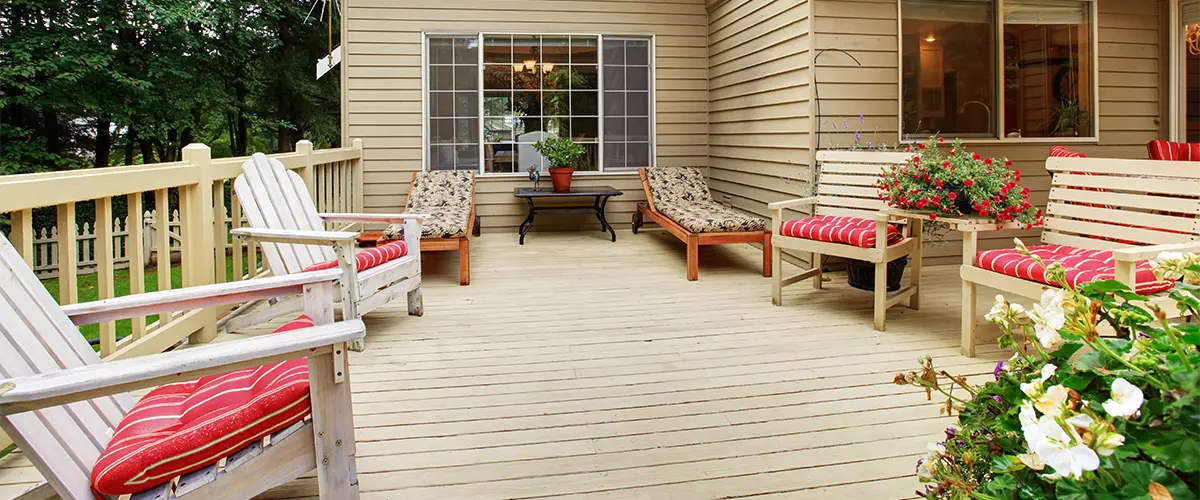 1. Starting With Deck Bros
At Deck Bros, we're dedicated to improving the deck building and deck repair industry!
With us, you're getting a reliable team of carpenters that have been building decks since forever. We know the ins and outs of the decking industry, and we can guarantee you a top-notch deck repair that'll make your outdoor space work at full capacity again!
You'll enjoy our designers and architects every step of the way, and you'll get the most cost-effective solutions to fix your deck.
We work with high-quality materials from brands like Trex, TimberTech, Azek, Westbury, Fortress Building Products, and more!
With Deck Bros, you're getting:
Make Your Deck Repair Go Easy
If you're looking for a deck that will last you a lifetime and is 100% safe, look no further than Deck Bros Bellevue. You'll get the best deck repair price and a deck that looks brand new.
Our process is explicitly designed to make your deck repair project as smooth and efficient as possible. We'll go through all of your options together and we'll help you stay within a reasonable budget.
We've been highly successful for homeowners all over Bellevue, and it shows!
Here's what your neighbors are saying about working with us!
Here's what your neighbors are saying about working with us!
Quick call turned into a quick 10×10 above ground pool deck. Luan was professional and energetic and kept us in the loop. Highly recommend.
The owner was very responsive, crew talented, and work done to last a long time. Work was completed on time and project started quickly.
We offer professional deck repair services for homeowners in and around Bellevue! If you're looking to get the best decking company on your project, click the button below and talk with us!
2. Decks, Decks & And More Decks
For over four decades, Decks, Decks & And More Decks has been transforming outdoor spaces throughout Omaha, Nebraska with their signature composite and PVC decks. Since 1980 they have specialized in creating gorgeous backyard retreats that are sure to stand the test of time.
With uncompromising skill and attention to detail, they're great at transforming any space – from a minor repair job to full-scale deck construction. Their unique approach is based on their creativity and problem-solving capabilities.
They're a family-owned and operated business, and you can visit their showroom in Omaha to test samples and talk with them directly.
This company has been featured locally and nationally in Professional Deck Builder Magazine, Deck World Magazine, and Omaha Builder Magazine.
We had a wonderful experience with Decks, Decks and More Decks. Robert met with us, helped us pick out our options and created a visual design where the end result matches beautifully. The communciation was outstanding, Rhonda and team kept us in the loop with every step of the project. Everyone was most accomodating and professional, definitely exceeding all of my expectations! I highly recommend them. A huge THANK YOU!
With their commitment to professionalism and respect for clients, Travis and Shelley of Forsman's Finest Decks provide exquisite works of art crafted with the highest quality materials.
At its core, this company values clear communication as a fundamental cornerstone in all aspects – from the design process to delivery.
Travis' interest in woodworking began at the tender age of 14, and today more than two decades later, he's still engrossed in this sector. Eventually, he was able to make his dream become a reality back in 2018. What makes Forsman's exceptional is its outstanding customer experience that Shelley ensures from start to finish.
Forsman's Finest is making a huge difference in the deck building and repair industry in Omaha. Clearly, they're a company worth getting a quote from for your next deck repair in Bellevue.
"To the Forsmans, it's not just a business. It's a way of life."
Travis Forsman & Forsman Finest did an incredible job from start to finish on our deck replacement. As a local owner and operator, he was professional, trustworthy and a great communicator throughout the project. The project was done in a timely manner, his crew was also clean, polite and did great work. The Deck looks great! If you need any help with your deck projects I would call Travis for sure!
4C Construction is a full-service residential construction company locally owned and operated by Bojan Ninkovic.
They have over 30 years of professional experience in all phases of the construction industry, including new construction, inside and outside remodeling, basement finishing, additions, carpentry, restoration, flooring, counter tops, bathrooms, deckswall modifications, textures, painting, electrical, plumbing, lighting, environmental audit, rehab, tenant improvements, general property maintenance, insurance claims, vintage restorations, deck, and gazebos.
While they might not be specializing in repairing decks, they can take care of dozens of projects and deliver a quality product. They even take care of your building permits!
They built a new deck for us, and we love it! They were very professional and friendly! We would recommend them to anyone! Looking forward to enjoying part of my retirement sitting on our new deck. Thank you 4C Construction!!!!
Wymore Deck & Fence is owned and operated by Levi and Kaylin Wymore, husband and wife. They're a young family that loves to spend time together outdoors, hence their decking business.
Levi has always loved to work with his hands. He spent most of his free time as a teenager working with friends in the construction industry which eventually led him to begin his own business. Kaylin joined the team when we got married.
They're committed to the success of their business, which is why they take great pride in what they offer. Their mission is to give Wymore Deck & Fence a reputation for integrity, personal communication, and truly excellent quality in everything they build.
Extremely professional yet personable. Answered all my questions and was very informative about the process. Power washed and stained our entire fence and deck in 2 days. They were also great about our request to start later in the morning so our son's sleep schedule wouldn't be affected.
If you're looking for the best deck repair companies in Bellevue, look no further.
Clearly, you want someone who fully understands your needs and tailors their services to meet them. Several local companies fit this description, but we'll go the extra mile to ensure that you get exactly what you need!
With us, you'll go through a process that puts you in the center, and everything we do revolves around you. We offer 3D renderings of your new space, quality craftsmanship, and top-notch support every step of the way.
You will have complete peace of mind knowing you are in control throughout the entire deck repair project. Our builders guarantee to meet any preferences and needs with superior quality, professionalism, and reliability.
At Deck Bros, we have everything! We're offering reasonable deck repair costs, non-stop guidance and communication, a team of experts dedicated to your success, and a building process that gets your deck up and running in record time!
If you're interested in getting a quote from one of the best deck repair companies in Bellevue, click here. Or call us directly at (402) 369-5724 and let's talk!