The Best Deck Building In Bennington, NE
Get expert's advice for your deck building project in Bennington, NE!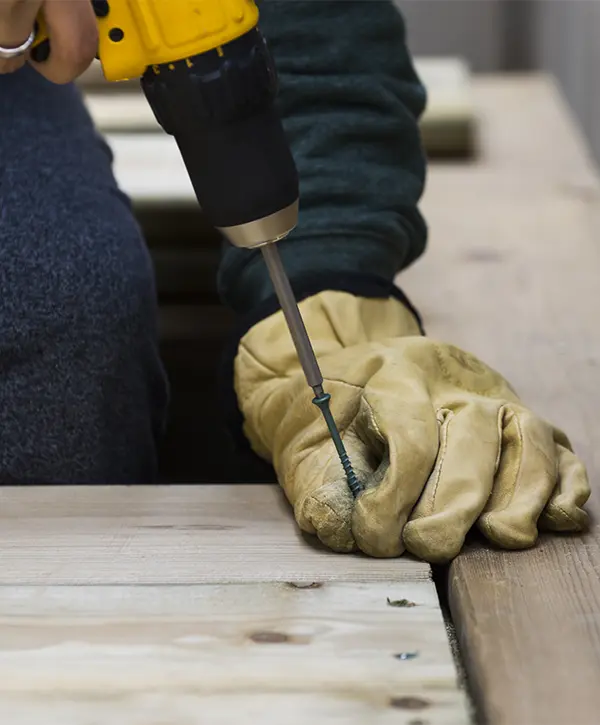 Getting your deck building in Bennington, NE started just got a lot easier with Deck Bros.
We're your local deck builder and landscaper in Bennington, Omaha, Papillion, Bellevue, and more of Nebraska that's ready to take on your project and get you the best outdoor space you could ever have!
We have a lifetime of experience in building long-lasting decks and delivering not just a deck but much more than that!
A Decking Project That Comes With Extra Benefits
Our ultimate goal is to constantly over-deliver and delight you with benefits and advantages that no other deck builder in Bennington offers!
Upgrade Your Outdoors With A Premium Deck
Decks are our specialty, and our Bennington customers love seeing their outdoor spaces upgraded with such an impressive addition.
We have honed our craftsmanship over the years and learned how to construct functional, stylish, safe, and durable decks from start to finish. Not only do we design these decks with your home in mind, but we also customize them for maximum comfort and entertainment potential when you have visitors over.
When you work with Deck Bros in Bennington, NE, for your deck building needs, you can rest assured that they have the best crew of designers and builders ready to help bring your dream deck into reality.
We provide personalized service from start to finish so that nothing goes unnoticed or unappreciated when it comes to creating a custom outdoor living space.
Check out our deck building offer and get the best deal in Bennington right now! Work with a top-ranked contractor and get your new addition the easy way!
Bennington Homeowners Love Their New Decks!
We're proud to have helped dozens of homeowners in Bennington with their decking projects. Check out what they're saying about working with us!
I consider Deck Bros one of the best companies I have ever worked with. 
I had my old deck taken down and a new deck designed and erected all in a period of six days. Luan the designer allowed changes throughout the 6 days. 
The crew was tremendous in their work assuring the work met all safety requirements as well as starting each morning and keeping grounds cleaned up each evening as well as keeping us informed of how the job was progressing. 
If I'll ever need another deck I would never consider another company but Deck Bros. They are the best.
I found Deck Bros on Facebook & gave them a call. The owner Luan was very pleasant, came out and gave me a quote on the spot.
I HIGHLY recommended this company for your decking needs, Luan's employees were so much fun to be around. They didn't have any issues with the dogs being around checking on their work.
They were all very professional & worked hard, arriving early & getting to work. We even did some salsa dancing to the music. They went above and beyond, and no request was an issue.
Thank You, Luan, and the main guys that were there every day, Christian, Carlos & Leo.
Inspiration For Your Upcoming Deck Building In Bennington, NE
Feast your eyes on the stunning results of our deck projects! Experience that same luxurious quality in your backyard now and make it a reality!
Deck Upgrades And Materials
When constructing your deck in Bennington, NE, there are a variety of materials you can pick from to create the perfect outdoor oasis. Each material provides unique functionalities and with additional features like cozy seating areas or ambient lighting, your deck will be the envy of all who visit!
At our on-site consultation, we'll walk you through the best options for your particular situation. Until then, let's see what the most popular features and materials are.
The deck frame keeps the structure up, so it needs to be strong enough to sustain heavy weights.
The traditional material for deck framing remains the Grade 1 pressure-treated wood rated with ground contact. It's strong, relatively durable, and also inexpensive. However, they're not as reliable as metal frames.
Metal frames from companies such as Fortress Building Products are an excellent choice but come at a higher cost. They will outlast your decking surface without question. Metal frames boast superior strength and durability, repelling rot, pests, and inclement weather conditions; there's no comparison to wooden frames in terms of resilience!
When selecting your decking material, aesthetics and function are important considerations to keep in mind. However, cost is also an essential factor that should not be overlooked as it will ultimately complete the atmosphere of your new outdoor space.
For example, woods like Ipe, mahogany, or teak give your deck an upscale look and a natural vibe, but they come at a higher price point. At the same time, pressure-treated wood is the most affordable material, but the maintenance costs will add up over the years.
Composite decking eliminates the need for expensive maintenance fees and laborious upkeep. No staining, sealing, or repairs are required – saving both time and money when compared to a wood deck!
At Deck Bros., we wholeheartedly recommend TimberTech decking as they provide some of the most varied products available in the market.
Railings are a must, and if you were thinking about skipping them to save some money, that wouldn't be possible. You'll need railings for decks elevated from the ground, as per the building codes in Bennington.
Aluminum railings are the best railings you can get. They'll boost the safety of your deck while also matching the wood material, creating a beautiful space that's nothing short of impressive.
Composite is a viable option, yet it falls short of the excellence offered by metal. Composites are still more resilient than wood, however, they come at an equivalent cost to aluminum – so why not select the optimal result for your money?
Installing deck lights is absolutely essential for decks with stairs. Most decks will have some level of steps, so skipping out on the lighting would be a foolish decision. After all, why wouldn't you want to light up your outdoor space?
Deck lighting gives a sense of comfort and safety on your deck, especially at night. They create a cozy atmosphere, ideal for a board game night or to kick back with your friends.
We recommend multiple lighting options based on two things: low-voltage lighting with a long lifespan. You don't want your electricity bill to skyrocket, and you don't want to have to replace them in a few years' time.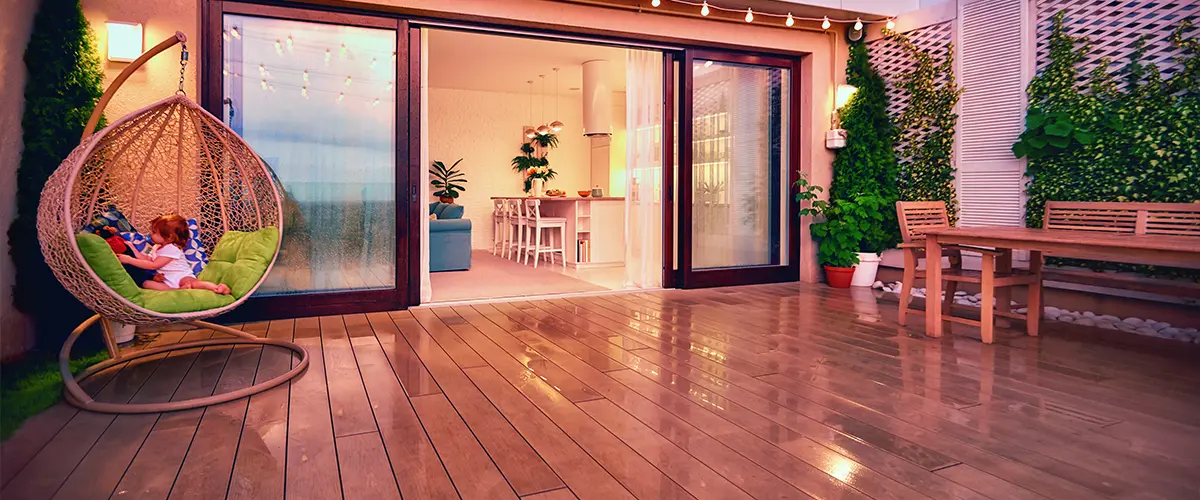 Begin With The Easiest Deck Building Process In Bennington!
We made home improvement projects a pleasure to go through! By focusing on your needs and preferences, you'll get the quickest and most efficient deck building in Bennington.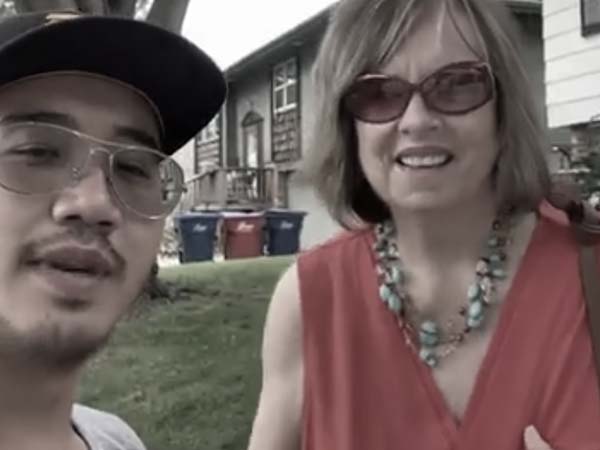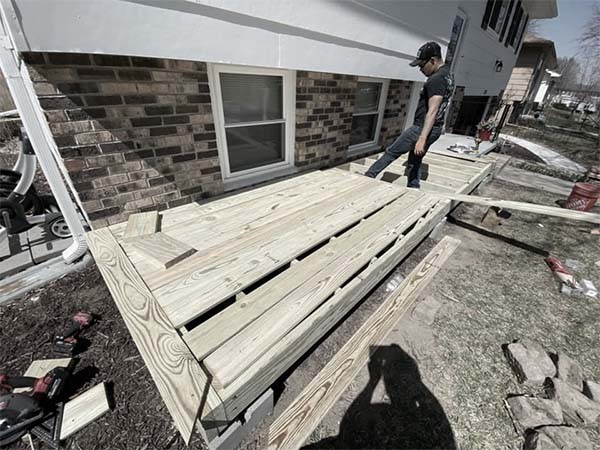 We'll sign the paperwork and get to work!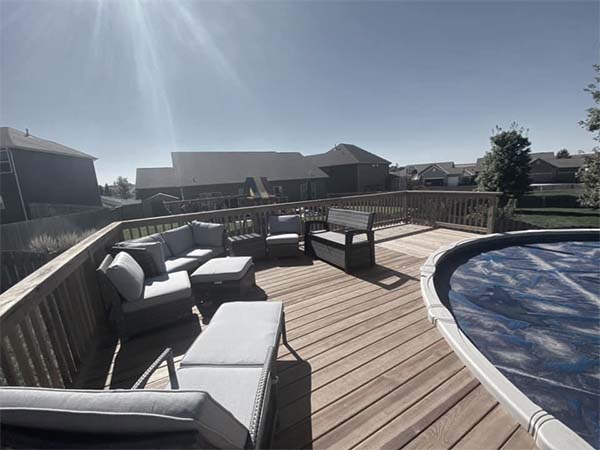 Plan your next barbecue on your new deck!
Frequently Asked Questions
With Deck Bros, a 10×10 square foot deck made of wood starts at around $9k. Our 12×16 square foot composite decking costs around $28k, including middle-grade lighting and hidden screws.
Value and luxury come together to create our exquisite deck projects that start at $44,000. With expansive exotic hardwood decks spanning 16×20 square feet or more, we expertly craft custom railings and concealed screws while illuminating your outdoor area with high-end lighting.
At our on-site consultation, you'll get an accurate quote to know exactly how much to budget for your upcoming project.
For the average deck construction, plan to dedicate two to three days preparing. However, for elevated decks that need more detail and larger structures, you should set aside around a week in order to get it done properly.
We value quality more than getting your deck done fast. If your deck requires more attention and care, we'll dedicate all our resources to ensure your new addition is 100% safe and functional.
You'll get an accurate timeline at our on-site visit.
Yes!
You'll work with insured and licensed tradesmen, all dedicated to your complete satisfaction. We value discipline, transparency, and communication to ensure you're getting an efficient and quick deck building project.
Learn more about Deck Bros and our mission from here!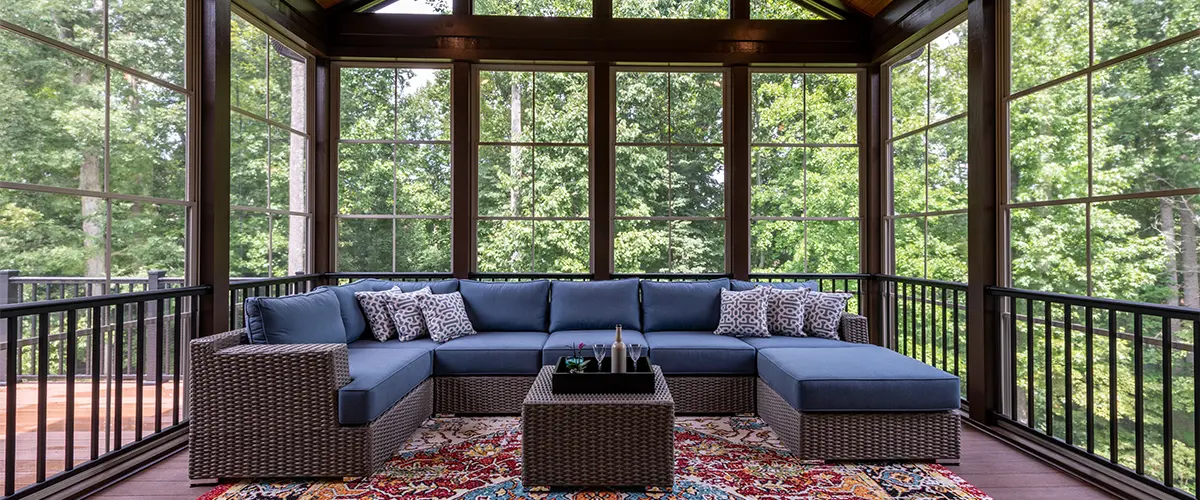 Uplift Your Outdoors With The Best Deck Building In Bennington, NE!
Transform your outdoor space into a stunning oasis and begin deck building in Bennington! Invite guests to gather on the picturesque deck you create, host an unforgettable barbecue, or use it as the perfect spot for relaxation.
Don't wait any longer – unlock the potential of your backyard today!
If you're ready to begin, Deck Bros offers you the most cost-effective solutions that keep your home trendy, impressive, and valuable.
Besides a premium deck construction, you'll also receive:
Get The Best Deck Building In Bennington, NE Today!