The Best Deck Installation In Bennington, NE
Waste no more time and get a consultation with a real pro!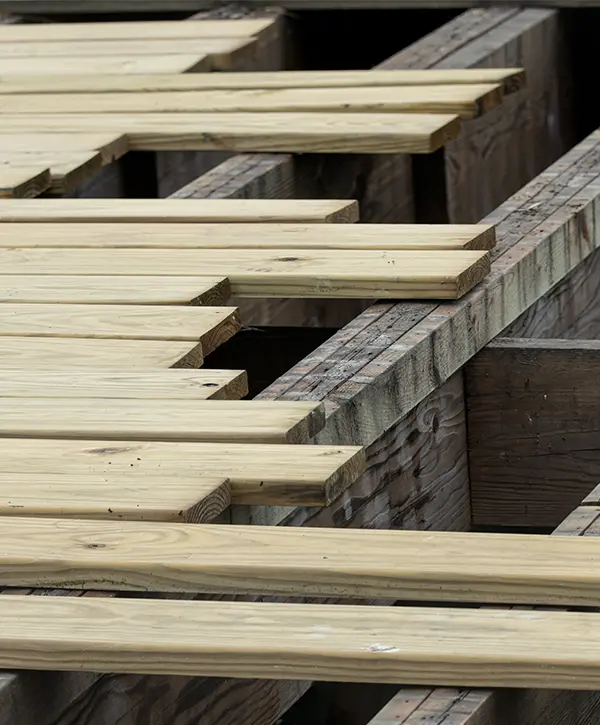 A new swift and affordable deck installation can achieve a much-needed facelift for any tired deck.
Revive your deck's aesthetic with brand-new, updated material! Not only will it make walking on the surface easier and much safer, but it also creates an attractive look that you can be proud of.
Here at Deck Bros, we strive for excellence and efficiency. That is why when you trust us to build your deck in Bennington, the result will be a stunning outdoor area rivaling even the most lavish resorts!
Improve The Curb Appeal Of Your Outdoors With A Complete Deck Installation
Get ready to transform your backyard space into a destination for lasting memories! With our help, you can create the deck of your dreams – one that is strong, visually appealing, and as functional as it is beautiful.
This is what makes Deck Bros your best choice:
Premium Deck Installation From A Reliable Contractor In Bennington
At Deck Bros, our commitment to you is extraordinary deck installation that will last for years without any issues. When we're done with your project, all you have to do is sit back and enjoy your brand-new outdoor space – stress-free!
Installing your deck has never been easier with our comprehensive and attentive approach to avoiding common issues associated with construction.
Besides, we've got a solid 5-year workmanship warranty to back our craftsmanship up. This way, you can rest assured our work will stand the test of time, and if anything goes sideways, you're all covered up!
Deck Bros offers professional deck installation for homeowners in Bennington, NE, and surrounding areas. Revamp your outdoor space with this quick and quality upgrade!
Homeowners All Over Omaha Metro Area Love Deck Bros!
They did a excellent job and the crew was professional. 
I live 2 hours from Omaha and they took the job without that being an issue. Our deck turned out beautiful. We have the best looking deck in town. I am so glad that we chose Deck Bros. 
 If you want quality go with Deck Bros! It will the best choice you make.
Can't say enough great things about Deck Bros! 
From the initial contact to the completion of my deck, Luan was always available and super responsive. He has a fantastic crew as well.
Deck Bros was hands down the most competitive with pricing. I couldn't be happier with how my deck turned out.
Get New Ideas For Your Deck Building Project In Bennington, NE
Get some new ideas for your project or check out some of our work!
Types Of Decking You Can Install
Homeowners are able to choose between numerous deck surface material options that will fit their budget and lifestyle. Pressure-treated wood is a great option for those on a tight budget, while teak offers an exquisite feel at a slightly increased cost. Regardless of your selection, you can rest assured that we'll make the most out of your budget!
Pressure-Treated Wood Deck Installation
Pressure-treated wood is perfect for creating your outdoor oasis without breaking the bank. This decking material offers great value and will ensure you get a reliable, quality result!
Pressure-treated wood may seem more economical, but its weaker structure renders it vulnerable to weather and water damage.
To keep its refined look and protect it from decay and insects, pressure-treated wood should be sealed or stained at least twice a year for the best outcome.
The cost of pressure-treated wood boards is between $15.00 to $24 per square foot, and installation will be anywhere from $10 to $15 per square foot.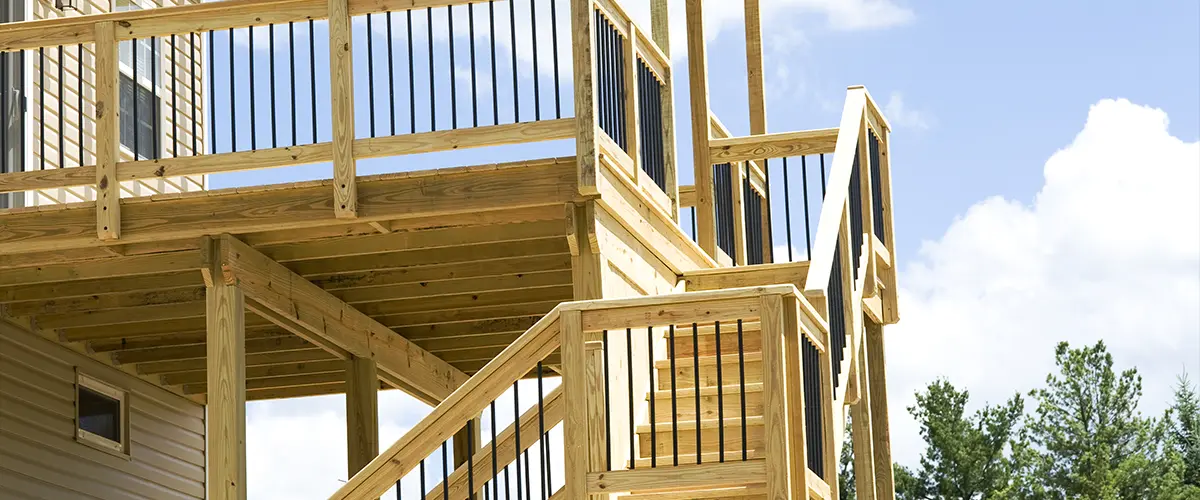 Cedar Wood Deck Installation
Cedar is visually attractive and provides remarkable protection to withstand water and rot compared to other natural materials. With consistent upkeep, however, the protective layer of cedar will inevitably degrade over time.
Investing in staining and sealing your cedar deck is an invaluable decision that will extend the life of your outdoor space. While it might require a bit more effort and expense upfront, you'll be grateful when you witness its lasting protection from extreme temperatures for years to come.
Although cedar materials are more expensive than pressure-treated wood, it is an investment that certainly pays off.
Investing in cedar decking materials can vary from $25 to $30 per square foot, depending on the grade and size of each board. Installing cedar decks ranges between $15 to $20 every square foot, a cost-efficient option for decorating your outdoor space!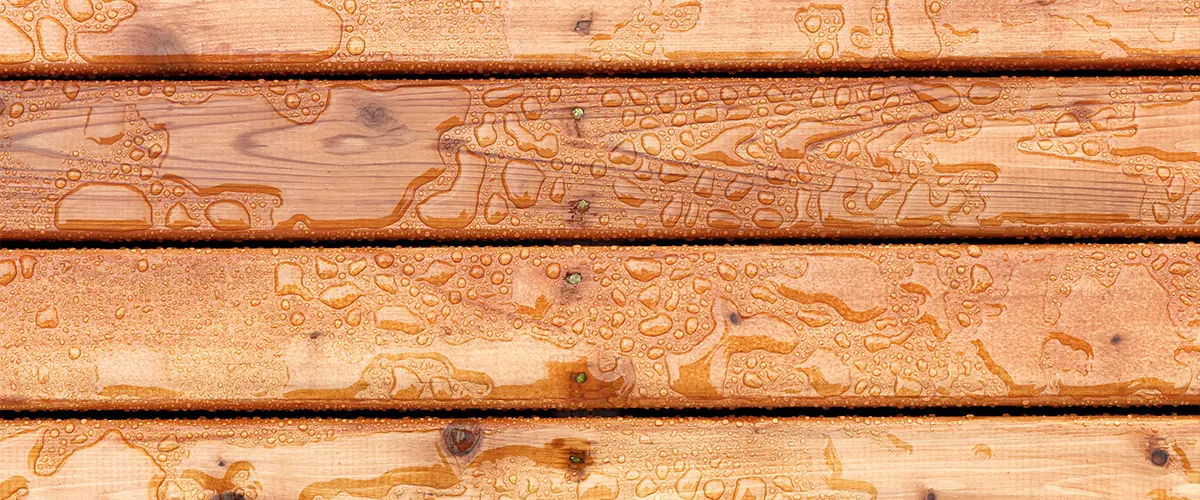 Redwood Deck Installation
Redwood is renowned for the stunning hues that make it stand out amongst other wood materials and therefore is one of the most sought-after decking options. It's no wonder why this natural resource has cemented itself as a top-three pick, given its captivating coloring!
Redwood is naturally resistant to pests, rot, and warping – making it an ideal choice for outdoor construction. With regular maintenance every two or three years, the wood can remain in its best condition indefinitely.
Redwood lumber is lightweight yet sturdy and has minimal shrinkage or movement to balance out its propensity for scratch and dent damage. Its delicate features make it unique compared to other types of wood, making it a top choice for many projects.
Redwood decking is not inexpensive, with materials costing between $30 and $35 per board and installation ranging from $15 to $20.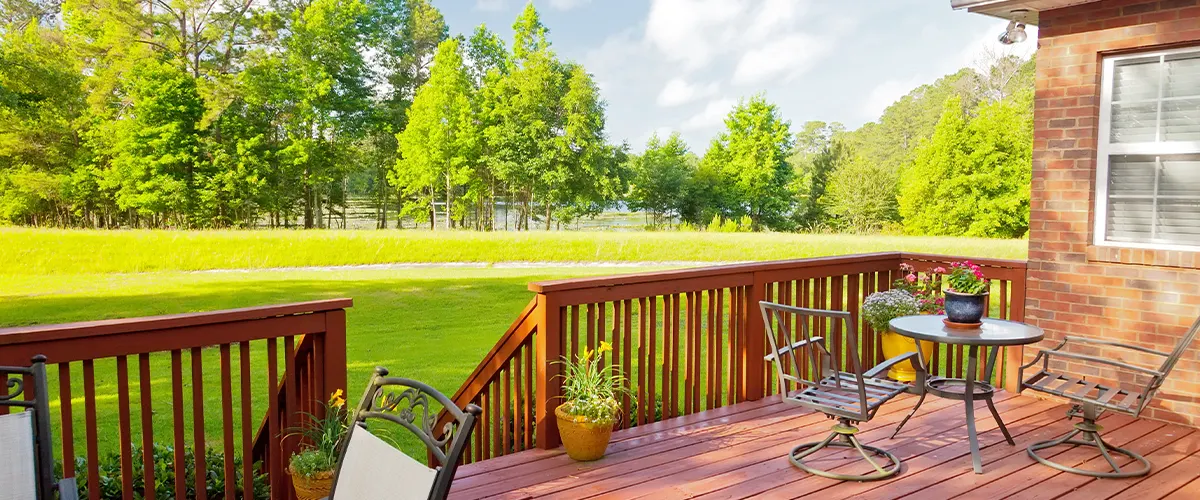 Hardwood Deck Installation
Install a hardwood deck to transform your outdoor living area into a luxurious, awe-inspiring oasis. Teak, cumaru, ipe, and tigerwood are some of the finest woods to construct an unforgettable space; you'll surely stun visitors with such high-end materials!
The magnificence of hardwood is simply spellbinding, and their ability to withstand the test of time without succumbing to decay or blemishes makes them an ideal selection for outdoor structures.
Be aware that hardwoods come with a hefty price tag, as it is the most expensive decking material available on the market.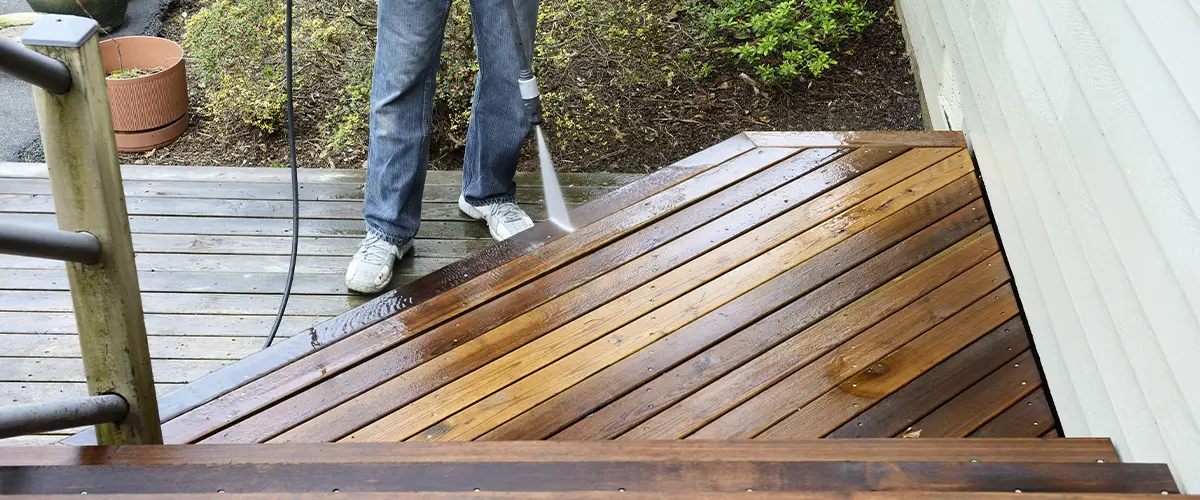 Composite Deck Installation
Composite wood is ideal for senior homeowners who are tired of sealing, staining, and repairing a wood deck that's been on their property for years.
As opposed to natural materials, decking pros boast of composite wood for its environmental sustainability, opulence, and lasting construction.
Homeowners are particularly fond of composite decking due to its cost-saving and convenient features. Not having to expend time or money on tedious staining and sealing tasks is a bonus that cannot be overlooked! Popular brands such as Trex and TimerTech offer a wide selection of colors, sizes, shapes, and styles for anyone's needs.
Composite decking prices range from $29.00 to $31.00 per square foot for materials and between $15 to $20 for its installation.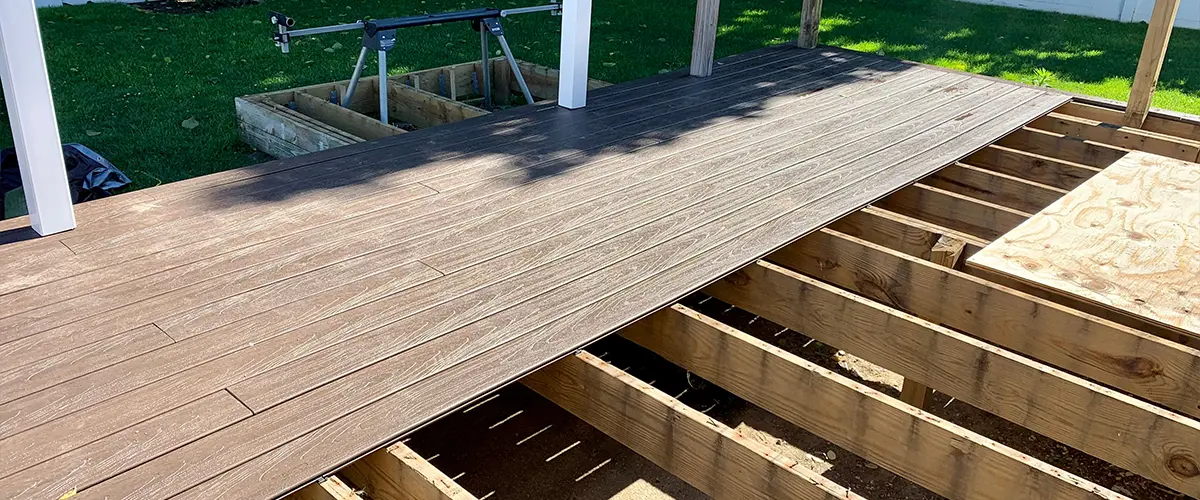 A Deck Installation Service That Makes Your Project Go Smooth
Take full advantage of a quick process that delivers your deck in as quickly as 3 days! Everything we do is centered around you, your loved ones, and your satisfaction.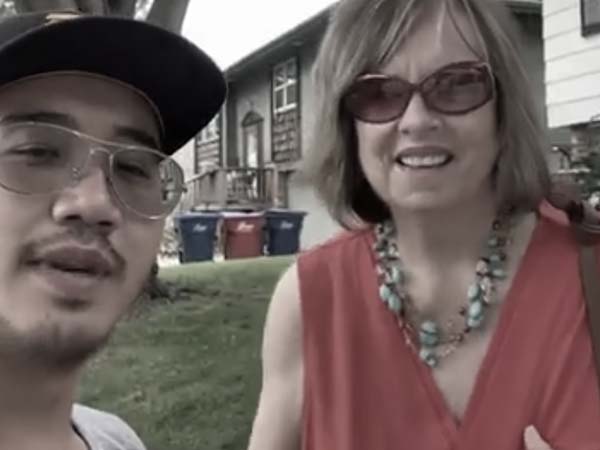 Contact us and we'll find the best plan to tackle your project.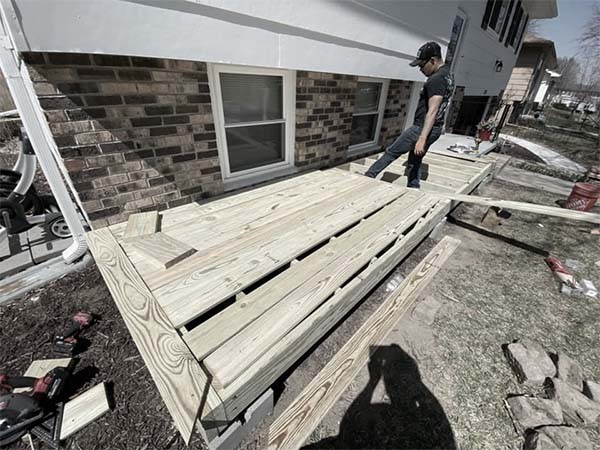 Watch us install your decking and get insights into what's happening.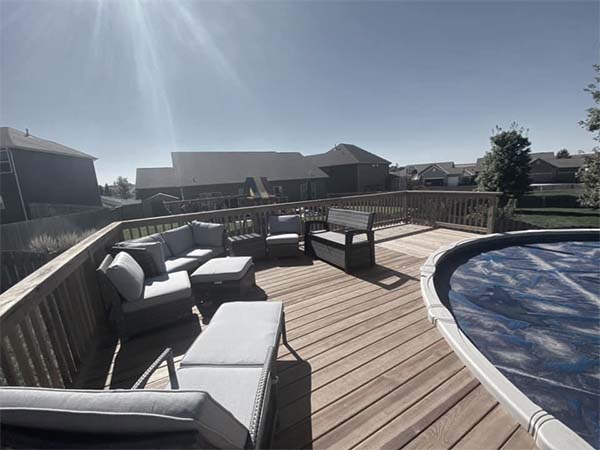 Plan your next barbecue! Your deck is up and running!
Frequently Asked Questions
Pressure-treated wood decks are an economical and fast solution, particularly in Nebraska where timber is abundant and accessible at budget-friendly prices. Its no surprise that it's a popular choice among homeowners who want to get the most bang for their buck!
Safety is of the utmost importance when installing a deck and must be factored into every step. Not only should it have an attractive look and feel, but it must also be structurally sound to ensure that you can safely entertain your guests in any capacity. Whether throwing a barbecue or enjoying some much-needed family time outdoors, rest assured knowing your deck meets all requirements for everyone's enjoyment.
Constructing a 12×12 deck in Bennington, NE, with pressure-treated wood can cost around $3k. But if you'd prefer composite material? Prepare to pay almost double; the price tag may reach up to $5K! And should your deck have stairs connecting it from higher ground levels? Expect those costs to climb even further!
Ready To Enjoy A Professional Deck Installation In Bennington, NE?
Bennington citizens rejoice in knowing that Deck Bros is the go-to company for high-quality, durable decks. Our devoted staff is focused on offering unparalleled service and building a deck you're sure to love – we'll work with you every step of the process so there's no confusion or misunderstanding about your project.
With us, you can trust that your deck construction will be in safe hands – every detail of it considered. Customer satisfaction is our top priority, and we guarantee that throughout the entire process.
If you're searching for a personalized deck installation service to suit your needs, look no further than Deck Bros!
Work with Deck Bros Bennington and enjoy:
High-Quality Deck Installation At A Fair price