The Best Deck Repair In Bennington, NE
Want your deck to look like new? Get in touch with a pro!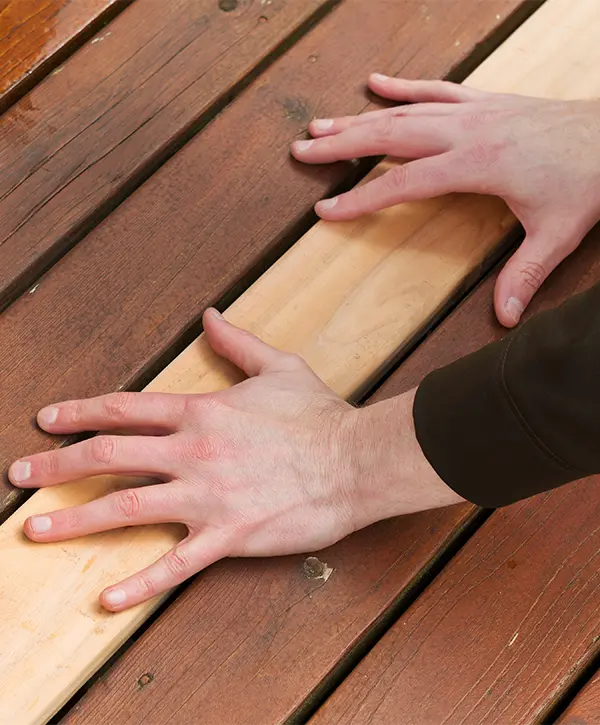 If you're not quite ready to replace your deck yet, let the experts at Deck Bros Bennington give it a top-notch revamp!
Our quality restoration services will extend your deck's lifespan for some extra years. We are committed and passionate deck builders who try to provide some of the greatest outside spaces in Nebraska.
Let us breathe new life into your deck and bring it back to its former glory. When you're in need of a professional deck repair service, we should be at the top of your list.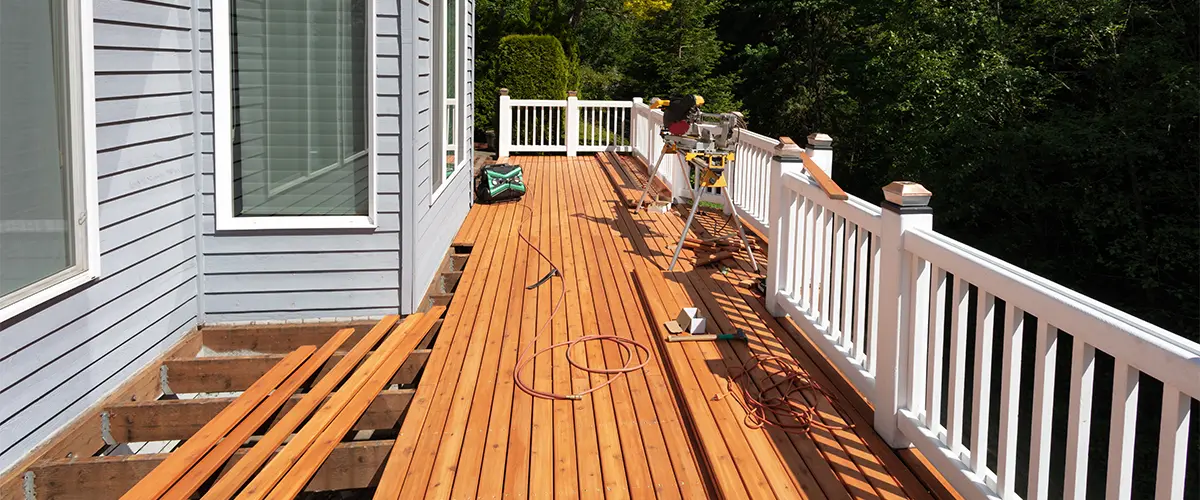 The Only Deck Repair Contractors That Over Delivers
To ensure a new, secure deck and a hassle-free project experience for homeowners, it takes more than just some planks of wood. We are devoted to providing exceptional service from start to finish.
Get Your Premium Deck Repair In Bennington, NE With Deck Bros
If you're only in need of replacing a few decking boards, then it's best to go for repairs. However, sometimes the damage is far too extreme and requires more than just replacing some planks – in this case, much more attention will be required.
If any additional issues appear, such as needing to replace posts or upgrade railings, attempting a repair no longer makes sense because these extra costs will soon amount. It would be more sensible and cost-effective to start with an entirely new deck in the long run. Plus, it'll look beautiful too!
At Deck Bros, we strive to be extremely transparent with our customers and provide a thorough deck inspection to discover any underlying issues. You can then determine if you'd like to extend the life of your existing deck or opt for something stronger that will stand the test of time.
Check out our Bennington deck repair services right now! Get the best deal for your deck construction project and enjoy a smooth process like no other deck contractor offers.
Bennington, NE Deck Owners Love Their New Repairs
We're detail-oriented and won't call it a day until your deck is 100% efficient and functional. This is what your neighbors say about us!
My husband and I are very pleased with our new deck. They were able to tear down and replace our deck in a very short time. They did an excellent job! 
1 day for the tear down and 3 for the build. The workers were very courteous and professional. My neighbor who watched the whole process was impressed with the speed and skill that they used replacing our old deck. 
I would highly recommend Deck Bros if you need a deck repaired or replaced!
My family and I have been renovating our home for the last two years and have used many local companies. 
Deck Bros was hands down the best! The quality of work, attention to detail and communication with my husband and I throughout the project was second to none. 
The workers were meticulous and did beautiful work on my back deck and front porch. Luan (the owner) was very responsive with our questions and was always checking in on the project to ensure we were satisfied. 
Highly recommend using Deck Bros!
Check Out Our Finished Deck Repair Projects In Bennington, NE
Our team has created some of the finest decks in Nebraska, including Bennington. Have a look at our prior work to observe first-hand what you can expect from us when it comes to quality and craftsmanship.
Types Of Upgrades And Deck Repairs
The deck building industry is continually evolving. Pressure-treated wood is no longer the most popular choice of material while wooden posts now require alternative installation solutions.
Let's check out some of the repairs, replacements, and enhancements that Bennington homeowners are getting for their decks!
Although it is economical and dependable, grade #1 pressure-treated wood used to be the go-to material for deck frames – until not too long ago. Nowadays, there are far superior options available on the market.
Fortress Building Products recently released their steel deck frames for residential spaces, which are designed to stand the test of time and conquer any condition. Unlike wooden frames, these metal structures can endure any climate or treatment without succumbing to wear and tear.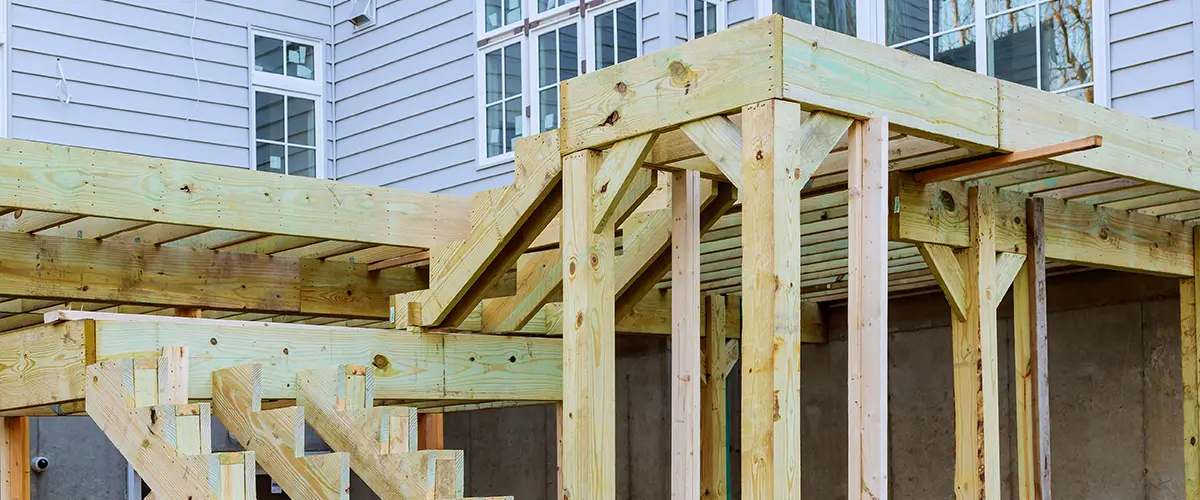 If you're looking to construct a wooden deck, cedar and redwood are two of the most desired choices. Although these materials can be on the costlier side, they offer an extraordinary aesthetic that pressure-treated wood cannot provide at a lower price point.
As technology advances and production costs decrease, these materials have become much more affordable. 
If you are determined to install a wooden deck in your backyard, then choose higher-end hardwoods such as teak, ipe mahogany, or tigerwood – this will instill an expensive look and feel for years to come.
Wood railings are commonly installed on an aging deck and exposed to the elements, causing them to weaken over time. To ensure their structural integrity is not compromised, they must be regularly maintained.
You want these structures that you rely on every day for support to remain strong and stable in order to provide safe passage across your balcony or porch.
The better solution is metal rails.
Railings made of aluminum are a great option for any home. They're durable and long-lasting, resistant to rot and insect damage, with an installation that's quick and simple. These will last you longer as you age than wood railings, which are undoubtedly more dependable.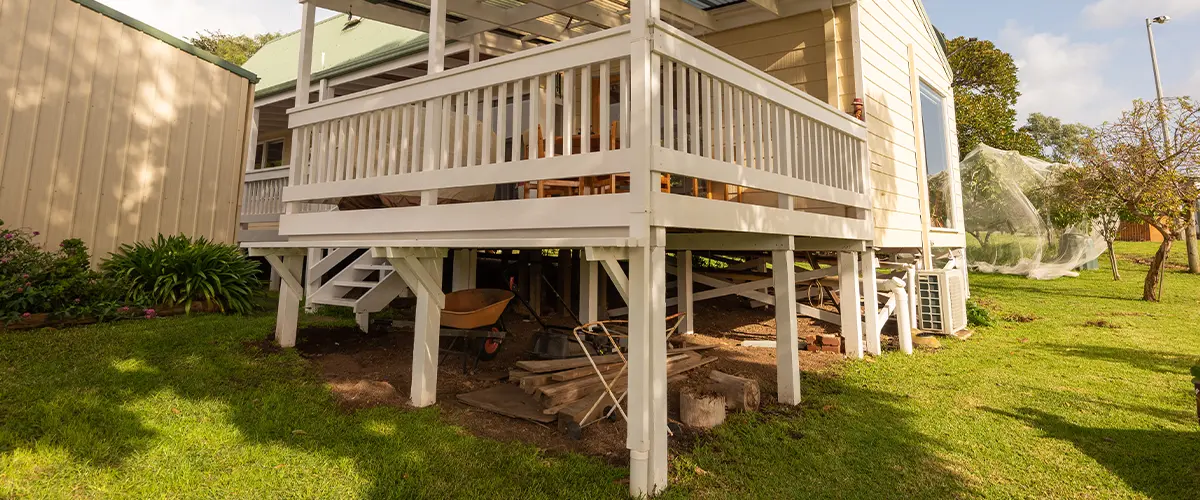 Adding lights to a porch or patio is an innovative way to brighten up your outdoor space. Previously, deck stairs and railings were left in the dark at night, which was dangerous for anyone who wanted to walk around them. 
Fortunately, with deck lighting solutions available today, this issue can be easily avoided.
Nowadays, deck lighting is required by law, and your deck construction won't pass the final inspection if it doesn't have any lights. Many options are available, but we recommend low-voltage lighting because it lasts much longer than other light bulbs.
The Best Way To Start Your Project
Our deck repair process is both efficient and considerate of your needs, so you can be sure that the results will speak for themselves. We have taken great care to ensure your comfort and well-being throughout this entire process!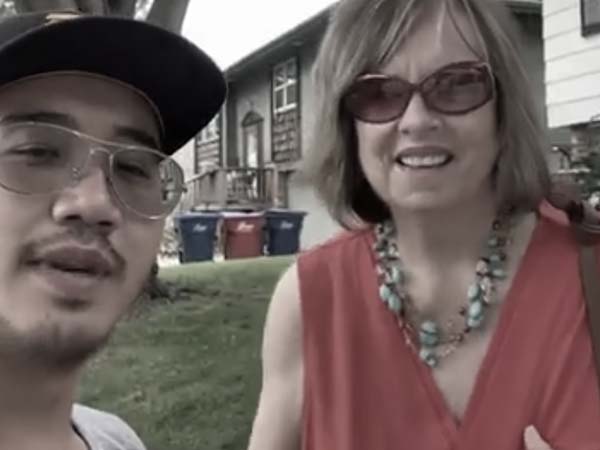 Request your free quote or call us directly to chat.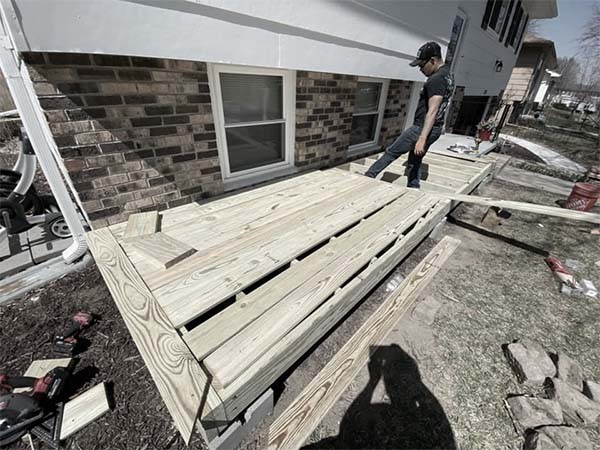 Be part of your incredible deck-repair journey.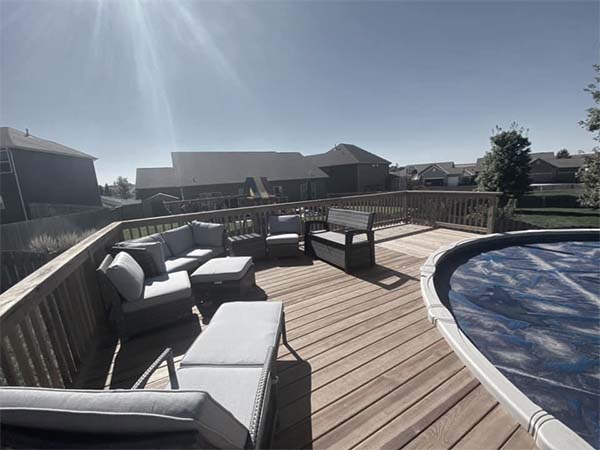 Your new deck is ready! Time to plan your next barbecue!
Frequently Asked Questions
Minor deck repairs in Bennington usually range between $1,500 and $5,000, whereas more extensive renovations can cost anywhere from $5,000 to an estimated maximum of $8,500.
Your time is invaluable to you and your loved ones. At the very first chat with us, we'll do our level best to schedule your deck repair promptly, usually within a week or less! Our strategic Bennington location ensures that turnaround times are fast since most of our services are locally based.
Most of our repairs take one day to complete, although some can take more time.
Depending on local regulations, permits may be mandated if we need to make structural repairs and change the configuration of your deck. Don't worry – we'll take care of all the required paperwork and permit applications for you since we will prepare any documentation needed.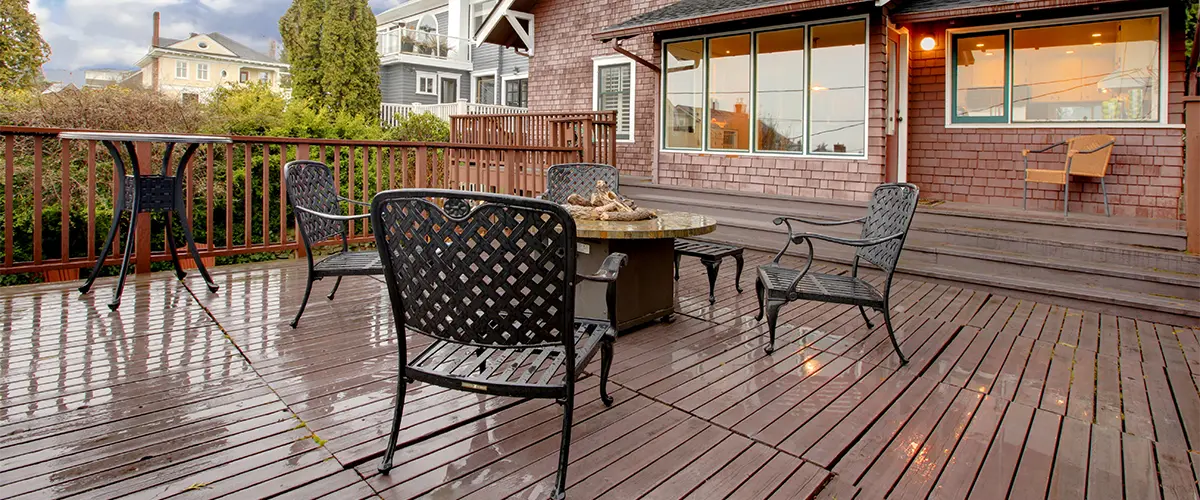 Brings Your Deck Back To Its Former Glory With A Deck Repair Professional!
Your deck repair in Bennington, NE is in excellent hands.
For years, our team has provided amazing deck building and repair services to all Omaha Metro Area residents. We understand what makes your experience an absolute pleasure, so we strive to make it a reality.
Bennington homeowners have been particularly delighted with the unmatched quality of service they've received from us! You can become one of them too!
Get ready to receive:
Your Deck Repair Awaits You!