Cedar woods are naturally beautiful but require the right stain to preserve their stunning appearance and durability, especially during the hot summers and freezing winters here in Omaha.
This article provides insights into the top stains for cedar decks, taking into consideration factors such as climate and wood type.
Let's dive in for a closer look at preserving your patio in style!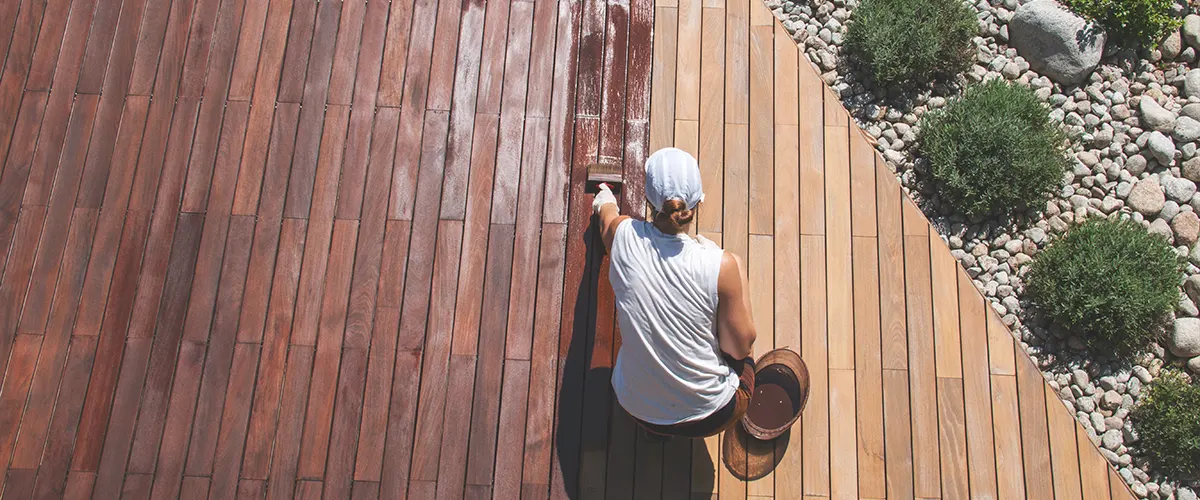 Types of Wood Stains for Cedar Decks
Cedar decks enhance outdoor spaces, and choosing the right stain – transparent, semi-transparent, or solid – can protect your deck while improving its aesthetics.
Transparent stains let the natural look of your cedar deck shine through. They soak into the wood but don't change its color. This type of stain is water resistant and offers good protection from sun damage.
However, because they are clear, transparent stains may not hide old marks or stains on your deck. You should use them on new or lightly-used decks for the best look.
Semi-transparent stains give more color than clear stains but still show the wood's grain. Your deck will get a rich look from this stain type. This stain is water resistant, too. It protects wood from rain and snow damage, but also guards it against sun damage that can fade your wood deck over time.
Solid stain covers the wood well and lasts a long time. This type of stain hides the wood grain but gives a rich color to your deck. It acts like paint, building up on the surface of the wood. The solid stain is also water resistant which helps keep your wood deck safe from rain or snow damage.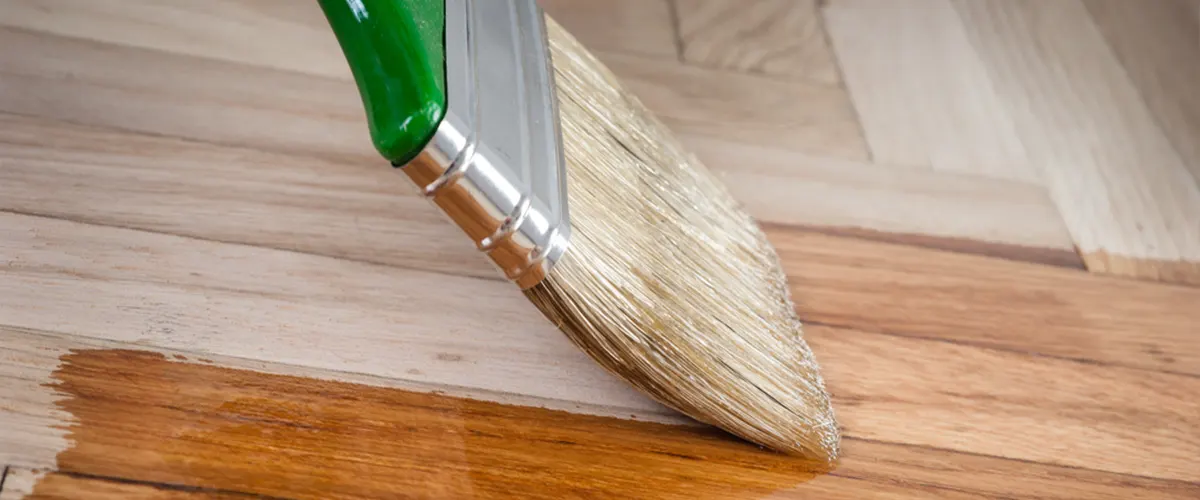 Factors to Consider When Choosing the Best Deck Stain for Cedar Decks
Understanding your local climate, the type of cedar wood used in your deck and the differences between water-based, oil-based and hybrid stains are all critical factors to consider when selecting the best stain for a cedar deck.
Weather can change how your deck looks. It is a big part of picking the right stain for your cedar wood deck. In damp places, use water-resistant stains to stop rot and mold. For hot or sunny places, get a stain that can fight off harsh sun rays.
This way, you keep the color of your deck bright and fresh for long.
Cedar is an ideal wood for your deck. It's strong and stands up well to the weather. This type of wood is also resistant to rot, which makes it last longer outdoors.
But cedar can turn grey if left untreated over time, and to keep cedar looking its best, you need a good stain.
A clear stain shows off the cedar's natural color and grain but offers less protection than dark stains because they absorb more UV rays from sunlight that hasten decay.
Water-based vs. oil-based vs. hybrid stains
Choosing the best stain for your cedar deck means picking between water-based, oil-based, and hybrid stains. Here is what you need to know:
Water-based Stains: The water in these makes them easy to clean up after use. They also dry fast and come in many colors.
Oil-based Stains: These go deep into the wood for a rich color. They also guard against weather damage.
Hybrid Stains: These are a mix of oil and water stains. This gives you the best of both types, they give good color and protection.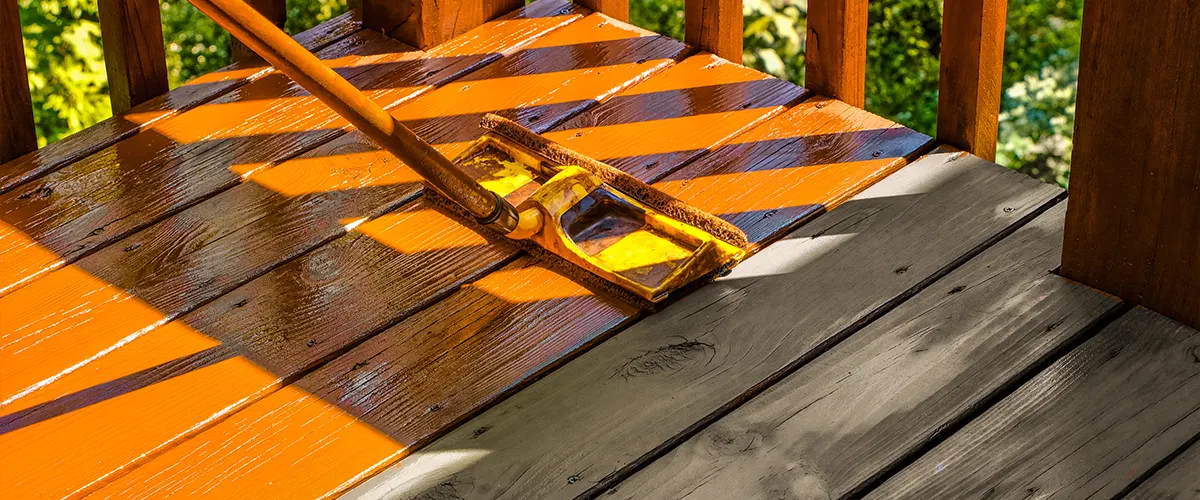 Top Recommended Deck Stains for Cedar Decks
Explore the seven best deck stains ranked high for their superb performance on cedar decks, from solid to semi-transparent options that offer varying levels of water resistance and durability.
BEHR Premium Solid Color Waterproofing Stain and Sealer is great for your wood deck. Even in wet weather, it keeps your deck safe. This stain has a solid color that hides wood flaws well.
It is easy to use with a brush, roller, or spray. The finish lasts long and fights against sun damage too. Your cedar deck will look new and fresh with this stain on it.
It costs $50 per gallon.
The Olympic Elite Stain and Sealer is a top choice. It works great on cedar decks. This product protects your deck from water. The stain sinks deep into the wood.
It gives a natural look to your cedar deck. The sealer fights against mold and mildew too. You can use it with ease, and it lasts long in harsh weather conditions.
It costs $50 per gallon.
Preserva Wood Semi-Transparent Stain and Sealer is great for your cedar deck. It gives a rich color while letting the wood's patterns show. Its water resistant seal keeps out rain and snow.
The coat lasts long even with heavy foot traffic. Your deck will look new longer with Preserva Wood stain and sealer.
It costs $47 per gallon.
Flood CWF-UV5 Oil Advanced Formula Wood Finish makes your deck look new. It works great on cedar decks. This finish protects your wood from the sun. It also stops water damage. The oil makes the wood shine and brings out its natural beauty.
It is easy to use, even for a new person. You can put it on with a brush or a sprayer. Your deck will look amazing with this finish!
It costs $38 per gallon.
Ready Seal Natural Cedar Exterior Stain and Sealer is a top-notch choice for cedar decks. It's an oil-based stain that dives deep into wood. This gives the most lasting protection against sun and water damage.
Its color, natural cedar, brings out the best in your deck's look. The nice part is it goes on easy, with no need to stir or thin it first. There is also no need for a wet-line application because it blends itself as it dries.
Your deck gets shielded from both mildew and UV rays too! To make things even better, this sealer does not peel or crack over time.
It costs $176 per 5 gallons.
DEFY Extreme Wood Stain is a top choice for cedar decks. It is water-based and has zinc nano-particles. These small bits help block the sun's rays. This stain keeps your wood looking new longer.
It can be used on all outdoor wood types. DEFY Extreme does not fade or peel away fast and it helps stop mildew growth too! So, this stain is great if you live in a wet place or want to cut down on deck work.
It costs $55 per gallon.
The TWP 100 Series Wood and Deck Stain is a great choice. It makes your deck look good and keeps it that way for a long time. This stain seeps deep into the wood. It fights against sun damage and water spots to keep your deck looking new.
The stain guards the wood from mold and mildew too, which can eat away at your deck over time. Best of all, it comes in many colors so you can pick one that matches your house or yard.
It costs $209 per 5 gallons.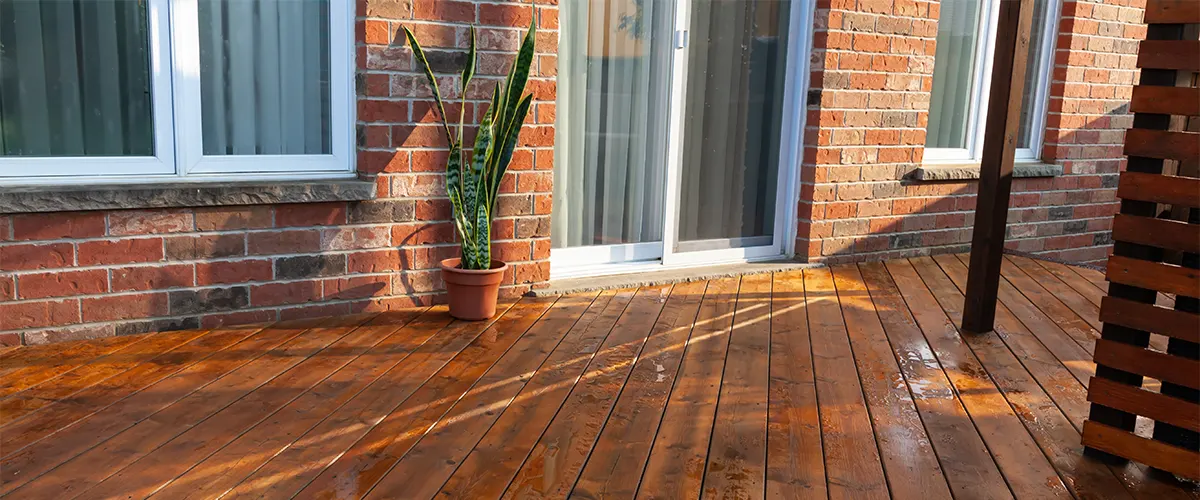 All in all, the best deck stain choice depends on factors like weather and wood type. Always make sure it's water-resistant and offers good protection against UV rays, as that's what you'll need for a deck in Omaha.
If you want someone to help you choose the best stain for your deck and apply it, give us a ring at (402) 369-5724 and we'll be more than happy to assist you!