The 5 Best Deck Installation Companies In Blair, NE
Here are the best deck builders in Blair! Choose the best fit for your project now!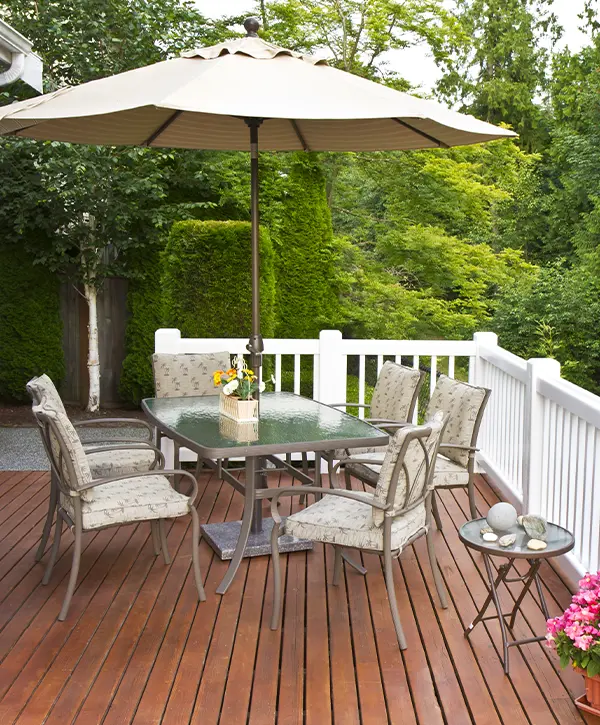 Deck installation companies in Blair, NE, all promise the same thing – quality craftsmanship and reliable service – but how many of them will overdeliver on these promises?
While we can't say for certain, we can tell for a fact that we here at Deck Bros go the extra mile for all of our customers to fully enjoy their new outdoor space.
You'll have everything taken care of by one of the best deck installers in the Omaha Metro Area! Let's look at the 5 best deck installation companies in Blair, NE!
1. Starting With Deck Bros
Deck installation is not just screwing down some decking boards on an existing frame but also ensuring your deck works efficiently.
With us, you're getting an in-depth deck inspection that ensures your outdoor space is safe and sound and can host any family gathering.
We're the go-to deck installation company in Blair and we're planning to remain so by giving homeowners like yourself a complete service they can rely on.
With Deck Bros, you're getting:
The process you'll go through is designed for your comfort and well-being. We take great pride in making the installation process flow smoothly, so you won't even have time to worry about anything.
Our average build-time is 3 days for average decks, and if we're only installing the decking, we can get it done in less than one day. This way, you can enjoy your deck faster and pay a reasonable price for it!
Here's what homeowners constantly say about us:
They did a excellent job and the crew was professional. 
I live 2 hours from Omaha and they took the job without that being an issue. Our deck turned out beautiful. We have the best looking deck in town. I am so glad that we chose Deck Bros. 
 If you want quality go with Deck Bros! It will the best choice you make.
Can't say enough great things about Deck Bros! 
From the initial contact to the completion of my deck, Luan was always available and super responsive. He has a fantastic crew as well.
Deck Bros was hands down the most competitive with pricing. I couldn't be happier with how my deck turned out.
At Deck Bros, we pride ourselves on building decks that will last a lifetime. In addition, they're 100% safe! Our team provides the best deck installation in Blair for an add-on that will have all your neighbors in awe.
Nielsen Custom Homes is a local, family-owned and operated company that has been in business since 1969. They've built hundreds of homes in various sizes and layouts, and also plenty of decks for homeowners around Blair.
They offer a free initial consultations and a 1-year warranty program for all new constructions.
While most of their expertise lays in custom homes, they can also tackle a deck installation project just as well. However, we would always recommend a contractor specializing in deck installation for a decking project.
I was always told that the home building process was difficult, but Nielsen Custom Homes made the process simple and enjoyable. You cannot beat their experience, quality and service. I don't anticipate building again, but if I do there is no one else I would trust or use!
Two Timbers is led by Russell and Travis Finch. Russel grew up learning the right way to do things from his father and grandfather. He mainly focuses on integrity, craftsmanship, and hard work to get every job done right and on time.
They value your vision and consider your project just as important as their own decking project.
Two Timbers would be a great choice for your deck installation in Blair, but keep in mind these guys also do custom deck builds, so you can take your project a step further!
I can't say enough how great these guys are. From beginning to the end. I said build me a new deck and left it at that. My wife was in tears at how great it looked! Craftsmanship work ethic and just down-to-earth great guys!!! Thank you.
Big Pine Decks LLC is a family-owned and operated company that focuses on a client-first mindset. They're committed to offering you a one-of-a-kind personal experience for your deck installation project in Blair or anywhere near it.
Over 40+ years of construction experience gives them the ability to build high quality decks in a reasonable time. Big Pine Decks are also licensed and insured, and they'll help you with the building permit in Nebraska and Iowa.
These guys are great at what they do! They were easy to work with, very professional and had great ideas to enhance what I wanted done! I will definitely use them in the future!
5. Rustic Craftsman, Inc.
Drawing upon generations of carpentry and construction know-how, Rustic Craftsman Inc. has evolved from building custom furniture to crafting eye-catching residential decks and outdoor structures in the Omaha metro area–and all under family ownership!
Jake Clark is the owner of this business and his experience in construction is unparalleled. His ambition, integrity, and commitment to excellence make him stand out among other contractors.
You can enjoy their service in Omaha, Elkhorn, Gretna, Bennington, and other surrounding areas.
Jake and his crew did a wonderful job of demolishing our old deck and building a new one. Jake was very helpful with design ideas, and the job was completed within a week. We are very happy with our beautiful new deck!
Ultimately, regardless of whether you decide to work with Deck Bros or a different contractor, your deck must be strong and secure.
When shopping for the best provider, getting a few quotes and assessing which one will fit your exact needs is imperative. Do your research on the local BBB or Chamber Of Commerce in Blair. 
Remember that the lowest price does not always equate to great value; equally, opting for the most costly service doesn't guarantee better results either. Be sure to weigh all options carefully before making your decision!
If you're looking for a dependable deck builder, your search is over! Deck Bros holds the utmost respect for your time, money, and home. We are committed to delivering excellent results with an unparalleled level of service.
If you're interested in getting a quote from one of the best deck building companies in Blair, click here. If you want to reach us directly and discuss your upcoming project, call us at (402) 369-5724!