The Best Deck Installation In Blair, NE
Waste no more time and get a consultation with a real pro!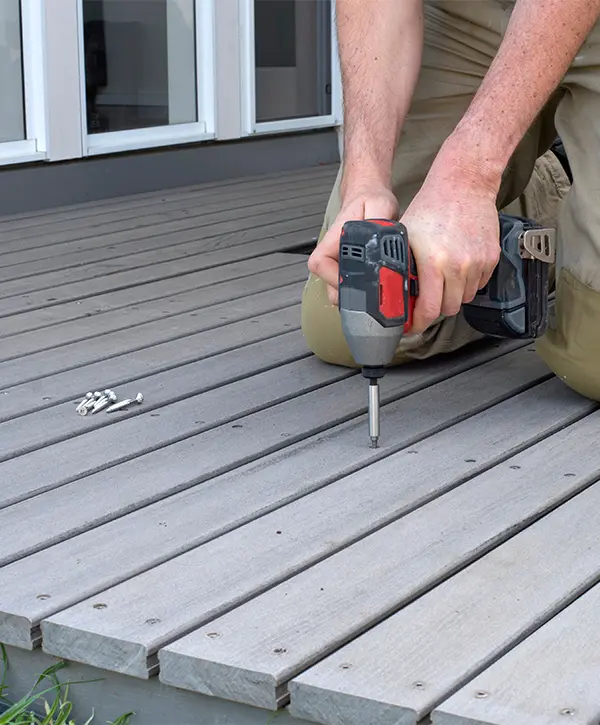 If you want to refresh your existing deck quickly and efficiently, upgrading its top layer is one of the most straightforward options. But to take full advantage of this project, you'll need a high-quality deck installation in Blair, NE.
Deck Bros offers affordable cost and rapid turnaround for your deck installation project. You'll get a reliable team specialized in deck installation, deck repair, and deck building, so you'll be covered on all fronts.
A complete service guarantees nothing remains unattended, and a reliable team of carpenters ensures full satisfaction and an investment worth bragging about!
A Deck Builder That Goes The Extra Mile For You!
No matter the scope of your project, we are devoted to ensuring your new deck is installed in the shortest time possible without sacrificing any of its quality. You'll work with a team that places your comfort as the highest priority, and they go above and beyond with their craft.
This is what makes Deck Bros your best choice:
Deck Installation From A Reliable Professional
Here at Deck Bros, we pledge to deliver a superior deck installation that will elevate the aesthetic of your outdoor living area and transform it into an escape for tranquility. Our aim is to guarantee our clients have somewhere they can turn when life's pressures become too much.
Our top priority is to meet your expectations, and we will strive to exceed them by ensuring that your deck installation in Blair is flawless and safe.
Our extensive experience guarantees precise craftsmanship. For many years, you'll get insights and advice for keeping your deck in top condition, and we'll even come back to check on our work even after our 5-year workmanship warranty.
Blair Homeowners Love Working With Us!
They did a excellent job and the crew was professional. 
I live 2 hours from Omaha and they took the job without that being an issue. Our deck turned out beautiful. We have the best looking deck in town. I am so glad that we chose Deck Bros. 
 If you want quality go with Deck Bros! It will the best choice you make.
Can't say enough great things about Deck Bros! 
From the initial contact to the completion of my deck, Luan was always available and super responsive. He has a fantastic crew as well.
Deck Bros was hands down the most competitive with pricing. I couldn't be happier with how my deck turned out.
Get New Ideas For Your Deck Building Project In Blair, NE
Get some new ideas for your project or check out some of our work!
Types Of Decking You Can Install
As you embark on your deck installation journey, you must choose between various materials. From a highly affordable pressure-treated wood to an upscale teak or composite material, you can choose whatever suits your needs better. When choices become too many, our experts will help you choose what fits your particular needs better.
Let's see some of Blair, NE's most common decking materials.
Pressure-Treated Wood Deck Installation
Pressure-treated wood is the perfect material for your decking dreams, and won't break your budget! These are the most affordable decks you'll find.
But before investing in this lumber, it is necessary to understand its shortcomings.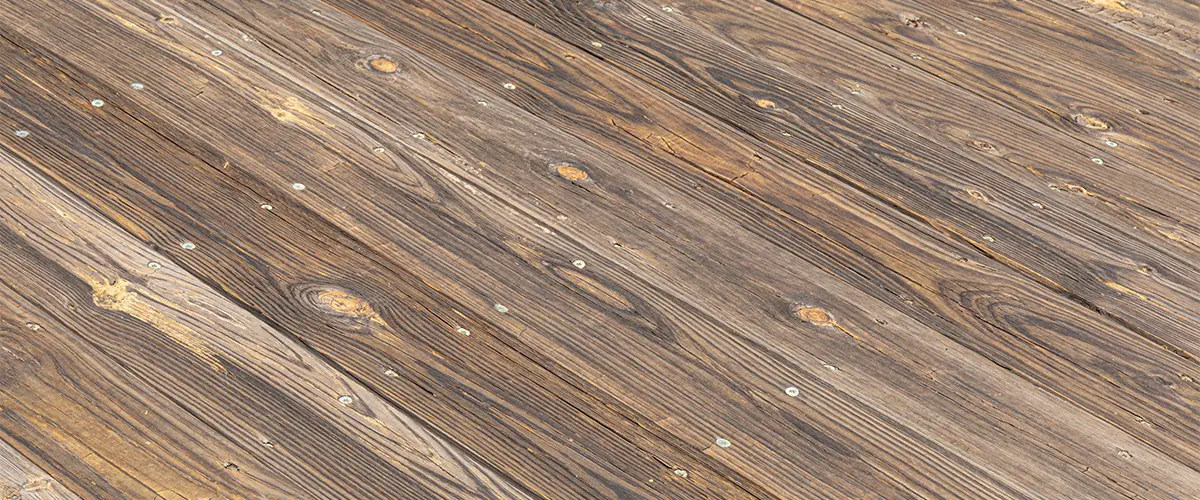 Cedar Wood Deck Installation
Coming in second place, cedar is the quintessence of decking materials. Its alluring appearance and natural resistance to water damage make it one of the most sought-after woods.
To ensure longevity and maximize its strengths, you must seal and stain the cedar regularly, increasing its overall cost. Also, keep in mind that depending on your choice of sealant, it can alter the color of your cedar to a golden hue with an antiqued feel.
Although a little bit more expensive than pressure-treated wood, cedar is totally worth its price.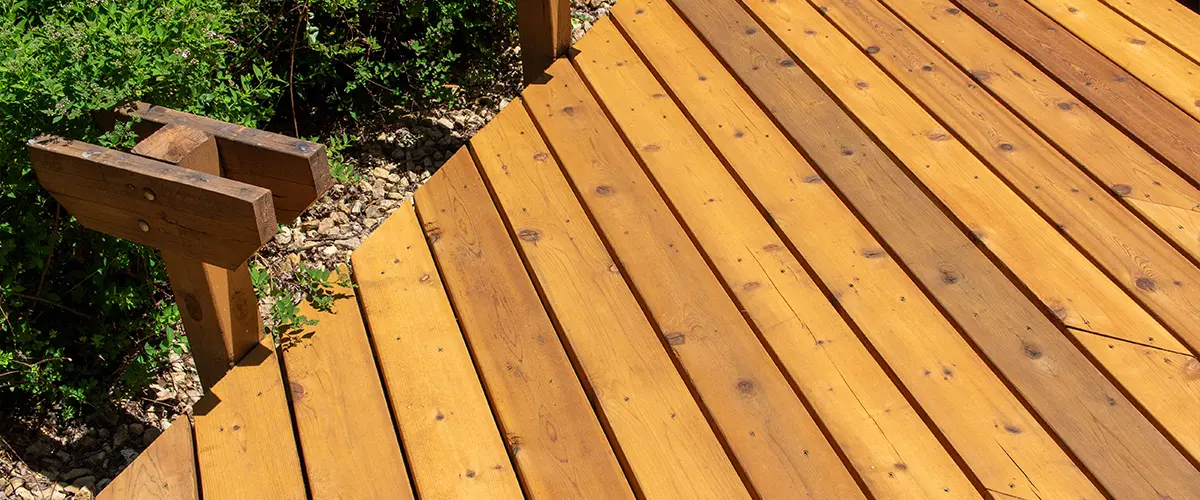 Redwood Deck Installation
Falling in at a close third place for its exquisite hue and sheen, redwood adds life to any deck or patio. This wood accentuates your outdoor oasis with an incomparable aesthetic.
Redwood is particularly durable, withstanding the boring of insects and decomposition more effectively than other woods. Given proper attention and care, this special wood will remain invulnerable to warping, splitting as well as time's wear for 15-20 years or even longer!
Redwood lumber may be soft and vulnerable to scratches or dents, yet its strength-to-weight ratio gives it a competitive edge over many other wood species. Moreover, this wood is incredibly stable, with little shrinkage or movement caused by seasonal changes.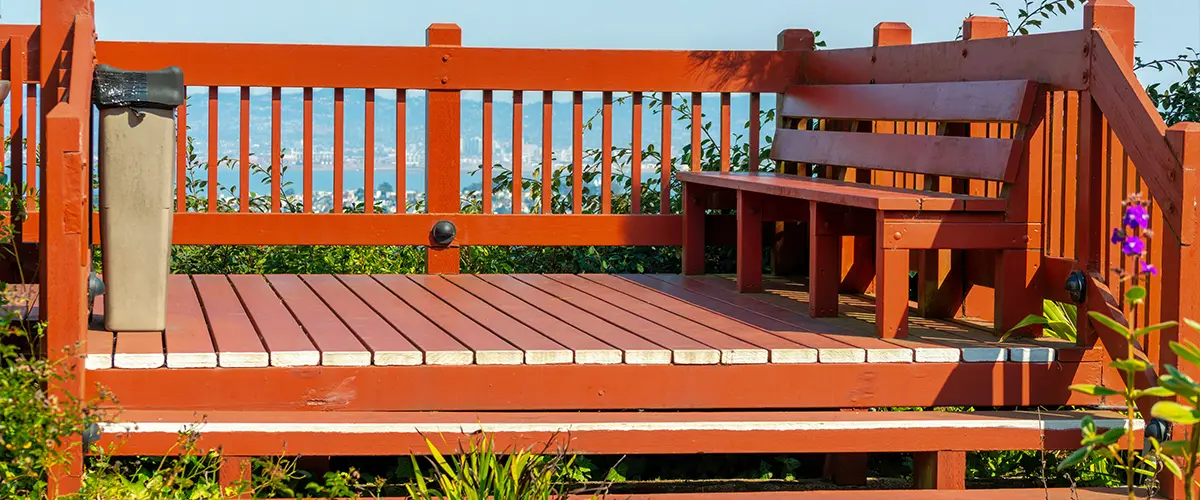 Hardwood Deck Installation
Transform your decking by choosing stunning hardwood. Tigerwood, ipe, teak, cumaru, and garapa are five exquisite options that will take your outdoor area to the next level – a surefire way to impress any guest!
Not only are hardwoods aesthetically pleasing, but they also boast incredible durability that can withstand rot, scratches, inclement weather conditions, and decay.
Consider Ipe, for example. This hardy wood is both fire and scratch-resistant, boasting superb anti-slip qualities that far exceed expectations in terms of longevity and dimensional stability.
Hardwoods are the most expensive decking materials: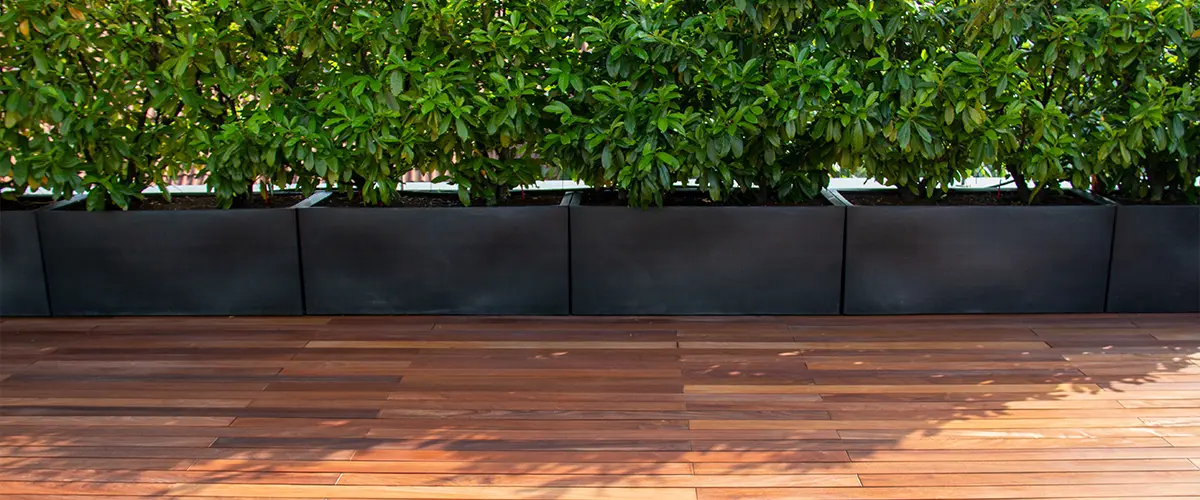 Composite Deck Installation
Although natural wood is often the go-to material for outdoor decks, decking professionals recommend its composite counterpart. Homeowners have been flocking to this alternative due to its effortless upkeep and longer life expectancy; not only that, but it looks just as nice!
Composite and PVC decking are two exceptional choices for a beautiful, healthy deck. With only one power wash per year needed to keep it looking its best, you can enjoy your outdoor space with minimal effort!
If you're searching for an eco-friendly decking brand that can stand up to the harsh outdoor elements, then TimberTech is your optimal choice! Its superior polymer coating safeguards against water and other damage better than any of its competitors on the market.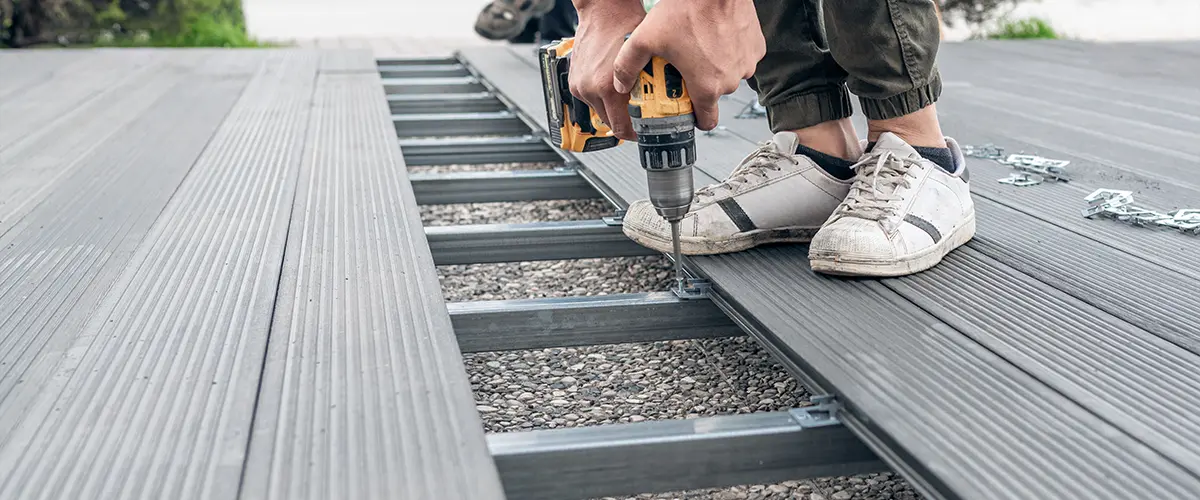 Deck Installation Is Now As Easy As It Gets!
Take full advantage of a quick process that delivers your deck in as quickly as 3 days! Everything we do is centered around you, your loved ones, and your satisfaction.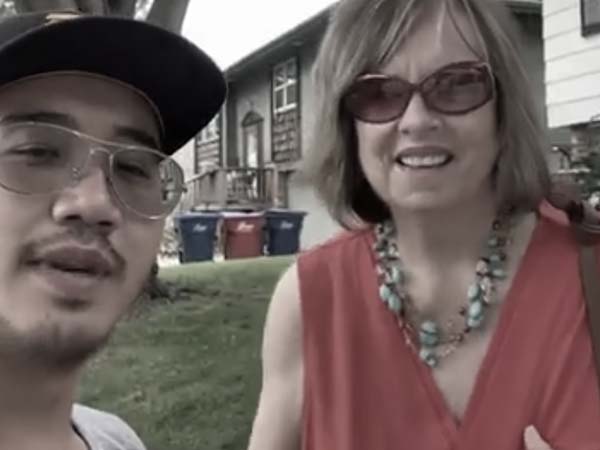 Contact us and we'll find the best plan to tackle your project.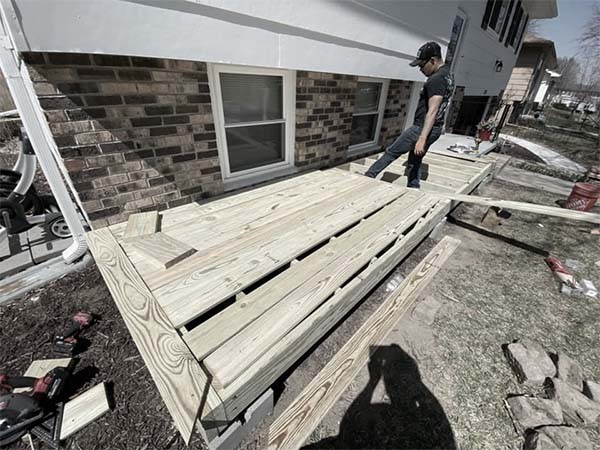 Watch us install your decking and get insights into what's happening.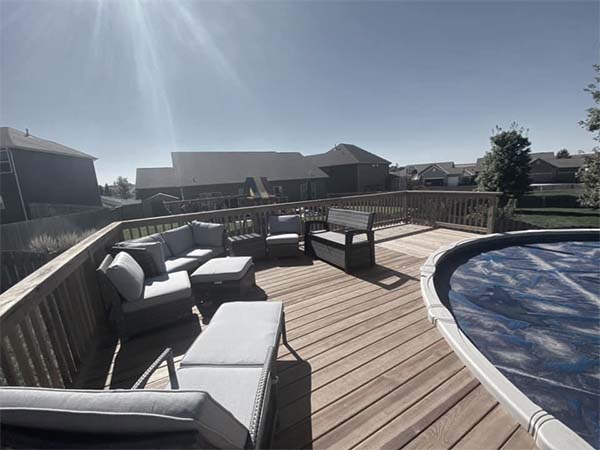 Plan your next barbecue! Your deck is up and running!
Frequently Asked Questions
At Deck Bros, we've been providing economical solutions for pressure-treated decks for many years. If you're searching for a budget-friendly way to craft an exquisite outdoor area, then our specialists in wooden structures are the perfect option! We guarantee that you'll get top-quality service without having to break your bank account.
No matter your level of experience in constructing decks, the experts at Deck Bros are here to help. We utilize top-notch tools and techniques that guarantee sturdiness, reliability, and a steadfast structure for your deck. You won't find better prices on wood types or composite materials anywhere else! With us as part of your team, achieving an outstanding new deck installation in Blair will be swift and stress-free – guaranteed satisfaction with our services!
When you're in the market for a 12×12 deck installation in Blair, NE, material selection will determine the final cost. Pressure-treated lumber keeps costs relatively low while composite decking adds to your price tag– with stairs potentially increasing it even more. Prices generally range from $3k – $5k depending on materials and design elements chosen.
Ready To Enjoy A Professional Deck Installation In Blair, NE?
Blair homeowners deserve a deck installer that they can trust to be accountable for their decks.
At Deck Bros, we tirelessly provide you with some of the most cost-efficient and safe decks – from beginning to end. The installation process ensures your satisfaction with our workmanship, and our dedicated team will make sure no detail remains unnoticed!
If you need a comprehensive deck installation service that provides the exact results you're looking for, your search is over – we've got you covered!
Work with Deck Bros Blair and enjoy:
Your long-Lasting Deck Installation In Blair Awaits you!