Concrete Patio Cost In Omaha - 2023 Guide
Learn how much your new concrete patio will cost by talking directly with one of your local pros!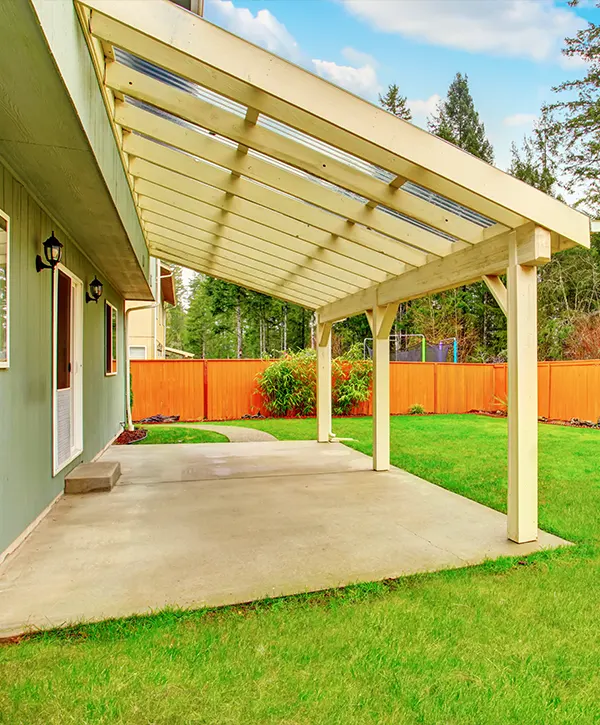 Concrete patios are one of the most affordable, durable, and quick upgrades you can get for your backyard.
And if you were thinking concrete doesn't look so good, there are now techniques to make your concrete patio look like something more expensive and elegant.
Your concrete patio cost will be influenced by materials, shape, sizes, and the labor costs your contractor will establish. A concrete patio can cost on average between $1,657 and $4,304, with the national average being $2,942.
In this article, you'll find what goes into a concrete patio cost in Omaha, Nebraska. We'll talk about materials, types of patios, and some alternatives to your concrete patio.
Let's begin.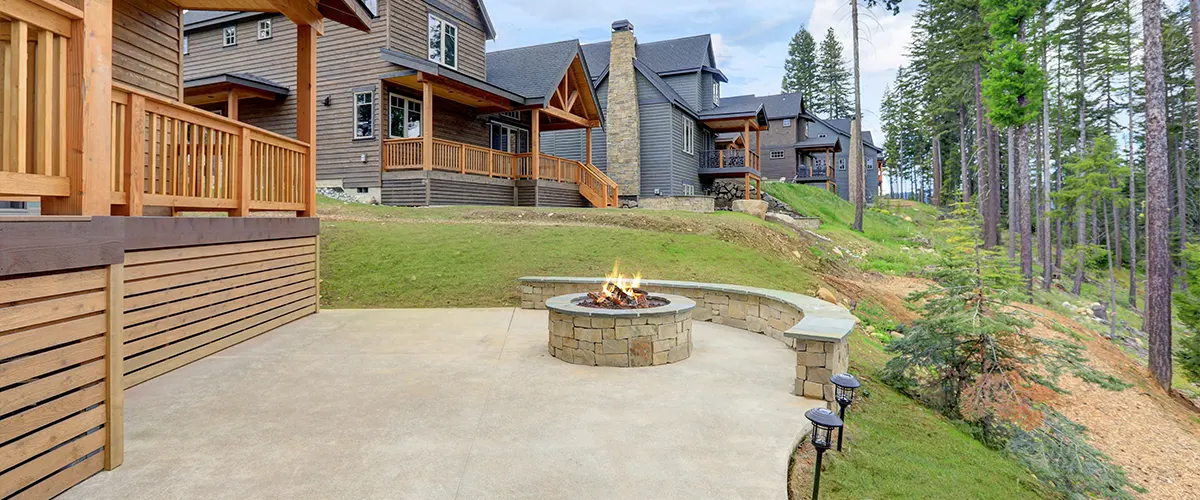 On average, it costs homeowners in Omaha $2,532 to install a concrete patio in their backyard. Most concrete patios are estimated to cost between $1,533 and $4,740, or between $4.40 and $16 per square foot of concrete.
However, pouring a concrete patio can cost as little as $650, or as much as $8,050 for a high-end patio with reinforcements and a beautiful finish.
The gap is huge, but that's because there's a lot of factors that influence the final cost.
Before we move on, it's important to remember that concrete needs to be installed with utmost attention, on leveled ground.
Level the ground and clear the area before you get started on your project. Contractors that know what they're doing will give you the same advice, so it's good to get a head start.
Leveling ground for concrete patios, driveways, and other small structures will cost between $1,000 to $2,500. Budget a little extra for land clearing as well if you have trees, bushes, or big rocks that need to be removed.
What Impacts The Concrete Patio Cost?
Like on any home improvement project, there are many factors that will impact how much your project will cost. It's no different with concrete patios.
Let's see what impacts your concrete patio installation costs.
Your patio's size will have the biggest impact on your total expenses. Concrete contractors charge between $4.40 and $16 per square foot, and that depends on the shape and finish of your patio.
Naturally, a 400 square foot patio may cost four times more than a 100 square foot patio, but there are some contractors that offer various discounts for larger projects.
Let's look at some cost averages for different sizes of patios.
Note: These prices do not include any land preparation costs, such as grading or resloping, nor high-end concrete finishes.
| SIZE | SQUARE FOOTAGE | AVERAGE COST RANGE |
| --- | --- | --- |
| 10x10 | 100 | $440 to $1,600 |
| 12x12 | 144 | $634 to $2,304 |
| 14x14 | 196 | $862 to $3,136 |
| 16x16 | 256 | $1,126 to $4,096 |
| 17x17 | 289 | $1,272 to $4,624 |
| 18x18 | 324 | $1,1426 to $5,184 |
| 20x20 | 400 | $1,760 to $6,400 |
Naturally, the thicker your concrete slab is, the more material goes into it. And the more material goes into it, the higher the cost is going to be.
You'll want your patio to have at least four inches. If you're planning to build a pergola, gazebo, or install a hot tub on it, a six to eight inches thick patio will be better.
The common, rectangular patios are the easiest to install, so the most inexpensive.
If you're looking to get a custom shape for your patio, the labor costs will increase. This happens because custom shapes require different templates, more precision work, and more work in general.
Concrete is a durable material, so ideal for an outdoor space. However, adding reinforcements in your concrete makes it an even stronger material with higher resistance.
Reinforced concrete is more expensive, as it requires additional materials and more work.
| REINFORCEMENT | AVERAGE COST (PER SQ FT) | DESCRIPTION |
| --- | --- | --- |
| Wire mesh | +$0.35 | Reinforces the concrete slab's strength |
| Vapor barrier | +$0.50 | Protects the concrete from any moist soil underneath it |
| Increase to 6 inches | +$0.84 | Adds another 2 inches of concrete to increase the slab's strenght and weight tolerance |
| Increase edge thickness | +$1.00 to $1.75 | Pros use a concrete edger tool to reinforce the slab sides and corners |
| 2-inch styrofoam | +$1.25 | Styrofoam insulates concrete flooring, ideal if you want to keep it at a normal temperature. |
You most likely don't want an ugly, unfinished concrete slab as a patio. You want its durability and resistance to the elements, but it needs to look pleasing as well.
Different types of finishes will add a splash of color, a different texture, or a beautiful pattern to your concrete slab. Going for a decorative concrete slab is up to you, but it'll sure feel like a more expensive patio.
Let's see some types of finishes.
Our Customers Love Their Deck Bros Upgrades!
Deck Bros showed up at 8:00 am and worked until dark everyday. They had old deck torn down in one day. 
We are very happy with the finished product. We went with Deck Bros because of Luan's charming personality but they can also build a sweet deck!!!! Thanks Luan and team
They did a excellent job. Crew was professional. I live 2 hours from omaha and they took the job without that being an issue. Our deck turned out beautiful. 
We have the best looking deck in town. I am so glad that we chose Deck Brothers. If you want quality
go with Deck Brothers It will the best choice you make.
Alternatives To Concrete Patios
So, concrete patios are some of the most inexpensive upgrades you can do to your backyard. However, if you're planning to create a really cool outdoor space, you'll spend a bit more than the averages we discussed in this guide.
In any case, the concrete patio cost is much more affordable than other patio materials.
Let's look at some of your alternatives.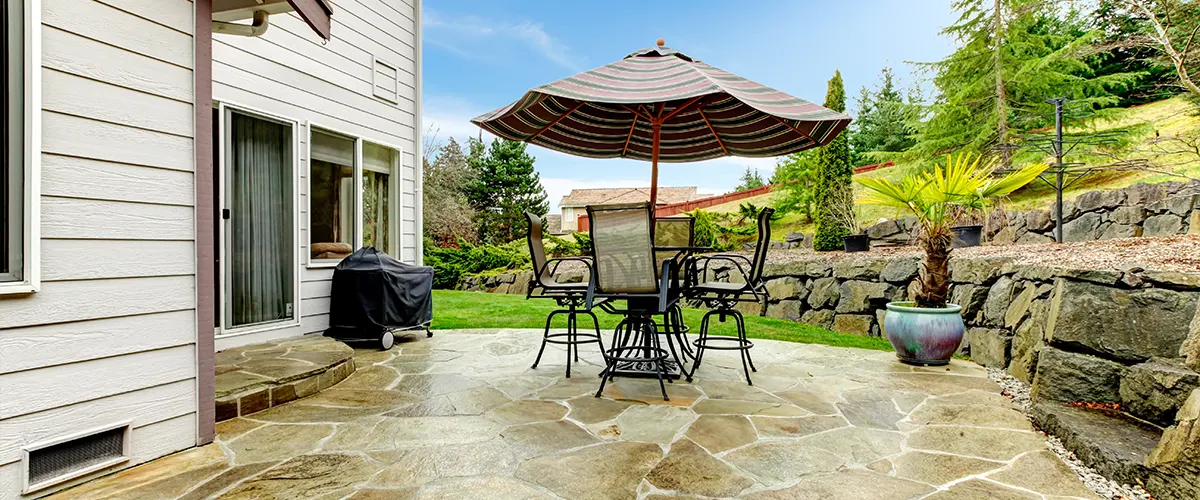 Concrete Patio Cost vs. Brick Pavers Cost
Pavers are individual cut blocks made of various materials like concrete, brick, or even natural stone. They're small, interlocked pieces that you've most likely seen pavers on sidewalks.
While the cost of a poured concrete patio ranges between $4.40 to $16 per square foot, brick pavers are more expensive. It costs between $10.08 and $19.33 per square foot to have pavers installed.
Concrete Patio Cost vs. Flagstone Pavers Cost
Flagstone pavers are slabs of natural stones cut flat. They're slate, limestone, and sandstone that come in a variety of colors, shapes, sizes, and even different patterns.
Because these are natural stones, they're one of the most expensive patio solutions on the market. Flagstone pavers patio cost between $14.68 and $25.34 per square foot.
Concrete Patio Cost vs. Concrete Pavers Cost
Pouring the concrete slab takes a lot of effort. It means making the concrete, reinforcing it, and setting it in place. On top of that, you need to know the ideal composition for concrete, otherwise you risk compromising your patio after only a couple of years.
Concrete pavers, on the other hand, are much easier to install as they require no setting or drying. All you need to do with concrete pavers is place them, interlock them, and that's it!
Naturally, with this ease of installation comes a higher material price. A concrete paver patio costs between $8.67 and $16.67 per square foot.
Concrete Patio Cost vs. Deck Cost
Decks are our specialty, but we'll try to remain unbiased.
Generally, decks cost way more than patios, as they require more work and materials. They're also larger outdoor spaces and bring more value to your property than patios. Decks are overall a better choice for your outdoor space, but we're not here to convince you in favor of a deck.
On average, building a wood deck costs $22 to $48 per square foot, depending on size, design, and materials. A concrete patio is a more affordable option that still creates a sweet outdoor living space.
Besides, you won't need a building permit to built a patio. For more information on building permits for decks, click here.
Additional Concrete Patio Costs
Adding features to your patio is entirely up to you, but if you want to create the best outdoor space that your guests will remember, you'll need something extra.
In fact, homeowners typically spend between $4,000 and $20,317 to remodel the landscape around their patios and create a relaxing outdoor space.
Let's see what homeowners do to give their outdoor space a better look.
| LANDSCAPING PROJECT | AVERAGE COST |
| --- | --- |
| Sod Installation | $0.87 to $1.76 per square foot |
| Pathway Installation | $8 to $22 per square foot |
| Tree and Bush Planting | $25 to $3,000 |
| Mulch Installation | $37 to $113 per cubic yard |
| Flower Bed Planting | $650 to $3,000 |
| Retaining Wall Installation | $4,025 to $8,711 |
| Gazebo Installation | $5,364 to $9,027 |
Concrete patios are an inexpensive addition that undoubtedly improve your outdoor space.
Expect to pay an average of $2,800 for a typical concrete patio of approximately 288 sq ft. This would be around $10 per sq ft.
However, keep in mind that these are just averages, and your concrete patio cost will vary depending on your choice of materials, its size and shape, but also any upgrade that you'll want to have.
Here at Deck Bros, we can answer all your questions on decks or patios. If you'd rather choose a more upscale outdoor space, like a composite deck, our experts are at your service and they'll help you find the perfect solution for your needs.
Get in touch with us today and let's talk about your project!
Get The Most Advantageous Concrete Patio Cost In Omaha!
Request a free quote and let's discuss your concrete patio in Omaha! Or talk directly with Luan, the owner of Deck Bros, at (402) 369-5724 and see if we're the right fit.