How Much Does A 12×24 Deck Addition Cost?
Get a free quote for your 12x24 deck addition and find out exactly how much to budget!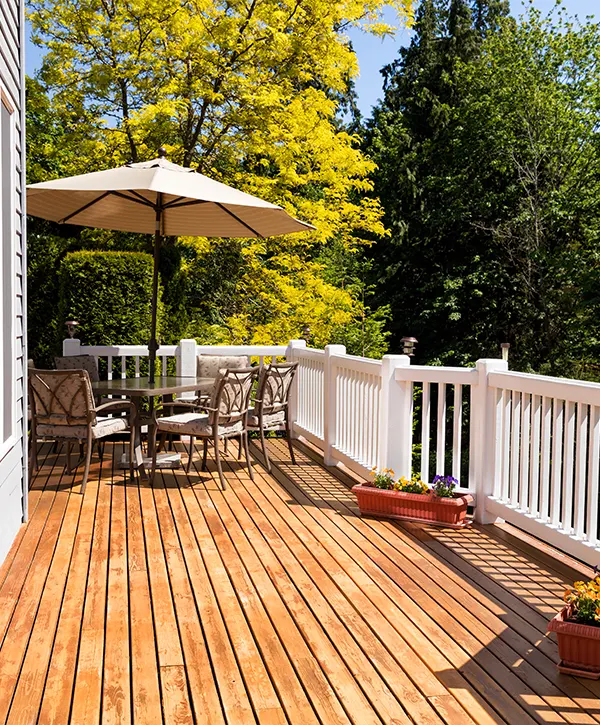 If you're planning to install a new deck addition to your outdoor space, one of your questions would be "how much will it cost?".
In this blog post, we'll discuss how much does a 12×24 deck addition cost, and what to expect when it comes to building it.
We'll cover materials, shape, and the labor that your new deck addition will need.
Let's begin with materials.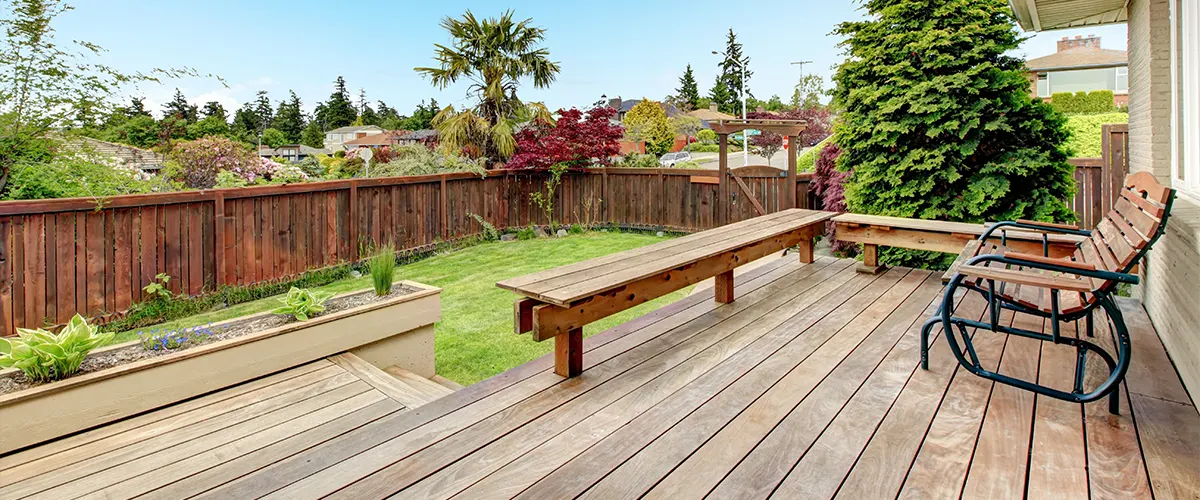 When it comes to wood decking materials, the most popular types are pressure-treated wood, cedar, redwood, and for a fancier look, mahogany.
Pressure Treated Wood Cost
Pressure treated wood remains one of the most popular wood choices for decks because it's affordable, can be refinished, and it has a beautiful wood grain. 
Pressure treated wood decking cost ranges from $15.00 to $25.00 per square foot for materials, and between $20 to $30 for installation.
As a comparison, mahogany prices vary widely, but you'll find them between $30 and $50 per square feet. A 12×24 deck addition cost with mahogany is anywhere from $8,640 to $14,000 for materials only.
| Material | Square Feet Installed | Average Total Cost |
| --- | --- | --- |
| Pressure Treated Wood | 100 square feet | $3,500 to $5,000 |
| Pressure Treated Wood | 200 square feet | $7,000 to $10,000 |
| Pressure Treated Wood | 400 square feet | $12,000 to $15,000 |
| Pressure Treated Wood | 600 square feet | $18,000 to $25,000 |
| Pressure Treated Wood | 800 square feet | $24,000 to $28,00 |
| Pressure Treated Wood | 1,000 square feet | $28,000 to $35,000 |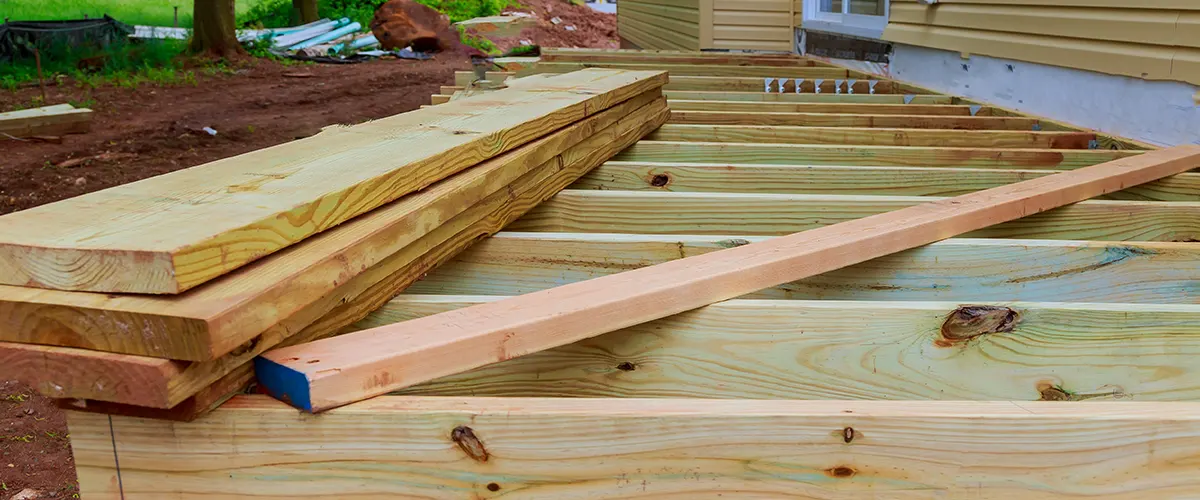 Composite decking is made of a combination of wood and plastic, and it is becoming a more popular choice for a deck that requires minimal maintenance.
One of the benefits of composite decking is that it doesn't require any painting or staining, so you'll save time and money on its maintenance. Besides, it is also resistant to rot, insects, and UV radiation, so it won't need any repairs.
Another benefit of composite decking is that it comes in a variety of colors and styles, so you can find the perfect look for your outdoor space.
The composite brand we recommend at Deck Bros is TimberTech Composite Decking. Their materials are always available and the shipping is predictable. When it comes to building a deck as fast as we do, this is what tips the balance in TimberTech's favor.
A typical 24' x 12' deck (288 square feet) built with TimberTech decking will cost around $4,560 for materials only, and an average priced color.
The labor cost estimate will be anywhere from as much as materials to double, so between $4k and $8k. Add these numbers up and you'll discover the cost to build a 24′ x 12′ deck is between $8k to $13k.
However, we did not add railings, and we didn't specify if the deck is on the ground level or if it's elevated. If the deck is elevated, add another couple thousands for the wood posts, and another $10k for a set of stairs. The best railing on the market is Westbury Aluminum Railings, and they cost around $60 per linear foot.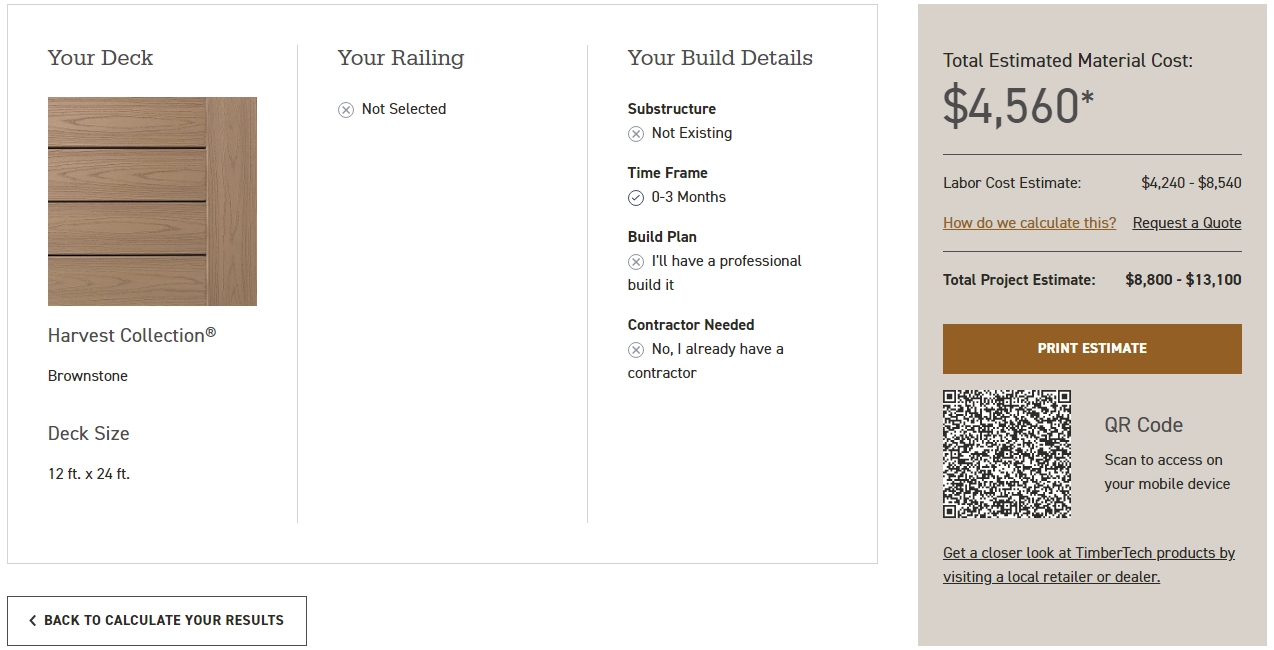 Check out the TimberTech decking calculator and see what to expect when it comes to the cost of your own deck.
Shape In Relation To Your 12x24 Deck Addition Cost
The shape of your deck addition plays a huge role in determining the total cost of your project. Naturally, a rectangular or square deck will require a lot less work than a more complex deck that goes around your house.
Let's take an example, courtesy of decks.com.
A basic 1 level 12′ x 10′ deck that features a 10′ x 10′ octagon. It's relatively easy to build, has a good price, and offers a beautiful deck design that'll impress your guests. For this kind of deck, let's look at the cost of materials.
| Material | Estimated Cost |
| --- | --- |
| Pressure Treated Pine | $2,449.48 |
| Composite | $4,198.72 |
| Exotic Hardwood | $6,173.51 |
| Cedar | $3,072.05 |
| Redwood | $2,919.14 |
On top of these numbers, remember that you'll also need to add the cost of railings, stairs, posts, framing, fascia, and decking blocks.
Building a deck requires time, a lot of physical effort, tools, and a lot of experience to get it done right and make it safe.
You probably knew this already, but the labor will have a significant cost on your final quote. In fact, professional deck builders know what they're capable of, and the labor cost can be as high as the materials cost, if not even more.
It can sometimes feel like you're paying too much for a deck. But you should know that you're paying for much more than just their work.
You're also paying for:
Our Customers Love Their Deck Bros Upgrades!
Great product, great price, and great service. 
The Deckbros exceeded my expectations and I couldn't be happier. I wish I had 2 decks I needed to be built. 
6/5 would recommend to anyone looking for an amazing deck. Thanks guys!!
Luan and his crew are first rate deck builders. They refurbished and re-supported our old deck and added on additional new decking in a week after all was approved by the city of Lavista.
The only problems were with the composite supplier which Luan handled quickly. Definitely recommend them if you are looking for a new deck or want to update an old one.
A 12x24 Deck Addition Cost In Omaha
A 12×24 deck addition we did in Omaha was a deck replacement project where our customer wanted to replace his existing wood deck with composite.
His project included:
Before
After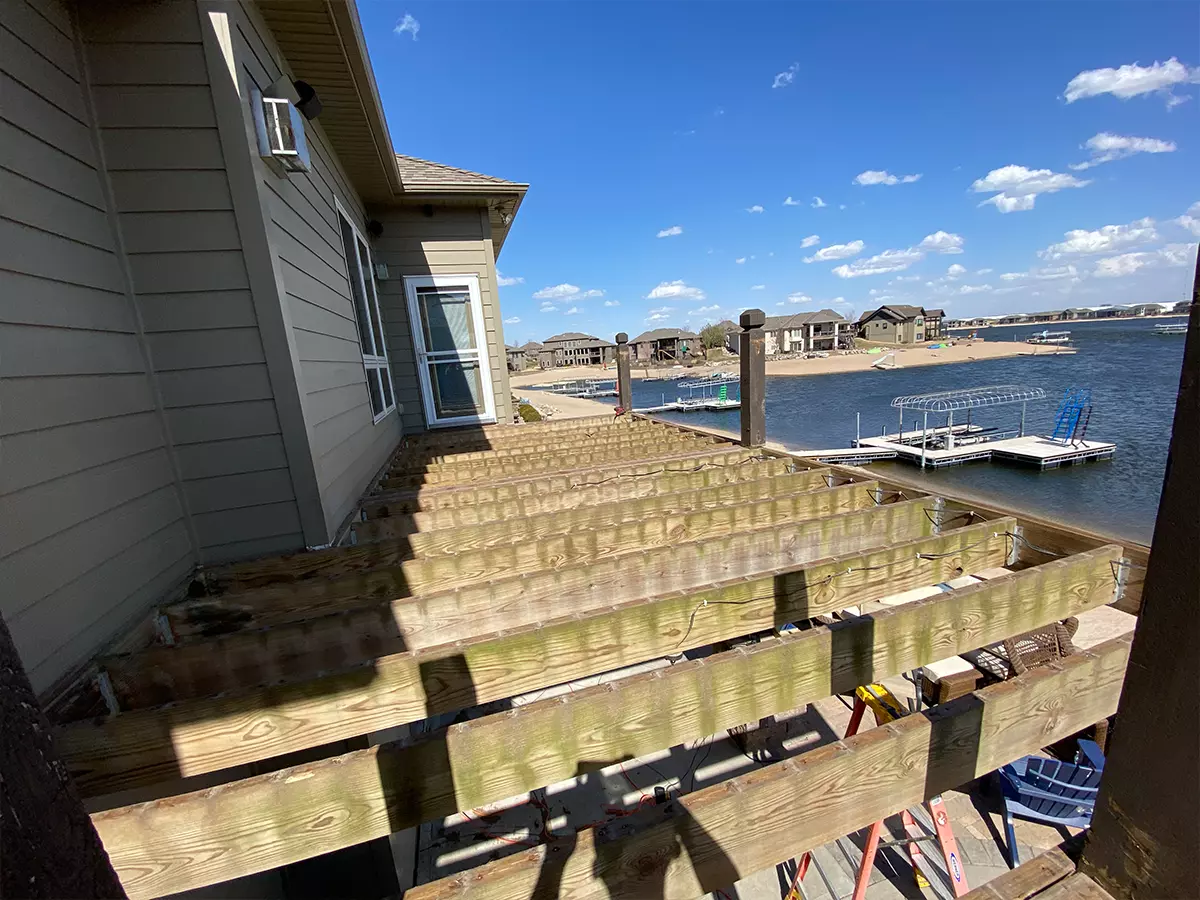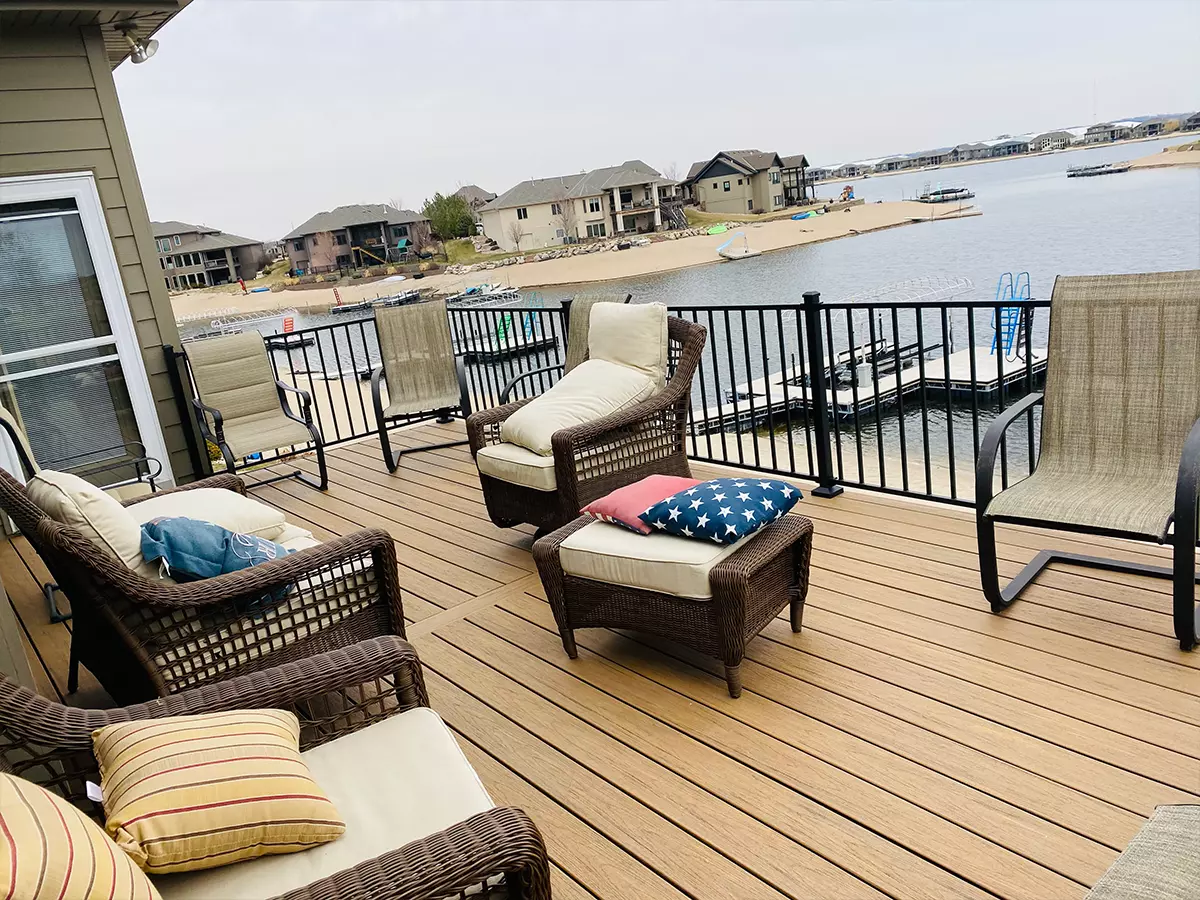 This 12×24 deck addition cost was quoted at $38k. The most expensive item on the list was the TimberTech Premium Ashwood Composite, at $14.5k. The aluminum railing was also pricey, but a great investment nonetheless.
A 12×24 deck addition cost shouldn't change your mind about this amazing project. It will improve your outdoor space and make your life so much easier.
It's a great place to kick back with your friends over a barbecue or watching the game, or the best place to spend time relaxing with your family.
If you want to add a deck to your property without the hassle and anxieties of working with contractors, you're in the right place.
At Deck Bros, we focus on your underlying needs and your preferences. You're at the front and center of our work, and our final goal is for you to have a beautiful journey with us.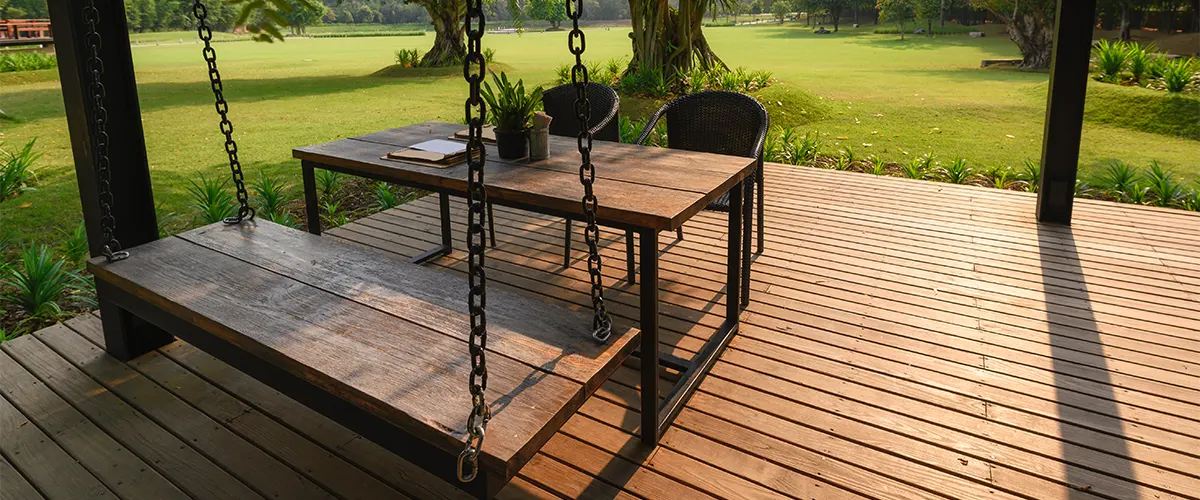 Get The Most Advantageous Deck Addition Cost In Omaha!
Request a free quote and let's discuss your deck addition in Omaha! Or talk directly with Luan, the owner of Deck Bros, at (402) 369-5724 and see if we're the right fit.