Deck Building Cost In Bennington, NE
Looking to get the real cost of your upcoming deck building in Bennington? Click the button below!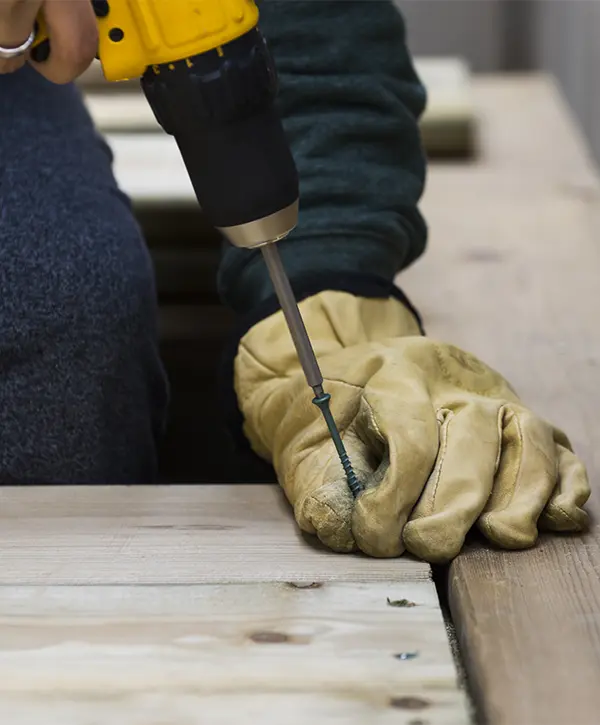 A primary concern for many homeowners is the deck building cost in Bennington, NE. Here at Deck Bros, we're planning to bring peace of mind with a transparent service.
We're dedicated to offering you the most affordable deck building service possible without sacrificing quality or aesthetics. Home projects like these need to transform every single dollar you spend into an investment, and we can quickly make that happen!
With us, you're getting the best deal in Bennington on your deck building project and all the perks of working with a pro builder!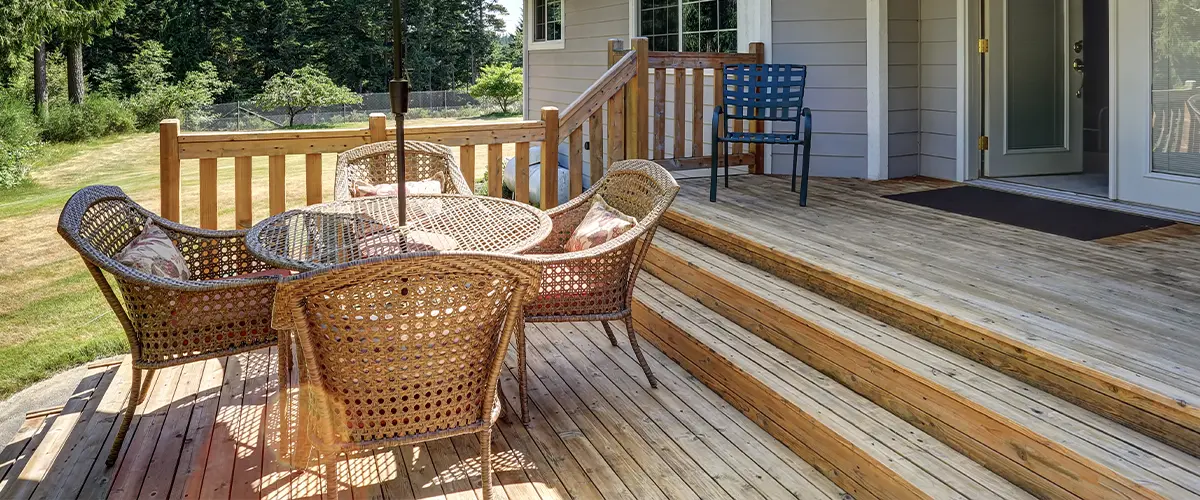 Typical Deck Building Cost In Bennington, NE
Beyond the materials being utilized, two crucial variables that will influence how much a deck cost are its size and level of elevation.
| Size | Square Feet | Average Cost |
| --- | --- | --- |
| Small Deck | 200 square feet | $15k |
| Medium Deck | 600 square feet | $25k |
| Large Deck | 1,000 square feet | $45k |
At Deck Bros, you're getting an in-depth consultation on your outdoor space right from your local deck builders. We offer free online estimates, but if you're ready to get to work, schedule a 1:1 consultation, and let's make your project happen!
Labor Costs In Deck Building In Bennington, NE
When the safety of you and your family comes into consideration, DIY deck building is no longer an option. You can't be expected to safely put up posts, construct a frame or create a structurally sound design all by yourself. You'll need to call in the professionals!
The architect's utmost concern is the structural integrity and safety of your deck, ensuring that its design does not come at a cost to either one. They'll also get the building permits much quicker.
Good architects charge between $125 to $250 per hour.
The deck designer will collaborate with the architect to guide you in selecting a color palette, a type of decking and railing, as well as illuminating options for your new outdoor space.
A top-ranked deck designer charges between $100-$200 an hour. Expect to pay for about 3 – 4 hours for a project.
Get All-In-One With Deck Bros
Rather than wasting hours seeking individual professionals, we have developed a much quicker, simpler method to construct your deck. This new way of creating decks is sure to save you time and energy while providing better results!
At Deck Bros, we only provide the best of the best. Our architects, designers, and deck builders have years of experience between them and are solely dedicated to ensuring your project is completed with precision and excellence.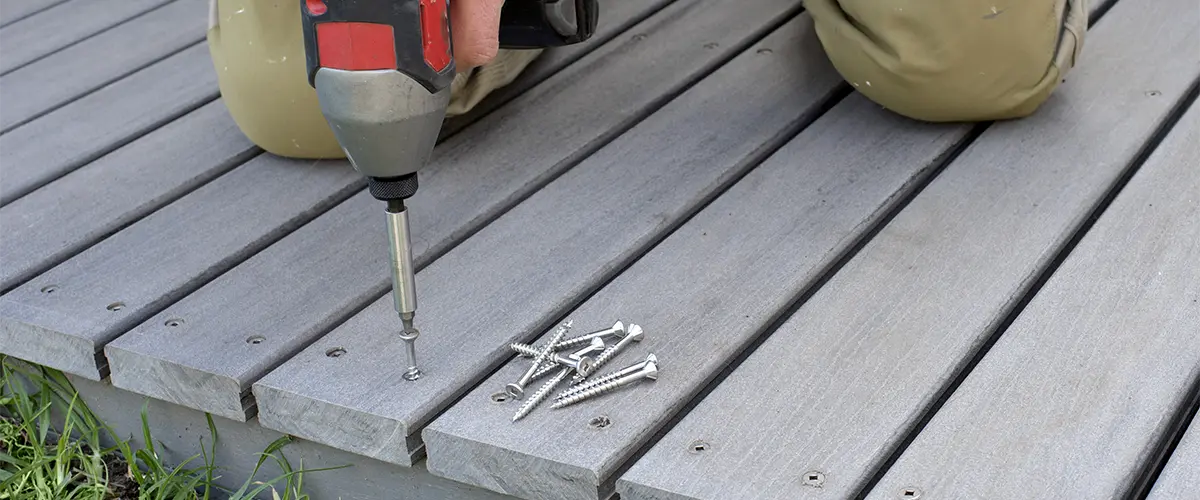 Our Customers Love Their Deck Bros Upgrades!
Homeowners in Bennington and surrounding areas know a good deck builder when they see one! See what they say about working with us!
Just had our 14 year old deck redone. 
Deck Bros did the work and it truly exceeded our expectations. 10/10 construction. Beautiful craftsmanship. Excellent company to deal with. Very straightforward as to design options and everything carried through to the finest details. 
If you need a deck done/repaired-this is the company to go to!
Deck Bros did a phenomenal job with our deck! 
Luan went over all the pros and cons of what we were doing, encouraged us to ask questions, and kept us updated on all progress. 
Everyone was professional and efficient, and the crew worked hard and did their job both quickly and well. The new deck is beautiful and has some nice warranties to go with it!
Materials Cost In Relation To Deck Size
Choosing the right deck is one of your most important decisions, and here at Deck Bros, we specialize in two types: composite decks and wood decks. Both are popular options that provide stunning results!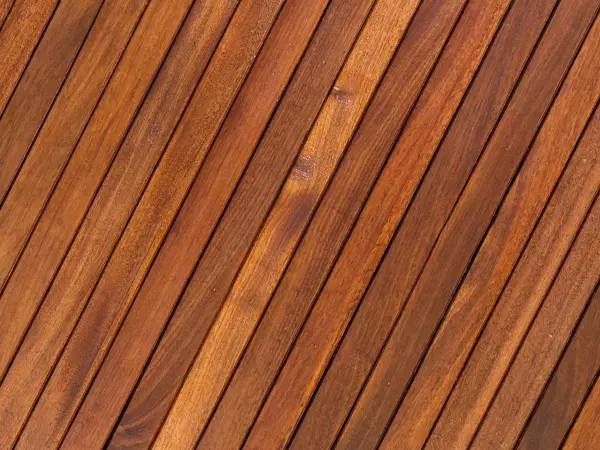 Wood decks are still a popular choice for homeowners. Many go for pressure-treated wood decks because of the lower cost of materials, but the real issue with wood is all the maintenance they'll require. If you want the natural look of wood in your outdoor space, we'd recommend hardwoods like mahogany, ipe, and tigerwood.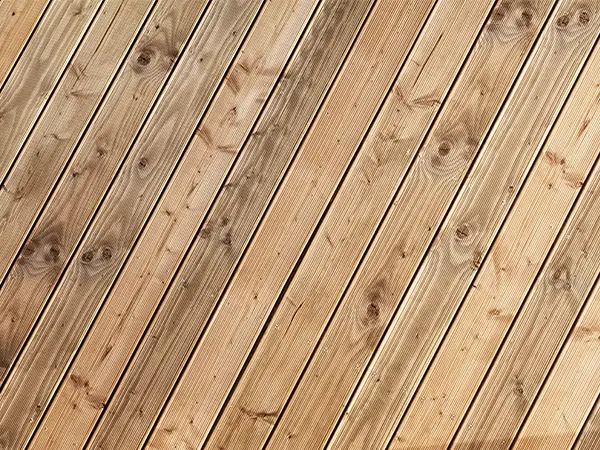 Composite decks are all the rave for seniors of homeowners tired of spending money on sealing and staining their decks. These are low-maintenance decks that can resemble the natural look of wood, are much more resistant and durable, and will last for many more years than wood decks.
The two most popular types of wood used for decks are yellow pine and cedar, with yellow pine being the more affordable option.
Pressure-treated pine decking cost ranges from $15.00 to $25.00 per square foot for materials, and between $15 to $20 for installation. Cedar is just a bit more expensive, coming in between $25 to $28 per square foot for materials and installation.
However, pressure-treated wood and cedar are softwoods more likely to succumb to rot and pests much faster. As a result, they need constant attention, including regular sealing, staining, and repairs.
Hardwoods like Ipe, Tigerwood, or Teak are more expensive decking materials, but they'll sure make your deck look more unique and upscale. Keep in mind that even hardwoods require sealing and staining!
| Material | Square Feet Installed | Average Total Cost |
| --- | --- | --- |
| Pressure Treated Wood | 100 square feet | $3,500 to $5,000 |
| Pressure Treated Wood | 200 square feet | $7,000 to $10,000 |
| Pressure Treated Wood | 400 square feet | $12,000 to $15,000 |
| Pressure Treated Wood | 600 square feet | $18,000 to $25,000 |
| Pressure Treated Wood | 800 square feet | $24,000 to $28,00 |
| Pressure Treated Wood | 1,000 square feet | $28,000 to $35,000 |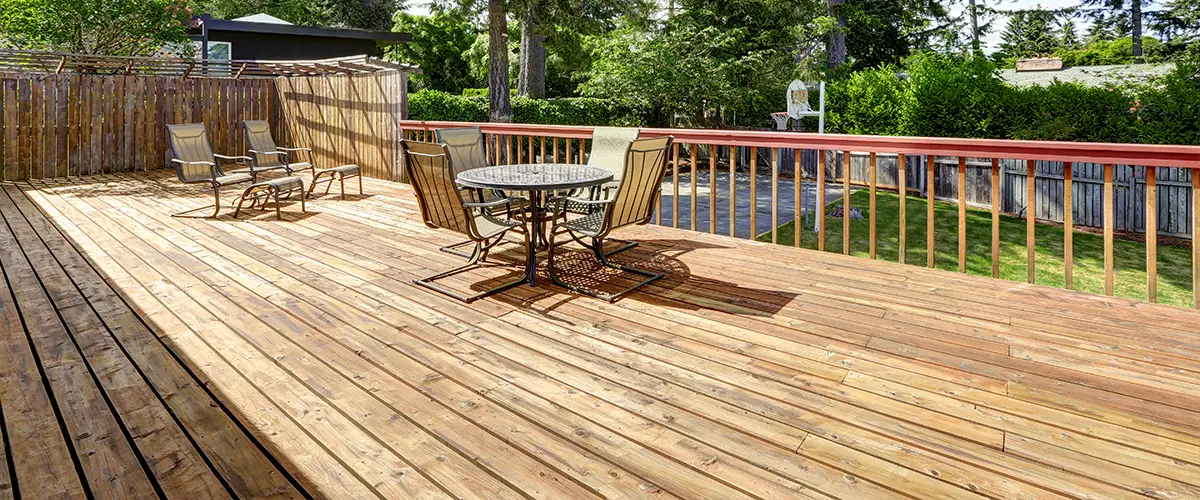 If you desire a deck that requires minimal maintenance and saves on your wallet in the long run, then composite decks are precisely what you're looking for.
Investing in a composite deck might initially seem more expensive than wood decks, but over time the savings are immense. The miracle of this material is that it only requires pressure washing once annually!
At Deck Bros, we only work with the best composite decking brands. Our top two favorites are TimberTech and Trex: they provide a superb selection of convenient and adaptable materials that you'll adore!
Composite decking boards typically cost between $60.00 to $70.00 per square foot. However, depending on your needs and budget, we can choose a different product.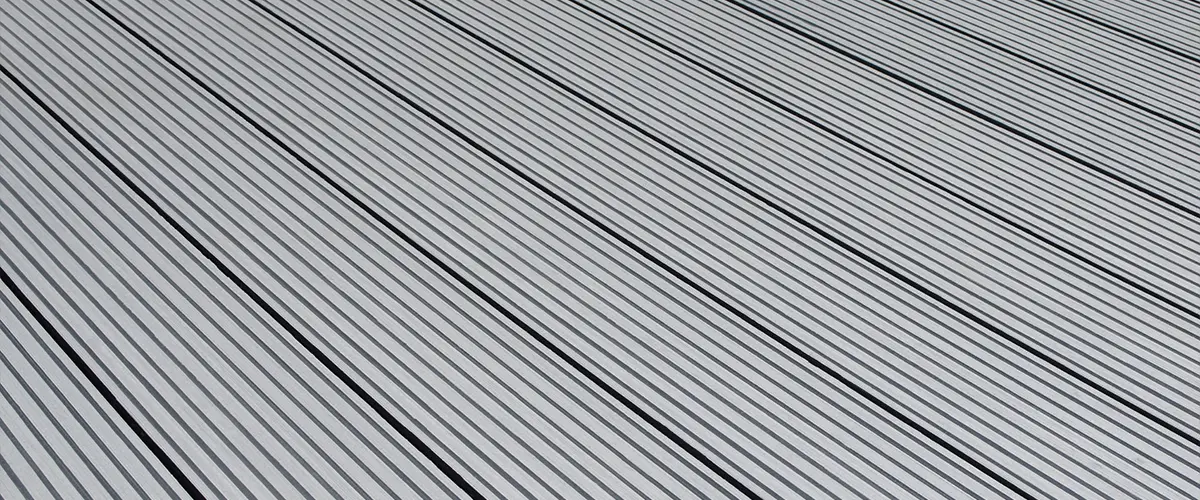 Most building codes require railings, and elevated decks will need something stronger than wood rails to maximize its safety.
There are three main things we'll include here: deck blocks or footings, posts, and the frame itself.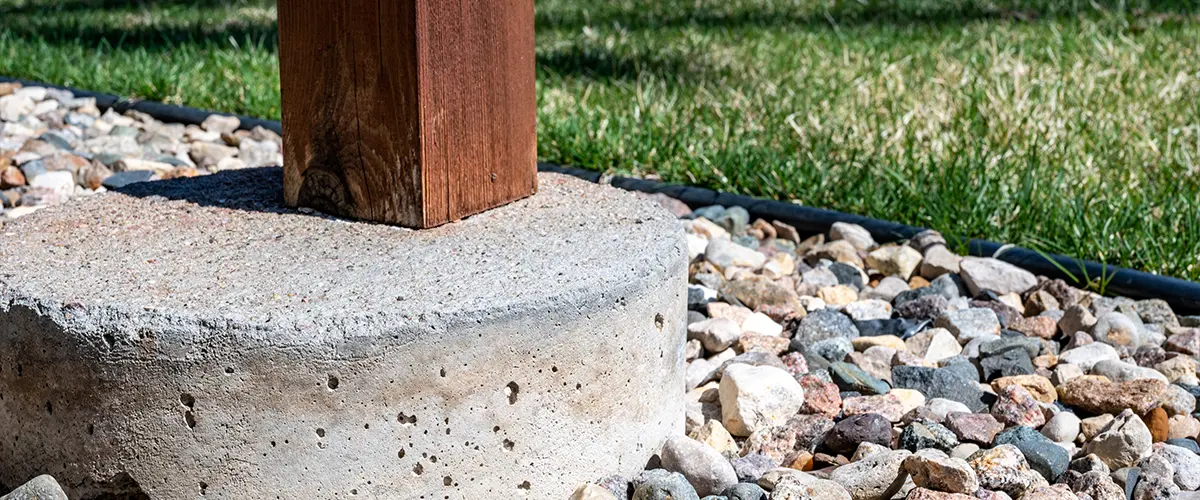 Accessories and other features may be unnecessary, but they certainly make life on your deck more enjoyable.
For the climate in Bennington, you'll need a lot of shade and a solution for rainy days. In that case, a pergola or an awning will be great features.
Let's look at some of the most common upgrades.
| Upgrade | Average Cost |
| --- | --- |
| Awning | Between $1,200 and $4,000 |
| Pergola | Between $2,500 and $10,000 |
| Drinking Rail | As low as $100, but depends on railing material |
| Deck built-in bench | Between $2,000 and $3,000 |
| Deck lighting | Between $40 to $300 |
3 Quick Tips When Budgeting For A Deck Building Project
Don't Underspend Or Overspend
Our clients sometimes gravitate towards the less expensive wooden deck, forgetting that it still requires routine maintenance, which can result in additional costs.
We tell all of our customers to avoid choosing the cheapest option but also the most expensive one.
Let us show you a range of decking options that fit your desires, budget, and needs. We will guide you in making the perfect selection for your backyard space!
Know What You're Paying For
At Deck Bros, we value clarity and precision. Once you inform us of the type of deck you seek to build, we will dedicate our time to thoroughly explaining each step in detail so that nothing gets missed or overlooked. We will also provide a comprehensive breakdown of all costs associated with your project upfront; this way there are no surprises down the line!
We will keep you updated on every problem and how we plan to solve it. We only want what is best for you, and we know thorough communication is key to achieving that goal
It is vital to make sure your financial resources are sufficiently padded in order to cover potential unforeseen costs such as excavation expenses, extra lumber, necessary building hardware, or excavation services.
At Deck Bros, we offer 20% breakage coverage on all of our materials always to keep you prepared.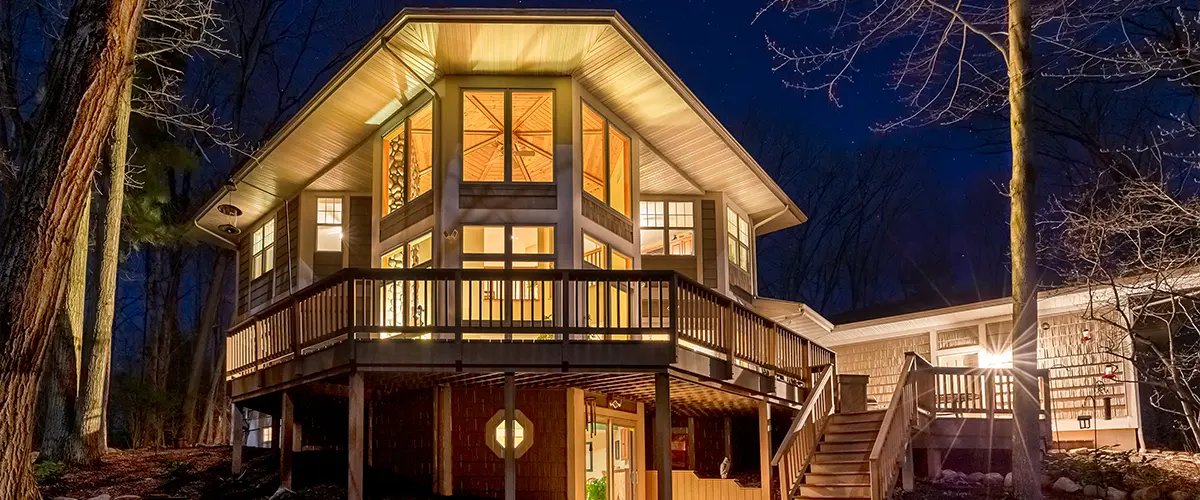 Cost-Effective Solutions And High-Quality Work With Deck Bros
If you're looking for a reliable investment and want to be kept in the loop about where your money is going regarding your new deck, we might be the right deck builder to help you.
With Deck Bros, you'll get full transparency on pricing and complete control over deck building. We take our customers seriously and provide a pristine product that will make your project an investment to elevate your life!
If you have questions, we are here to provide the answers and help ensure that you feel confident before embarking on your deck project. Let us know what's on your mind!
With us, you'll get:
Get The Best Decking Solutions In Bennington, NE Right Now!