Deck Building Cost In Papillion - The Best Guide
If you're curious about the deck building cost in Papillion, here's where you'll find all the answers!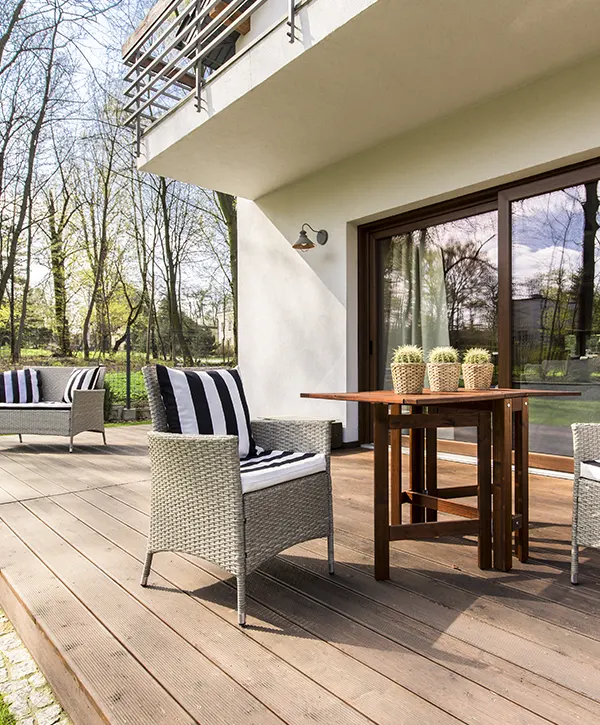 A deck is a huge addition that brings immense value and a great deal of style to your outdoor space in Papillion.
It increases your property's value and lowers its time on the market if you're planning to sell it, and provides the best place to kick back and relax if you're looking to hold on to your home.
Get a breakdown of the most common prices, upgrades, and materials right from your local deck builders in Papillion.
Keep reading and discover how much to budget for your upcoming deck building project!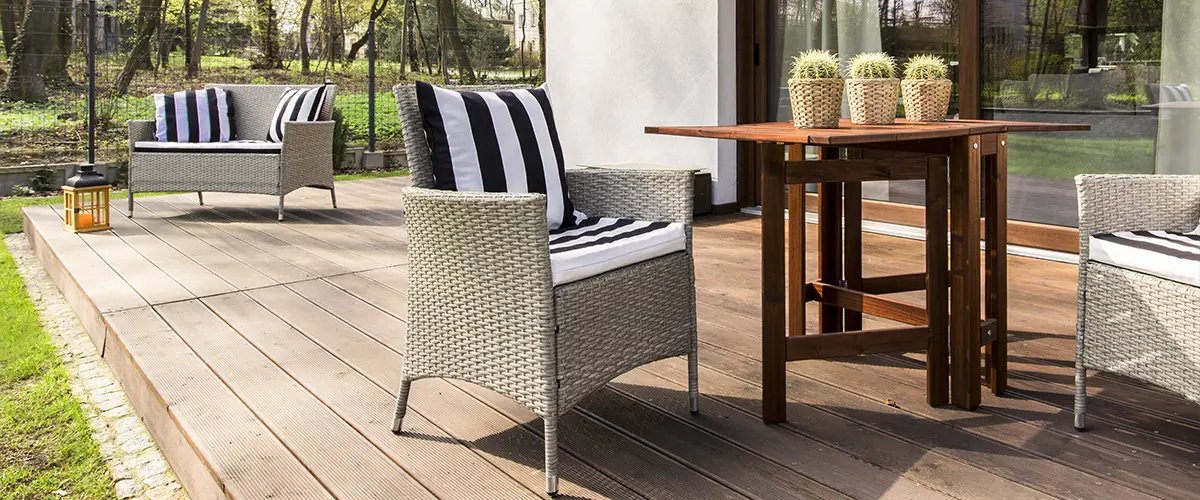 Typical Deck Building Cost In Papillion, NE
Before we dive into materials and their associated cost, let's look at the average deck cost based on its size.
Note that size is one of the main factors that impact the total cost of your project. Other factors worth considering are shape, materials, elevation, and upgrades, but we'll discuss these later on.
| Size | Square Feet | Average Cost |
| --- | --- | --- |
| Small Deck | 200 square feet | $15k |
| Medium Deck | 600 square feet | $25k |
| Large Deck | 1,000 square feet | $45k |
Our team at Deck Bros can give you all the details about your quote at our first visit. We'll find the best solution for your outdoor needs and we'll keep everything within your budget. Check out our deck building offer right now!
Labor Costs For Your Deck Building In Papillion
Labor is oftentimes the most expensive part of a project like this.
Having an expert work on your deck building project means a much faster build and an effortless project where you'll be on top of things.
Let's see what experts you'll need for your deck construction and how much they usually charge.
The architect is the expert that makes sure the deck design is possible without sacrificing your deck's functionality and safety. He's the expert that makes sure your deck design is not compromising your deck's functionality and safety.
Good architects charge between $125 to $250 per hour.
The deck designer is the person that visualizes what your deck will look like. They typically work together with the architect to ensure the design is functional and safe.
A top-ranked deck designer charges between $100-$200 an hour. Expect to pay for about 3 – 4 hours for a project.
The deck builders are the people that make your project happen. They are the ones that put in the effort and build your deck according to your plans, blueprints, designs, and instructions.
For the best deck builders in Papillion, expect to pay between $30 to $35 an hour. The average deck builder charges around $25 an hour, while beginners charge around $15.
Our Customers Love Their Deck Bros Upgrades!
Luan and his team built my pool deck. 
They were awesome! They get you excited about having your deck built and so friendly. 
Their workmanship is incredible, they kept you informed at all time and reasonably priced. 
I highly recommend this company.
Great product, great price, and great service. 
Deck Bros exceeded my expectations and I couldn't be happier. 
I wish I had 2 decks I needed to be built. 6/5 would recommend to anyone looking for an amazing deck. 
Thanks guys!!
Materials Cost In Relation To Deck Size
There are two main types of decks: wood decks and composite decks.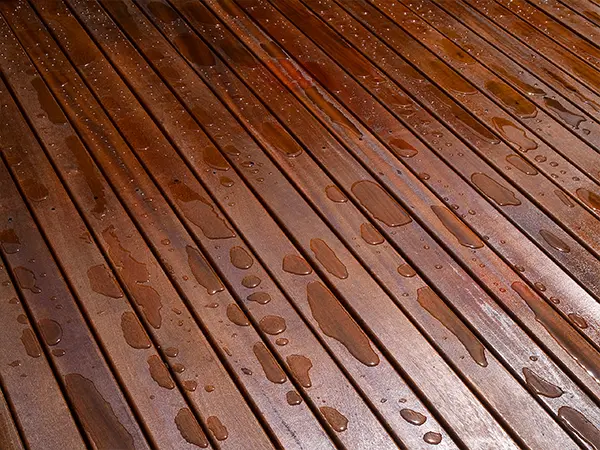 Wood decks are still very popular for homeowners getting their first deck. 
Wood brings a more natural look to your outdoor space and can improve the overall vibe. 
However, it requires regular maintenance, which means a higher maintenance cost.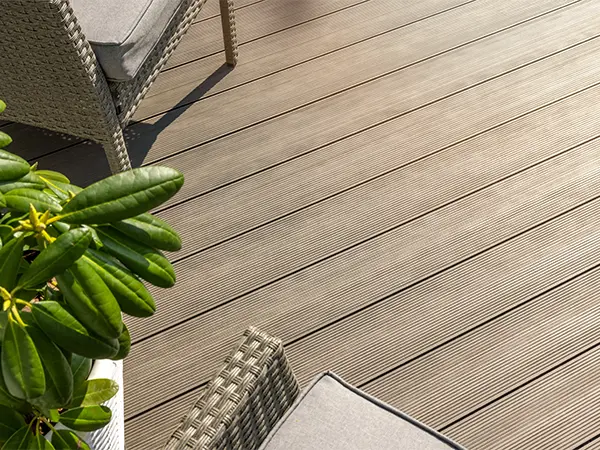 Composite decks are becoming more and more popular among older homeowners tired of keeping up with the maintenance of a wood deck. 
In fact, many of our customers come to us to replace their wood decks with composite. These don't require nearly as much maintenance, and are more resistant to the biggest enemies of decks: rot and pests.
Let's see the cost associated with different sizes of composite and wood decks.
The yellow pine, better known as pressure treated wood, is the most commonly used type of wood for decks, so we'll use it as a reference point.
Pressure treated pine decking cost ranges from $15.00 to $25.00 per square foot for materials, and between $20 to $30 for installation.
| Material | Square Feet Installed | Average Total Cost |
| --- | --- | --- |
| Pressure Treated Wood | 100 square feet | $3,500 to $5,000 |
| Pressure Treated Wood | 200 square feet | $7,000 to $10,000 |
| Pressure Treated Wood | 400 square feet | $12,000 to $15,000 |
| Pressure Treated Wood | 600 square feet | $18,000 to $25,000 |
| Pressure Treated Wood | 800 square feet | $24,000 to $28,00 |
| Pressure Treated Wood | 1,000 square feet | $28,000 to $35,000 |
Remember that the pressure treated pine is one of the most affordable materials, but it also requires increased maintenance. However, there are more types of wood that you can get. 
Hardwood like Ipe or Tigerwood are some of the most expensive materials, and the vibe they bring to your deck is mesmerizing. These too require some maintenance to keep them looking at their best.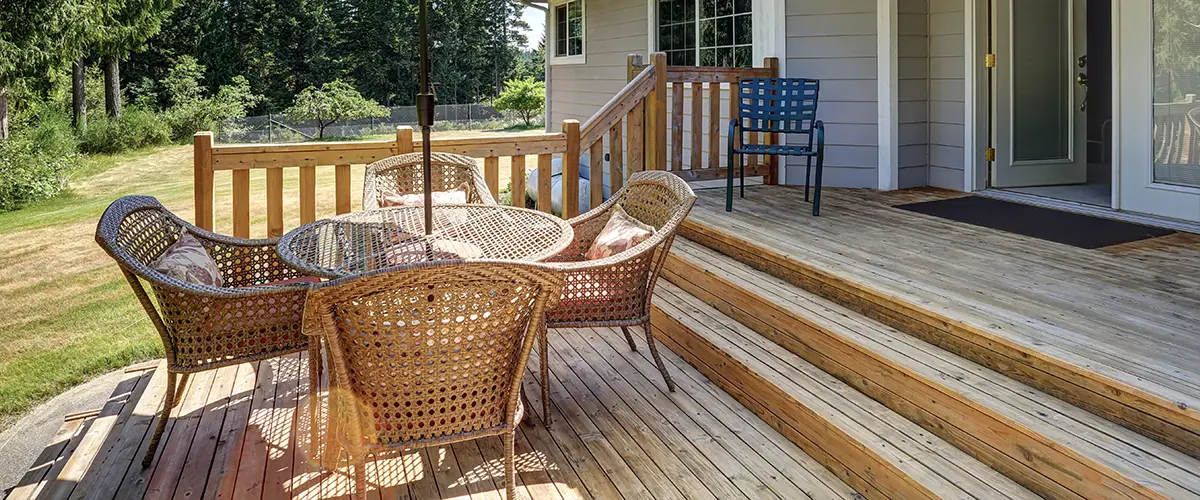 Here at Deck Bros, we hold TimberTech composite decking in high-regard for a simple reason that defines who we are: it helps us finish your deck in record-time. TimberTech materials are always available and their delivery is predictable. That way, we know everything will run smoothly and there won't be any delays or unpleasant surprises.
Although there are more composite brands equally good in quality, TimberTech availability is what tips the balance and makes it our go-to product.
We recommend our customers medium-to-high quality TimberTech decking boards, as they're the most balanced when it comes to functionality, aesthetics, and price. These will meet most of your needs, so you can't go wrong with them. 
They typically cost between $60.00 to $70.00 per square foot. However, depending on your needs and budget, we can choose a different product.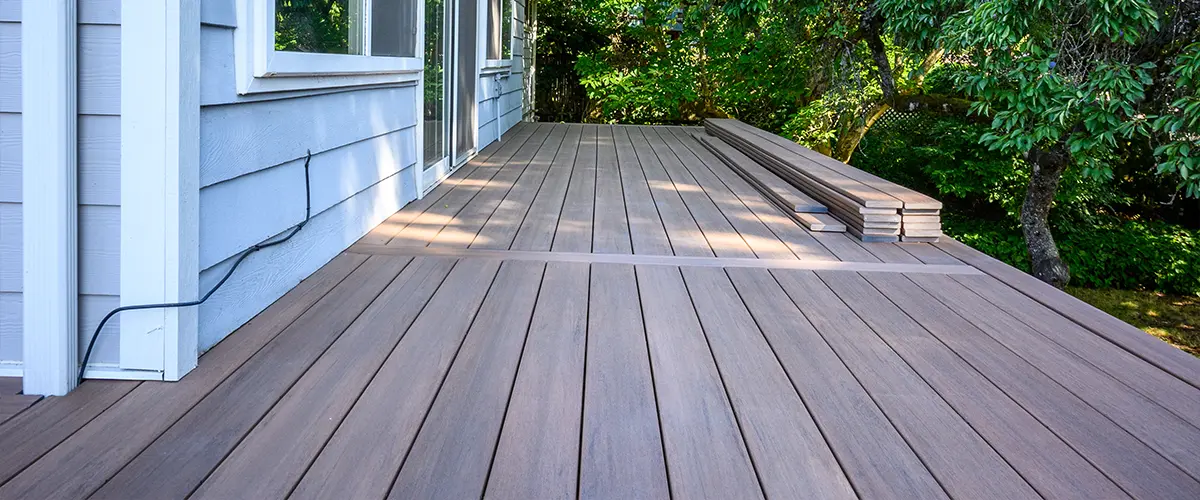 Complete Deck Renovation In Papillion
This deck was a very special project we worked on. It was an old wood deck of 750 sq. ft., and our customer wanted to replace the wood with composite. It was a large, elevated deck, and it included:
Before
After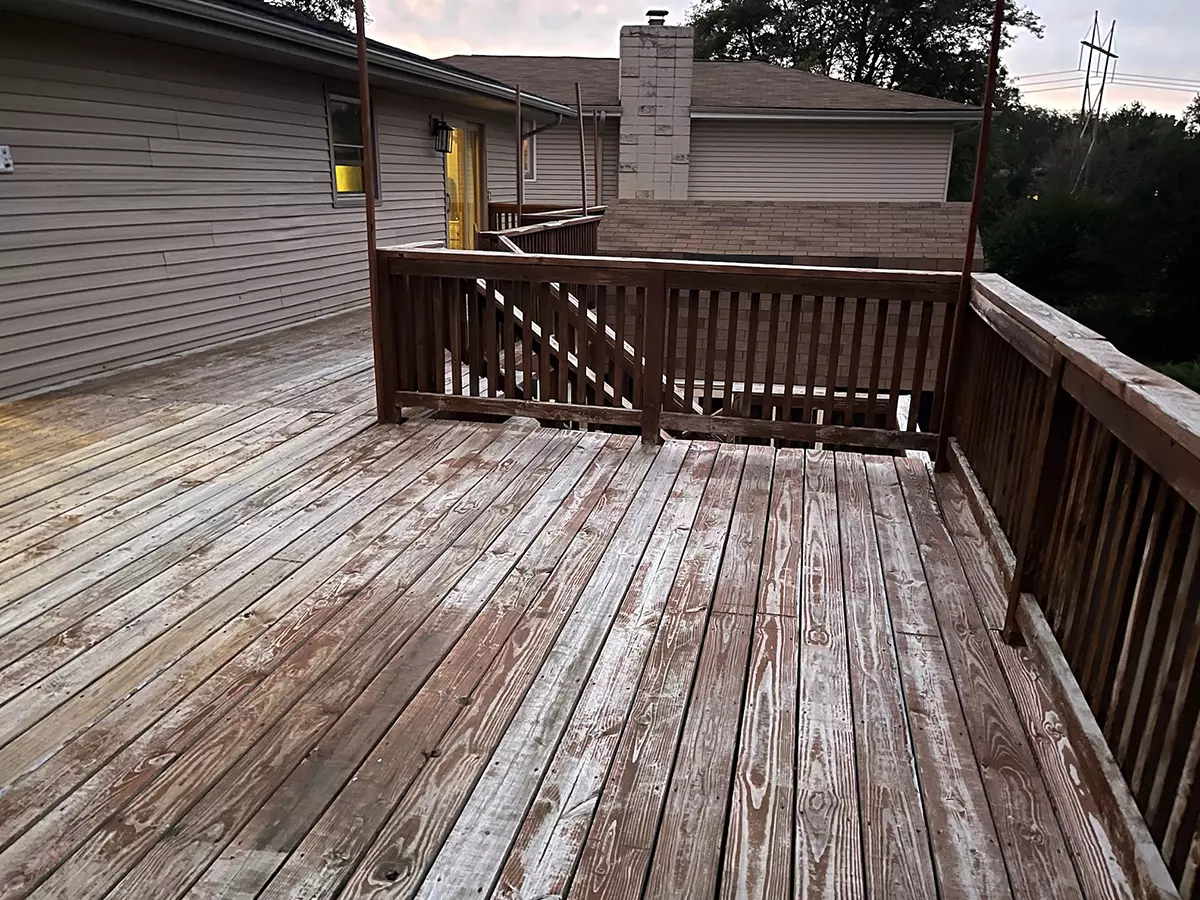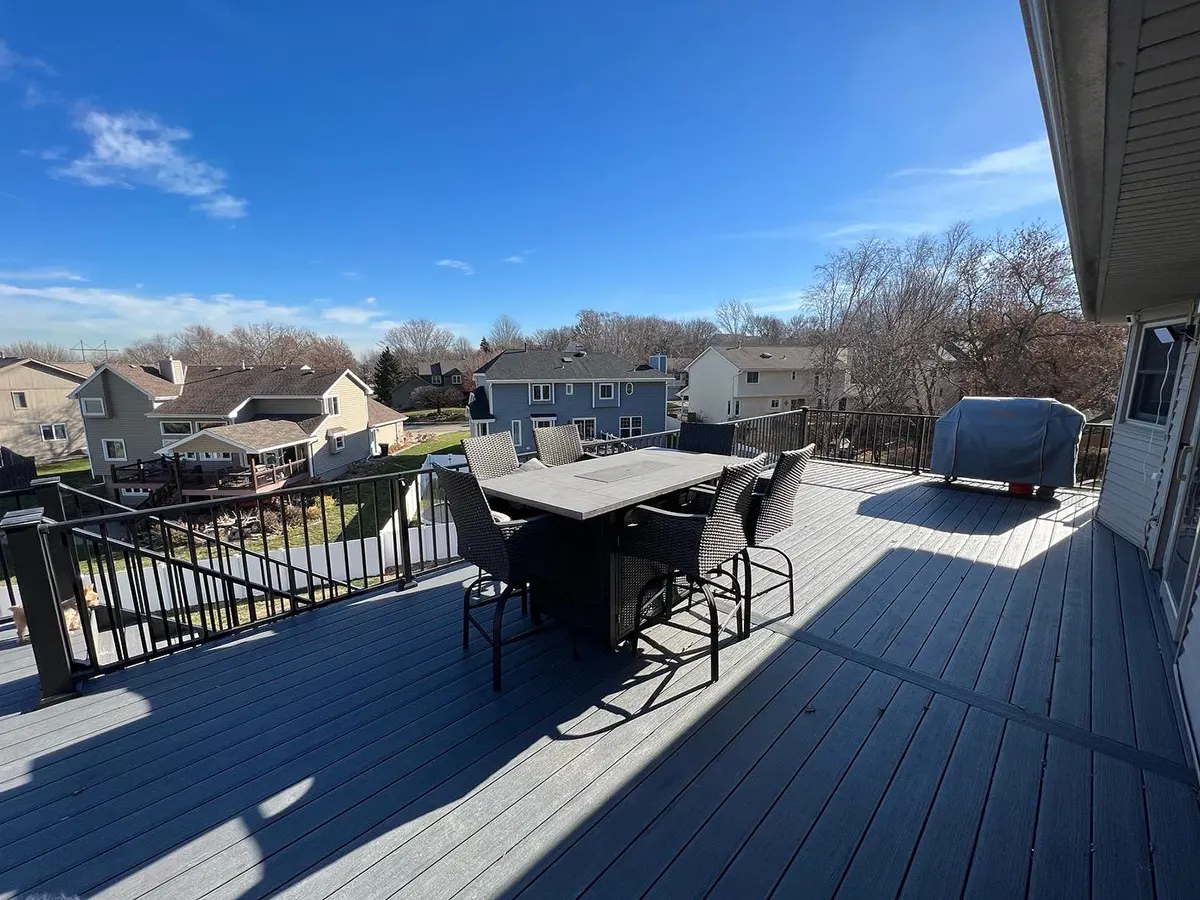 This deck building cost in Papillion was $72,500. The most expensive item was the railing with built-in lights, priced at $22,500.
Railings are mandatory for most decks, and some of the safest railings on the market these days are the metal rails. They're incredibly durable and resistant, making your deck a safe environment for its entire lifespan. Needless to say, metal won't rot and is immune to pests damage.
The average cost of Westbury railings, the best aluminum railing on the market, is around $60.00 per linear foot for materials.
Composite is the second best option, but honestly, it wouldn't make much sense. Decent composite railings from TimberTech have the same price as the best metal railing out there. Besides, composite railing is still wood and can get damaged over the years.
The average cost to install composite deck railing is around $30-$60 per linear foot, and the 6 foot long railing from TimberTech costs around $180.
Wood is the least functional option for railings. It needs regular maintenance, repairs, and it starts to rot and wobble even when treated, creating a real hazard while you're on your deck.
The average cost of wood deck railings is around $20 to $35 per linear foot. However, add to this the cost to actually build the railings from scratch.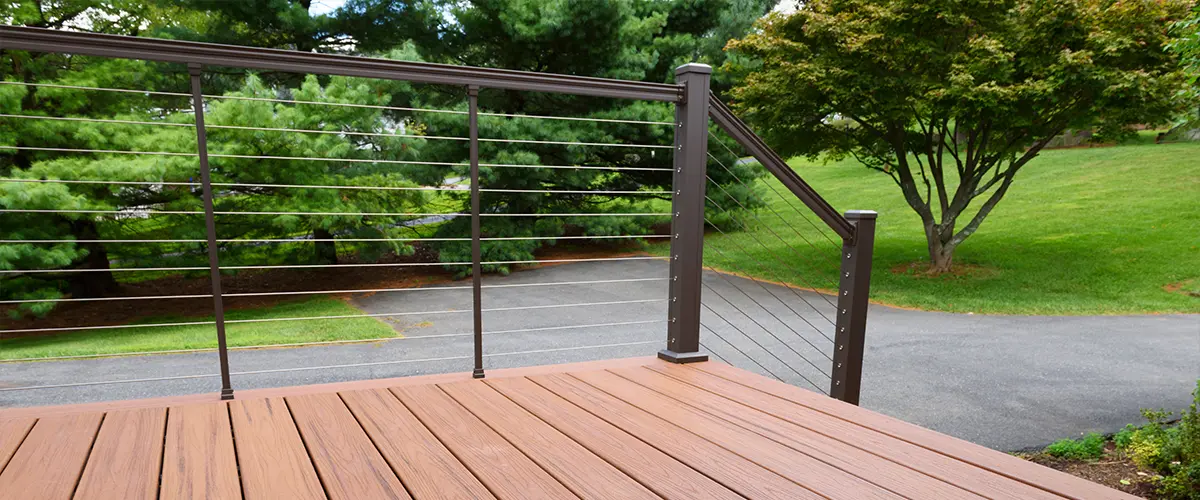 Extra features will bring your deck's functionality and aesthetics to the next level. These are what finish the vibe of your deck and really make it pop.
Accessories and features are not mandatory, but they sure help your deck make a great impression and leave every one of your guests in awe.
Let's look at some of the most common upgrades.
| Upgrade | Average Cost |
| --- | --- |
| Awning | Between $1,200 and $4,000 |
| Pergola | Between $2,500 and $10,000 |
| Drinking Rail | As low as $100, but depends on railing material |
| Deck built-in bench | Between $2,000 and $3,000 |
| Deck lighting | Between $40 to $300 |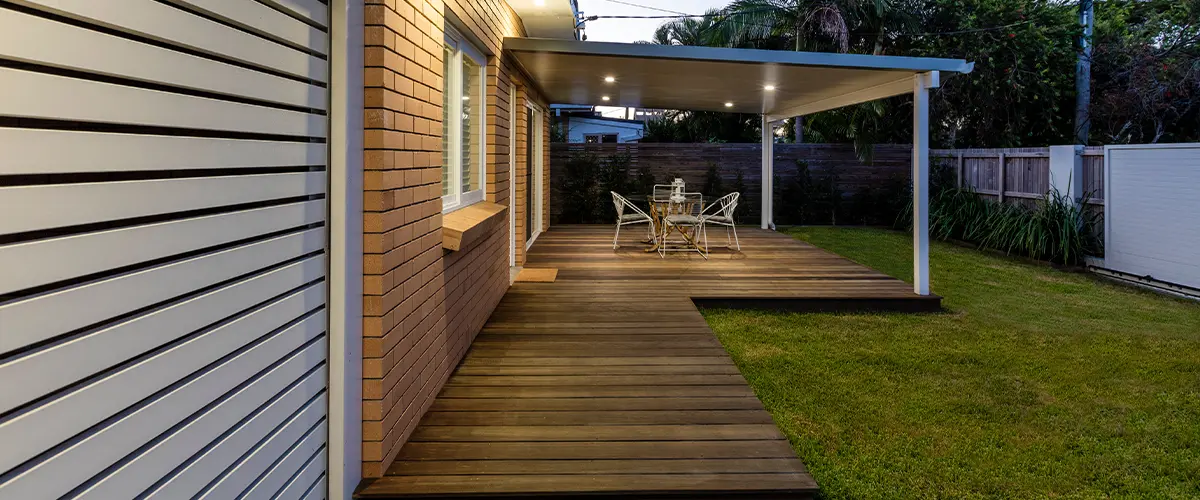 3 Budgeting Tips For A Deck Building In Omaha
Many of our customers are attracted to the lower cost of a wood deck or a wood railing, forgetting that these require constant attention and care. Our recommendation is simple: don't choose the cheapest option, but don't go for the most expensive one either. We offer the best decking solutions based on your needs, preferences, and budget.
Whoever you choose to work with, it's crucial that you ask questions about materials, advantages, disadvantages, process, contract, permits, and so on. We love it when our customers ask questions about their project because this shows us they're fully committed and want a proper deck.
It's always a great idea to have a back-up plan. In this case, this means budgeting a little extra for your project. At Deck Bros, we add 20% breakage cost to most of our products. Even if nothing happens to the boards, it's always good to have a few extras for future repairs.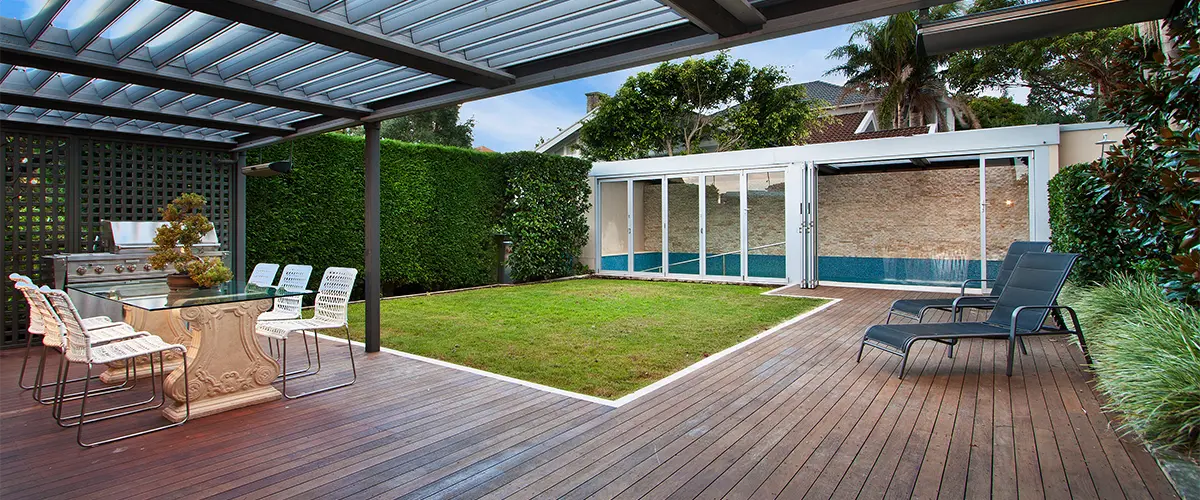 Get Pricing Transparency From Deck Bros Papillion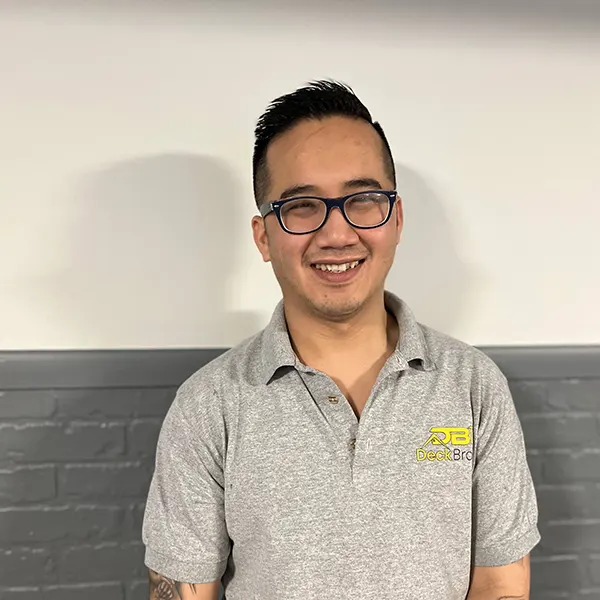 At Deck Bros, we focus on transparency when it comes to your deck building cost in Papillion. We know one of the most important aspects of any home addition is its price, which is why we want to make it very intuitive and easy for you to get started. We'll offer you a quick free estimate over the phone, but a more accurate quote after our on-site visit, where we see the actual scope of work.
After that, we'll show you some of the best options that'll work for your budget and needs, without sacrificing anything from your deck's safety or functionality.
With us, you'll get: 
Your Dream Deck Awaits You!
Request a free quote and let's discuss your deck building cost in Papillion! Or talk directly with Luan, the owner of Deck Bros, at (402) 369-5724 and see if we're the right fit.