Deck Building Cost In Valley, NE
Want to get accurate pricing for your deck building cost in Valley? Click below!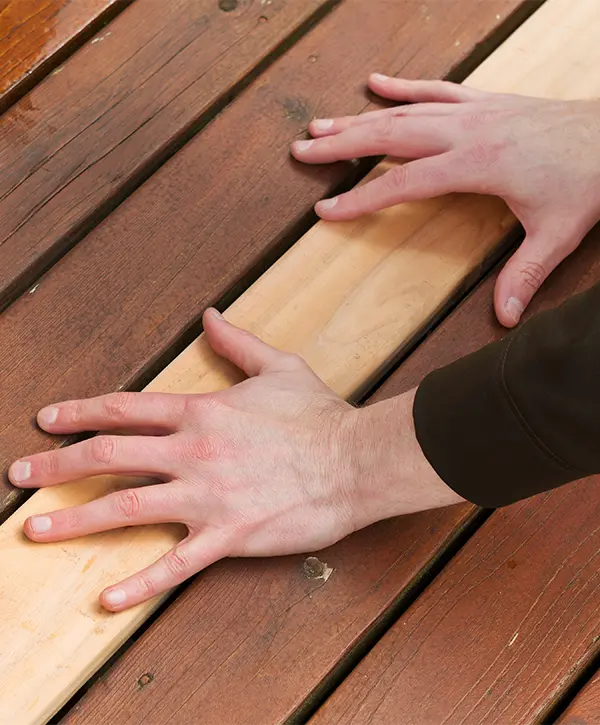 The deck building cost in Valley is often the primary source of hesitancy for customers that want to uplift their outdoor space. Let's put an end to your concern.
Deck Bros is here to make your construction project an investment that won't eat up all of your money. We will provide you with the most economical decking solutions in Valley and a deal that no other deck builder can match!
We have a lifetime of experience building reliable, safe, and beautiful outdoor structures, and we're ready to bring world-class quality into your backyard.
You're Getting More Than A Deck
We have revolutionized the standards of quality in Valley, NE. Sensible deck building costs, complete service, and excellent customer support are just a few perks of working with a top-tier contractor.
Typical Deck Building Cost In Valley, NE
Before we dive into materials and their associated cost, let's look at the average deck cost based on its size.
Note that size is one of the main factors that impact the total cost of your project. Other factors worth considering are shape, materials, elevation, and upgrades, but we'll discuss these later on.
| Size | Square Feet | Average Cost |
| --- | --- | --- |
| Small Deck | 200 square feet | $15k |
| Medium Deck | 600 square feet | $25k |
| Large Deck | 1,000 square feet | $45k |
Check out our deck building offer and enjoy a superior deck construction at one of the best price you can get in Valley, NE!
Labor Costs For Your Deck Building In Valley, NE
If you want a deck built in Valley, be prepared to invest at least half of your budget in labor costs. Professional deck builders are able to utilize their own specialized tools and techniques that the average person wouldn't have access to – making them worth every penny!
Let's see who you'll have to work with to get your deck-building project up.
The architect plays a vital role in the construction of your deck by guaranteeing that it is both safe and useful. While they don't have any input into its final aesthetic, you can rest assured that all regulatory standards are met to ensure stability and reliability.
Good architects charge between $125 to $250 per hour.
The deck designer will craft a design that is not only visually appealing but also functions efficiently. They'll help you choose your desired decking style, materials, and colors.
A top-ranked deck designer charges between $100-$200 an hour. Expect to pay for about 3 – 4 hours for a project.
Our deck builders are the experts who will bring your vision to life based on designs, blueprints, and specifications provided by you.
Experienced deck builders in Valley charge, on average, an hourly rate between $30 and $35. Generally speaking, established professionals usually set the fee around $25 per hour while those starting out may ask for only about half that amount – a mere $15/hour.
Working with Deck Bros allows you to get all of the required experts in one place. We have our own designers and architects on staff who will be available whenever you need them. We'll take care of your deck construction project from beginning to end, so you won't have to deal with anyone else.
Our Customers Love Their Deck Bros Upgrades!
Luan and his team built my pool deck. 
They were awesome! They get you excited about having your deck built and so friendly. 
Their workmanship is incredible, they kept you informed at all time and reasonably priced. 
I highly recommend this company.
Great product, great price, and great service. 
Deck Bros exceeded my expectations and I couldn't be happier. 
I wish I had 2 decks I needed to be built. 6/5 would recommend to anyone looking for an amazing deck. 
Thanks guys!!
Deck Building Materials Cost
There are two main types of decks: wood decks and composite decks.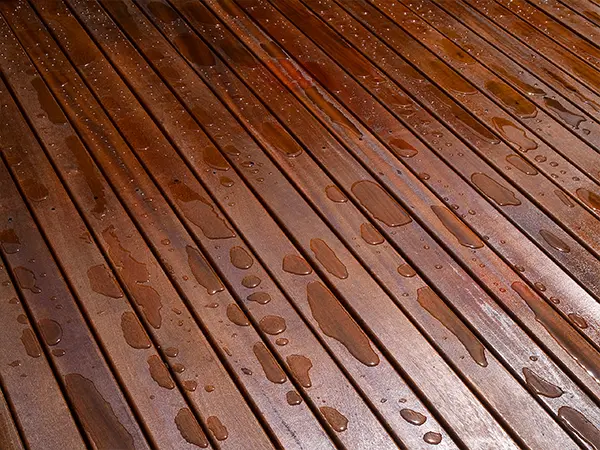 Wooden decks remain a popular choice for homeowners seeking to get their first deck. They're usually drawn in by the cheaper materials but also by the natural appearance that wood gives your outdoors.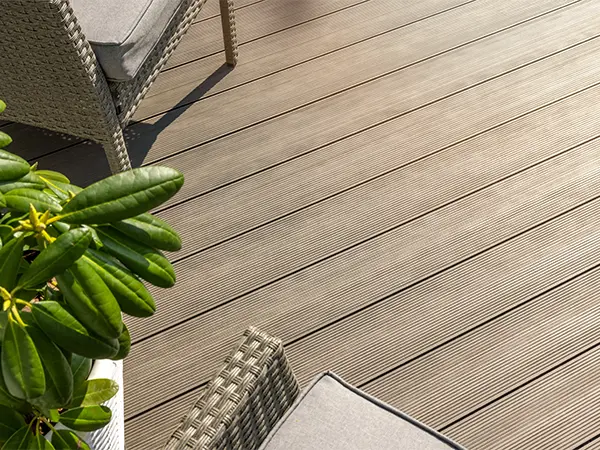 Composite rapidly rose to the top as the best decking alternative for several reasons. They're very low-maintenance and will last much longer than wood decks. In fact, a lot of our jobs include replacing wood decks with composite!
Yellow pine, or pressure-treated wood, is the go-to choice for decking material due to its advantageous price point and potential for refurbishment. For example, you can easily refinish yellow pine over time in order to restore it to a more pleasing condition.
Pressure treated pine decking cost ranges from $15.00 to $25.00 per square foot for materials, and between $20 to $30 for installation.
| Material | Square Feet Installed | Average Total Cost |
| --- | --- | --- |
| Pressure Treated Wood | 100 square feet | $3,500 to $5,000 |
| Pressure Treated Wood | 200 square feet | $7,000 to $10,000 |
| Pressure Treated Wood | 400 square feet | $12,000 to $15,000 |
| Pressure Treated Wood | 600 square feet | $18,000 to $25,000 |
| Pressure Treated Wood | 800 square feet | $24,000 to $28,00 |
| Pressure Treated Wood | 1,000 square feet | $28,000 to $35,000 |
Pressure-treated wood may be one of the most affordable decking materials, but its delicate nature leaves it susceptible to water damage, rotting, and decay overtime—even with regular treatments. On the other hand, hardwoods may have a higher price tag initially; however, they offer more value in terms of longevity and quality over time.
Although hardwoods like Ipe, Tigerwood, mahogany, and Teak deck materials may be pricey, they will make your deck look more luxurious in the long run and they'll last longer.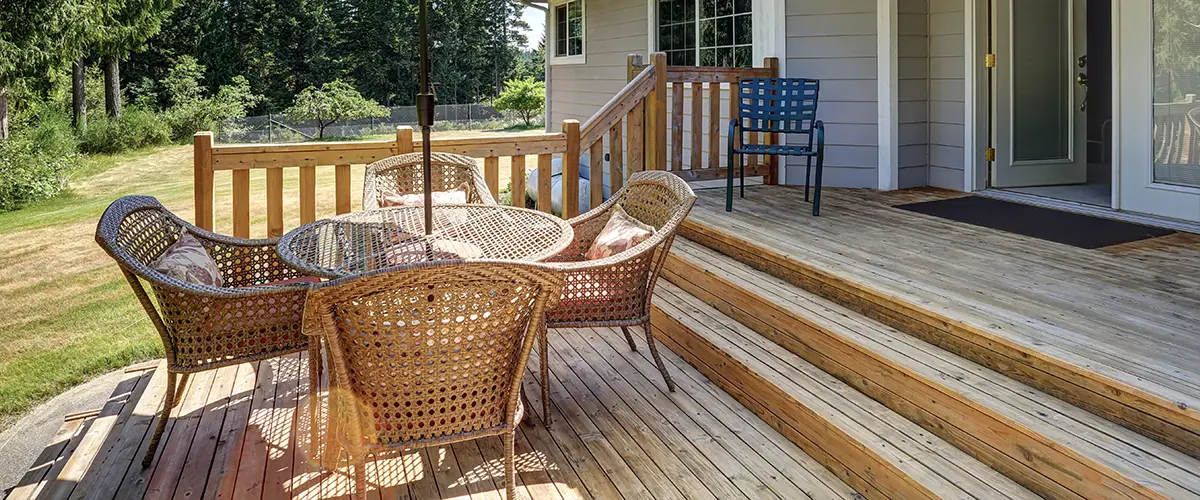 We are passionate about TimberTech and Trex composite decking for a multitude of reasons. We love the convenience of being able to purchase it off-the-shelf while homeowners enjoy its low-maintenance approach.
Both of these composite decking manufacturers offer advantageous product warranties, many options, sizes, and quality products that can resemble even the natural look of wood.
TimberTech supplies the majority of your needs and won't disappoint. Generally, their costs are between $60-$70 per square foot – slightly more expensive than Trex but with similar quality assurance.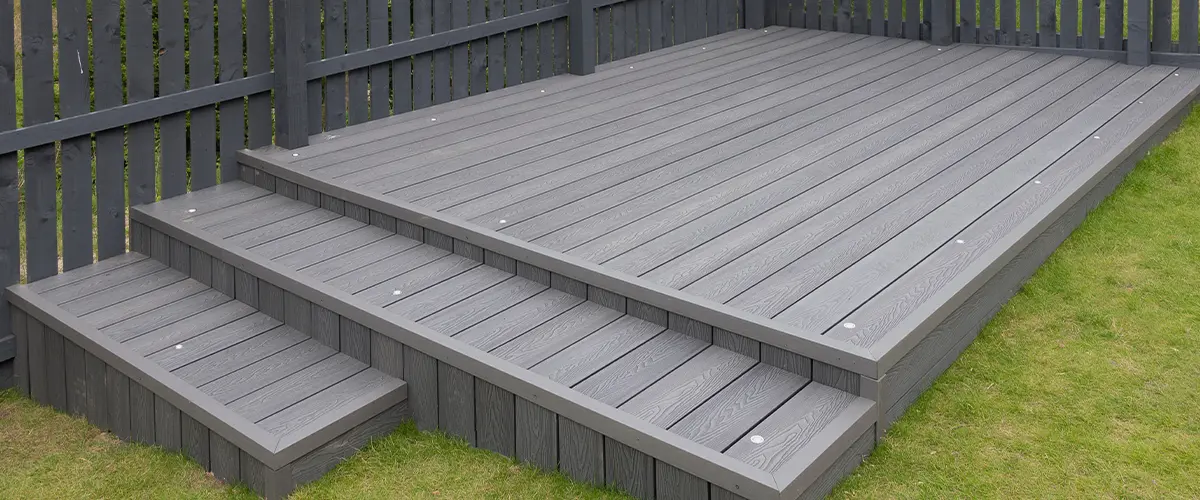 For all elevated decks, railings are mandatory.
Elevate your deck to the next level with luxurious amenities such as built-in lights, outdoor speakers, and digital displays. Not only will they add practical value to your space, but also give it a more elevated appearance compared to other decks in the neighborhood. These additional elements will truly make your deck stand out!
While not essential, accessories and features can drastically enhance convenience. For instance, shade provides a refuge from the sun's intense rays, while anti-slip boards provide additional security on slippery pool decks. 
Investing in these comfort options will improve your day-to-day life immeasurably – allowing you to take full advantage of all its wonderful benefits with ease!
Let's look at some of the most common upgrades.
| Upgrade | Average Cost |
| --- | --- |
| Awning | Between $1,200 and $4,000 |
| Pergola | Between $2,500 and $10,000 |
| Drinking Rail | As low as $100, but depends on railing material |
| Deck built-in bench | Between $2,000 and $3,000 |
| Deck lighting | Between $40 to $300 |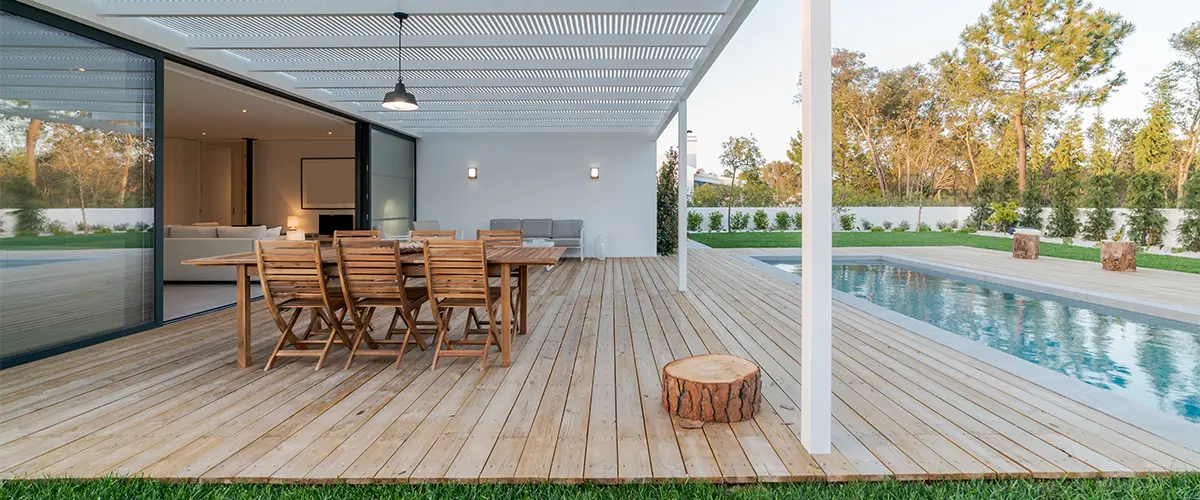 Budgeting For A Deck Building In Valley
At Deck Bros, we've built decks ranging in price from $10k to $72k.
We guarantee to make the best use of your budget, providing tailored solutions and insights for your project. Plus, you'll have complete visibility over how every penny is allocated so that you can trust that your funds are being managed prudently.
While decks may seem costly, the long-term benefits prove their worth. But before thinking about aesthetics, it's essential to ensure that your deck is structurally sound and safe for use.
Get Your Ideal Deck With Deck Bros Valley
Understandably, selecting the ideal contractor is critical for a successful and stress-free project. We are proud to say that our customers recognize this, too as they keep returning with their projects!
We've crafted a stress-free and straightforward process that puts you in the driver's seat. You'll have total authority over your project throughout, with full visibility into what is taking place outside of your home at all times.
Get our professional carpenters to work on your new deck in Valley, NE, and ensure your outdoor space is impressive!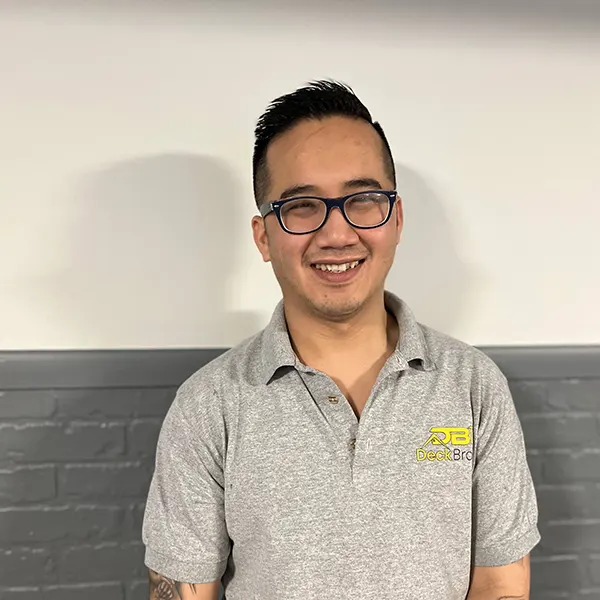 Your Dream Deck Awaits You!
Request a free quote and let's discuss your deck building cost in Valley! Or talk directly with Luan, the owner of Deck Bros, at (402) 369-5724 and see if we're the right fit.