Deck Installation Cost In Lincoln, NE
Want to know precisely how much your deck installation will cost? Click the button below!
We want to set the record straight for homeowners in Lincoln, NE, that are concerned about the deck installation cost in their city.
Here at Deck Bros, we want to offer a quality deck installation that's focused on your well-being and comfort, so you can fully enjoy the excitement of getting this upgrade.
So if you're looking for a deck installation in Lincoln that enhances the aesthetics and functionality of your outdoor space, your best local deck builders can ensure that!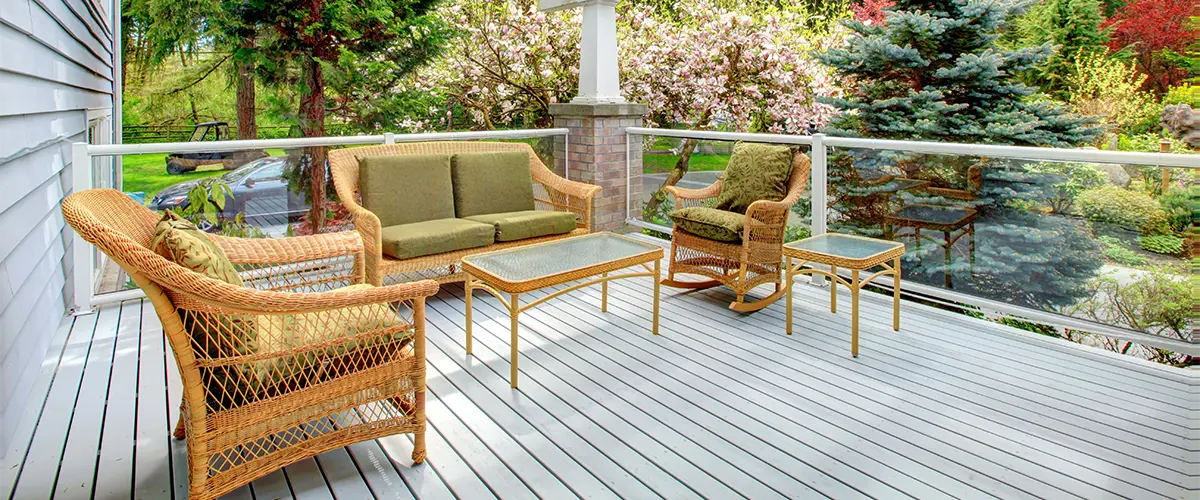 Typical Deck Installation Cost In Lincoln, NE
The cost of installing a deck increases with its size. High-quality materials such as composite, teak, or ipe will also increase costs. Pressure-treated wood is the least expensive of all decking options, while exotic hardwoods and PVC decking materials are the most expensive.
Use the deck building cost calculator below to get an approximate cost for your new deck. Move the sliders to set the total square footage and the linear feet of railing, select the decking material and the extra features you want, and get your pricing estimate! 
| Deck Size | Square Footage | Average Cost Range |
| --- | --- | --- |
| 8' x 10' | 80 square feet | $1,600 – $4,000 |
| 10' x 10' | 100 square feet | $2,000 – $5,000 |
| 12' x 12' | 144 square feet | $2,880 – $7,200 |
| 10' x 20' | 200 square feet | $4,000 – $10,000 |
| 12' x 20' | 240 square feet | $4,800 – $12,000 |
| 16' x 16' | 256 square feet | $5,120 – $12,800 |
| 16' x 20' | 320 square feet | $6,400 – $16,000 |
| 20' x 20' | 400 square feet | $8,000 – $20,000 |
Labor Costs For Deck Installation In Lincoln, NE
For a visually appealing outdoor space, installing the decking boards properly is important, as this will reduce the chances of your boards warping and splitting. 
We've seen many decks installed by DIY enthusiasts that overlook vital safety aspects. As a result, many of them will eventually turn to a professional deck builder to ensure a job well done.
Deck building professionals charge differently based on the quality of their work, your area, the materials they're working with, or based on other general contractor fees.
Skilled deck installers that are most sought-after usually charge between $30 to $35 per hour, while average deck installers charge around $25 per hour.
Deck Bros provides high-quality deck installation services to homeowners in Lincoln, NE, at affordable prices. You'll get a team of skilled and friendly carpenters, all experts in the building codes in Lincoln and dedicated to ensuring your complete satisfaction.
Our Customers Love Their Deck Bros Upgrades!
Just had our 14 year old deck redone. 
Deck Bros did the work and it truly exceeded our expectations. 10/10 construction. Beautiful craftsmanship. Excellent company to deal with. Very straightforward as to design options and everything carried through to the finest details. 
If you need a deck done/repaired-this is the company to go to!
Deck Bros did a phenomenal job with our deck! 
Luan went over all the pros and cons of what we were doing, encouraged us to ask questions, and kept us updated on all progress. 
Everyone was professional and efficient, and the crew worked hard and did their job both quickly and well. The new deck is beautiful and has some nice warranties to go with it!
Deck Installation Materials Cost
There are two main options for decking materials: natural wood and low-maintenance composite or PVC decking. Natural wood requires frequent upkeep, while composite and PVC have a lifespan of 25 and 50 years, respectively.
Let's dive deeper into the decking materials cost and get your budget on point.
Low-Maintenance Materials
For many senior homeowners in Lincoln, a low-maintenance composite deck is most likely the best option in the long term. They love the fact that they won't have to seal, stain, or paint their decks ever again.
Most of our customers love Trex composite decking boards. These offer great quality at an affordable price that helps homeowners transform their deck building project into a real investment.
Thanks to their visually appealing, durable, and highly-reliable product, they're a top composite manufacturer.
The cost of Trex boards varies depending on the type. Trex Select and Enhance range from $5 to $9 per square foot, while Trex Transcend ranges from $10 to $12 per square foot. All three types come with an advantageous 25-year limited residential fade & stain warranty.
Lately, our recommendation for composite decking is medium-to-high-end TimberTech boards. These are reliable decking boards that are built with a polymer cap, offering superior protection against the elements.
TimberTech decking costs more than Trex, but the longer warranty and the polymer capping makes the investment totally worth it.
We like choosing TimberTech because we can often buy it right from the shelves, avoiding delivery-related delays and helping us finish most of our deck installation projects in as fast as 3 days!
Depending on different types of boards, TimberTech's cost varies.
| TimberTech Decking | Cost/linear ft. | Cost/square ft. |
| --- | --- | --- |
| Edge Prime | $2.40 – $2.65 | $5.70 – $6.50 |
| Edge Premier | $3.10 – $3.25 | $6.85 – $7.50 |
| Pro Terrain | $3.35 – $4.05 | $8.75 – $9.35 |
| Pro Tropical | $4.90 – $5.35 | $11.15 – $12.00 |
| Pro Legacy | $5.80 – $6.35 | $12.35 – $13.50 |
TimberTech acquired AZEK and now offers high-quality PVC decking that is still the leading product in the market.
PVC decking is becoming increasingly popular for its long-term durability and low maintenance. Its synthetic composition ensures your decking surface won't rot, splinter, or warp. Besides, you'll get to spend more time enjoying it rather than maintaining a PVC deck, as it doesn't require painting, staining, or sealing.
AZEK PVC decking is one of the most expensive materials on the market.
| Azek Decking | Cost/linear ft. | Cost/square ft. |
| --- | --- | --- |
| Azek Harvest | $4.75 – $5.25 | $9.45 – $12.70 |
| Azek Arbor | $5.80 – $6.35 | $12.00 – $14.00 |
| Azek Vintage | $6.50 – $7.00 | $11.90 – $14.50 |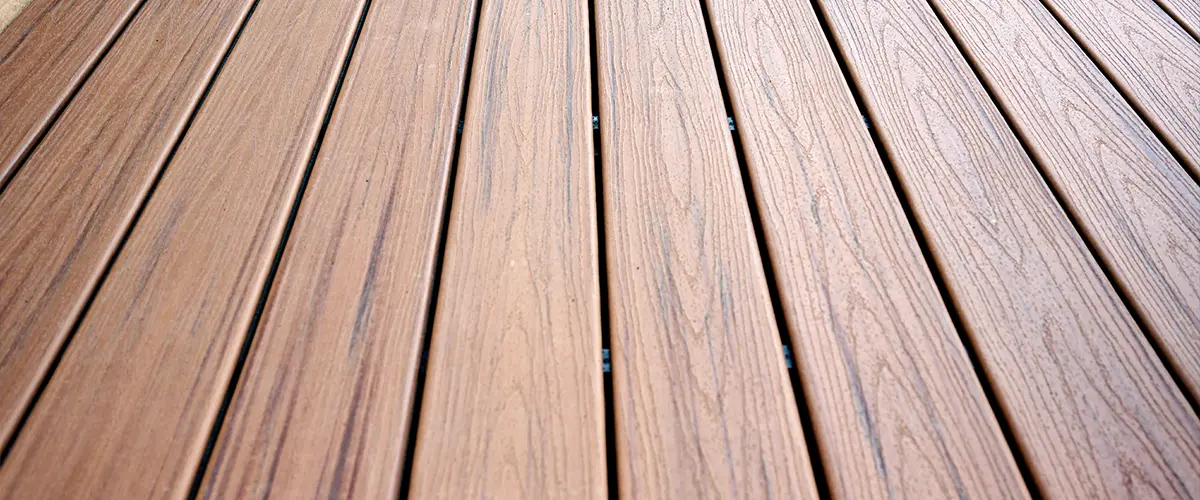 Many homeowners still prefer the beauty of natural wood for their outdoor spaces, even though it needs regular maintenance. Let's look at some of the most popular wood decking materials on the market, which would be ideal for your particular needs.
Pressure-Treated Wood Decks
Pressure-treated wood, also called yellow pine, is the most cost-effective choice for decking surfaces. In fact, many of the decks we build here at Deck Bros are made of pressure-treated lumber, as this material offers a great balance between affordability and functionality.
On the downside, pressure-treated wood is a softwood easily affected by pests and rot. Water damage leaves serious signs of wear and tear on a pressure-treated deck, and regularly sealing or staining this deck is vital for its longevity.
Pine decking cost is the most affordable option on the market—pressure-treated wood costs between $15.00 to $25.00 per square foot for materials.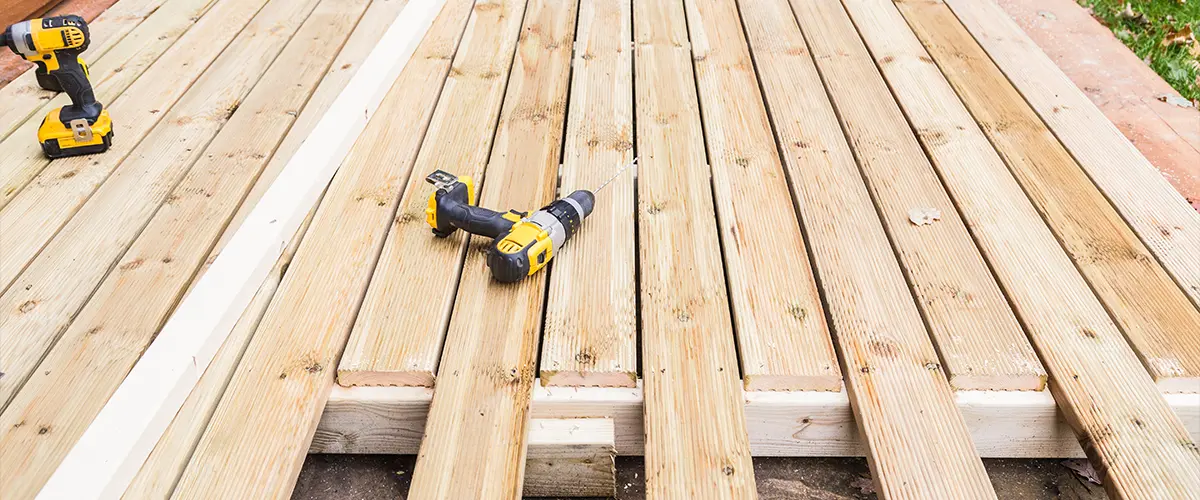 Cedar is frequently used for decking and is the second most popular option. It has a natural resistance to rot and pests but, like any other softwood, must be frequently stained or sealed once every 2 – 3 years.
Cedar wood is renowned for its natural beauty and elegance, especially when sealed. The sealing process highlights the knots and grains found in the cedar boards, making them look more natural and unique with a soft yellow or golden brown hue.
Cedar decking is a popular choice, usually costing about $5 to $10 per linear foot. Although it's considered affordable, it's more expensive than pressure-treated wood.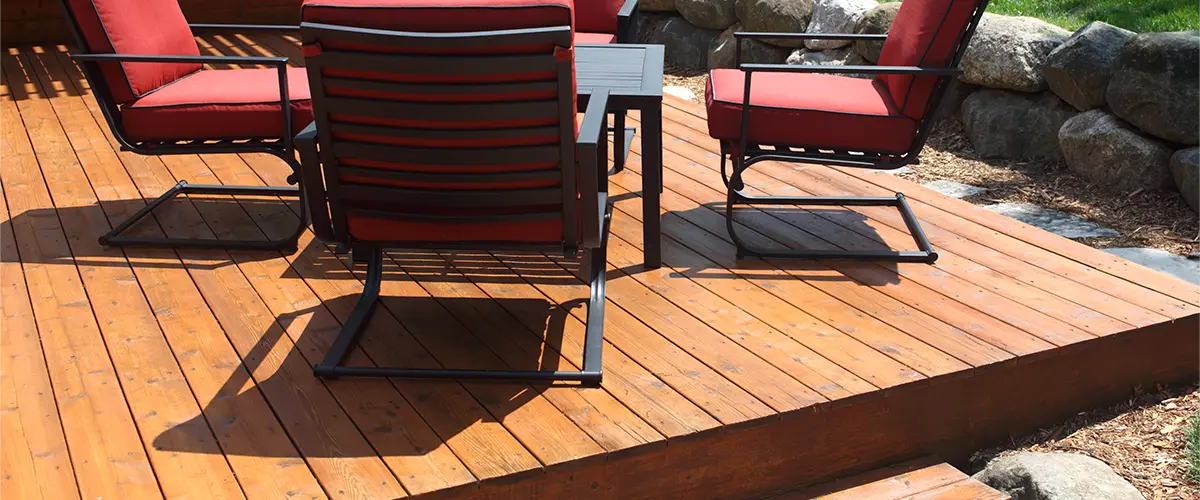 Redwood decking may not be as popular as other options, but it has a unique red hue that can enhance the overall appearance of your deck.
In addition to its beauty, redwood is also one of the most durable and long-lasting materials for decking and is highly resistant to rot and pests.
However, it does come at a higher cost. Redwood costs between $1.50 to $5.40 per square foot, but its unique mood to your outdoor space makes it one of the most sought-after materials for outdoor projects.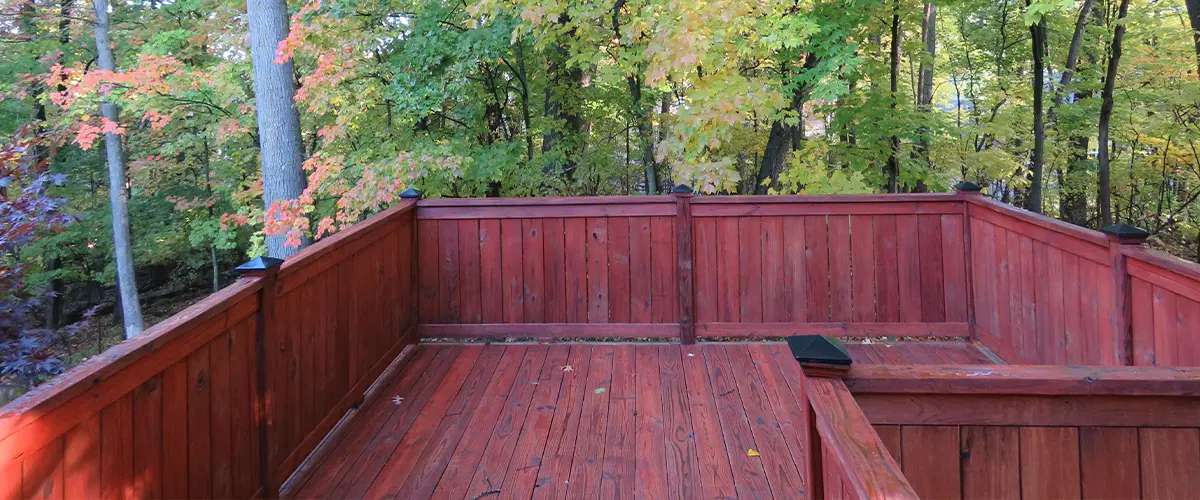 Although hardwood decking materials like Ipe, Tigerwood, or Teak have a much higher upfront cost, they'll make your deck look sleek and elegant.
These types of woods are much better for outdoor spaces overall because they're more durable and have a higher resistance against the elements. However, to maintain this strength, you'll also want to seal or stain your deck once every 2 – 3 years.
Let's see some other types of wood and their cost of installation.
3 Things You Want To Consider When Choosing A New Decking Material
Here in Lincoln, NE, our senior customers often prefer low-maintenance surfaces like composite or PVC decking. Even if the deck installation cost is higher, they'll save much more money in the long run by avoiding the ongoing maintenance costs of pressure-treated decks. Besides, seniors would rather have someone else do the maintenance for them, increasing the overall cost of wood decks and making composite or PVC a more cost-effective decking material.
If you want to install wood decking but anticipate a lot of foot traffic on your deck down the line, opting for hardwood or composite decking materials instead of the popular cedar or pressure-treated decks would be a lot wiser choice. Increased durability also means you won't have to worry about future deck repairs – your outdoor space will provide a safe and sound environment to host the best family gatherings ever!
If you want to save money on your deck installation, consider the long-term costs of using wood decking. Maintenance and repairs for wood decks can cost $1k to $2k over two years. Even though composite decking may be more expensive initially, it's a more economical option in the long run as it doesn't require costly repairs, sealing, or staining like wood decks do. Besides, the 25- to 50-year composite decking board warranty will ensure a long-lasting investment that you won't have to worry about for a long time!
Make A Long-Term Investment With A Professional
Deck Bros in Lincoln provides homeowners with a trustworthy deck installation service that comes at the best price you'll find around here. You and your loved ones will become our #1 priority, and we'll make sure to bring your vision to fruition in the best way possible.
Our process is designed to minimize the stress and anxieties that home improvement projects bring, and our team is trained to offer you comfort and keep you in the loop at all times during your project.
Leave your deck installation project with us, and we'll go the extra mile to ensure you're making an investment that'll pay off every time you step outside!
With us, you'll get:
Enjoy A Fair And Honest Deck Installation Cost In Lincoln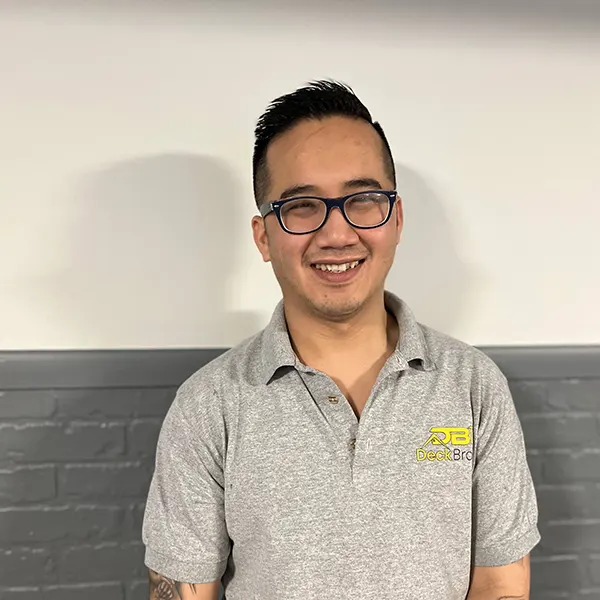 Request a free quote and let's discuss your deck installation cost in Lincoln! Or talk directly with Luan, the owner of Deck Bros, at (402) 369-5724 and see if we're the right fit.