Deck Installation Cost In Papillion, NE
Want to know precisely how much your deck installation will cost? Click the button below!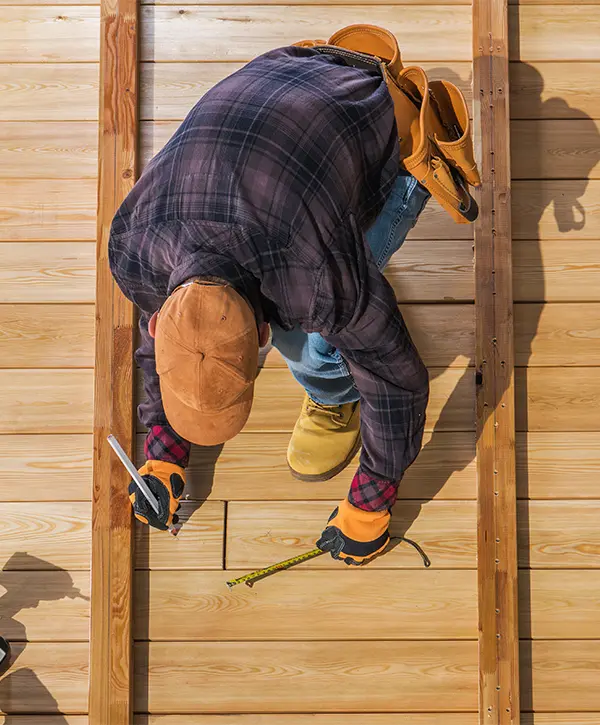 The deck installation cost in Papillion, NE, is one of the homeowners' main concerns when considering starting this project. People don't know what to expect in terms of prices, and we want to change that.
Our deck installation services are professional and affordable. You can easily replace your old decking with new material without exceeding your budget.
Get a superior deck installation at the most competitive cost from the leading deck installer in the industry.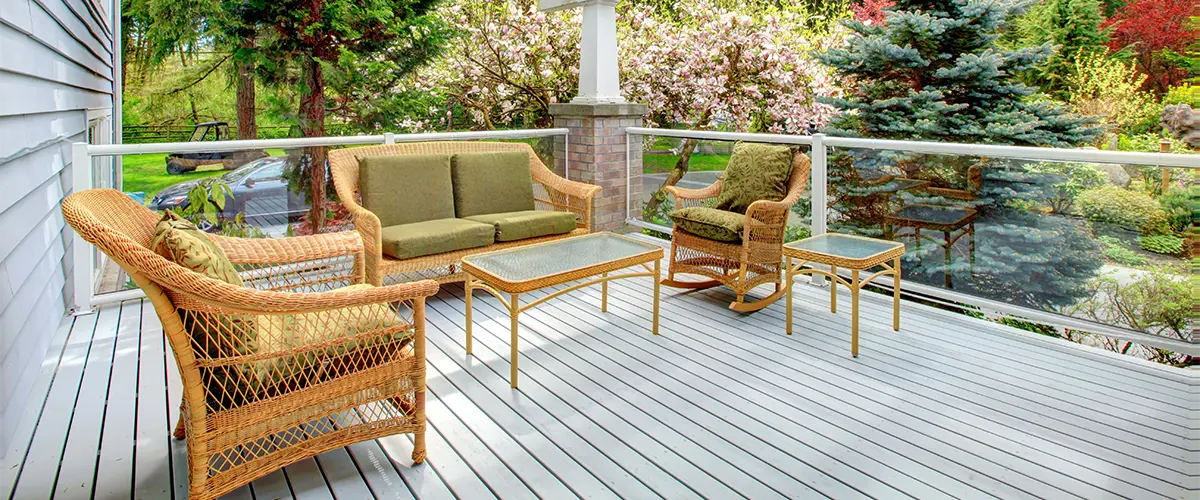 Typical Deck Installation Cost In Papillion, NE
The deck installation cost increases as the deck size gets bigger. Choosing high-quality materials such as teak hardwood also adds to the cost. The average price range for pressure-treated wood is the lowest, while exotic hardwoods are the most expensive.
| Deck Size | Square Footage | Average Cost Range |
| --- | --- | --- |
| 8' x 10' | 80 square feet | $1,600 – $4,000 |
| 10' x 10' | 100 square feet | $2,000 – $5,000 |
| 12' x 12' | 144 square feet | $2,880 – $7,200 |
| 10' x 20' | 200 square feet | $4,000 – $10,000 |
| 12' x 20' | 240 square feet | $4,800 – $12,000 |
| 16' x 16' | 256 square feet | $5,120 – $12,800 |
| 16' x 20' | 320 square feet | $6,400 – $16,000 |
| 20' x 20' | 400 square feet | $8,000 – $20,000 |
At Deck Bros, we offer free estimates over the phone, but we'll need to examine your site in person for a more detailed price quote. During our visit, we'll review all the material options and their corresponding prices to suggest the most cost-effective solution for your new deck installation.
Labor Costs For Deck Installation In Papillion, NE
One fast and effective way to give your outdoor space a new look is by replacing the decking boards, assuming the deck frame is already in place. While you no longer require architects or designers, you will still need installers.
The deck builders are the workers responsible for building the deck or installing the decking based on the provided blueprints, designs, and instructions. They should be highly-trained and have access to professional installation tools.
Expect to pay between $30 to $35 an hour for the best deck builders in Papillion. The average deck builder charges around $25 an hour, while beginners charge around $15
Deck Bros Papillion provides clients with top-notch decking installation services from experienced and courteous carpenters. Our team will work efficiently to ensure a seamless installation process, allowing you to enjoy your new deck in no time. We serve the Omaha Metro Area with reliable and hardworking professionals.
Our Customers Love Their Deck Bros Upgrades!
Just had our 14 year old deck redone. 
Deck Bros did the work and it truly exceeded our expectations. 10/10 construction. Beautiful craftsmanship. Excellent company to deal with. Very straightforward as to design options and everything carried through to the finest details. 
If you need a deck done/repaired-this is the company to go to!
Deck Bros did a phenomenal job with our deck! 
Luan went over all the pros and cons of what we were doing, encouraged us to ask questions, and kept us updated on all progress. 
Everyone was professional and efficient, and the crew worked hard and did their job both quickly and well. The new deck is beautiful and has some nice warranties to go with it!
Deck Installation Cost Based On Different Decking Materials
There are two primary options for decking materials: natural wood, which requires regular maintenance, and low-maintenance composite or PVC decking, with a lifespan of over 50 years. We will now compare their costs.
Low-Maintenance Materials
Let's start with the low-maintenance materials, as these are the most popular decking materials nowadays.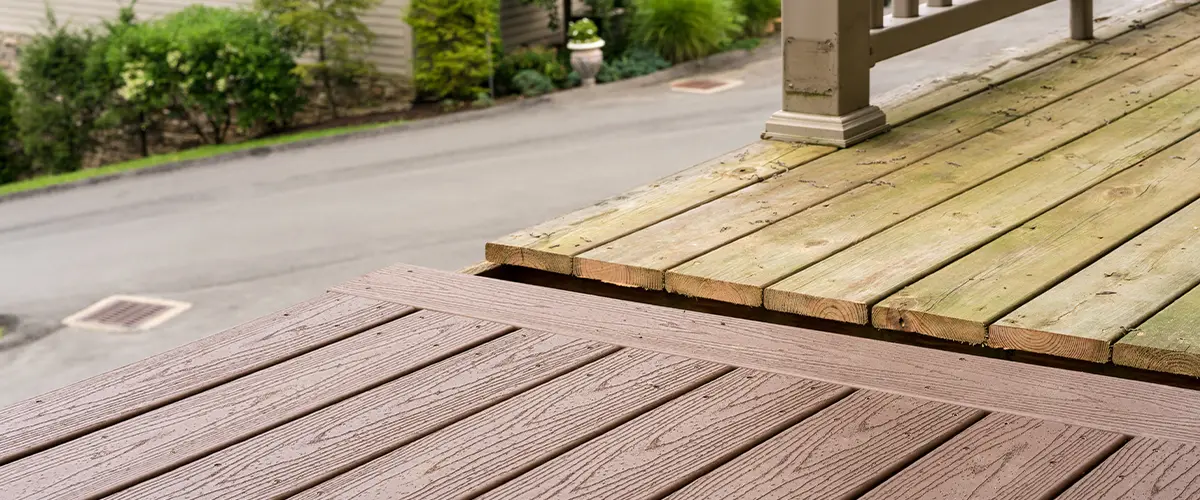 Most of our customers can afford Trex, one of the top composite decking manufacturers. They come with a great warranty and offer beautiful and durable boards.
The prices for Trex boards differ depending on their type. Trex Select and Enhance costs between $5 and $9 per square foot, while Trex Transcend costs between $10 and $12 per square foot.
We prefer TimberTech for composite decking because it is more dependable and has a polymer capping that makes it more resistant to water damage. Although it is slightly costlier than Trex, the added cost will be worth it.
We prefer TimberTech because we can purchase it directly from the shelves, and their delivery time is more reliable for us. This allows us to complete most of our deck projects in just three working days.
Depending on different types of boards, TimberTech's cost varies.
| TimberTech Decking | Cost/linear ft. | Cost/square ft. |
| --- | --- | --- |
| Edge Prime | $2.40 – $2.65 | $5.70 – $6.50 |
| Edge Premier | $3.10 – $3.25 | $6.85 – $7.50 |
| Pro Terrain | $3.35 – $4.05 | $8.75 – $9.35 |
| Pro Tropical | $4.90 – $5.35 | $11.15 – $12.00 |
| Pro Legacy | $5.80 – $6.35 | $12.35 – $13.50 |
TimberTech bought AZEK and now offer high-end PVC decking that remains the leader in the PVC decking industry.
Although PVC is more durable and resistant than composite, it does not imitate the natural appearance of wood like composite does.
AZEK PVC decking is one of the most expensive materials on the market.
| Azek Decking | Cost/linear ft. | Cost/square ft. |
| --- | --- | --- |
| Azek Harvest | $4.75 – $5.25 | $9.45 – $12.70 |
| Azek Arbor | $5.80 – $6.35 | $12.00 – $14.00 |
| Azek Vintage | $6.50 – $7.00 | $11.90 – $14.50 |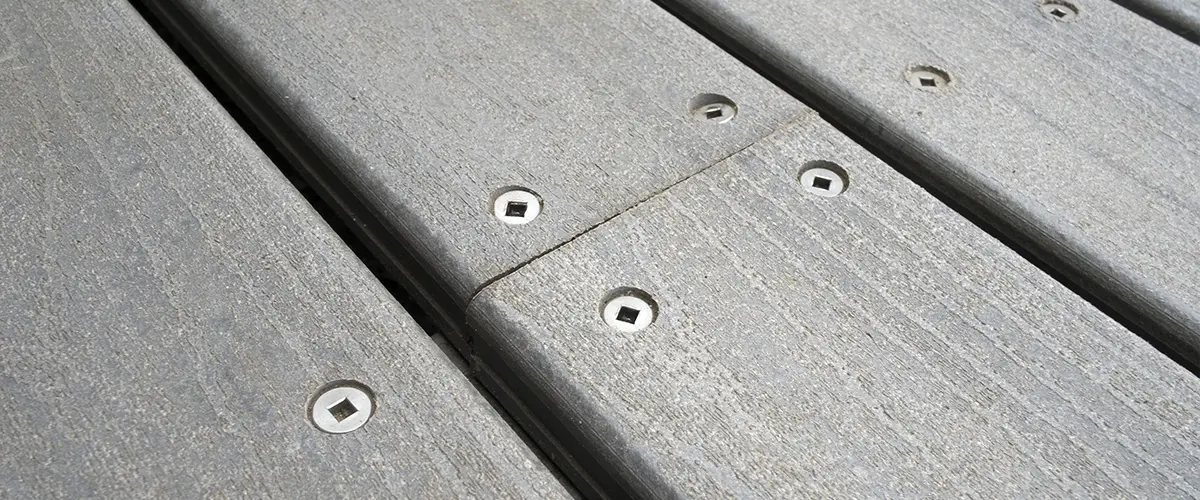 Our clients often choose natural wood for their decks, despite the need for regular maintenance. They appreciate the beauty of wood and the ambiance it brings to their backyard. Below, we'll explore some of the most popular wood species we use in our deck installation projects.
Pressure-Treated Wood Decks
Pressure-treated wood, also known as yellow pine, is still the most popular choice for decks due to its affordability.
The cost range for pressure-treated pine decking includes $15.00 to $25.00 per square foot for materials and $20 to $30 for installation.
Please note that pressure-treated wood is a type of softwood that can easily get damaged by pests and rot. Thus, it needs frequent care and attention. Please keep this in mind while making your decision.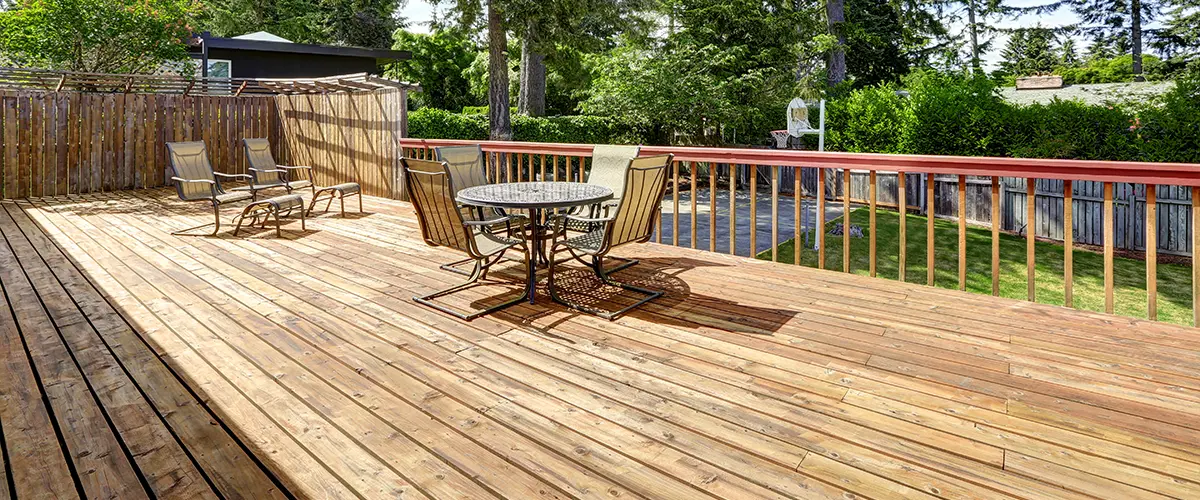 Cedar is the second most popular decking material. It's naturally more resistant to rot and pests damage, but it still requires regular maintenance once installed on your deck.
Western Red Cedar is a commonly used decking material that typically costs between $5 to $10 per linear foot and is known for being affordable. However, compared to pressure-treated wood, cedar is generally more expensive.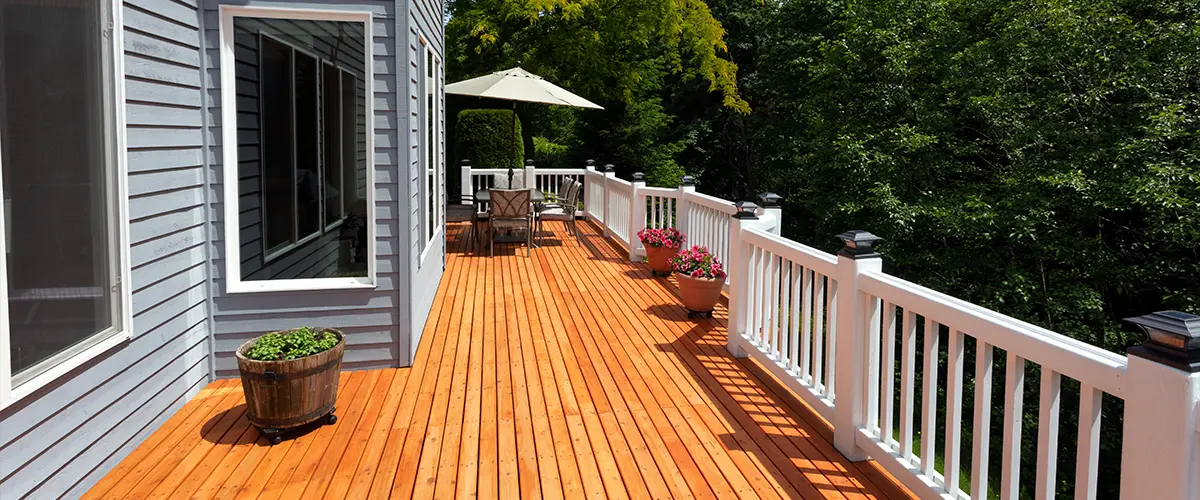 Redwood decking is relatively expensive and less popular than the first two options. However, it has a unique red color that sets it apart from other types of wood and can enhance the appearance of your deck.
Redwood costs between $1.50 to $5.40 per square foot, which is more expensive than cedar and pressure-treated wood.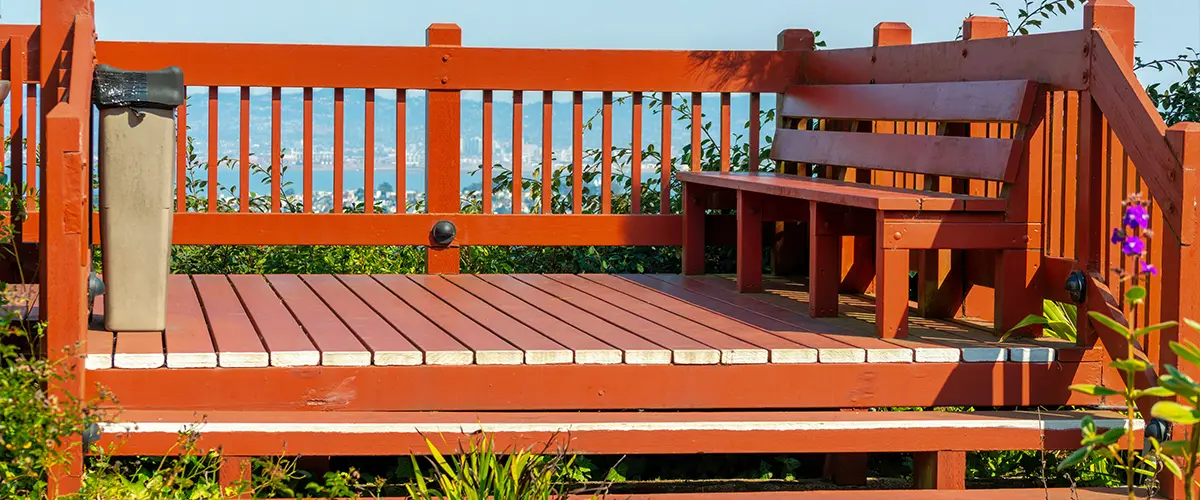 Although hardwoods such as Ipe, Tigerwood, or Teak can be pricey as decking materials, they offer your deck a distinctive and luxurious appearance. Remember to seal and stain these hardwoods despite their durability.
Let's see some other types of wood and their cost of installation.
3 Things You Want To Consider When Choosing A New Decking Material
Our senior customers often opt for composite or PVC decking as they prefer low-maintenance surfaces. On the other hand, younger homeowners may choose pressure-treated wood to cut costs initially, but the upkeep expenses eventually make it less cost-effective than composite decking.
If you anticipate a lot of foot traffic on your deck, using softwood for the surface is not recommended. Instead, composite decking materials are a better choice for longevity and cost-effectiveness in the future.
If you want to save money on your deck installation project, consider the long-term costs of choosing wood decking. Over two years, you may spend an extra $1k to $2k on maintenance and repairs. Although composite decking has a higher initial cost, it can save you money in the long run by eliminating the need for costly repairs, sealant, and staining required for wood decks.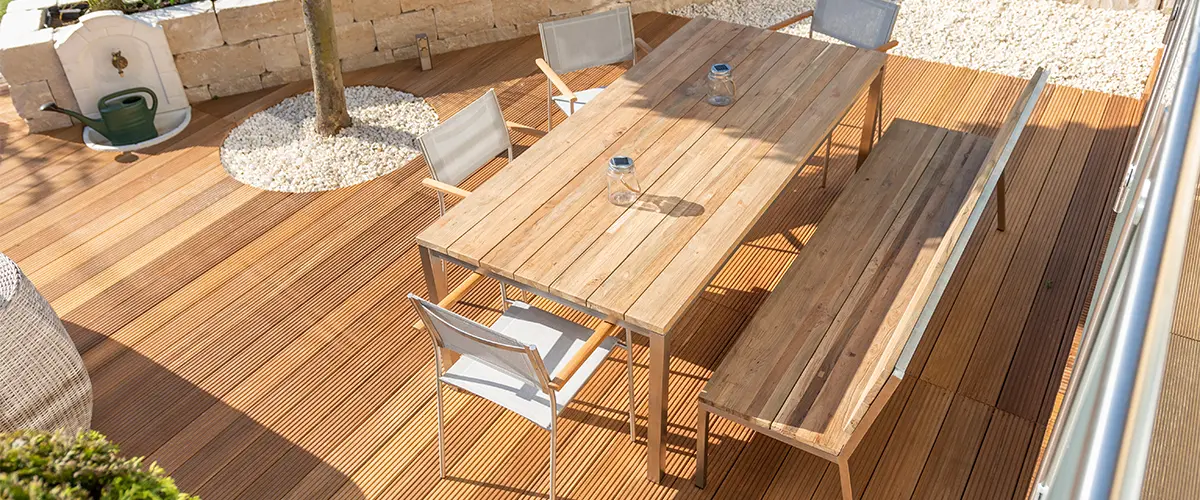 Ensure Your Money Is Well-Invested With Deck Bros
If you want a dependable investment opportunity and a fair deck installation cost in Papillion, here at Deck Bros, we're 100% committed to giving homeowners the best deck building experience they can find around here.
We provide clear and detailed information about your deck installation's pricing and material costs. This ensures you are fully aware of how every penny is spent so you'll be in full control of everything happening in your backyard.
Your needs and preferences will be our #1 priority, and we'll ensure that your new deck installation will transform into a great investment that'll pay off!
With us, you'll get:
Upgrade Your Outdoors Comfort With A Quality Deck Installation In Papillion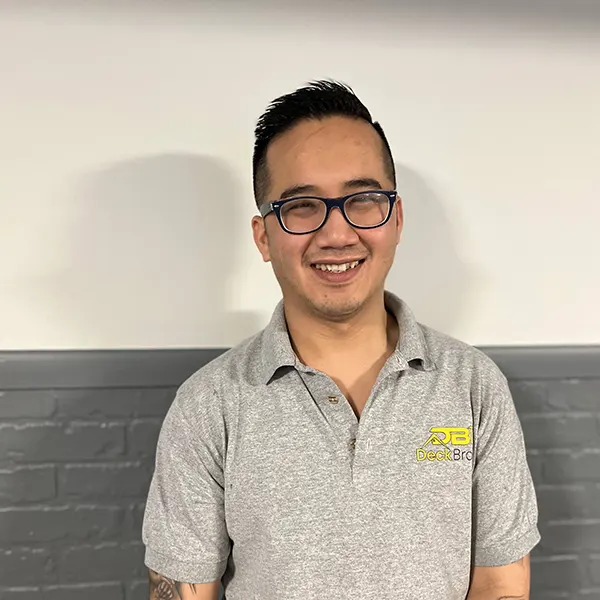 Request a free quote and let's discuss your deck building cost in Papillion! Or talk directly with Luan, the owner of Deck Bros, at (402) 369-5724 and see if we're the right fit.