Deck Installation Cost In Valley, NE
Do you need a quote on the price of installing a deck in Valley? Click the following button!
Deck Bros' goal is to offer clear and transparent deck installation cost for homeowners that want to replace their decking or install a new deck entirely.
With us, you're getting a professionally built deck and a complete service that allows you to be in full control of your project. We'll focus on the safety, beauty, and efficiency of your deck, ensuring you're making a lasting investment that'll pay off every time you step outside.
Installing composite decking will cost around $10k for a 25 x 10 ft. deck. The final cost will be much lower if you're installing pressure-treated wood decking – around $5k. The basic cost to install wood decking is $9.74 – $12.43 per square foot.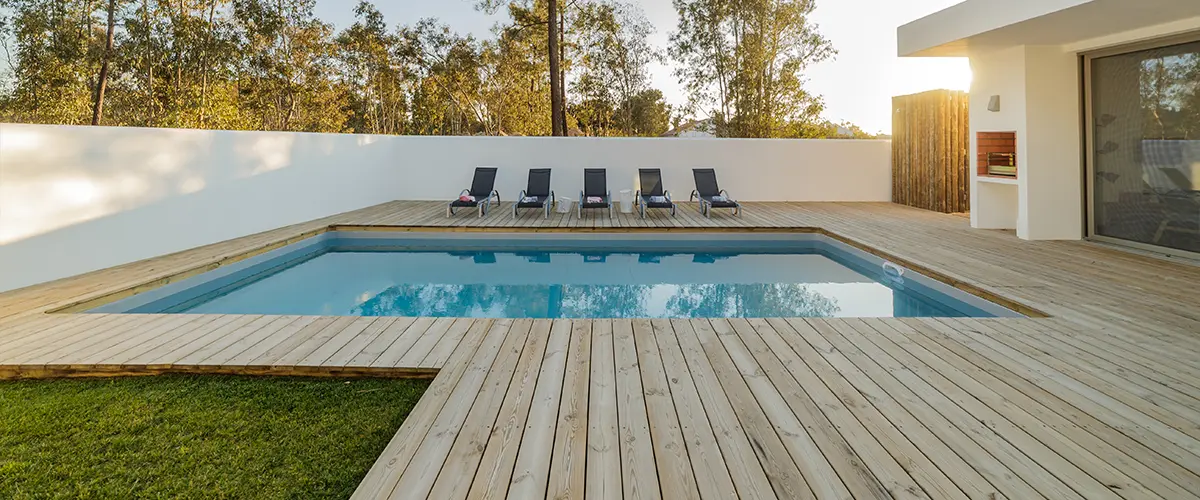 Typical Deck Installation Cost In Valley, NE
Deck installation cost in Valley, NE, depends on multiple factors. By far, two of the most impactful ones are the size of your deck and the decking materials. Upscale materials like natural hardwood will cost more than pressure-treated wood.
| Deck Size | Square Footage | Average Cost Range |
| --- | --- | --- |
| 8' x 10' | 80 | $1,600 – $4,000 |
| 10' x 10' | 100 | $2,000 – $5,000 |
| 12' x 12' | 144 | $2,880 – $7,200 |
| 10' x 20' | 200 | $4,000 – $10,000 |
| 12' x 20' | 240 | $4,800 – $12,000 |
| 16' x 16' | 256 | $5,120 – $12,800 |
| 16' x 20' | 320 | $6,400 – $16,000 |
| 20' x 20' | 400 | $8,000 – $20,000 |
Before
After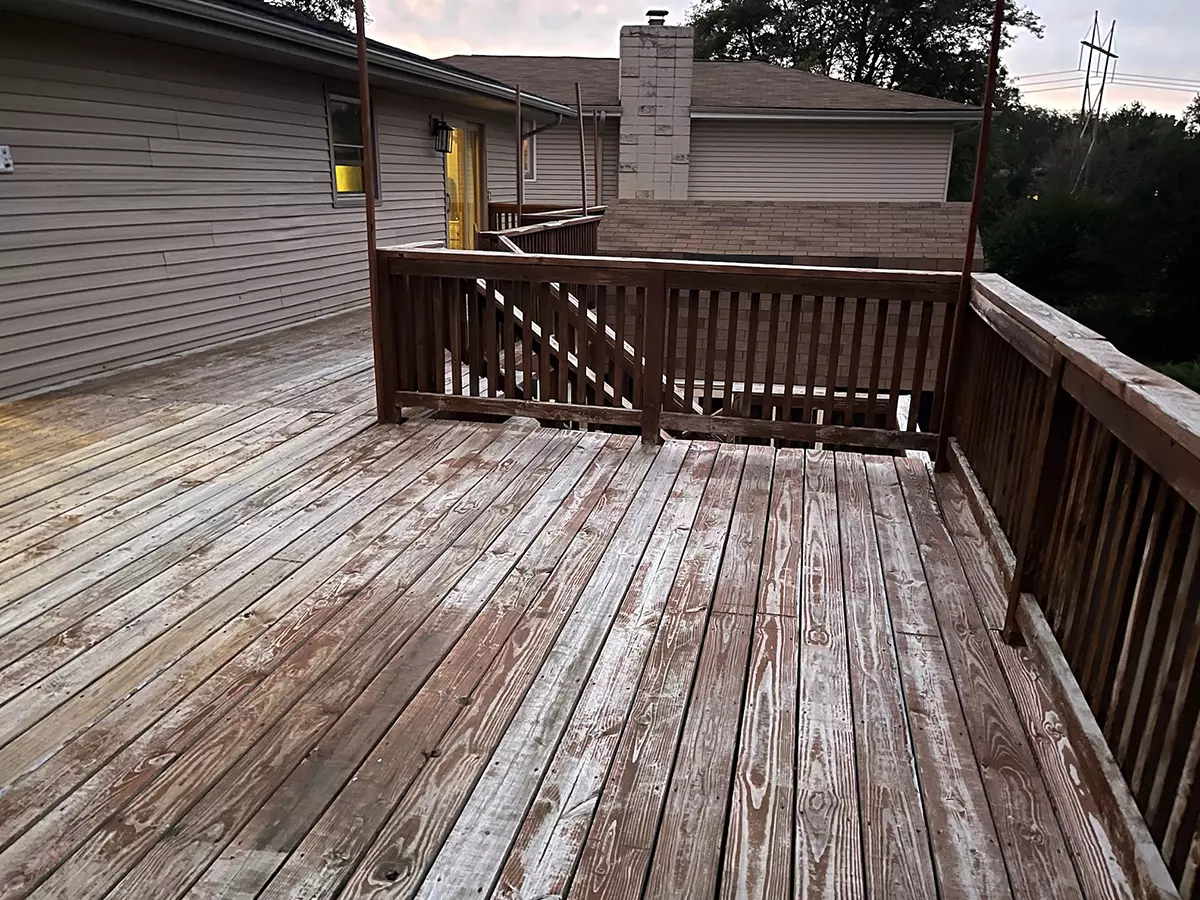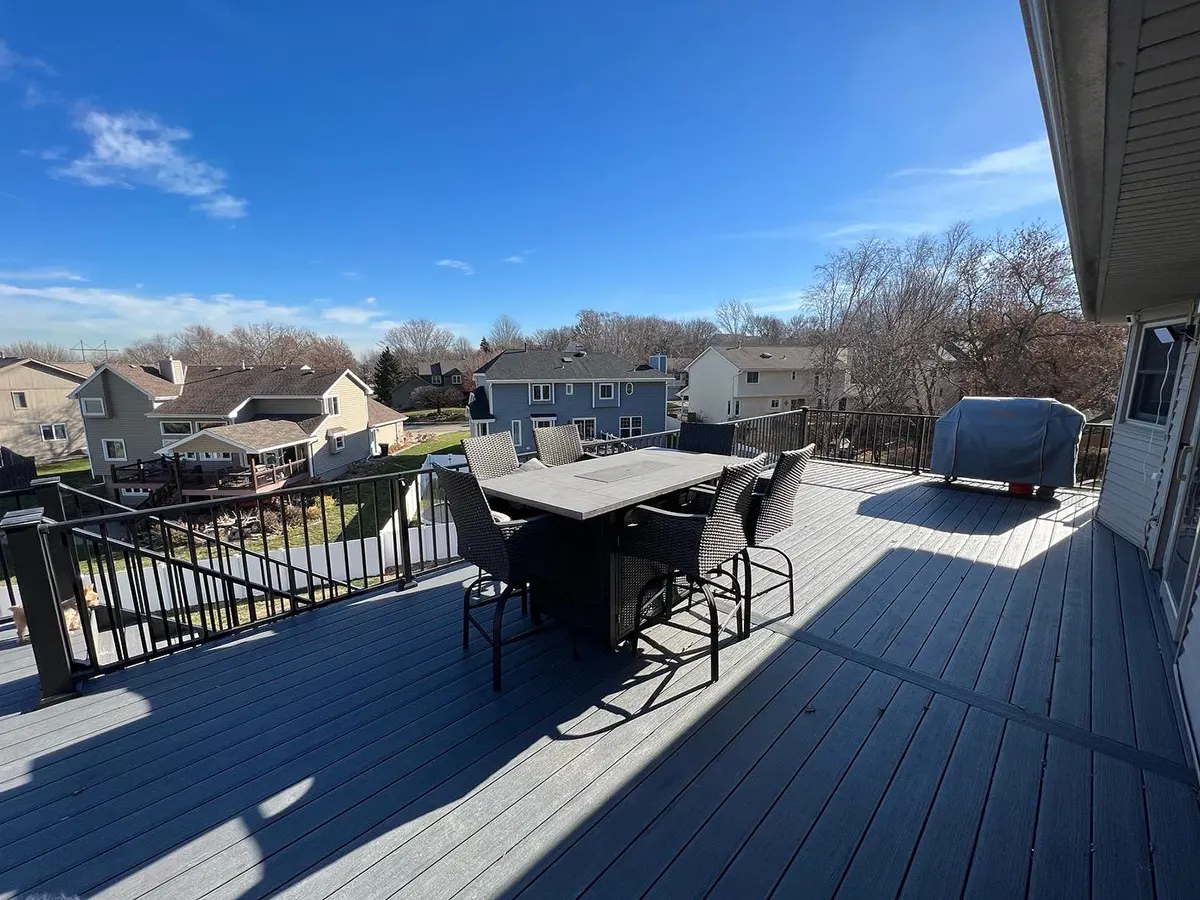 Complete Deck Renovation In Papillion
This 750 sq. ft. composite deck included:
This project was quoted at $72,500, where the most expensive item was the railing with built-in lights, priced at $22,500.
If you want an accurate pricing quote for your new decking project, all you have to do is request your free pricing estimate. Fill out this form, and we'll circle back within a business day for a quick phone consultation or to schedule an on-site visit!
Labor Costs For Deck Installation In Valley, NE
Labor will make up more than 50% of your deck installation cost. While we know this tempts many homeowners to try DIY, we advise against it, as decks are very sensible and need to be completely safe for you and your loved ones.
Our deck-building services start from between $35 to $45 per hour, depending on the size of your new deck and the material we are installing.
Compared to other pros in the area that charge well over $50 per hour, our service is just as reliable and even faster, as we're getting most of our decks finished in less than 3 days!
Low-Maintenance Decking Materials Cost
Composite decking and PVC decking are more expensive than the popular pressure-treated wood or cedar but also much more efficient. Let's see how much they cost.
Most of our customers love the attractive and long-lasting composite decking boards from Trex, a top manufacturer that offers an impressive warranty and a quality product, both at a reasonable price.
| TREX DECKING LINE | COST RANGE PER SQUARE FOOT |
| --- | --- |
| Enhance | $5 - $7 |
| Select Earth Tones and Enhance Natural | $7 - $9 |
| Transcend | $10 - $12 |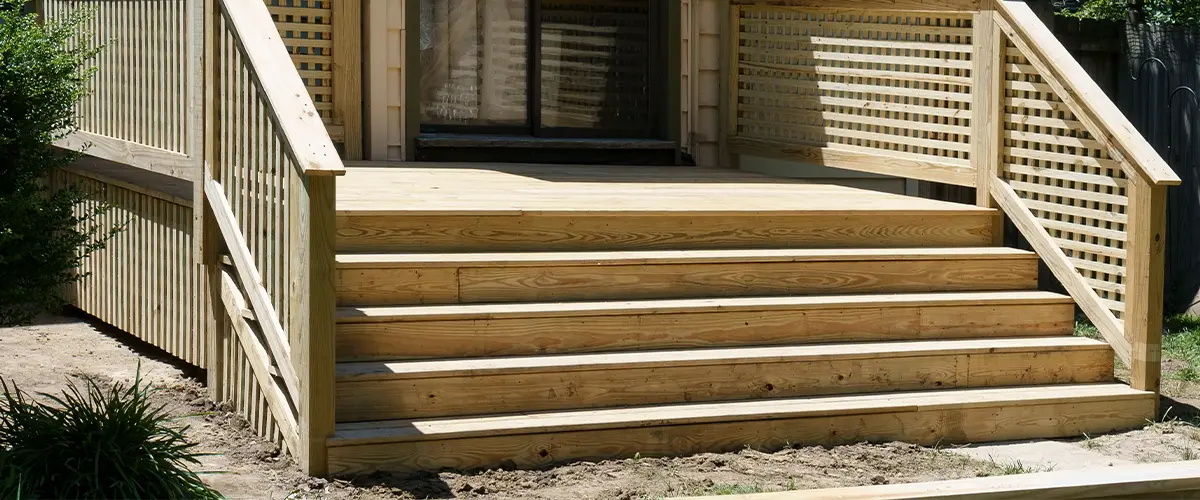 Check out this Trex deck calculator to see how much you'll have to budget for your upcoming Trex deck installation!
TimberTech Composite Decking
Recently we've recommended more and more the composite decking from TimberTech. For us, this manufacturer is more dependable as we can buy the materials directly from the shelf, and we don't have to wait for their delivery.
From a quality perspective, TimberTech has a polymer capping that offers superior protection against water damage. It also offers a better warranty.
| TimberTech Decking Prices | Cost/linear ft. | Cost/square ft. |
| --- | --- | --- |
| Edge Prime | $2.40 – $2.65 | $5.70 – $6.50 |
| Edge Premier | $3.10 – $3.25 | $6.85 – $7.50 |
| Pro Terrain | $3.35 – $4.05 | $8.75 – $9.35 |
| Pro Tropical | $4.90 – $5.35 | $11.15 – $12.00 |
| Pro Legacy | $5.80 – $6.35 | $12.35 – $13.50 |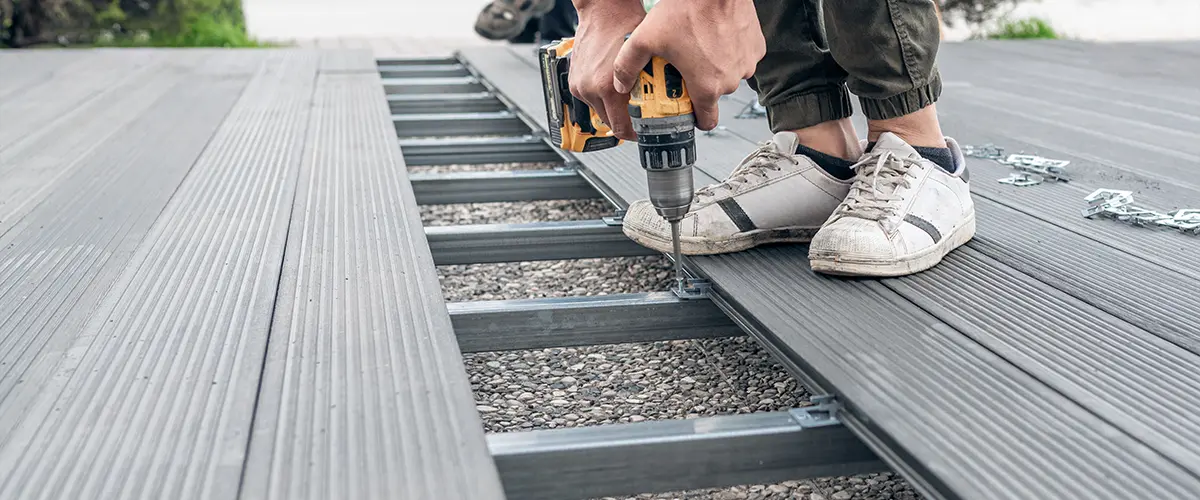 PVC decking is even more durable and reliable than composite. These boards are highly resistant to water damage and wear and tear. A pressure wash a year is enough to keep a PVC deck in good condition.
| PVC Deck | Cost/linear ft. | Cost/square ft. |
| --- | --- | --- |
| Azek Harvest | $4.75 – $5.25 | $9.45 – $12.70 |
| Azek Arbor | $5.80 – $6.35 | $12.00 – $14.00 |
| Azek Vintage | $6.50 – $7.00 | $11.90 – $14.50 |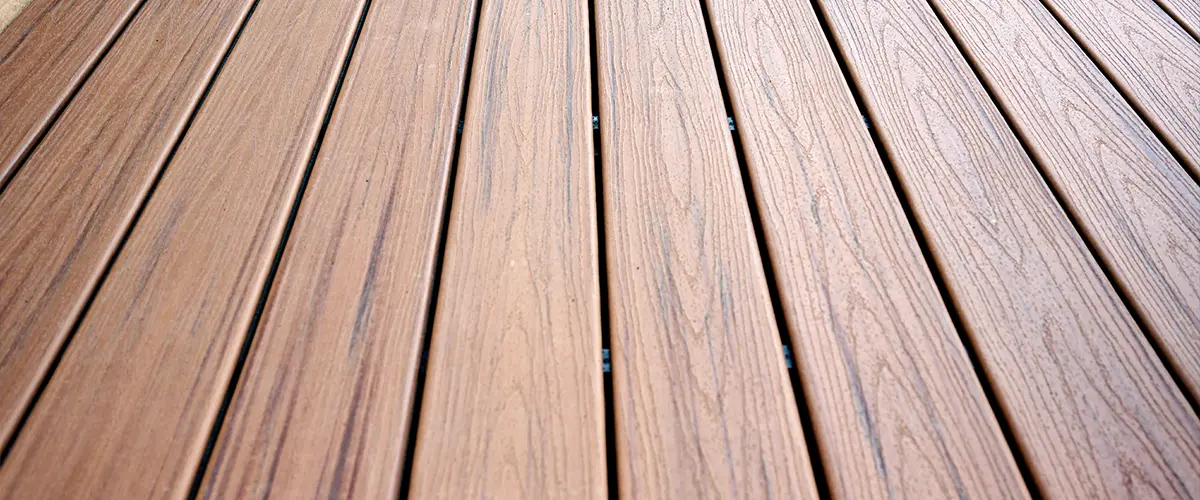 Despite requiring regular maintenance, many customers prefer natural wood for their deck installations because they appreciate its aesthetic appeal and the way it enhances their outdoor space.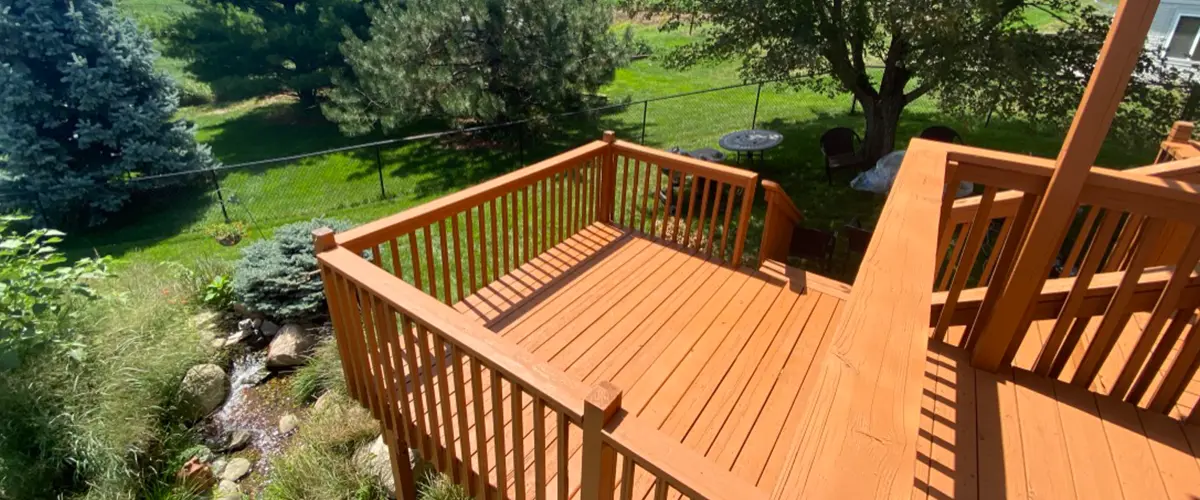 Pressure-Treated Wood Decks
Pressure-treated wood or yellow pine is by far the most popular decking material because of how affordable it is. This makes it a very common choice for our customers in Valley, NE, but far from a long-lasting one, as PT wood has the smallest life span of all decking materials.
The cost range for pressure-treated pine decking includes $15.00 to $25.00 per square foot for materials and $20 to $30 for installation. You'll spend between $1k to $2k every two years on staining, sealing, and repairs.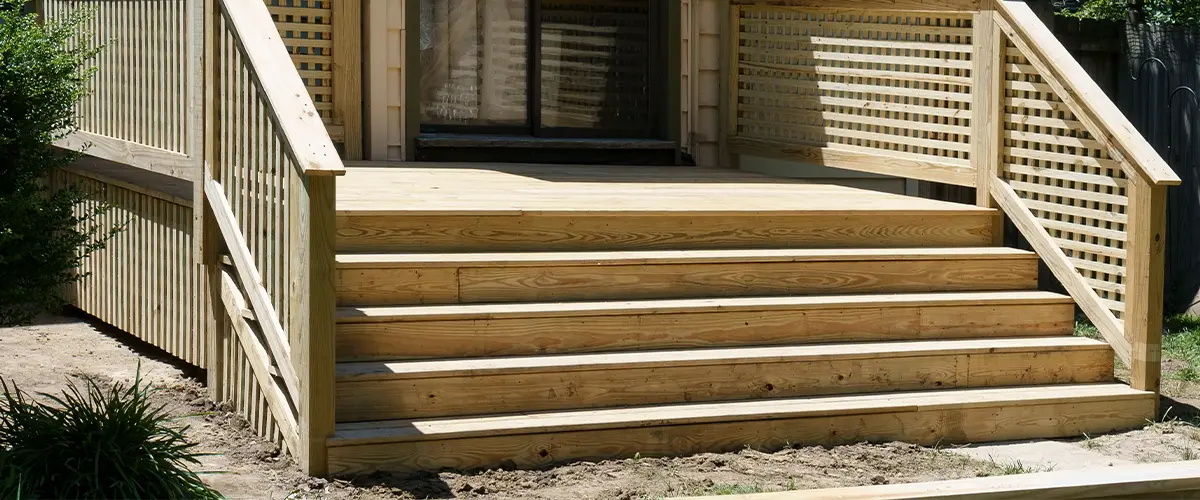 Cedar has great natural resistance against rot and pests, but it still requires regular maintenance to perform at its peak. It's a relatively cheap decking material, but there are boards that cost more than others. Cedar costs approximately $5 to $10 per linear foot.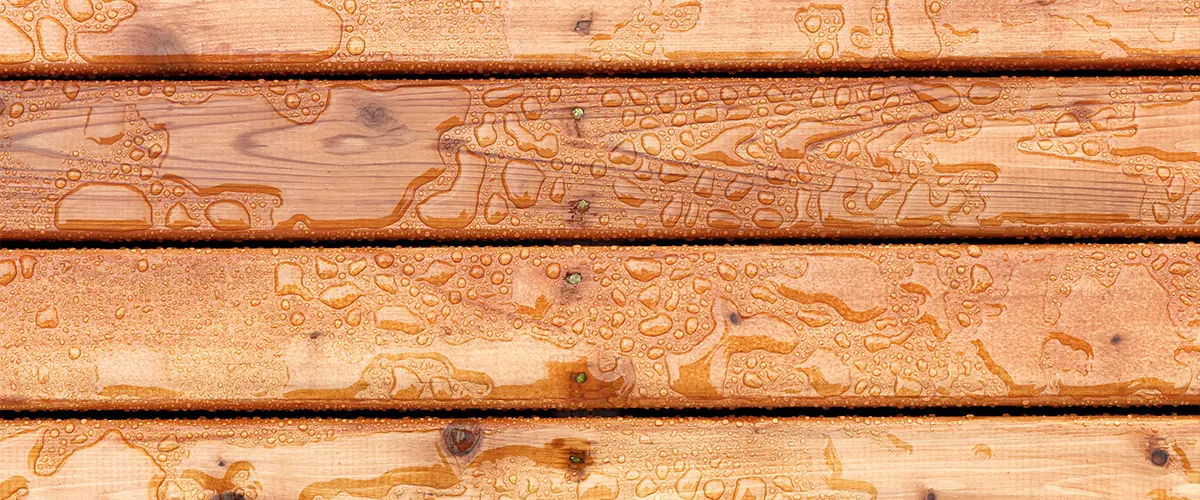 Redwood decking is not as popular as cedar or pressure-treated wood. It comes in a reddish color that gives your outdoor space a completely different look than what people are used to. It's also pricier than cedar and pressure-treated wood, ranging from $1.50 to $5.40 per square foot.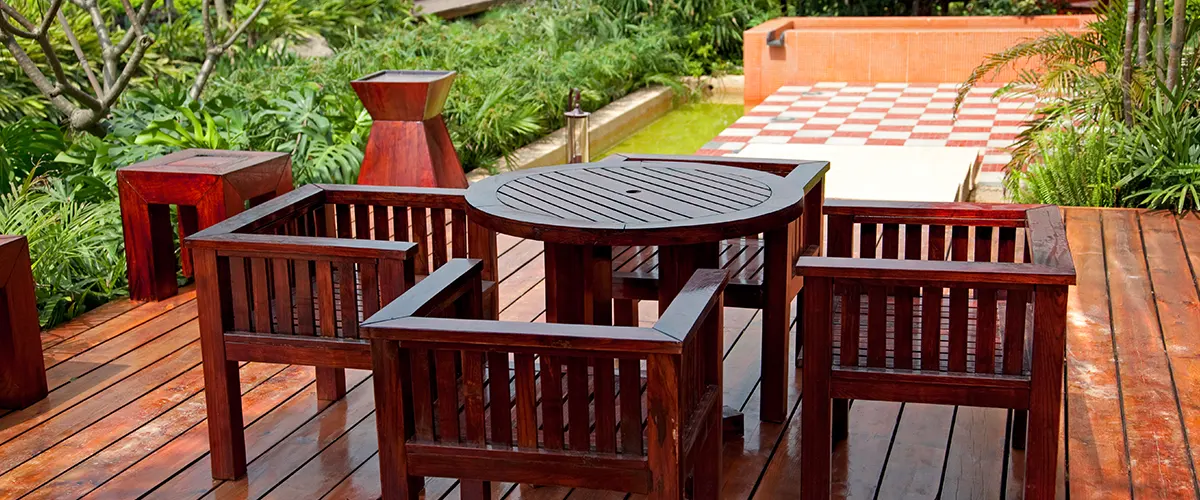 Hardwoods like Ipe, tigerwood, or teak for your deck can give it a luxurious feel, but at a hefty price tag. Even though these are long-lasting decking materials, they still require sealing and staining from time to time to ensure they truly look high-end.
Let's see some other types of wood and their cost of installation.
Bamboo deck: $19.00 to $22.00 per square foot installed.
Cumaru deck: $34.00 to $36.00 per square foot installed.
Massaranduba deck: $35.00 to $38.00 per square foot installed.
Garapa deck: $33.00 to $35.00 per square foot installed.
Tigerwood deck: $39.00 to $42.00 per square foot installed.
Ipe deck: $47.00 to $49.00 per square foot installed.
Teak deck: $49.00 to $51.00 per square foot installed.
3 Things To Consider When Choosing A New Decking Material
We view deck building and deck installation as two different projects. Deck building means building a deck from the ground up, with a foundation, footings, posts, picture frames, decking, and railing. Deck installation, on the other hand, only involves placing new decking on an existing structure.
Deck Bros' team is renowned for being speedy and highly efficient. With us, you're getting your new deck in 3 days tops!
I'm Luan, the owner of Deck Bros, and you'll often see me on-site, making sure everything goes according to plan. If it's not me, you'll see one of my trusted partners, the people that report directly to me. You'll work with builders and installers with over 30 years of experience in their trade, so rest assured you'll receive world-class quality.
Ensure Your Money Is Well-Invested With Deck Bros
With Deck Bros, you're getting a budget-friendly deck installation in Valley that also serves as a reliable investment opportunity. With us, your deck's safety, beauty, and reliability are guaranteed, as we're taking your project the extra mile.
Once again, composite decking installation will cost around $10k for a 25 x 10 ft. deck, compared to $5k for pressure-treated decks. Wood decking installation cost is between $9.74 – $12.43 per square foot.
With us, you'll get:
Get The Best Decking Solutions In Valley, NE, Right Now!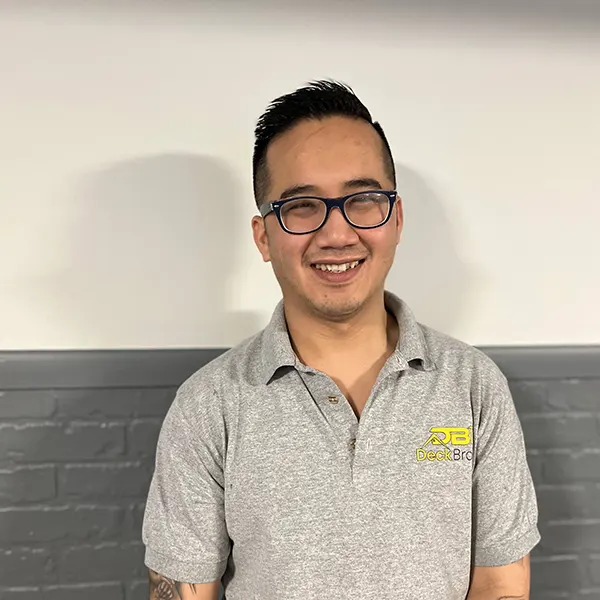 Request a free quote and let's discuss your deck installation cost in Valley! Or talk directly with Luan, the owner of Deck Bros, at (402) 369-5724 and see if we're the right fit.