Deck Repair Cost In Bellevue - The Best Guide
Interested in finding the real deck repair cost in Bellevue? Discover what to expect right from your local pros!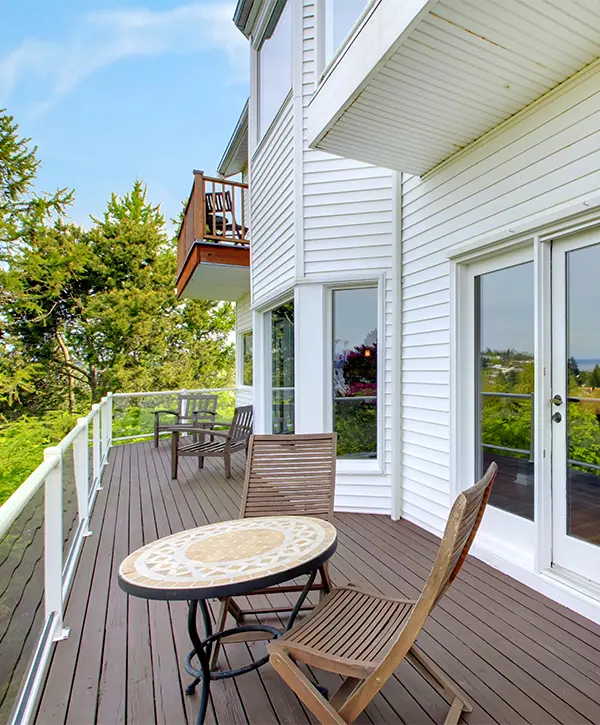 While no contractor can tell you how much your deck repair cost in Bellevue is going to cost without seeing your deck, we can provide a quick estimate and some guidelines to follow to determine how much you should budget for your upcoming project.
At Deck Bros, we're your local deck builders in Bellevue ready to take on your project and make your outdoor space safe again.
And we're doing it better than anyone else in the industry.
At Deck Bros, our goal is to offer you more than any other deck builder in Omaha does. With us, you'll get:
Advantageous Deck Repair Cost In Bellevue, With Deck Bros
Decks need to be about safety, and when your safety is on the line, you know you need to take action. No matter the deck repair cost in Bellevue, it's no match for the well-being of your family and loved ones.
Here at Deck Bros, we're dedicated to building you a long-lasting deck that'll stand the test of time and weather. Our repairs focus on strengthening the posts, the stairs, the railway, and everything else that represents a hazard on your deck.
And because we know the deck repair cost in Bellevue can make you postpone your project, we're bringing some of the most affordable solutions to revamp your space.
Check out our deck repair service and get your free quote today! Get peace of mind by having the best deck builders on your project.
Case Study: A Deck Repair Cost in Omaha Metro
This was a large deck repair project in Omaha Metro area, more specifically, in Elkhorn. This project included:
Before
After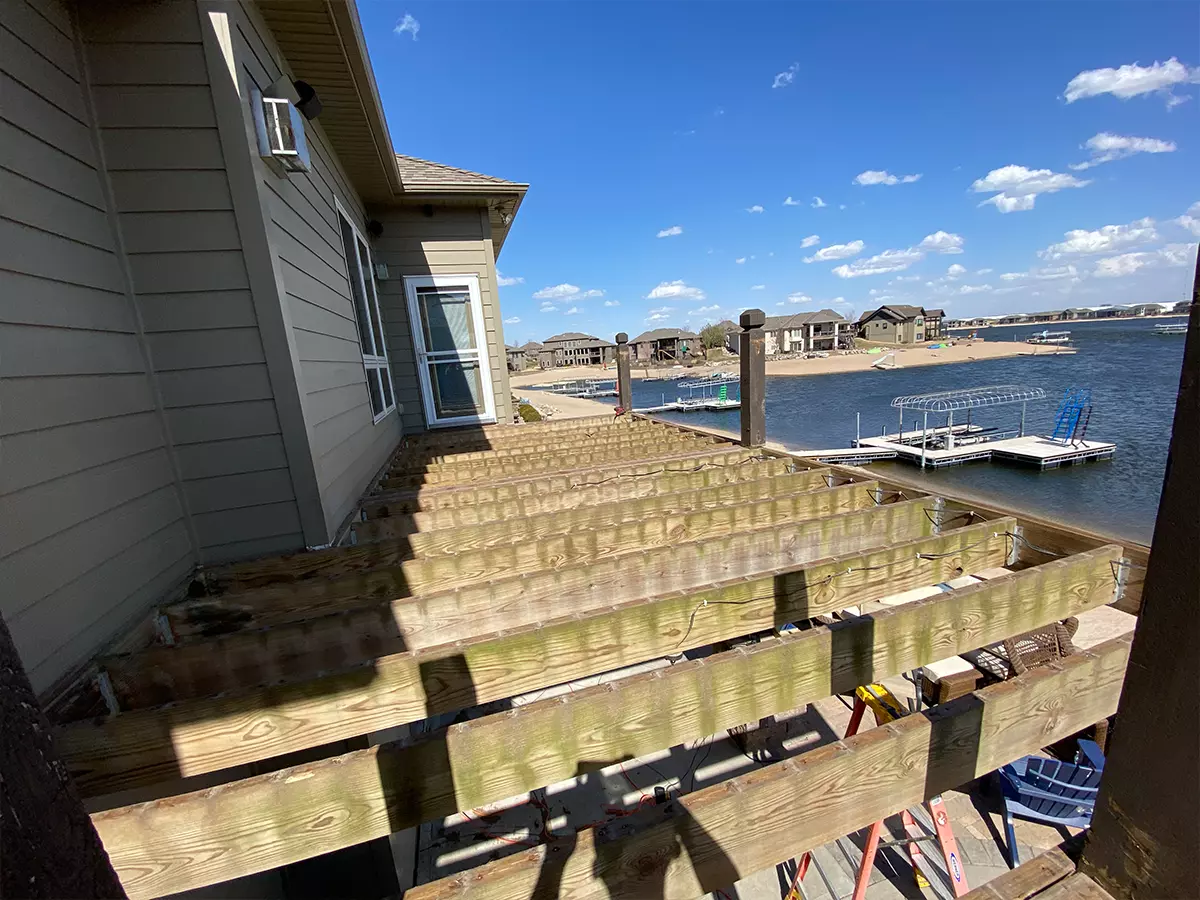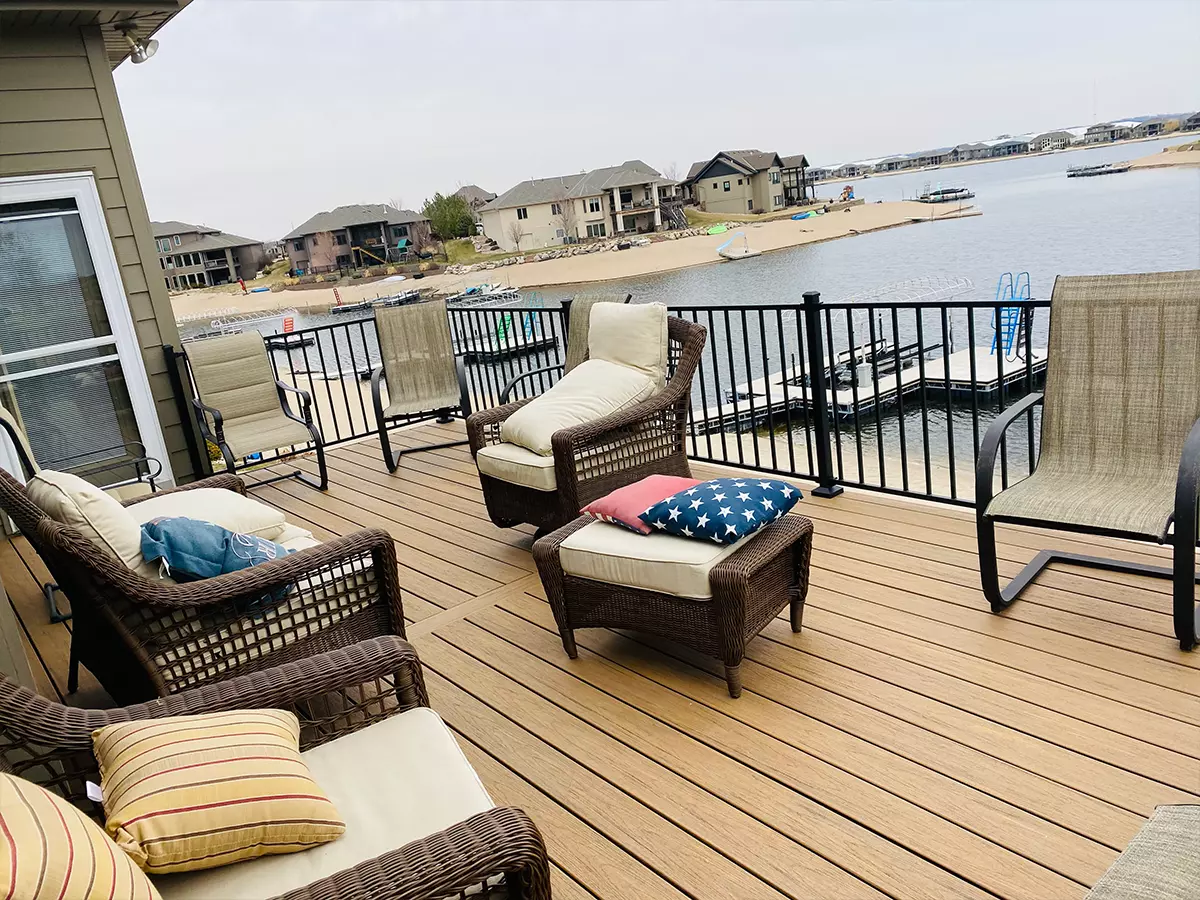 We quoted this deck repair project at $16,500, where the stairs alone came in at $7,000.
Here's What Homeowners Say About Having Us On Their Deck Repair Project
My husband and I are very pleased with our new deck. They were able to tear down and replace our deck in a very short time. They did an excellent job! 1 day for the tear down and 3 for the build. 
The workers were very courteous and professional. My neighbor who watched the whole process was impressed with the speed and skill that they used replacing our old deck. I would highly recommend Deck Bros if you need a deck repaired or replaced ! 
Consider Deck Bros one of the best companies I have ever worked with. I had my old deck taken down and a new deck designed and erected all in a period of six days. Luan the designer allowed changes throughout the 6 days. 
The crew was tremendous in their work assuring the work met all safety requirements as well as starting each morning and keeping grounds cleaned up each evening as well as keeping us informed of how the job was progressing. 
If ever need another deck would never consider another company but Deck Bros. They are the best.
Typical Deck Repair Cost In Bellevue, NE
Deck repairs are vague projects that can either mean replacing several boards or replacing the entire deck. Because of this, your deck repair cost in Bellevue will depend on the extent of the damage, and what materials you're planning to use to fix the deck.
Although there are a lot of variables in deck repair pricing, let's see what are some common deck repairs and their associated cost.
Resurfacing A Wood Deck With Composite
Most of our deck repair projects are older decks made with pressure treated wood. Despite this material still being very common in the deck building industry, many of our customers choose to replace it with composite decking.
Tearing down an old decking surface, buying the composite decking materials, and replacing the wood deck with the new composite will cost you around $15k for the average deck.
Here at Deck Bros, we're fans of TimberTech decking. These are great, quality boards that come in a wide variety of colors and styles. The medium-to-high type that we're using typically cost between $60.00 to $70.00 per square foot.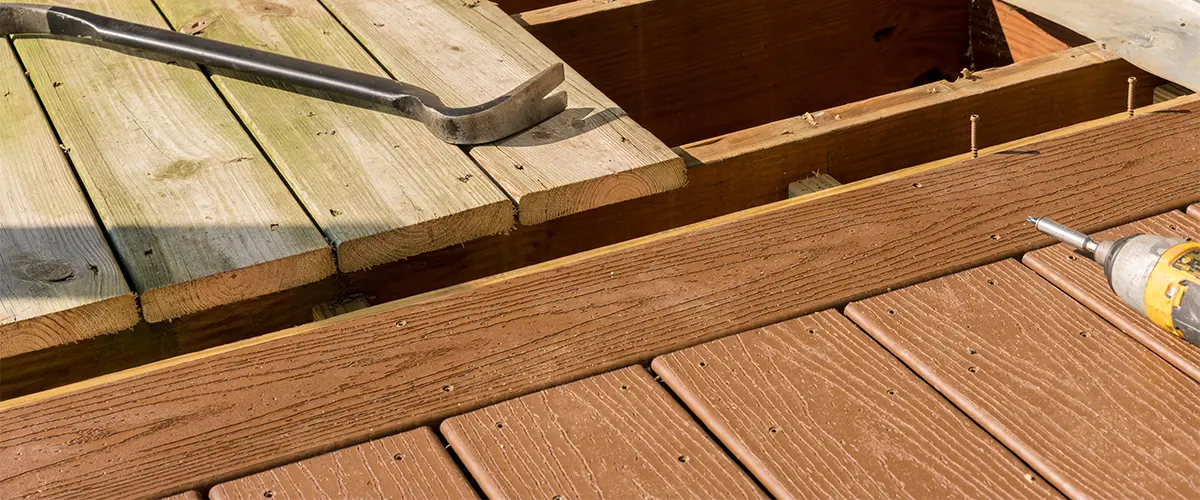 However, if you're looking to replace the wood decking with a different wood material, here are some of the installation costs associated with various species of wood. The materials themselves will have a similar price point, depending on the supplier.
Back in the day not all decks had railings. And those that did were made of wood, a material that's simply not strong and durable enough to be used as deck railing.
Nowadays, metal rails are all the rage in the deck railing industry. Besides them being so easy to match with any color scheme, aluminum is more durable, immune to rot and pests, and doesn't require the maintenance that wood does.
Our favorites are Westbury railings, the best aluminum railing brand on the market. They cost around $60.00 per linear foot for materials.
A good composite railing from TimberTech has almost the same price as the Westbury railings that we recommend. Besides a different look that resembles the wood grain, there's no real reason you'd want composite railing instead of metal.
The average cost to install composite deck railing is around $30-$60 per linear foot, and the 6 foot long railing from TimberTech costs around $180.
Wood railings are actually the ones that are always replaced with metal. They're still a viable option, but definitely one that won't return any of your investment.
The average cost of wood deck railings is around $20 to $35 per linear foot. However, add to this the cost to actually build the railings from scratch.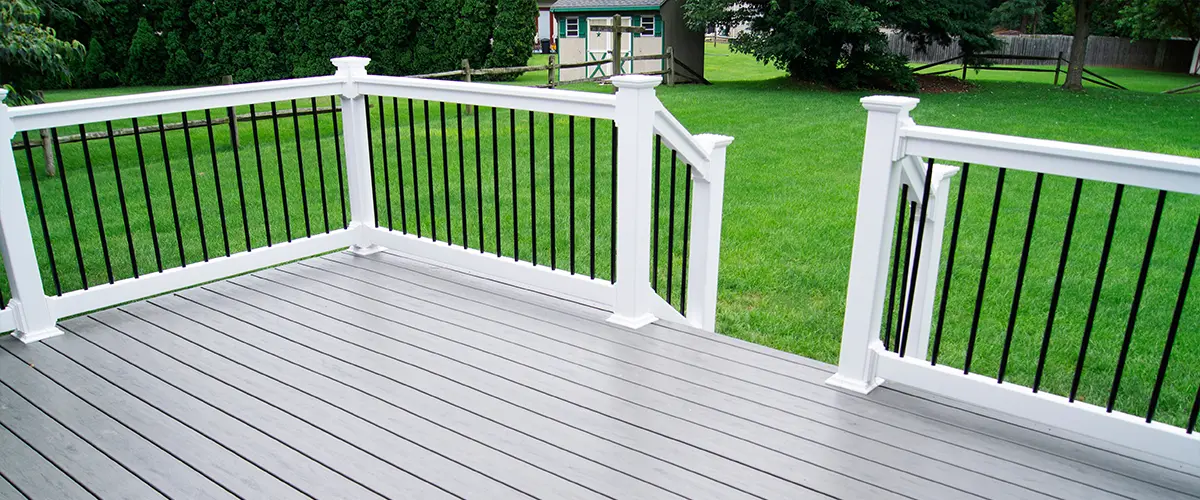 A typical problem with older decks is their posts. In the past, it was standard practice to bury deck posts directly in the ground. Today, the deck building codes are different and all decks with posts in the ground need to be replaced as soon as possible.
Replacing deck posts and installing them in concrete footings or special footings cost between $200 and $400 each. Depending on how many posts you'll need, their dimensions, and the footing options, the cost of this deck repair project will change.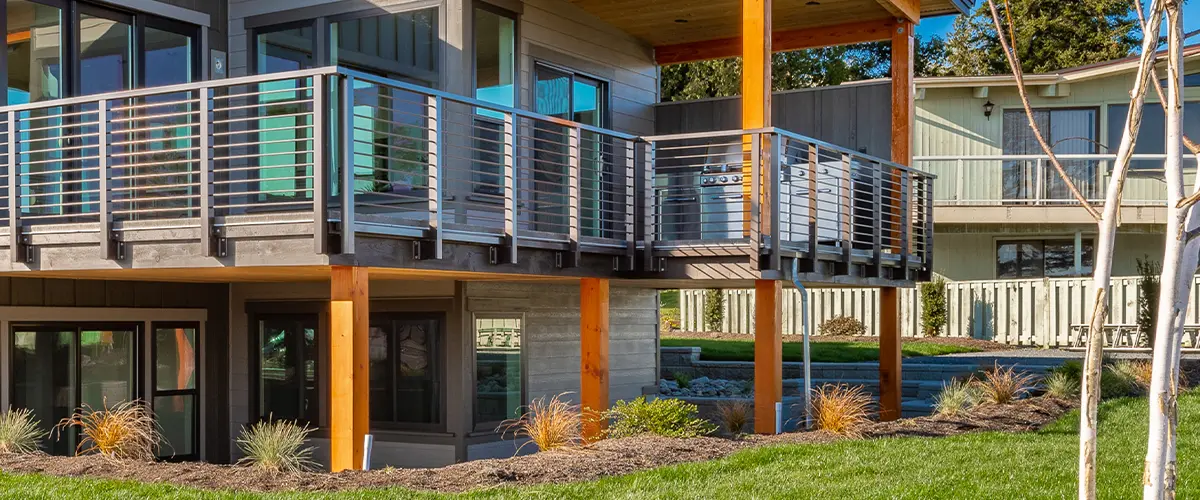 On many older decks, stairs were built with minimum effort and anyone could tell the end-product is simply bad. As soon as you feel the stairs and handrails moving underneath your feet, you'll have to address the issue as soon as possible.
Depending on the material you want to use on your deck stairs, the elevation, and the number of stairs, you'll end up spending between less than $1k for the most basic set of stairs to up to $10k for a double set of stairs with metal railing and composite surface.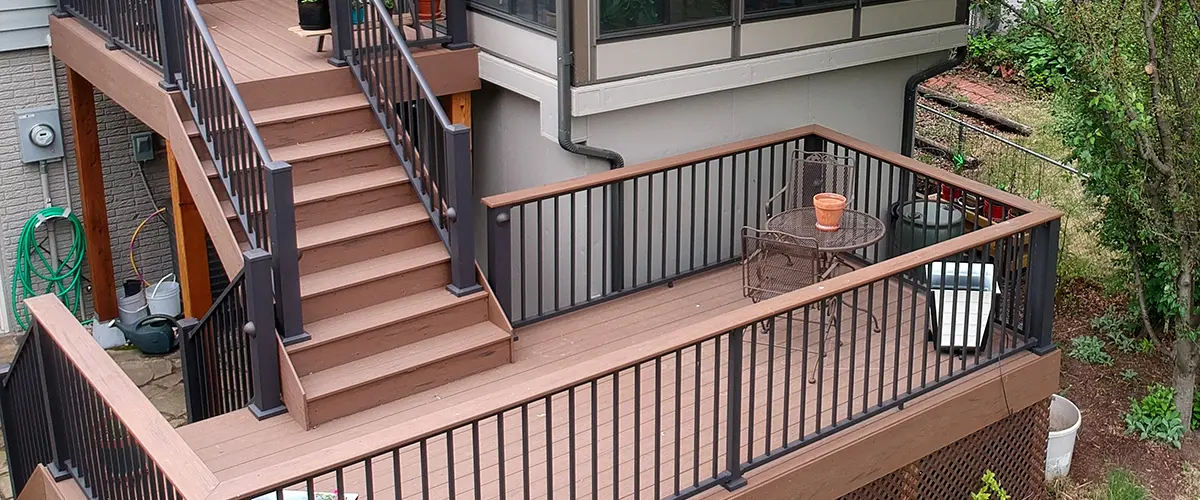 Repairs Of Extra Features
Pergolas, awnings, lighting, and built-in furniture will also need repairs in time. These are what help your deck surpass the basic level of comfort, so if you're looking for a quick and inexpensive upgrade, repairing or upgrading these extra features is a great option.
A wood pergola can cost as much as $3k to repair, depending on the extent of the damage. Fixing or installing an awning will have a similar price. Replacing some decking lights can cost as low as a couple hundred dollars.
Tips To Follow When Budgeting For Your Deck Repair Cost In Bellevue
Sometimes, a deck repair proves to be inefficient in helping your deck reach its good old days. When there are too many issues with older decks, it becomes a waste of time and money to try and save it. After our consultation, we'll tell you exactly what your deck needs and what repairs will be worth your time.
Before determining your deck repair cost in Bellevue, you'll have to ask your contractor plenty of questions. Inquire about materials, timeframes, project management, and the crew that'll be working on your project.
It's a good idea to have a fallback strategy in place. This implies that you've prepared for any unforeseen problems with your deck and that you're committed to seeing it through to completion. Aside from that, having some back-ups on hand is never a bad thing, even if nothing goes wrong with your supplies.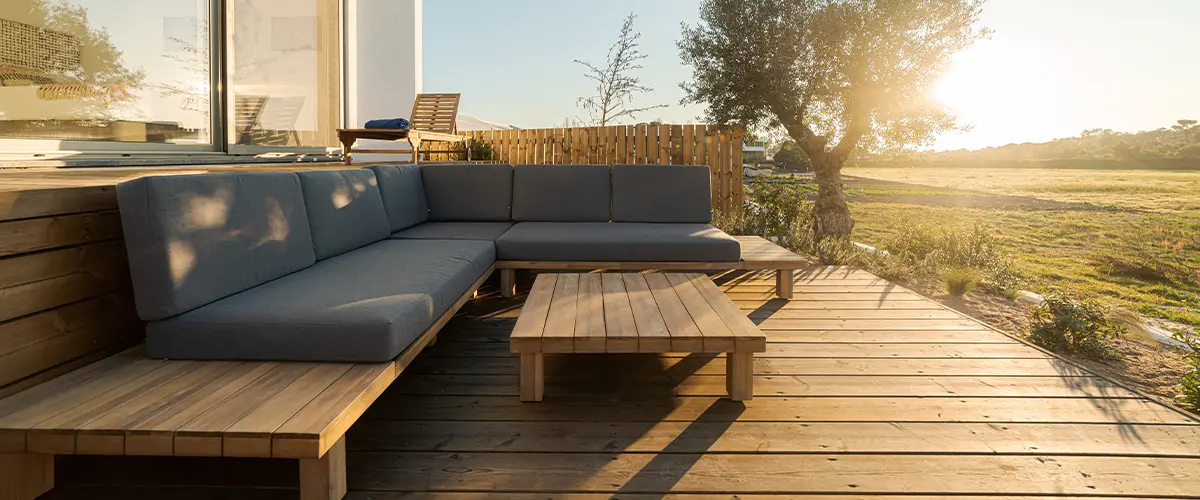 Enjoy A Fair Deck Repair Cost In Bellevue From Your Local Pros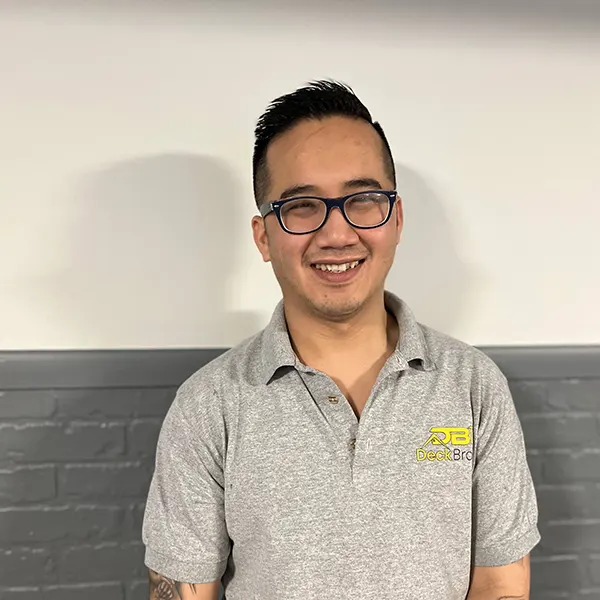 When it comes to deck repair cost in Bellevue, a lot of our customers start reconsidering and begin thinking about a complete deck replacement. And it's easy to see why.
Would you rather invest your money to win another couple of years for your deck, or would you spend a little more to make sure you're getting a brand new deck that'll last for a lifetime?
Working with Deck Bros, gets you all the answers you'll need to make an informed decision about what's next for your deck. You'll get some of the best decking solutions in Bellevue, and also enjoy some great deck building deals that you simply can't pass!
With us, you'll get:
Get The Best Deck Repair Company In Bellevue On Your Project Today!
Request a free quote and let's discuss your deck repair cost in Bellevue! Or talk directly with Luan, the owner of Deck Bros, at (402) 369-5724 and see if we're the right fit.