Deck Repair Cost In Elkhorn
No time to read through? Get an exact quote for your project now!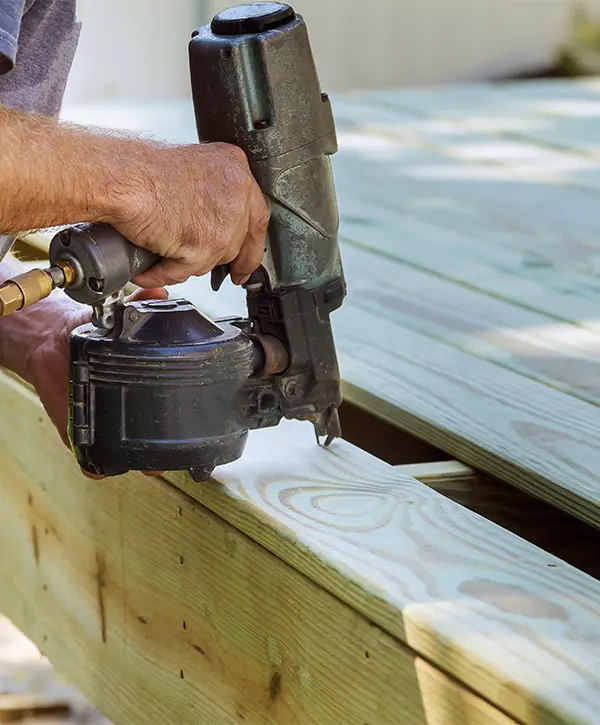 Many of our clients are concerned about the cost of deck repair in Elkhorn. Contractors' procedures have grown slower and sketchier, and homeowners trust them less.
At Deck Bros, we want to change that, which is why you'll get a transparent deck repair quote based on everything we talk about at our on-site consultation.
While the expense of repairing a deck varies from one project to another, we can still provide you with an approximate cost so that you may have a better understanding of what goes into a deck repair job.
Get Honest Decking Repair Prices
With every deck project we work on here at Deck Bros, we not only aim to maintain the excellent quality you've come to know and expect from us but also continually strive to improve upon it.
We don't cut any corners nor take any shortcuts, which is what earned us a reputation for perfectionism in both new deck constructions and deck repair projects.
This is what makes Deck Bros your best choice:
A Reliable Deck Repair That'll Uplift Your Outdoors
A deck repairing project not only makes your deck safe but also brings it back to its prior beauty. And while some contractors say you can pick one or the other- safety or former glory- here at Deck Bros, we believe in achieving both.
You'll go through a fast and easy process where we will identify the most serious problems with your deck, as well as your expectations for it in a few years. You'll be given ample opportunity to hear our thoughts and choose which option is best for you.
Oftentimes, it costs similar amounts of money to replace an old deck as it does to repair it. In these cases, we usually recommend that our clients replace their deck altogether so they don't have to worry about repairing it again in a few years.
Here at Deck Bros, we offer professional deck building and deck repair services for all homeowners in Elkhorn, NE. Check out our offer and get the best deal in town!
Case Study: A Deck Repair Cost in Omaha Metro
This was a 24×12 ft. deck repair in Omaha Metro area. This project included:
Before
After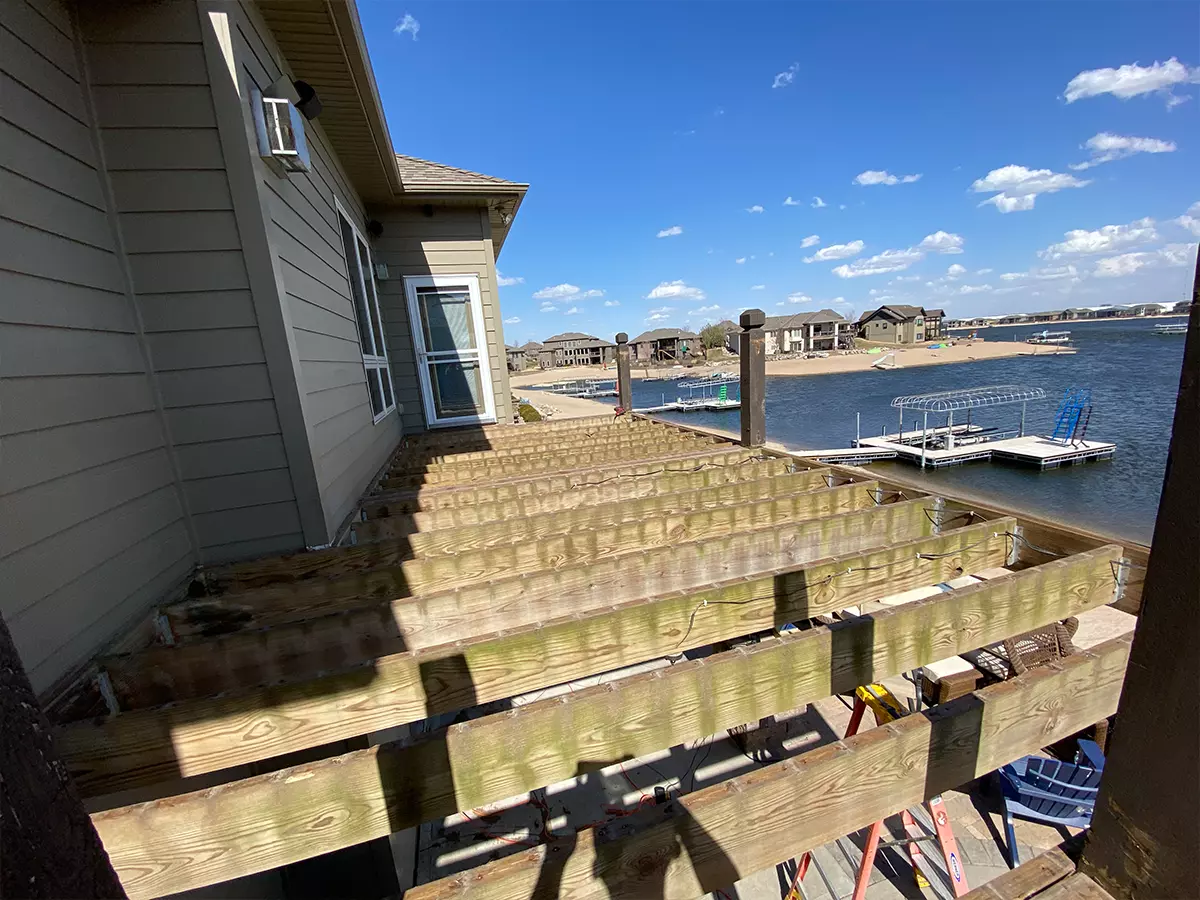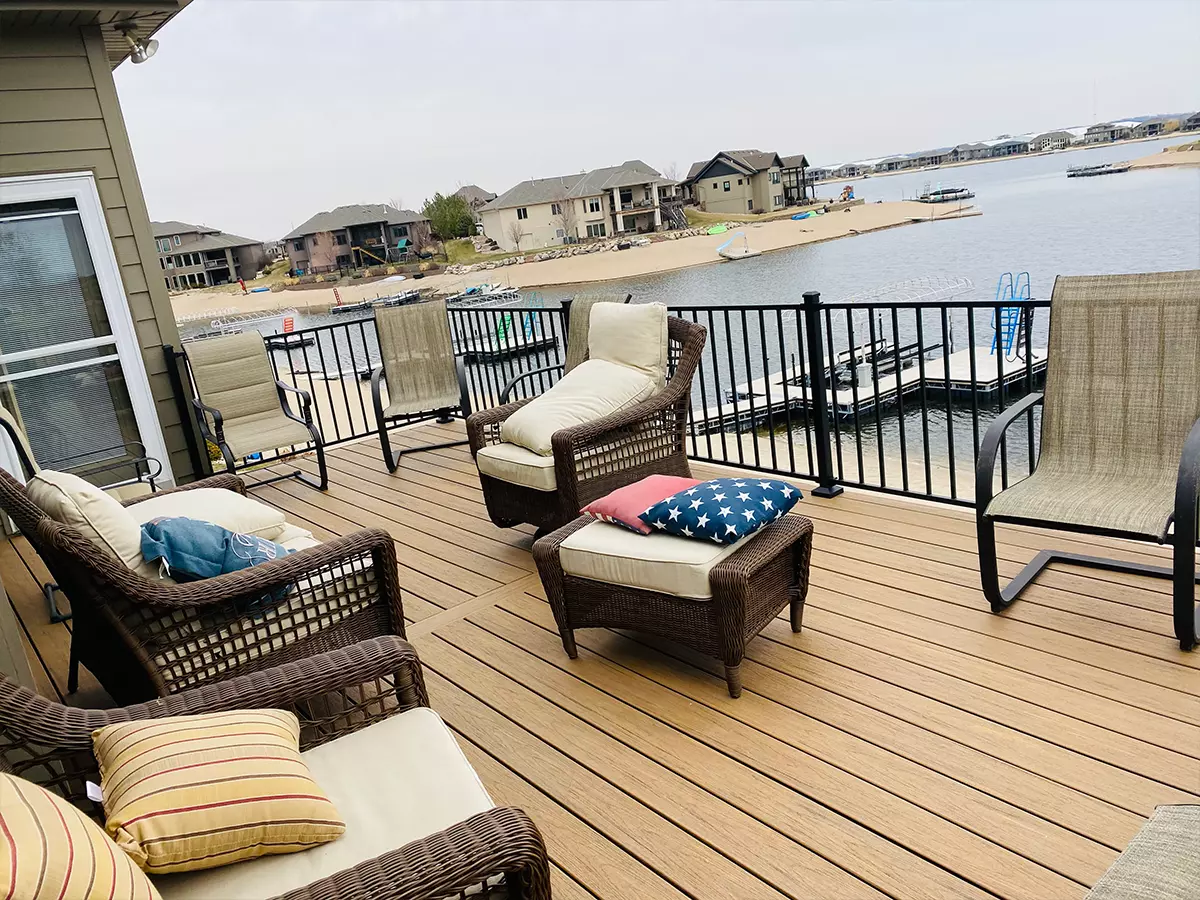 We quoted this deck repair project at $18,000, where the most expensive item was the TimberTech Decking, coming in at $8,760.
Our Customers Love Their Deck Bros Upgrades!
Luan and his team built my pool deck. 
They were awesome! They get you excited about having your deck built and so friendly. 
Their workmanship is incredible, they kept you informed at all time and reasonably priced. 
I highly recommend this company.
Great product, great price, and great service. 
Deck Bros exceeded my expectations and I couldn't be happier. 
I wish I had 2 decks I needed to be built. 6/5 would recommend to anyone looking for an amazing deck. 
Thanks guys!!
Typical Deck Repair Cost In Elkhorn, NE
The total expense to repair your deck in Elkhorn will depend on how severe the damage is and what repairs are needed.
If you only need a few boards to be replaced, the expense is likely to be far less than if you were attempting to restore an entire deck. The actual problem, on the other hand, may not be with a few boards, but with your deck's frame. Replacing the deck frame is definitely more expensive, but it's also worth it since it will save time and money in the long run.
Let's see what are some common deck repairs and their associated cost.
Resurfacing A Wood Deck With Composite
Replacing wood decking with composite materials will cost the average homeowner around $15,000. This figure includes tearing down and disposing of the old surface, purchasing the new composite decking, and hiring a professional to install it.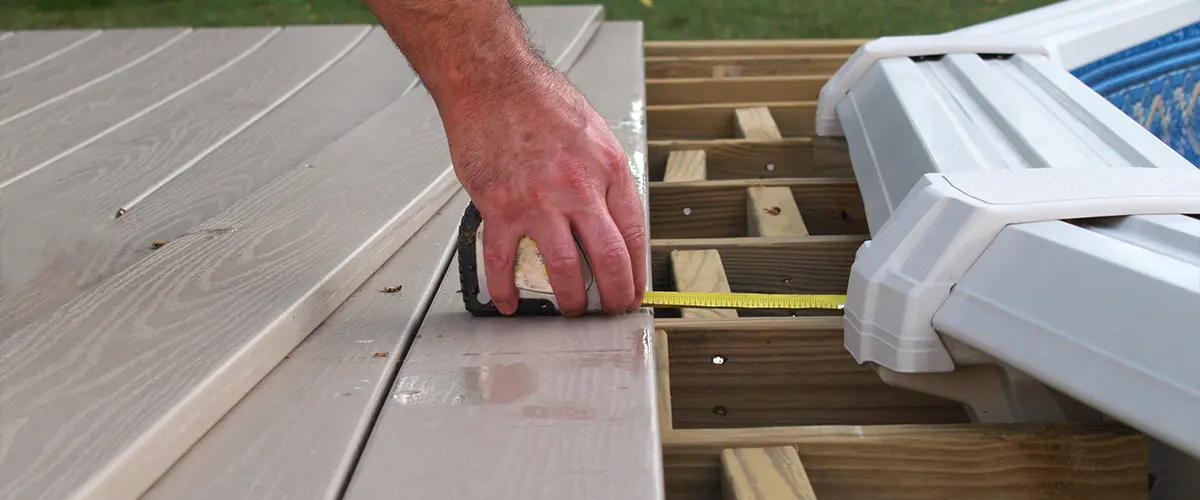 Most viable wood materials for decks are listed below, including the average cost per square foot. Please note that prices of the actual lumber vary depending on supplier and markup but installation costs remain relatively similar.
Older decks will most likely have wood railings, which, over several years of being exposed to the elements, will show a dramatic fall in functionality, looks, and safety. Replacing them will be mandatory if you want to keep your outdoor space safe.
Metal rails are long-lasting, resilient, pest-free, and compatible with a wide range of color choices. They guarantee complete safety for you and your family.
We're using Westbury railings, the best aluminum railing on the market. They cost around $60.00 per linear foot for materials.
Composite railings have a very similar price as metal railings, which begs the question, why not spend a few more dollars for a much better product that'll last forever?
The average cost to install composite deck railing is around $30-$60 per linear foot, and the 6 foot long railing from TimberTech costs around $180.
Wood railings are less and less popular. When our customers hear the benefits of metal rails, they immediately change their minds and choose the safest, more comfortable option.
The average cost of wood deck railings is around $20 to $35 per linear foot. However, add to this the cost to actually build the railings from scratch.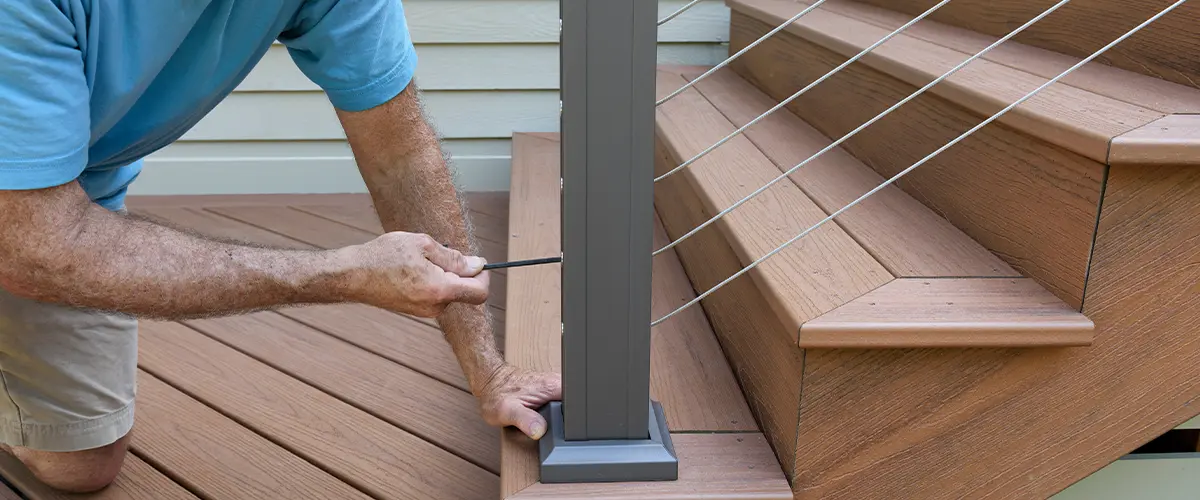 A common problem we find with older wood decks is that the deck posts are buried in the ground. Even pressure-treated wood will rot and be damaged by water and insects if it's buried, which compromises the safety of your deck.
Each replacing of deck posts and putting in concrete footings or special footings costs between $200 and $400 each. You'll need different numbers of posts depending on the size and shape of your deck. The posts themselves will cost anywhere from $100 a piece to $250, depending on the dimensions and quality.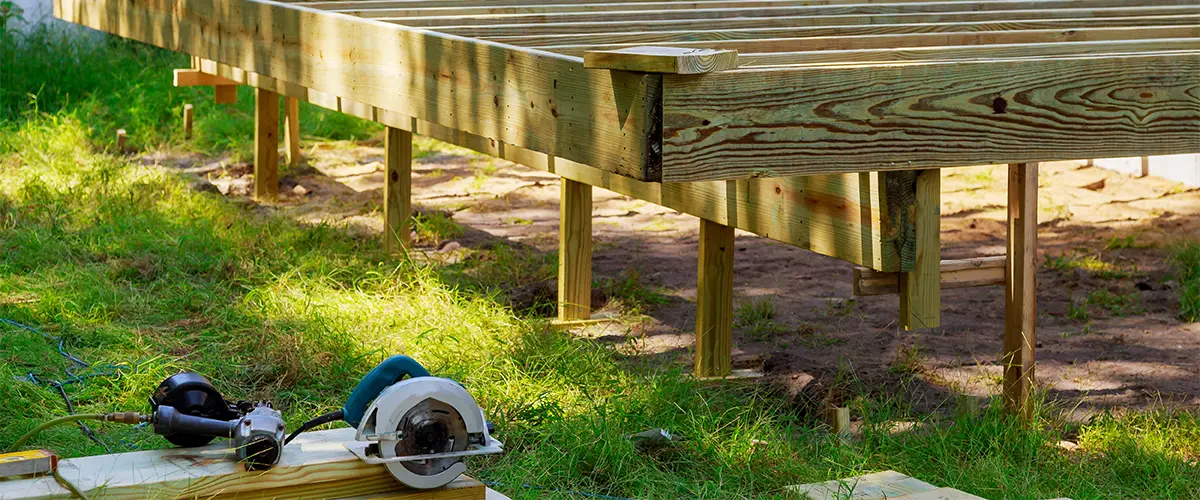 Stairways must be fully operational to eliminate any potential for danger and to provide a safe environment for everyone, regardless of age. Handrails are required not just for older homeowners, and a wheelchair ramp may be beneficial in meeting various requirements.
If your stairs or handrails become wobbly, it's important to address the issue immediately. Depending on the material, replacing stairs can cost between $500 for a common repair, and $2,350 for a larger set of stairs.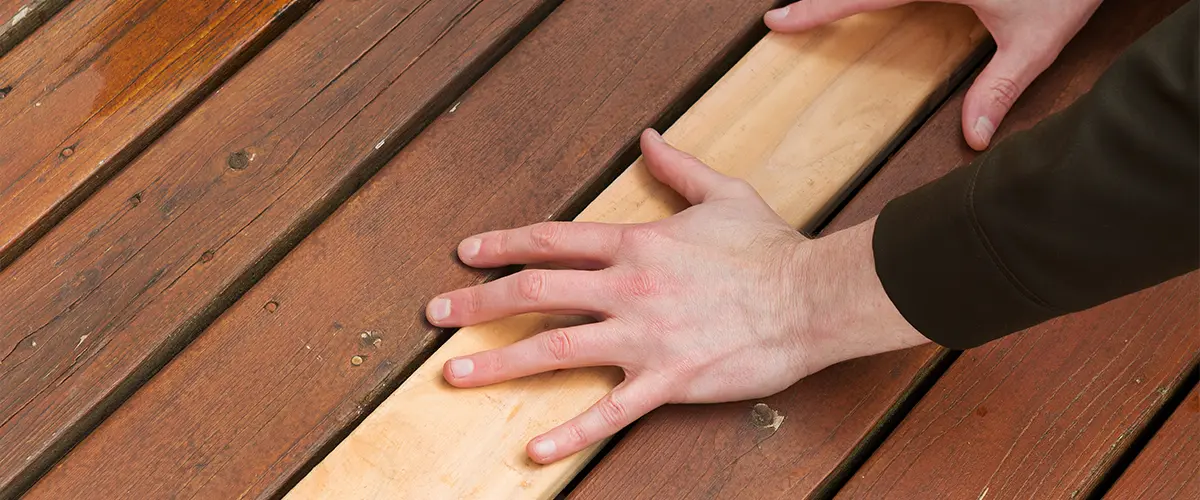 Repairs Of Extra Features
If you want your pergola, awning, lights, or other extras on your deck to last, make sure they're in excellent working order. If you have a wooden pergola, you'll probably need to repair the wooden roof sooner or later because it's always exposed to the weather.
The cost of repairing a wood pergola varies depending on the severity of the damage, with repairs reaching as high as $2,000. In contrast, replacing some decking lights may cost only a few hundred dollars.
Tips To Follow When Budgeting For Your Deck Repair Cost In Elkhorn
A common mistake homeowners do when undertaking a deck repair project is that they choose to fix the superficial damage on their decks, ignoring the more serious problems.
Some unattractive decking boards matter less than a rotted and unstable frame. Any trace of rot must be quickly addressed if you want to keep your deck safe. Focus on structural safety first, and worry about aesthetics second.
Building a deck is just like any other home improvement project—it's essential that you ask your contractor questions. By doing so, you ensure that they understand your vision while also gaining insights into the entire process. Moreover, asking questions shows that you're committed to getting the best possible outcome for your deck.
Unexpected issues always come up, even with our 20% breakage coverage. For example, we might find that the railing is rotten or that the concrete blocks have sunk. Maybe you've just changed your mind about a decking material and you want to switch it out. Either way, budgeting a little extra for your project is always a good idea, and you should think of it as a backup plan.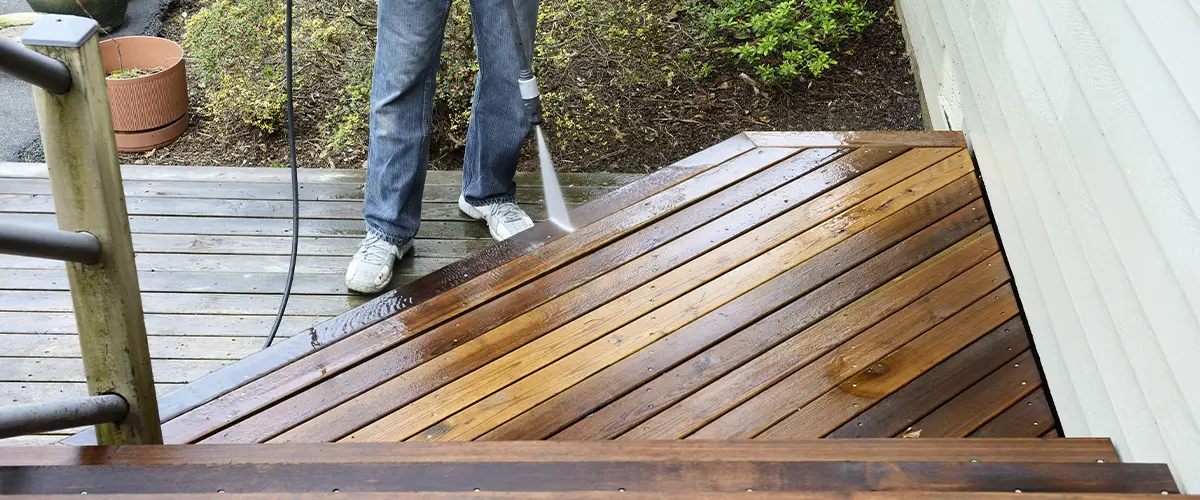 Get Transparent Deck Repair Cost In Omaha From Your Local Pros
We've found that there's a lot of misunderstanding among Elkhorn homeowners and contractors when it comes to deck repair costs. Homeowners are basing their expectations on incorrect data, while contractors don't know how to explain the cost accurately.
We have a commitment to excellence at Deck Bros. We want to give you the full picture in regard to the safety of your deck. What you do with the information is your choice, but we would never skip on making a deck stronger and more reliable, especially if it's ours.
We'll be available to talk throughout your entire project. You'll always be kept in the loop and you'll never have to worry about anything getting lost in the shuffle.
We provide the most cost-effective deck repair in Elkhorn. It comes with a simple and quick deck repairing process, but also:
Get The Most Advantageous Deck Repair Cost In Omaha!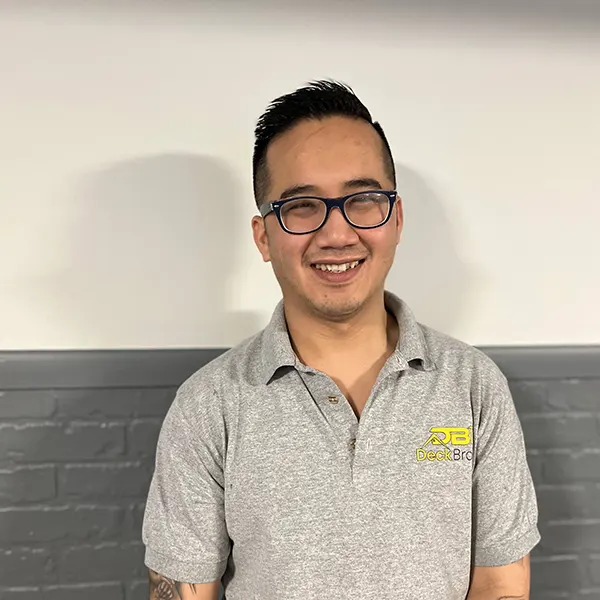 Request a free quote and let's discuss your deck repair cost in Elkhorn! Or talk directly with Luan, the owner of Deck Bros, at (402) 369-5724 and see if we're the right fit.