Deck Repair Cost In Omaha - The Best Guide
At Deck Bros, we offer professional deck repair services in Omaha along with a simple and intuitive process that makes your project an effortless journey.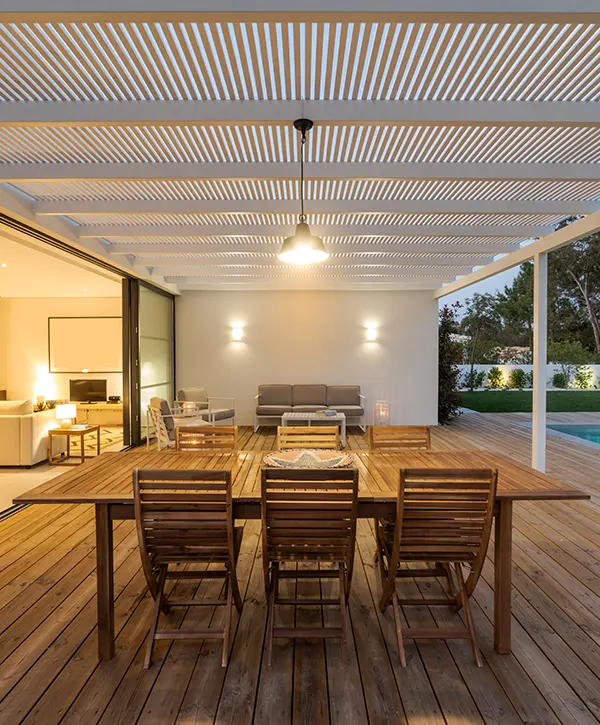 If you're looking to fix your existing deck, you're probably interested in how much does deck repair cost in Omaha. Naturally, this would be the first concern of homeowners, but there's more to a deck repairing project than this.
Let's discuss the deck repair cost in Omaha, and what impacts it.
A Deck Repair That Comes With More Than You Ask For
You're not just getting your deck repaired, but also the highest standards in the deck repairing and deck building industry. Working with Deck Bros ensures you're also getting:
Typical Deck Repair Cost In Omaha, NE
Your deck repair cost in Omaha will mainly be influenced by the scope of work and the extent of the damage.
For example, if you'll just need several boards replaced, a quick repair that can cost as little as a couple hundred dollars. In fact, if you got your deck from us, we can fix your deck as part of your warranty.
Use this deck building cost calculator to see how much your repair will cost. Simply move the sliders the select the total square footage of your deck or the linear feet of the railing, choose the materials and extra features, and get an approximate quote for your project.
Case Study: A Deck Repair Cost in Omaha Metro
This was a 24×12 ft. deck repair in Omaha Metro area. This project included:
Before
After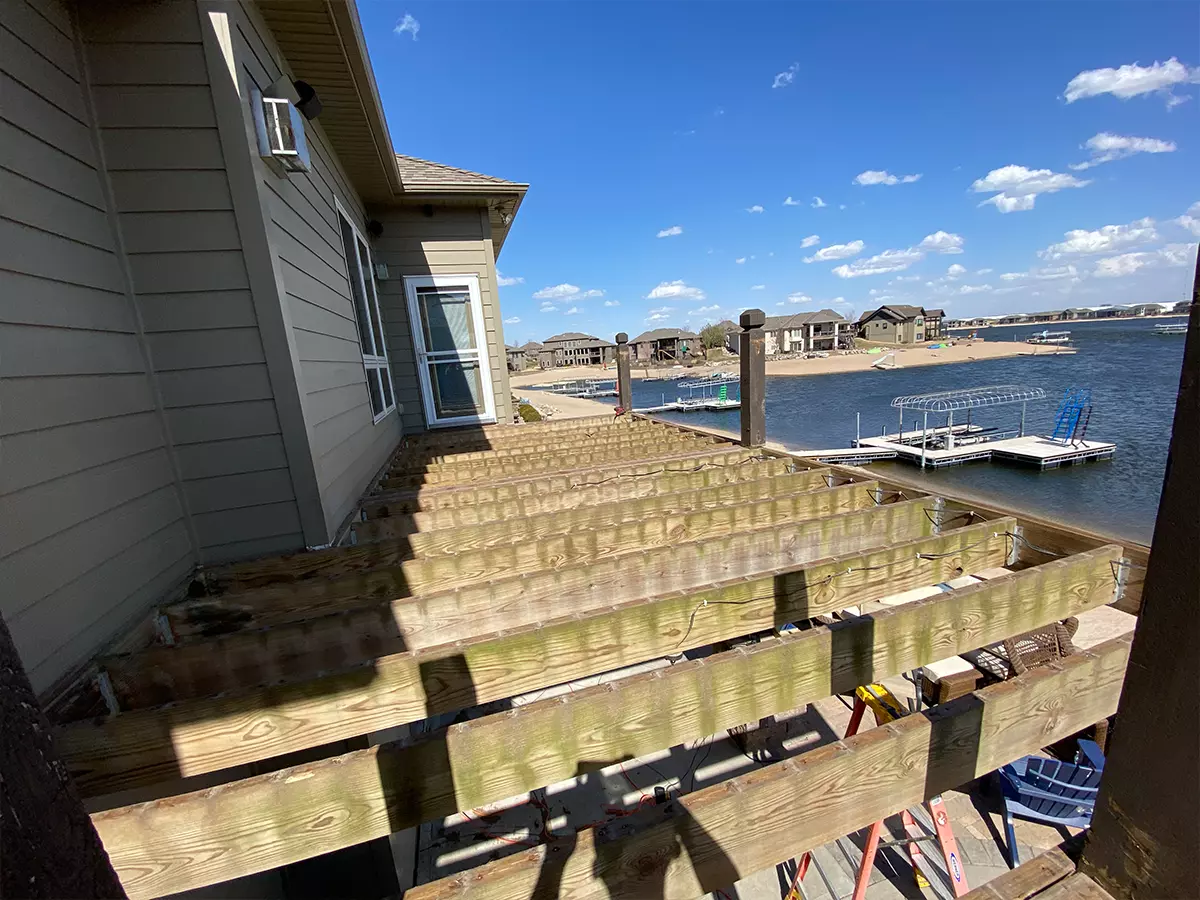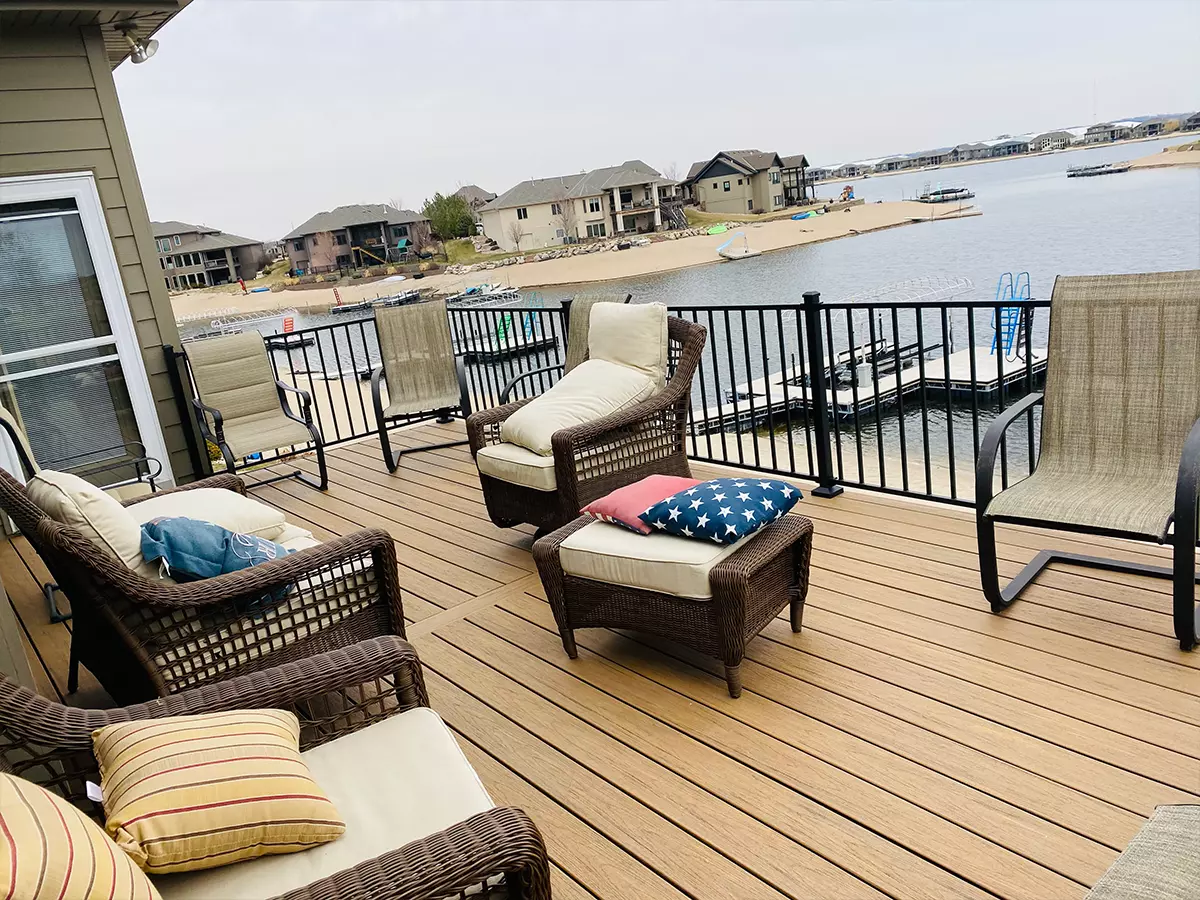 We quoted this deck repair project at $18,000, where the most expensive item was the TimberTech Decking, coming in at $8,760.
Our Customers Love Their Deck Bros Upgrades!
Luan and his team built my pool deck. 
They were awesome! They get you excited about having your deck built and so friendly. 
Their workmanship is incredible, they kept you informed at all time and reasonably priced. 
I highly recommend this company.
Great product, great price, and great service. 
Deck Bros exceeded my expectations and I couldn't be happier. 
I wish I had 2 decks I needed to be built. 6/5 would recommend to anyone looking for an amazing deck. 
Thanks guys!!
Resurfacing A Wood Deck With Composite
Pressure treated wood is the most common material used for a deck's surface. It's inexpensive, looks like natural wood, and can be refinished to look better. However, this material shows wear and tear very quickly and will require constant maintenance throughout its life.
Replacing a wood deck with composite costs around $15k for an average 12×12 deck. This includes tearing down the old decking surface, composite decking materials, and composite decking installation.
We're using medium-to-high quality TimberTech decking, which typically cost between $60.00 to $70.00 per square foot. Depending on your needs and budget, we can choose a different product.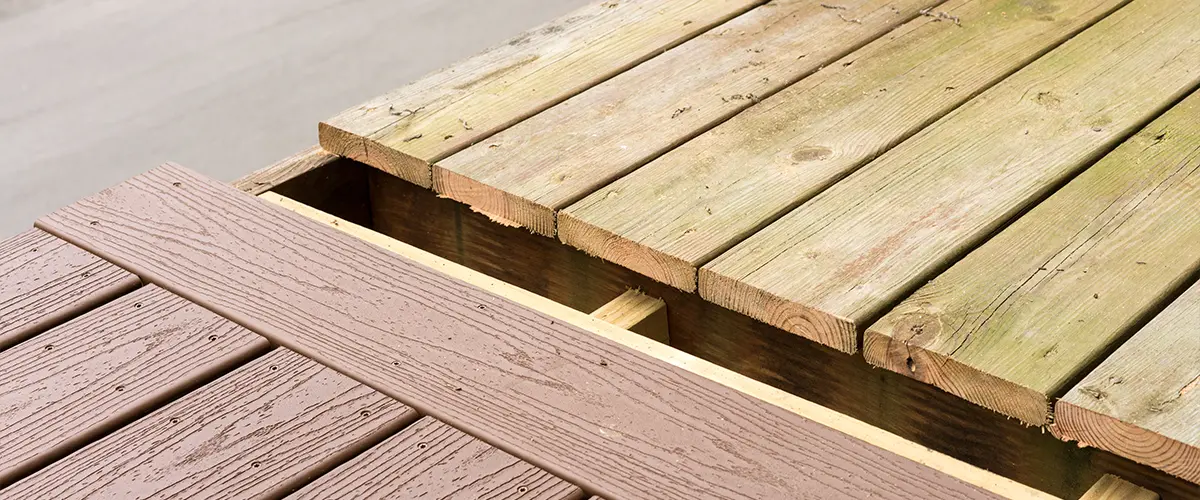 If you're looking to install new wood decking, here are some other types of wood and their cost installation. The materials themselves will have a similar price point, depending on the supplier.
For all elevated decks, railings are mandatory.
The best option on the market right now are metal rails. They're durable, resistant, won't rot, are immune to pests damage, and match very well with most color schemes. They're a great way of ensuring your new deck is 100% safe for you and your loved ones.
We're using Westbury railings, the best aluminum railing on the market. They cost around $60.00 per linear foot for materials.
Decent composite railings from TimberTech have a very similar price as the Westbury metal railings, so why not spend a few more dollars for a much better product? Besides, composite railing is still wood and can get damaged over the years.
The average cost to install composite deck railing is around $30-$60 per linear foot, and the 6 foot long railing from TimberTech costs around $180.
Wood railings are less and less popular for decks in Omaha. When our customers hear the benefits of metal rails, they immediately change their mind and choose the safest, more comfortable option.
The average cost of wood deck railings is around $20 to $35 per linear foot. However, add to this the cost to actually build the railings from scratch.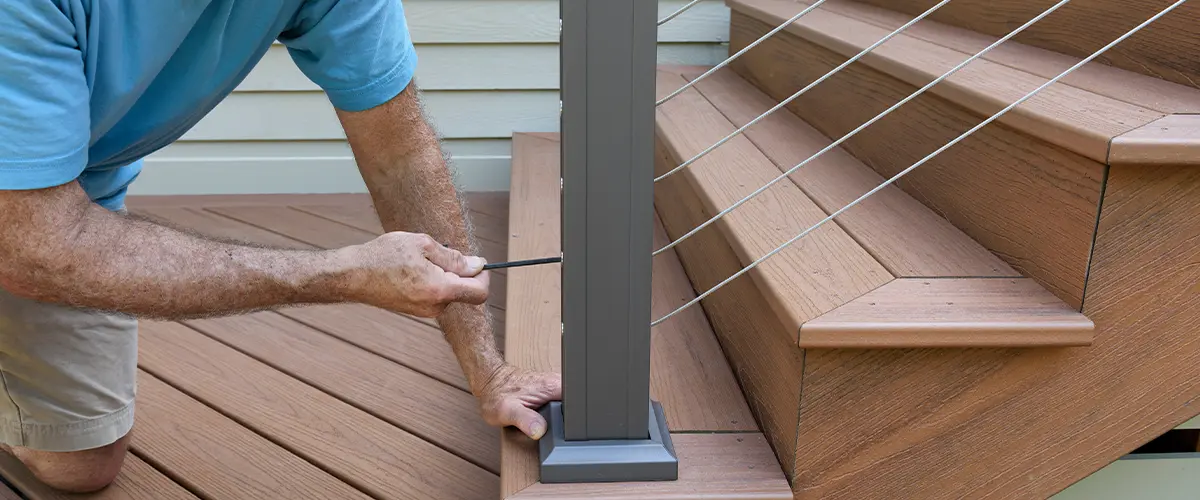 The most common issue with older decks comes from their posts. Back in the day, the standard in the deck building industry was to bury the posts directly in the ground. Today, these decks need to be replaced as soon as possible, as your safety is on the line.
Replacing deck posts and installing concrete footings or special footings cost between $200 and $400 each. This depends on the dimensions of the pressure treated wood and the footing you choose.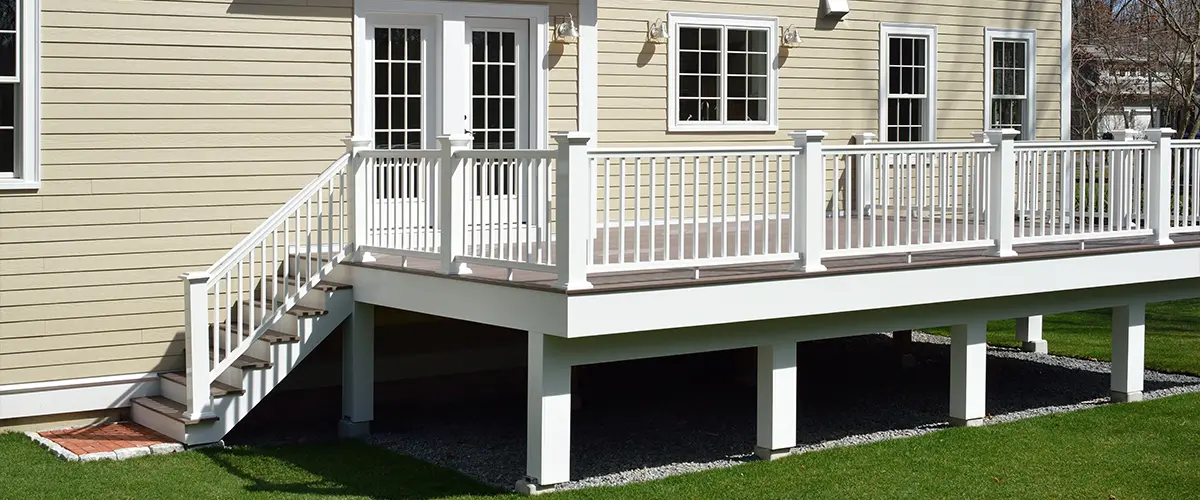 Stairs are a very important feature of any deck. They need to be fully functional to avoid any trip hazard and to create a safe space for everyone, no matter the age. They need to be equipped with handrails, and they all need to be the same height.
The moment your stairs or handrails become wobbly, that's a red flag that you need to address as soon as possible. Depending on the material you want to use on your deck stairs, you'll end up spending between $440 to $1,350 for the most common deck stair projects.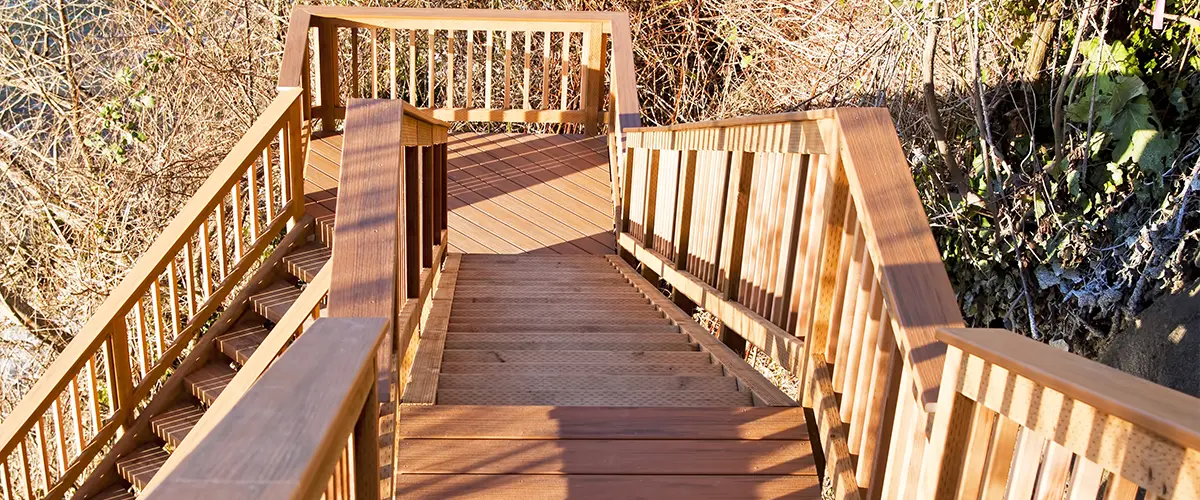 Repairs Of Extra Features
If you have extra features on your deck, like pergolas, awnings, lighting, and so on, you need them to be in the perfect state. For this reason, repairing a pergola's roof or replacing some decking lighting is a very important fix you'll need to do when you're updating your deck.
Repairing a wood pergola can cost as much as $2k, depending on the extent of the damage, while replacing some decking lights can cost as low as a couple hundred dollars.
Tips For Your Deck Repair Cost In Omaha
If there's one thing you want to make sure when you're doing a deck repairing project, that's to make sure you're thorough with your repair. If your budget is limited, we'll consult you and show you the best options that'll keep your project within that set budget. Point is, always replace what's broken – or about to break – if you value your safety.
It's of utmost importance to ask questions about materials, advantages, disadvantages, process, contract, permits, and so on. Asking questions shows us you're just as involved in your project as we are, which means you're fully committed to repairing your deck.
It's a great idea to have a fallback plan in place. This means you've planned for any unexpected issue with your deck and that you're prepared to see your project through. Most of our materials come with an extra 20% breakage coverage at Deck Bros. Aside from that, having some backups on hand is never a bad idea, even if nothing goes wrong with your materials.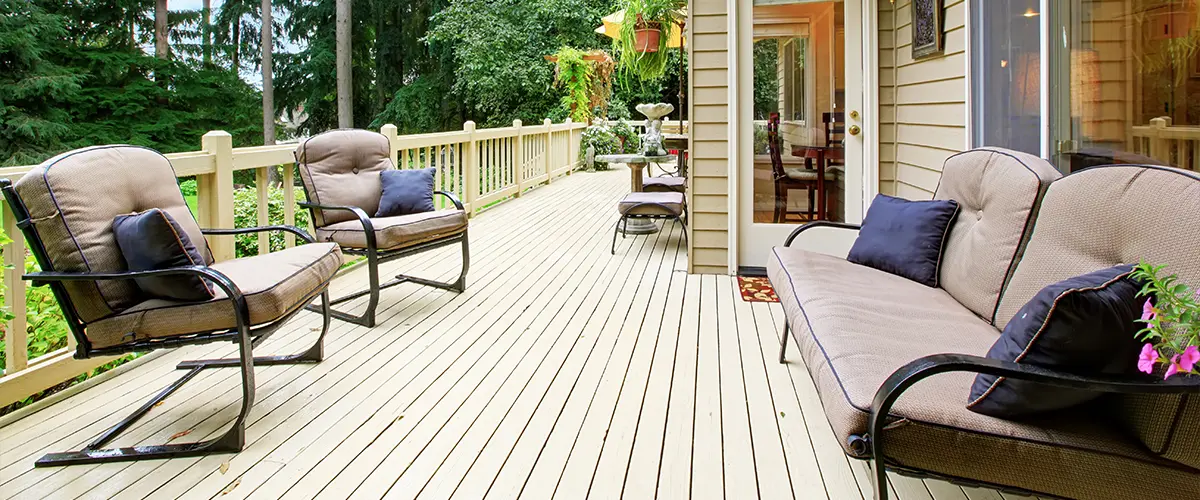 Get Transparent Deck Repair Cost In Omaha From Your Local Pros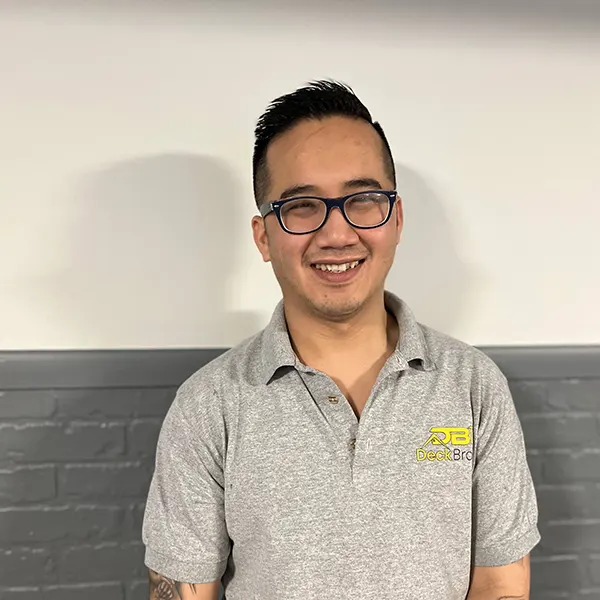 When it comes to the typical deck repair cost in Omaha, we know many homeowners are second guessing and thinking about what's the best way to proceed. Do you want to invest that money to have your deck for another couple years, or invest some more to have a brand new deck that'll be lost for decades?
At Deck Bros, we're giving you all your options! You'll get cost effective solutions that'll keep your repair within your budget, without sacrificing quality. We focus on complete transparency for your deck repair cost, so you'll know exactly how much to budget for your project in Omaha.
With us, you'll get:
Get The Most Advantageous Deck Repair Cost In Omaha!
Request a free quote and let's discuss your deck repair cost in Omaha! Or talk directly with Luan, the owner of Deck Bros, at (402) 369-5724 and see if we're the right fit.