Deck Staining Cost in Omaha
Discover the 2022 deck staining cost right from one of your local deck builders!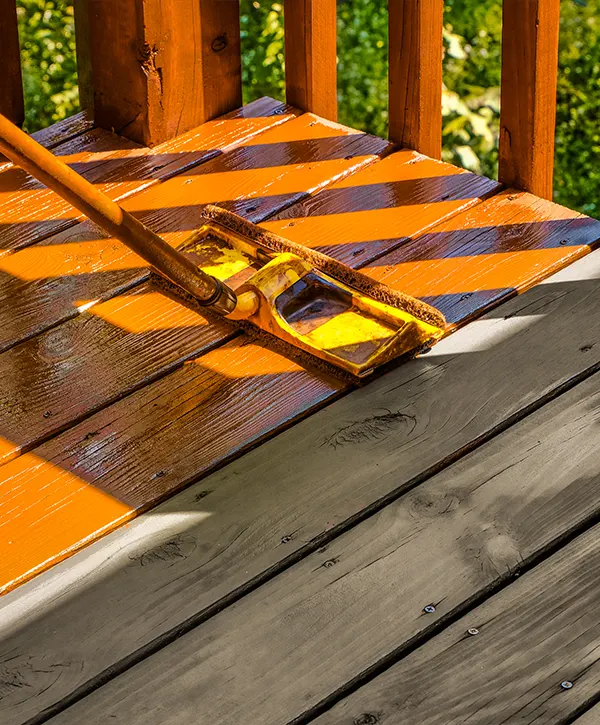 If it's the time of the year when you're considering a refinish for your wood deck, you might be wondering what's the 2022 cost to stain deck boards and railing.
With prices going over the roof now for most things, doing some research before you start your project will come in handy.
In this guide, we'll discuss the 2022 cost to stain deck boards and railing, and what are some stains and sealers worth considering for your deck's upkeep.
Let's begin.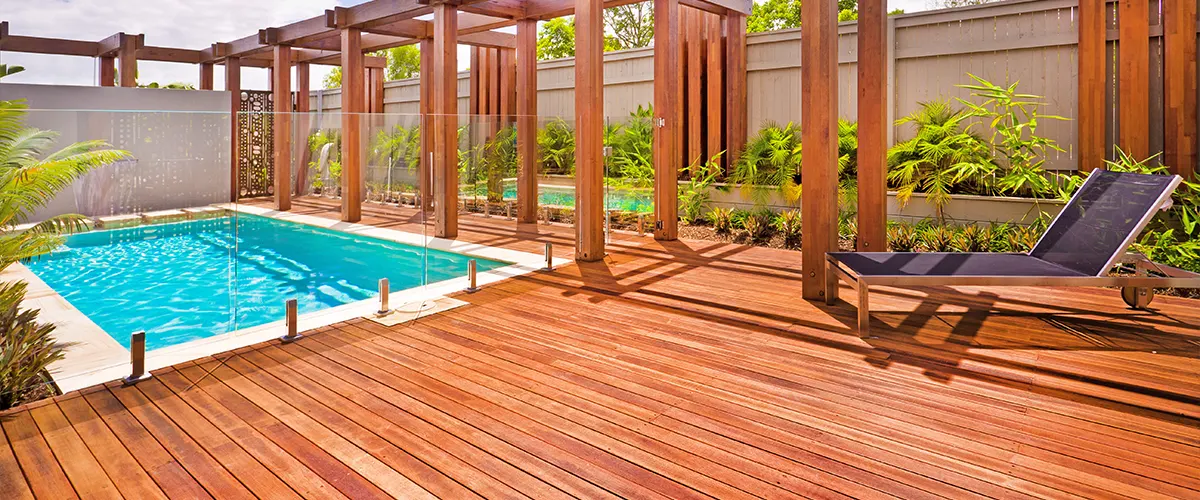 The Cost Of Staining Your Deck
Before we move on, it's essential to note that the prices in this article are just guidelines. They're meant to help you form a general idea of what to expect in terms of supplies, complexity of the job, and the labor cost each contractor will determine.
With that out of the way, let's see some cost averages for staining decks.
Averages As Per HomeAdvisor
HomeAdvisor takes the estimated cost of various projects from multiple quotes and calculates an average price based on them. According to them, the average low-to-high cost ranges from $540 to $1,050 and the cost to stain deck boards is between $2 to $4 per square foot.
Averages As Per HomeGuide
HomeGuide has similar averages to HomeAdvisor. The cost to stain a deck ranges from between $448 and $1,050. The labor costs are, on average, between $1.50 and $4 per square foot. However, deck staining professionals or painters have their own rates.
What Impacts The Final Quote For Staining A Deck
As you can see, the gaps between these prices are quite big, so what is it that impacts the final price so much?
There are several things that determine how much it'll cost to stain a deck.
Naturally, the larger the deck, the more materials you'll need, and the more work it'll take. Below are some averages of what homeowners in the US pay for different square footage of decks.
| Deck Size | Cost To Stain |
| --- | --- |
| 10' x 10' | $300 |
| 12' x 12' | $450 |
| 12' x 14' | $500 |
| 14' x 14' | $558 |
| 12' x 18' | $650 |
| 16' x 16' | $775 |
| 12' x 24' | $875 |
| 14' x 24' | $1,000 |
| 16' x 24' | $1,150 |
| 20' x 20' | $1,200 |
| 24' x 24' | $1,750 |
A well-maintained deck will have a smaller price tag to stain than a deck that's been constantly overlooked.
That's mainly because the latter will also need sanding down the old paint or stain, cleaning, and power washing it to ensure the new stain will stick.
Besides the cleaning, older decks might also require extensive repairs, like decking replacement or railing repairs.
For a 350 square foot deck, power sanding, staining, and sealing will cost anywhere between $700 and $1,400. If the decking doesn't need sanding, or it only needs a light sanding, the price will decrease. A power wash is recommended to ensure there's no debris or dust before applying the stain.
Naturally, the materials you'll use will also impact the final quote. According to HomeAdvisor, deck stain prices can be anywhere from $20 to $120 per gallon, and for a deep-penetrating stain, the average cost is at least $30 to $40 per gallon.
High-quality stains are more durable and resistant by design, so using them could save you more money in the long run. However, regular maintenance for wood decks is required at least once every year.
Solid deck stain, semi solid deck stain, semi transparent deck stain, or clear deck stain are just a few staining types you can get for your project. Oil based deck stain is also a common option, but it has a strong odor and requires more time to dry.
4. Extra Structural Features
Most homeowners decide to paint only the decking surface without realizing that a wood railing also needs treatment. If you want to really give your deck a better look, don't forget to stain deck railings too.
Any other wood feature on your deck, be it stairs, railing, or a table, needs the same treatment as your decking surface.
Stain, seal, and paint are the common treatment options, and all of them will make your deck feel newer and last longer.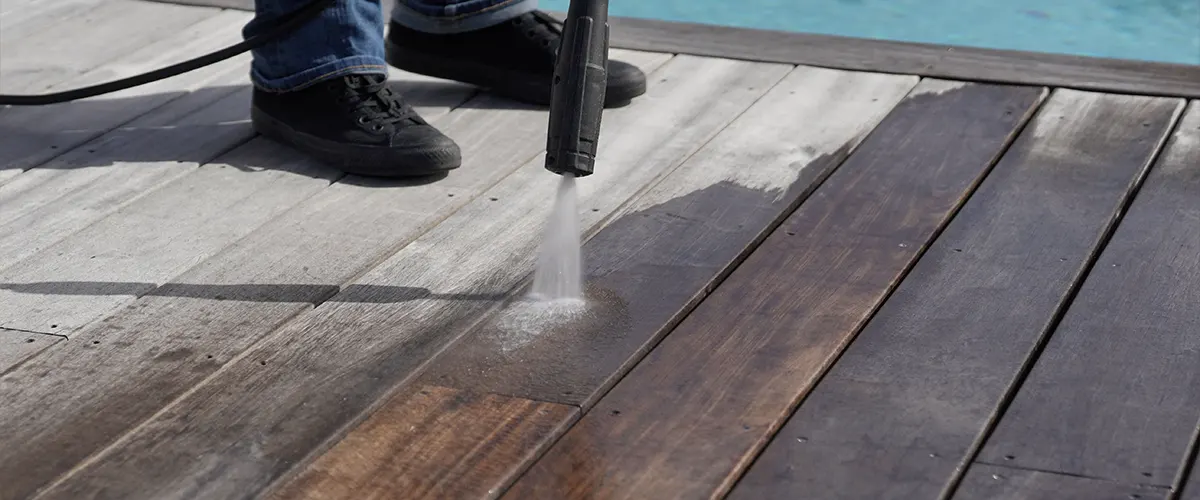 Considering you know the exact square footage of your deck and you only have the railings and the decking to stain, you can determine how many gallons of deck stain you'll need.
Most deck stains come in cans or containers that are labeled and tell you how much stain is in them, and some even tell you how many square foot of decking can you stain with it.
As a rule of thumb, don't choose the most expensive deck stain, but neither the cheapest one. Go with a stain that's known for its longevity.
Let's see what else you'll need if you have a smaller deck you want to stain yourself.
Our Customers Love Their Deck Bros Upgrades!
Deck Bros showed up at 8:00 am and worked until dark everyday. They had old deck torn down in one day. 
We are very happy with the finished product. We went with Deck Bros because of Luan's charming personality but they can also build a sweet deck!!!! Thanks Luan and team
They did a excellent job. Crew was professional. I live 2 hours from omaha and they took the job without that being an issue. Our deck turned out beautiful. 
We have the best looking deck in town. I am so glad that we chose Deck Brothers. If you want quality
go with Deck Brothers It will the best choice you make.
Do You Really Have To Stain Your Deck?
Constant sealing, staining, and painting could be a fun and relaxing activity for younger homeowners. But as we age, these become chores that we'd rather have someone else do.
Besides staining being a time-consuming chore, the amount of money you'll invest in the upkeep of a wood deck over its lifespan is absolutely outrageous.
The worst part is that if you want a wood deck to look great and last for many years, staining and sealing the deck is a must.
Which is why many of our customers decided to change their wood decking to composite. They could no longer keep up with the maintenance of their wood deck.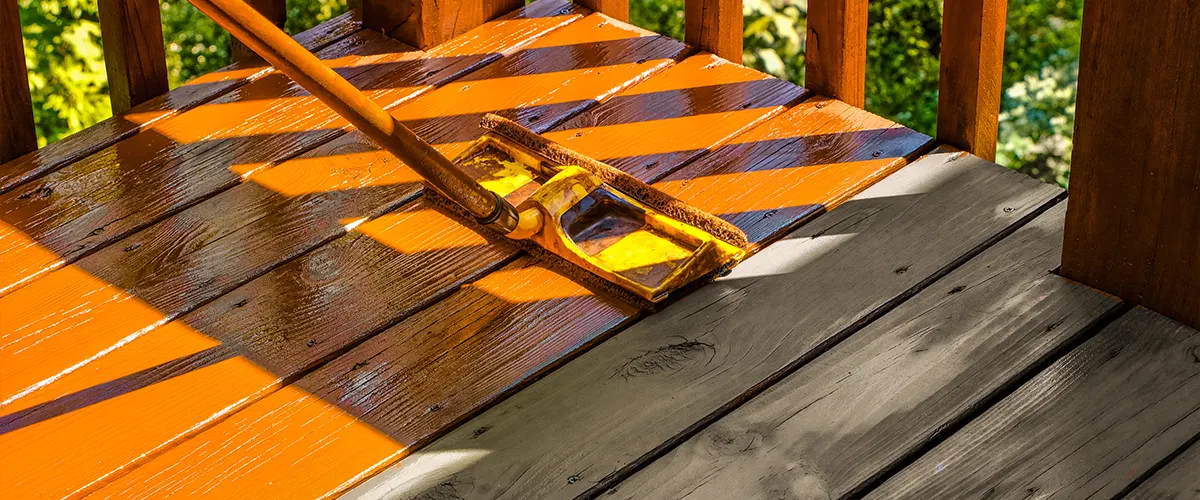 What Is Composite Decking?
Composite is a decking material that's more and more sought-after by older homeowners looking to spend more time on their deck, rather than maintaining it.
It's a material made of a mix of wood fibers pressed together under extreme heat and pressure to create a stronger and more reliable decking material.
Unlike wood, composite doesn't need to be stained or sealed, and is much more resistant to rot and pests (the main enemies of decks). Composite decking has better functionality, will last much longer than wood, and some types of composite are made to resemble the natural look of wood.
Most of our deck replacement projects are homeowners wanting to replace a wood deck with a low-maintenance composite decking, simply because it's a much more cost-efficient and overall better option.
Websites like HomeAdvisor, Angi, HomeGuide, and so on are not professional deck builders, nor painters or contractors.
The prices they consider to be averages are ballpark estimates. Budgeting according to them will many times result in surprises and having the wrong expectations for your project.
Every deck building, deck repair, or deck staining project is different. Every homeowner will have different preferences, a different budget, and different needs.
At Deck Bros, we don't ballpark any estimate, which is why we can't just come up with a price for your project without knowing what it's about.
Fill out this form and we'll get in touch with you within a day.
If you're in a rush and you want to get started sooner, call us today at (402) 369-5724 to discuss your project and schedule your start date!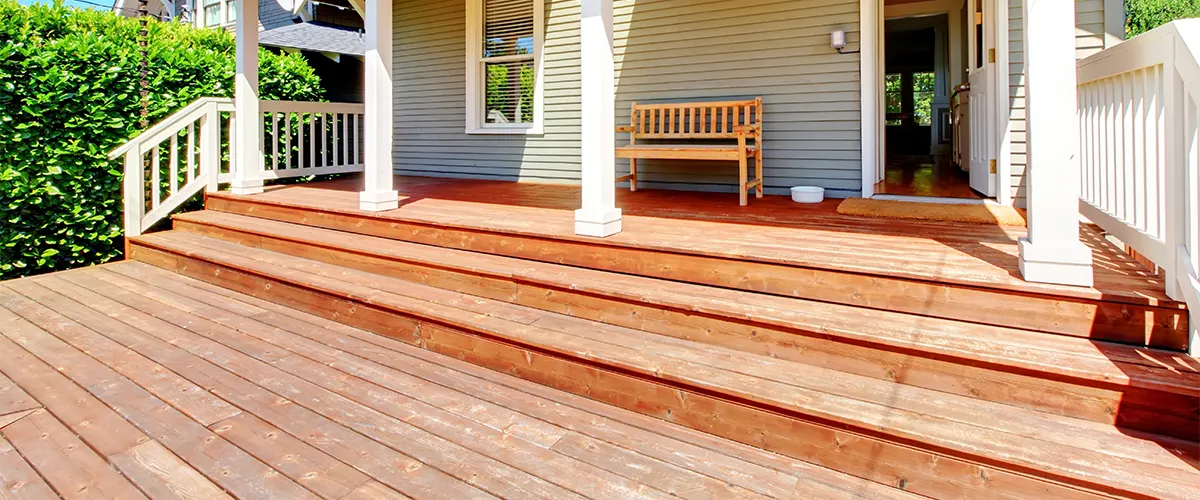 Get The Most Advantageous Deck Staining Cost In Omaha!
Request a free quote and let's discuss your deck staining in Omaha! Or talk directly with Luan, the owner of Deck Bros, at (402) 369-5724 and see if we're the right fit.