A deck is one of the best ways to enjoy the great outdoors. They give you extra living space, increase your home's value, and offer the perfect occasion to host a family gathering.
If you're looking to update your deck or are in the process of designing one from scratch, visualizing how it's going to look before you pay anything would be great.
Luckily, some free apps can make that happen!
We put together this list of the top 10 best deck design apps for you. These will help you know exactly how your deck will match the rest of your home. Besides, you have the chance to design it yourself, see what layout fits best with your yard, and discover the perfect size for you and your family.
Keep reading and choose the perfect deck design app that will ensure you get your dream deck!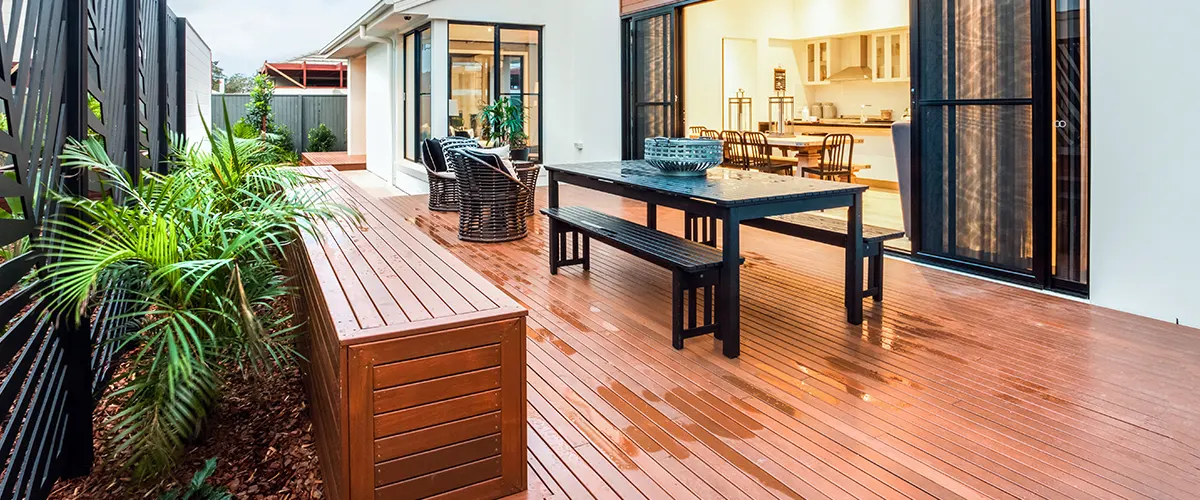 This state-of-the-art deck designer tool is perfect for bringing the deck of your dreams to life. You can choose your deck's size, shape, and the number of levels and select your favorite colors and textures.
This free deck design tool has excellent graphics and customizable features for your deck project. You'll get various building materials, railings, furniture, and patio designs that will ensure your new deck turns out exactly as envisioned.
2. Decks.com Deck Designer
This deck designer app from Decks.com allows you to design the deck of your dreams with a fun and interactive experience.
You're free to explore endless possibilities with the click of a button. Try out different dimensions, a multi-level deck for your backyard, or a unique set of stairs that no one else has.
The app allows you to save or download your designs to share them with your contractor, so you can make the building experience much easier.
Lowe's deck designer is worth trying if you can get it working.
One major problem this software has is that it requires Internet Explorer, Safari, or Firefox. It doesn't work with Chrome.
Even if you get it working, it requires the installation of some plugin, which makes the installation troublesome.
4. Trex Deck Design and Planning Software
Trex makes it simple to design a deck you'll love. Their free deck design software is one of the few that offers a free account to create your outdoor space.
They've taken care of every aspect of designing a deck. Shapes, sizes, colors, materials, and decor, you'll find pretty much everything in this software.
When you're finished, you can download a shopping list of your materials or share a blueprint with your contractor to make the building process simple and seamless.
MiTek is a free online software that lets you design the deck of your dreams.
The updated version is easy to use and allows customizations down to the smallest detail, including levels, plank direction, size, and color. The program lets you collaborate and quickly share your ideas with your contractor.
To start using Deck Designer, you need a PC with a mouse and a browser. No additional plugins are required.
SketchUp is one of the biggest players in design software. The free trial version of this deck design tool is very robust and can design anything.
You can bring your own 3D designs online, upload them in SketchUp and have your projects with you wherever you go. Although this software is more high-end and requires more skill, everyone with basic designing skills can use it and visualize their upcoming project.
7. Do-It-Yourself Deck Designer
The Do-It-Yourself Deck Designer from Big Hammer is just one software from everything they have to offer.
They offer a Deck designer, Fence Designer, Garage Designer, and Post Frame designer for you to create and plan your own project.
They work in partnership with Home Depot, so every product in the directory will be in their stores too.
8. Fiberon Deck Visualizer
Fiberon is a deck design tool that lets you inspect and check what goes well with what. You can mix and match elements to create the ideal deck design for your home.
This software allows you to configure the deck's style, color, fascia, railing, and lighting. You can also modify the exterior wall using the options Fiberon offers.
9. Punch! Landscaping Design
Whenever it's time to redecorate the exterior of your home, Punch! Home Design software has all the design features that you'll need.
Impressive tools and realistic visualization combine into one must-have home and design package. You get access to other deck plans made by professionals to get a better idea about what's trendy or not.
However, unlike other options, this is a paid deck design software.
Chief Architect software is probably the best deck design software out there. This app is automated with building tools for any kind of design.
Unlike other deck design software options, you can't access it directly from your desktop browsers. It has higher system requirements and offers a more in-depth design experience.
Although this deck design software requires a subscription, you have access to a free trial to get an idea about what you'll pay for.
This app makes deck designing an enjoyable adventure, offering complete material lists so you can start planning your own deck!
Designing a deck is a complicated process, which is why having an expert do it for you will always pay off. Although many softwares put all the tools at your disposal, the creativity and expertise to make it happen are what matter the most.
Anyone can put a deck together on paper, but you want to spend time on it and host the best family gatherings. For that, you'll need a professional to build it for you.
We put together this top of the best deck design apps out there to help you make an informed decision about what will work best for your home. We've highlighted some of our favorite deck design apps to make it easier for you to communicate with your deck contractor.
Here at DeckBros, we love when homeowners get involved and work with us to get exactly what they want. Knowing how you want the end product to turn out ensures you'll get precisely that!
Get in touch with your experts at DeckBros, and let's work together to design the perfect deck for your home!