If you started wondering about your deck load capacity, it means something happened.
Maybe you're hearing your decking boards squeak, maybe the deck is wobbly, or maybe you're just planning a huge barbecue with lots of guests, and you want to make sure everyone is safe.
The weight a deck can hold depends on the materials you used to build it. If you wanted high-quality products from the start, you shouldn't even worry about your deck collapsing. On the other hand, if you opted for the cheapest decking materials on the market, maybe you do have a reason to worry.
Let's find out how much weight a deck can hold.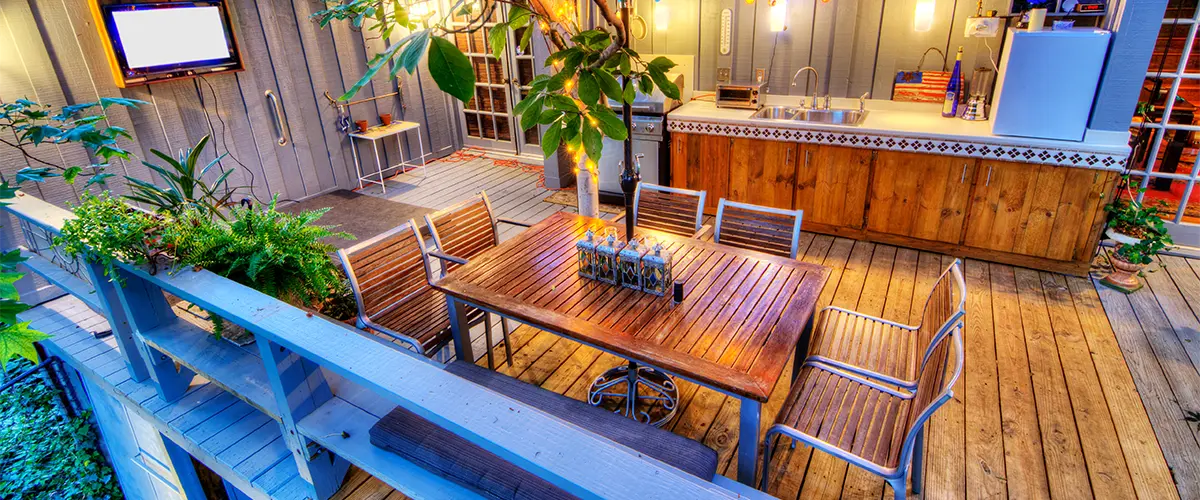 Engineers devised a quick and simple way to determine how much weight a deck can hold.
Multiply the total area of your deck by 50 psf. But what does it mean?
According to Fortress Building Products, most decks that are built with traditional pressure-treated wood frames (or southern yellow pine) and decking boards can hold up to 50 pounds per square foot (PSF). So then, if your deck has 100 square feet, it'll support up to 5000 pounds.
However, this method only works with a traditional wood deck. If you have a composite deck with a much tougher frame and wider posts buried in concrete footings, your deck will support much heavier loads.
Deck load capacity is contingent upon all components that went into building your deck, from nails to the decking boards. The biggest factors are the frame structure, the soil type, and the footings.
Note: Building a sturdy deck means a heavier one and heavy decks can gradually sink into the soil if the footings are not placed correctly. As it sinks, the ledger board that attaches the deck to your home will weaken, and your deck will become a major hazard in your backyard.
In a nutshell, you'll want a highly skilled professional on your deck building project to build your space just strong enough to support the weight of all the outdoor furniture, guests, and some extra, and light enough so it won't sink in the wet soil.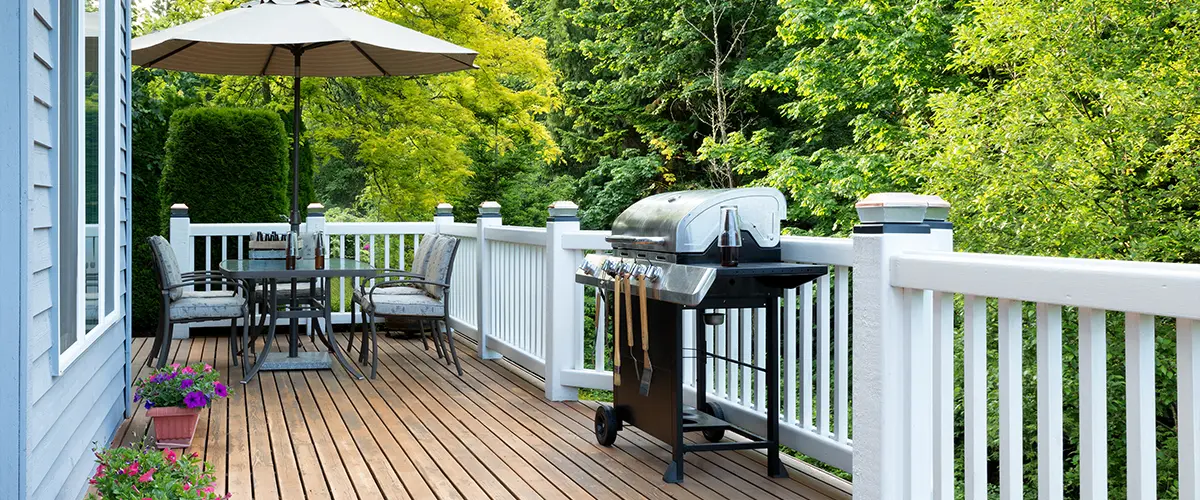 The Two Types Of Deck Load Capacity
Different types of deck load capacity mean the frame joists will be built differently. This is crucial for any kind of construction on a frame, including decks. Let's see what the two main types of deck load capacity that we encounter on a deck are.
When constructing a deck, the foundation should be just as sturdy as the flooring inside your home; these are actual code requirements for residential floors. Here is where you'll begin to learn what exactly a floor deck can support.
Deck builders use pounds-per-square-foot to measure the design load (or the total deck load capacity), which is comprised of two parts:
The typical design load for a deck is 50 psf, however, the live load may vary based on environmental conditions and if items such as hot tubs or fireplaces are added on your deck.
If you live in an area with severe winter conditions or plan to put a hot tub on your deck, you will likely go over that 50 PSF. Omaha, for example, gets about 30 inches of snow per year, slightly more than the national average. If all that snow gets wet and heavy, your deck load bearing capacity will skyrocket, and your outdoor space can become a hazard.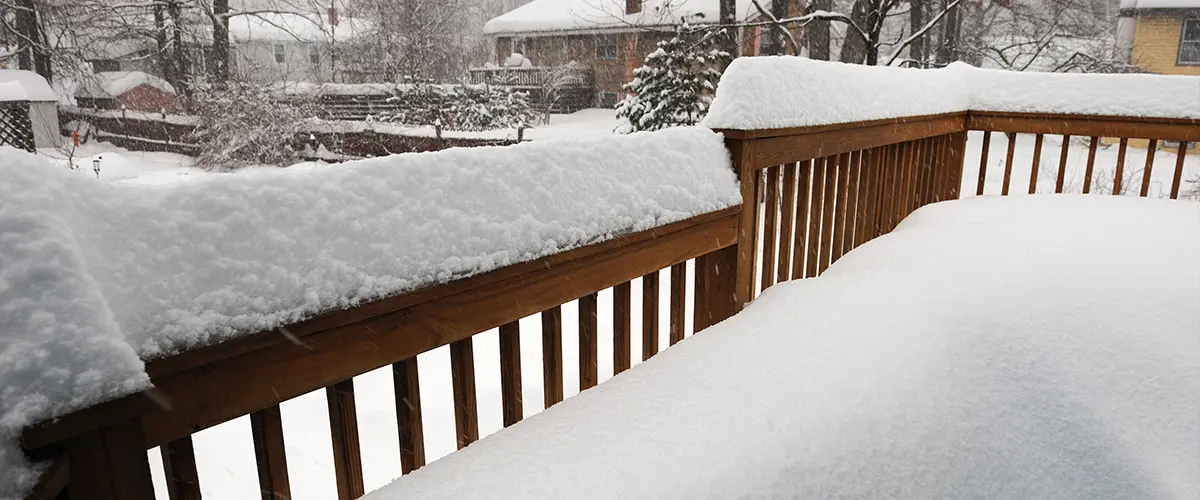 What Deck Builders Do To Ensure Optimum Deck Load Capacity
When the load of your deck will increase, you'll need to account for that with some extra joists, beams, and more. More weight means the joists will be closer together to give your deck the extra support it needs.
In addition to closer and more joists, you'll also want better footings.
To lower the pressure placed on any particular area, use a broader footing size and spread that load amongst a larger surface. For example, by using two square-feet instead of one for footing, you could reduce this weight to 500 pounds from 1000.
But even with footings, there are other things you need to keep in mind, like the soil bearing capacity. To ensure a strong foundation, you'll want to replace organic soils with stone and gravel – a much more reliable base.
How Can You Make Sure Your Deck Will Support Any Weight?
It's simple – you'll want to work with a professional deck builder that knows the deck building codes in Omaha inside out, knows all the materials on the market, and has built hundreds of decks.
But even choosing the right contractor can become a daunting task sometimes. There are many sketchy deck builders out there that would oversell themselves only to deliver a weak product that will need to be repaired or even replaced in just a few years.
Here at Deck Bros, we have a lifetime of experience building structurally safe and reliable decks with some of the best materials on the market. We'll take care of everything from top to bottom, so you can use your deck without having to worry about anything!
If you want to work with an expert and get a deck that'll last for years, give us a call at (402) 369-5724 or request your free quote now!