Choosing the color of your deck can quickly become an overwhelming decision. Your deck's color will impact the look and feel of your outdoor space, so you'll have to find the best one to match your style.
To help you in this endeavor, we'll tell you what experts consider the best decking color ideas.
So if you're uncertain about the finish of your deck, or choosing a timeless color for it, this article has the answer.
Let's begin with our top 5 deck color ideas!
Greige is a combination of two common deck colors: gray and beige. It's been gaining ground in homeowner's paint choices, especially when it comes to decks.
Thanks to its versatility and balance between warm and cool, a "greige" color will bring your deck to the perfect equilibrium between relaxing and dynamic.
It's a unique, light color that opens up your deck and makes it look more spacious and airy. However, because it's a light hue, dirt marks and stains are visible.
Chocolate brown is similar to the color of wood. It's a very popular option for composite decks, but also for homeowners wanting to paint a faded wood deck.
This color works great to complement the exterior of most houses, and it looks really well on most decks because it stands out.
Like the next colors we'll discuss, the warm chocolate brown is a darker shade. A well-wearing color that hides mud footprints and dirt very well.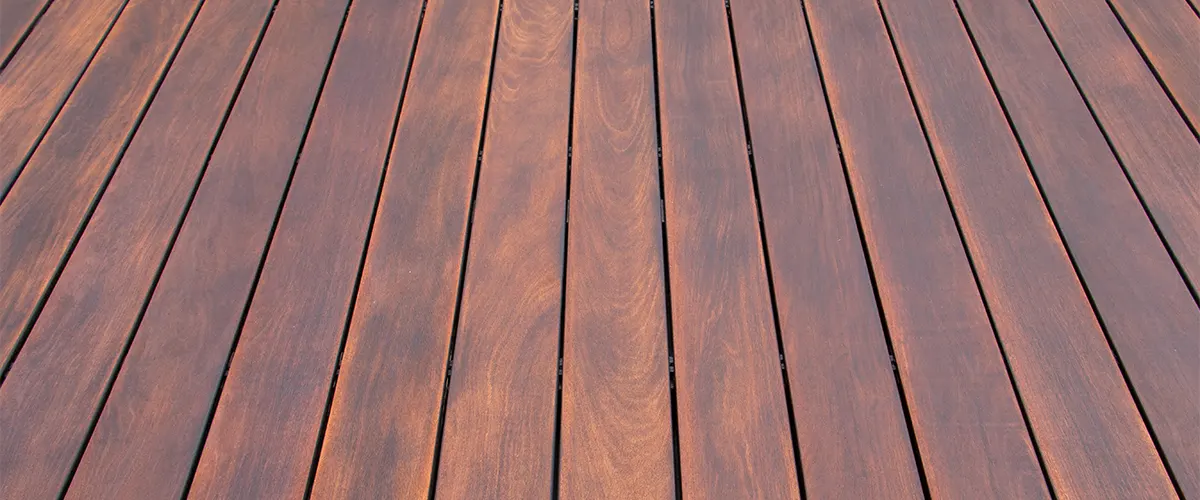 Another popular and aesthetic color for your deck could be dark blue. It's the perfect choice for cottage or Cape Cod-style homes.
Although it's a color that'll stand out, this shade works well with a variety of secondary tones, like lighter blue, cream, beige, and more playful hues like purple.
Dark blue is a solid and tasteful color that makes every space feel brighter and more alive. It's ideal for a beach house aesthetic or for a deck around a pool, since it has a nautical character.
When it comes to practicality, this is a darker hue, so it's also good at hiding scratches and marks. At the same time, it's fairly bright so your deck will maintain a cozy temperature even in the hot summer days.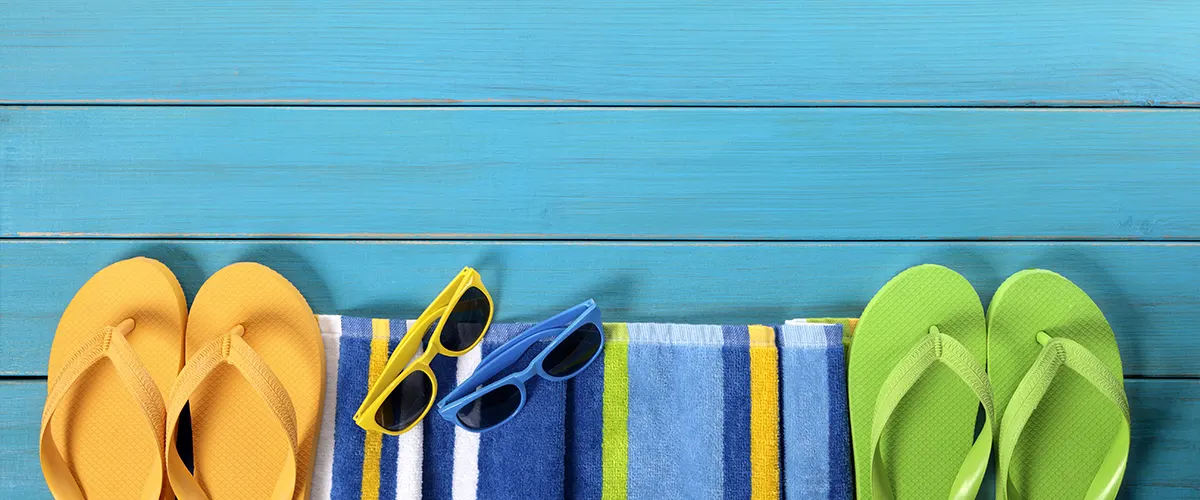 Black is a bold and attractive color worth considering, especially if you want to make your outdoor space look more luxurious. This color makes a strong statement, which is why it is great if you want your deck to stand out.
Black is a practical color, easy to clean and will reduce glare. It makes scratches and dirt barely visible.
However, black is a very pretentious color, and it has many downsides too.
During the hot summer days, a black deck will soak up a lot of heat, making walking on it barefoot a real challenge. Besides, it offers a very high contrast to your entire landscape and home design.
If you want to have this luxurious color on your deck, you'll need to plan your outdoor furniture and features tastefully to complement this strong color.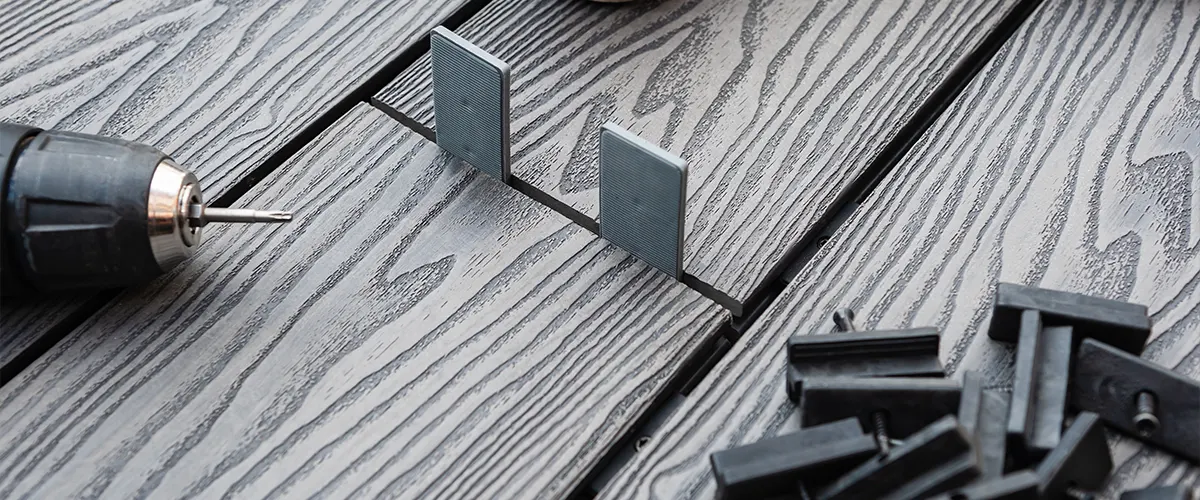 If you are after a contemporary feel and a balanced look for your new deck, slate gray is one of the best colors you can choose
Gray is increasingly more popular across various design styles, and is particularly iconic to Scandinavian decor.
It's a great color because it matches very well with most houses and landscapes. Its deep hue can create attractive contrast against a lighter color for walls and trim, or it can blend in subtly with brick and stone walls.
Besides this, dark gray is also a practical color. It hides dirt marks and doesn't reflect too much glare.
While a gray stain can work fine for a wooden deck, you'll have to choose a gray color for composite deck boards.
What To Consider When Picking A Decking Color
Let's see what you need to keep in mind when choosing your deck paint color.
Consult with a deck designer or a landscaper to ensure the decking color you'll pick matches the rest of your outdoor space. You don't want to create a flaw in the overall vibe of your backyard.
While a great color can tie the entire space together and create a smooth flow from area to area, the wrong color can have a disastrous effect.
Once you pick a decking color, there's no way back
If you're looking to get composite decking (the best decking material available) keep in mind that you can't refinish it. This means you won't be able to sand it and repaint it.
Before ordering your composite decking, be sure to try samples and see how it'll match with the rest of your home. Most composite brands, like Trex, Fiberon, or TimberTech, are offering samples on their website.
Remember, composite deck paint colors are limited to what each manufacturer builds. If, however, you want to paint a wood deck, you can check out our deck painting cost guide right here.
Consider Functionality And Aesthetics of your decking color
Understandably, you want your deck to look great and leave every one of your guests speechless. But you also need to make sure they're practical.
A black deck, for example, will absorb a lot of heat in the summer, and if you or the little ones love walking barefoot on the deck, a hot surface won't be ideal. At the same time, a very light colored wood deck will expose all scratches and dirt, so you'll constantly need to keep an eye on it.
Which is why the slate gray is one of our favorite colors when it comes to decks. They're balanced and provide both beauty and functionality.
Besides these wood decking color ideas, there are dozens of great colors you could pick for your deck. There's no such thing as just one deck color combination.
From leaving the wood clear to painting it in a dark green color to match the surrounding landscape,
What you need to remember is that choosing a color for your composite decking needs to be well-documented and decisive. You can't refinish composite deck boards, so the color you'll choose will have to be perfect.
If you want some professional advice in picking the right color for your decks, get in touch with us. Our designers and deck builders here at Deck Bros will make sure you'll pick the color that'll uplift your entire outdoor living space!